From cruise ship tourists to young overachievers, Halifax embraces everyone with sea-drenched arms. As the largest city in Atlantic Canada, Halifax's urban nucleus lies on a pointed slice of land hugged by one of the deepest harbours in the world. From mainland to peninsula, the city and surrounding region has a population of over 400,000 and sits on unceded Mi'kmaq territory.
And thanks to an effortlessly weaved juxtaposition of Maritime history and millennial modernity, Halifax is a burgeoning hotbed for young families and budding creatives.
One of the quintessential Halifax landmarks, the Old Town Clock, has peered over the narrow streets of the downtown core for over 200 years. There's a palpable contrast of new and old here; a conglomeration of bars, cafes, and boutiques are huddled into brick buildings, one of which is Weird Harbour Espresso Bar. The only seats are four backless stools facing the front window, but owner and sole employee Dan Weir enjoys the compact space. New Orleans funk jives from behind the counter, and there's no menu to be seen. "If someone wants something, they start a dialogue with me," Weir says. "None of it is wrong. I want all walks of coffee life."
A close neighbour to Weird Harbour is the Highwayman Restaurant and Bar. It serves Spanish-inspired food and carefully sourced spirits, wine, and beer. Named after the The Highwayman poem by Alfred Noyes, the restaurant's design borrows heavily from its stormy theme; even the walls are painted in weathered, blue-grey tones.
Stepping away from tourist traps like lobster and donairs, Highwayman and its sister restaurant, Field Guide, have helped revitalize Halifax's food scene. Adam MacLeod is one of four Highwayman co-owners and works at Field Guide. He sees both restaurants as mediums for expressing creativity—from food and drink to ambience and design. "The beauty of small cities is getting to know people at the places you frequent," MacLeod says. "Wherever that atmosphere is being created, that's where I want to be." He believes there is a rising group of supportive, interconnected business owners in Halifax, which in turn enhances interactions between customers and staff. It's an endeavour for the personal and the intimate.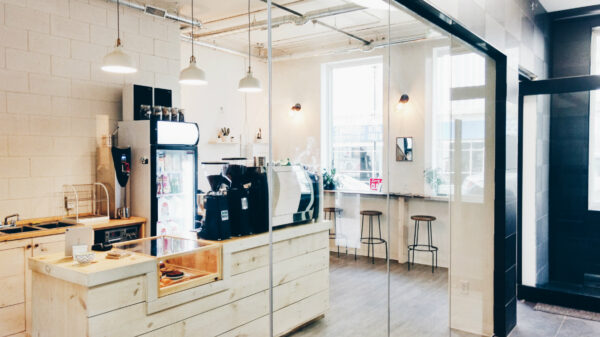 Weird Harbour Espresso Bar.
The waterfront boardwalk snakes south, away from downtown to the
Halifax Seaport Farmers' Market
, which celebrated 266 years in 2016. It's the oldest continuously-operating farmers' market in North America. The vibrant bustle is most tangible on weekend mornings, when the modern warehouse swells with music from busking fiddlers and smells from over 250 stalls. It's a constantly evolving, tangible microcosm of both Halifax and Nova Scotia. Multi-generational vendors stand next to merchants who recently arrived as new Canadians.
Meanwhile, North by Night Market is a less frequent and more fringe marketplace that lights up the North End of Halifax once a month during spring and summer evenings. Fairy lights and bunting banners halo locals as they sell a mixture of soap, knitwear, vintage clothing, and preserves. The North End thrives on an air of do-it-yourself independence; art shows up on telephone poles and in home windows, and people congregate in kitchens, parks, and gardens. It's a cacophony of curiosity and multiculturalism.
Gentrification has taken over the North End, and an influx of condominiums, microbreweries, and moody cafes have materialized in the last decade. One of the more innovative places to crop up is Seven Bays Bouldering. Offering a form of rock climbing without ropes or harnesses, Seven Bays is a bouldering gym as well as a licensed cafe. It has become a pivotal place to exercise, socialize, and linger over a drink.
There are more than five microbreweries in the North End, and when it comes to beer, there's value in experimentation. Many local breweries have a distinct style: Good Robot Brewing Company plays with eccentric, sour brews; North Brewing is Belgian-inspired; and Spindrift focuses on lagers.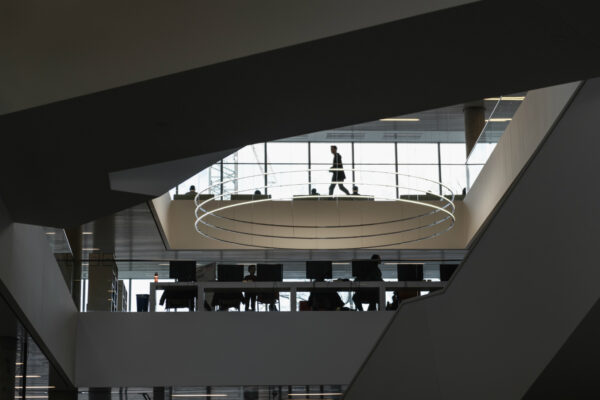 Halifax Central Library. Photo by Patrick Fulgencio.
Down the street from Seven Bays is
The Seahorse Tavern
, Halifax's storied watering hole. It recently moved to the North End from its historic, cramped location downtown. In 1948, The Seahorse was the first bar in Halifax to open after prohibition ended in Nova Scotia. As the legend goes, 50 people showed up before 10:20 a.m. on opening day. The wooden floor and planked ceiling furnish The Seahorse with traditional charm, but the bar is known for its tight dance parties spurred by themed nights and live music, both of which flow from the speakers as often as the house brew—Horsepower—flows from the taps.
Beyond the North End is the Quinpool district, which is made up of eclectic businesses, restaurants, and houses congested with young families and students. Barb Kaill grew up in Quinpool and wanted to give her fellow residents a place to gather. She describes her coffeehouse, Lucky Penny Coffee Co., as minimalist combined with organic. A tirelessly Instagrammed floral accent wall juxtaposes whites, blacks, and wood textures. "It's industrial meets farmhouse," Kaill says. "It's your grandma's basement. It's comfortable, and anyone can understand that."
Anyone can also understand why Halifax Central Library is the city's architectural diamond. The glass building is made of rectangles stacked on contrasting angles that signify a heritage of change and diversity. The fifth floor is dubbed Halifax's Living Room; jutting away from the rest of the structure, it provides an unfettered view of both Citadel Hill—a star-shaped fort and reminder of Halifax's military past—and the harbour.
Inside the library, an atrium lights up the main facilities, which include a 300-seat performance hall, multiple music studios, and a First Nations reading circle. Every day, programs and workshops are offered to anyone interested. It is both a centre for learning and a new civic landmark.
Moving clouds reflect off the library's glass walls, making the building constantly glitter. And if one thing can be certain in this city of contemporary and antique, it's that there will almost always be a cloud in the sky. It is on the Atlantic, after all.
---