Skim the reviews for Rumble in the Bronx, and you'll notice a pattern of both reverence and disdain.
Disdain for the plot, costumes, overdubbing, and setting. Especially the setting. The Bronx, reviewers assure, does not have a golf course with a mountain range behind it. All this is usually written to sweep away the obvious so reviews can focus on the action.
The jump from the roof of a Cordova Street parking garage. The even more dangerous leap from a pillar beneath the Granville Bridge to the deck of a hovercraft. The acrobatic climb through a shopping cart, the truck pushed off a building, the entire facade of a two-storey market torn away with people inside. Fridges, pinball machines, glass bottles, canned goods, skis—all employed to exhilarating and comic effect.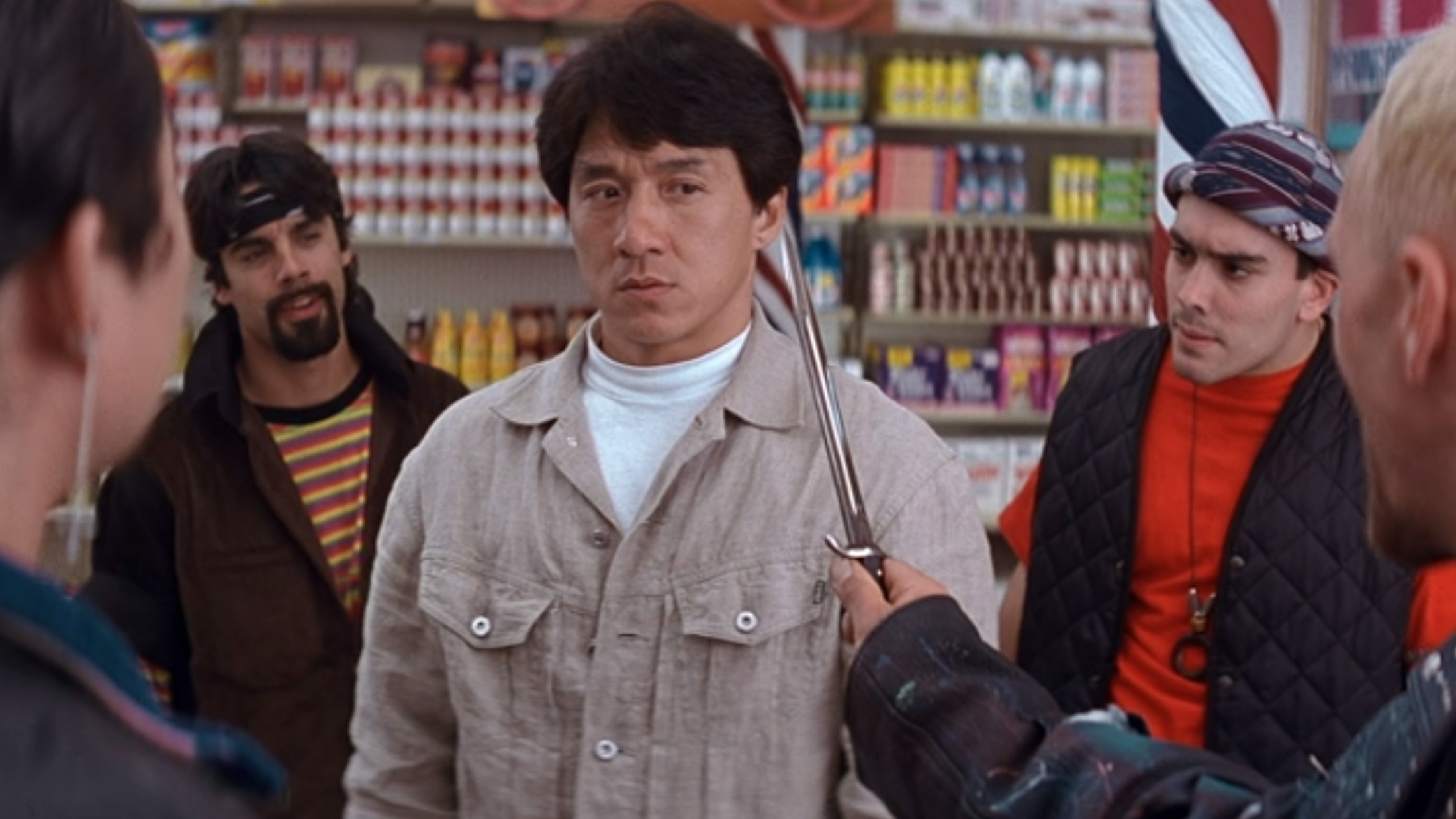 Roger Ebert praised the athleticism and exuberance of Rumble's star while cautioning moviegoers not to pay too close attention to anything else. "Any attempt to defend this movie on rational grounds is futile."
Twenty-five years after its North American release, Rumble in the Bronx marks a minor turning point in film history. Rumble transformed Jackie Chan from a Hong Kong star into an international one, launched the career of Canadian actress Françoise Yip, and brought Hong Kong–style action and filmmaking to North American shores.
The Matrix, Crouching Tiger, Hidden Dragon, Rush Hour, Kill Bill—even Kung Fu Panda—all followed in Rumble's wake.
"And just like that," Chan wrote in his autobiography Never Grow Old, "I was a big star in America after fifteen years of trying."
Jackie Chan, born Chan Kong-sang and known in China as Sing Lung, worked as an extra in Enter the Dragon and A Touch of Zen before rising to stardom in the late 1970s with Drunken Master and The Fearless Hyena, the latter directed by Chan himself. The Police Story and Supercop franchises, along with Crime Story and Operation Condor, established Chan as a megastar in Asia and an original screen presence.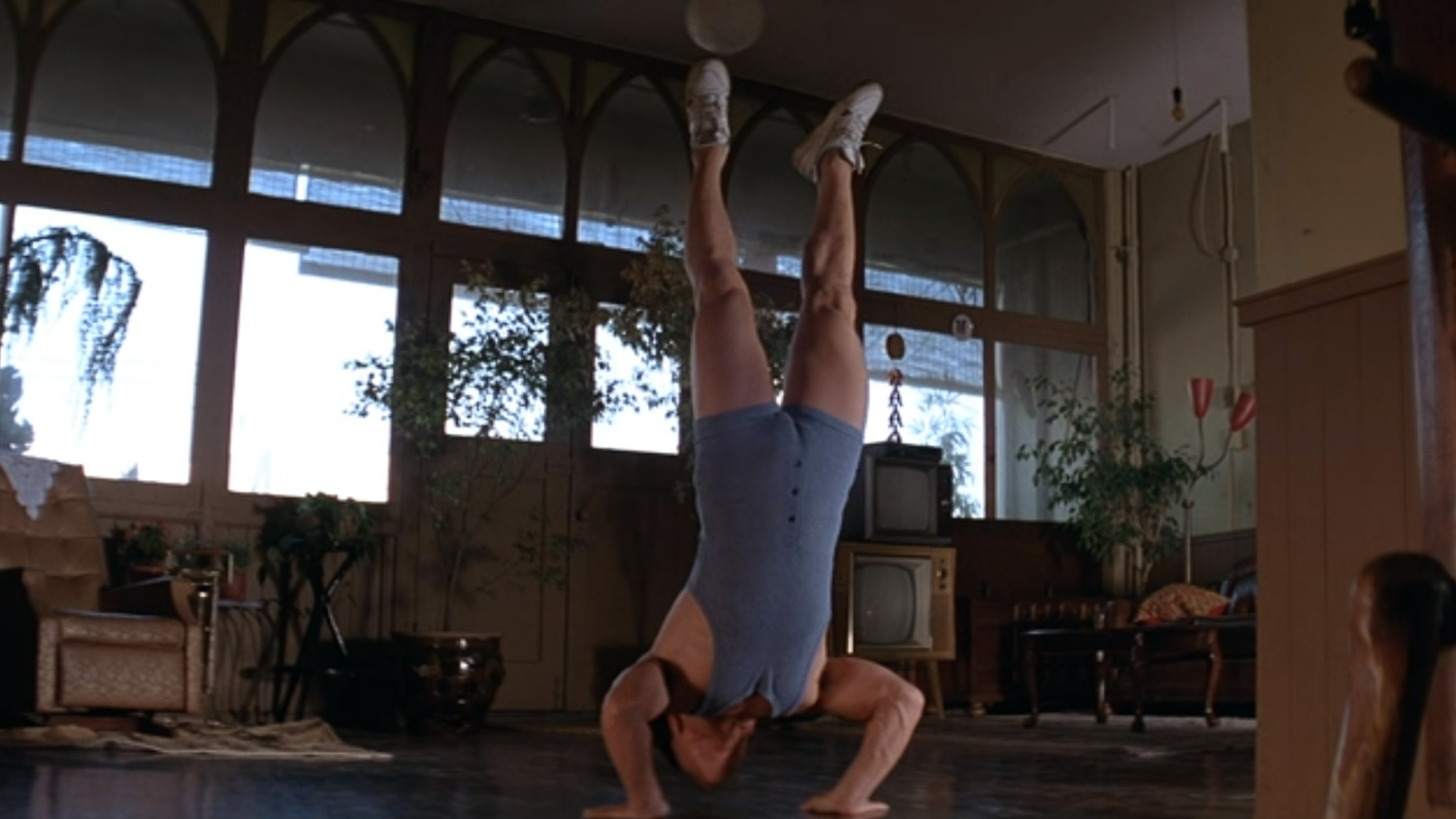 Often compared in the West with those of Buster Keaton, Chan's films mix martial arts, slapstick, and death-defying stunts. His dominance as a fighter varies from scene to scene, and the story logic bends to suit the gag. Who's the best fighter? is far less important than What is the funniest or most goddamn thing that can happen right now?
The gag reel during the credits of a Jackie Chan film adds to the spirit of fun. Outtakes, injuries, and behind-the-scenes footage of Chan and his crew preparing a dangerous stunt (or recovering from one): the main character of a Jackie Chan film is Jackie Chan.
By 1995, the persona was well-established, and Chan had been trying for a decade and a half to crack the American market. Battle Creek and The Protector had failed to establish Chan in the West. His most notable crossover roles to date were cameos in the Cannonball Run films.
Rumble in the Bronx (or Hung Fan Kui) employed a crew of Chan regulars, including screenwriters Edward Tang and Fibe Ma, and director Stanley Tong. All of them had worked on previous Chan films. The key difference with Rumble in the Bronx would be its location.
Was New York City chosen as a recognizable setting for a North American audience, or an exotic locale for an Asian one? Most likely both. As Chan writes in his autobiography, "It was a Hong Kong production, but we always had one foot in the international market from the start … [producers] Raymond Chow and Leonard Ho had high hopes that this one would finally open the golden door to the West for us."
The story involves a Hong Kong martial arts expert named Keung who comes to New York for his uncle's wedding. Keung befriends Elaine, a woman taking over his uncle's supermarket, and Nancy, a cage dancer torn between raising her wheelchair-bound brother Danny and her boyfriend Tony's gang.
Keung does battle with the gang, and after he tells them they've become "the scum of society," they immediately reform. But one member becomes mixed up in a diamond heist, and hides the loot in Danny's wheelchair cushion. This draws Keung into a confrontation with crime boss White Tiger, culminating in a hovercraft chase through waterways, city streets, a beach, and finally a golf course.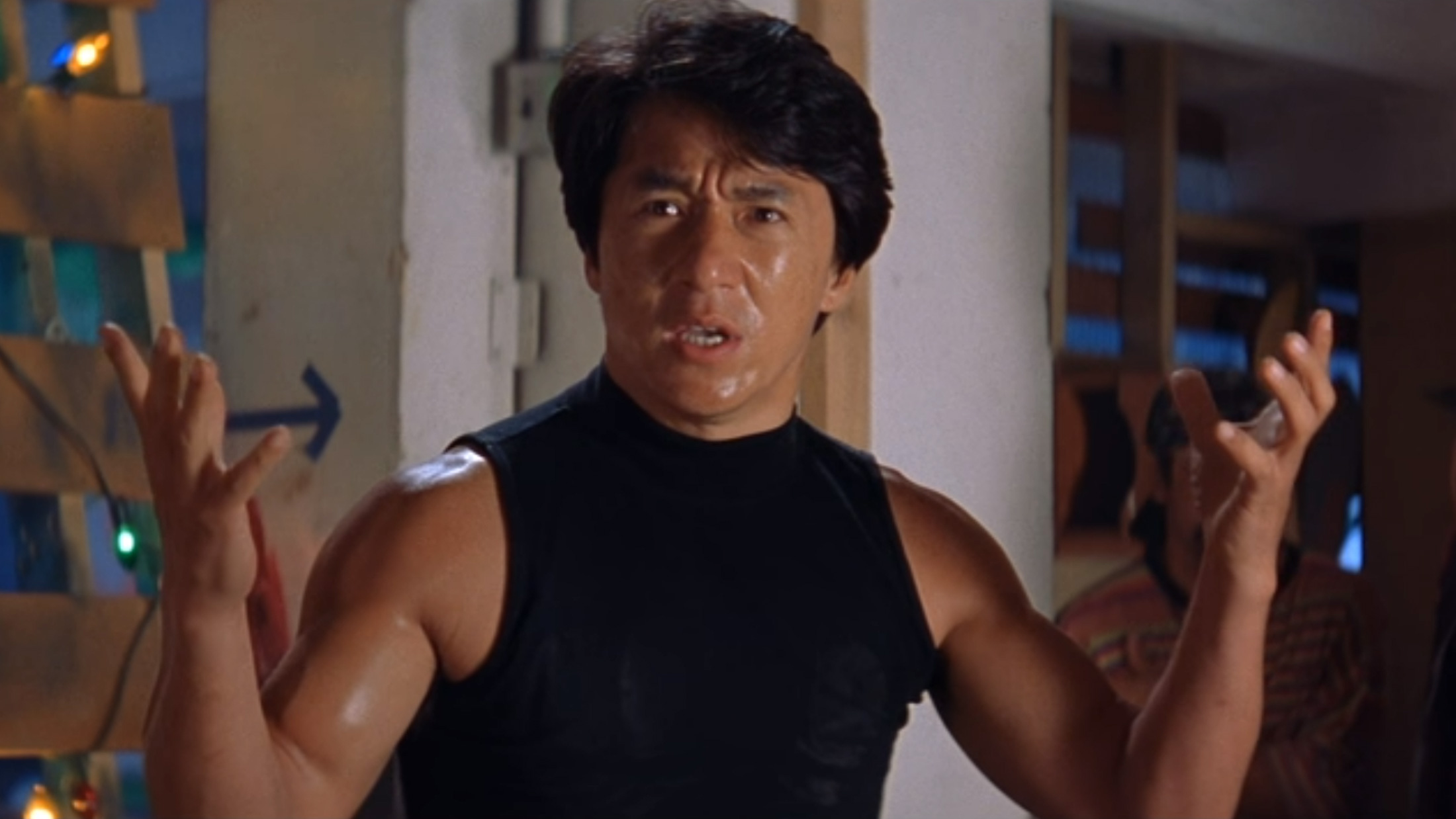 Françoise Yip, a commercial actress in 1995, made her film debut as Nancy. "It was my first audition, first speaking role," Yip told Ada Tseng in a 2009 interview. "I went on Friday, we did some wardrobe stuff … and we started shooting on Tuesday."
After Rumble's success, Yip found herself starring in several Hong Kong films before becoming a mainstay in Vancouver-shot TV shows like The Order.
The other female lead, Elaine, was played by Anita Mui, a Canto-pop superstar known as the "Madonna of Asia." Mui had already starred opposite Jackie Chan in The Legend of Drunken Master a year earlier. Sadly, Mui died in 2003 at the age of forty from cervical cancer. South China Morning Post wrote that despite her failing health, Mui spent much of her last year organizing relief for victims of the SARS pandemic.
According to Reel Vancouver: An Insider's Guide by Ken MacIntyre, many of the film's supporting actors "were actually Vancouver stunt people who, incidentally, also had their own stunt doubles." This collaboration between Eastern and Western filmmaking wasn't always smooth.
"Working on Hong Kong films is very different than North America," Françoise Yip said. "You can't do certain things in Vancouver that you can do in Hong Kong."
Chan himself is blunter. "On Chinese film sets, when the director calls for something, you respond immediately … In America, they slowly get what you asked for and slowly bring it over … the difference in pace made the Americans think we were slapdash. We saw them as inefficient."
The spectacular stunt work in Rumble in the Bronx carried a cost. According to MacIntyre, Stanley Tong performed the parking garage leap himself first, with the aid of a harness, before an unharnessed Chan nailed the jump in one take. Tong later sprained his ankle and directed while on crutches. Chan famously broke his ankle leaping from the Granville Bridge, the footage of which can be seen in the credit reel. Yip and two stuntwomen were also injured filming the motorcycle race along New Westminster's Front Street.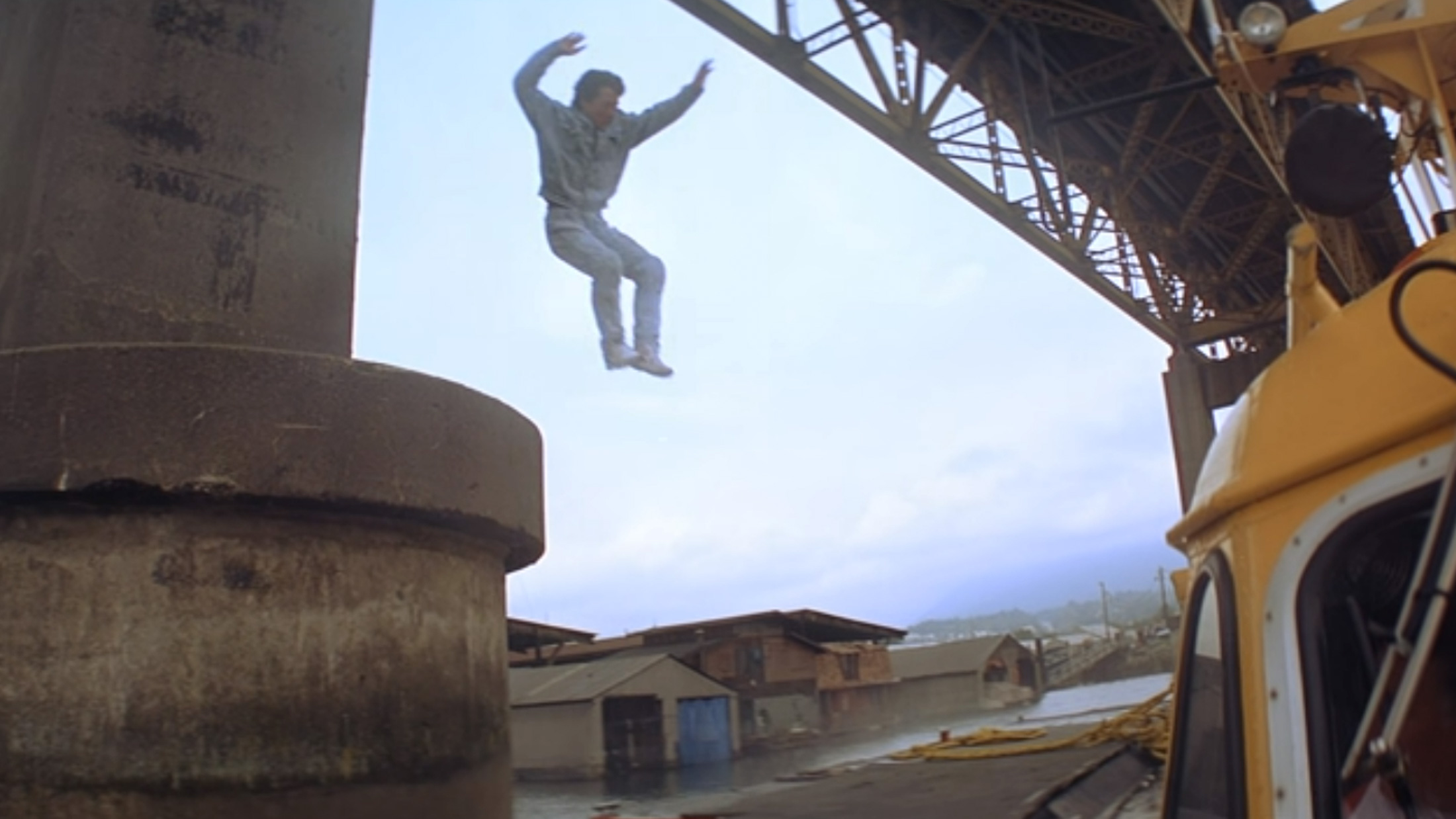 By the end of filming, though, respect had been established. "After they saw what the stunt team was capable of," Chan writes, "the Americans were so impressed, they bowed to us in admiration. We won them over with sheer talent."
Vancouver landmarks pop up regularly in the film. The hovercraft chase covers much of False Creek, spilling into Yaletown and along Jericho Beach. City Hall doubles as an NYPD precinct, while Nancy dances at the Rage nightclub along with a tiger. The Wa-Ha supermarket was built and demolished in a parking lot on Cordova Street, near the Woodward's parkade Chan leaps from. Long after filming, nearby structures still bore Bronx-style graffiti from the film.
While Vancouver-as-the-Bronx is an evergreen punchline, it's also a point of pride. Scholar Mike Gasher argues the film offers "a cinematic wink to in-the-know Vancouver moviegoers."
Rumble in the Bronx won box office success and mainstream attention in the U.S. Chan was even nominated for Best Fight at the MTV Movie Awards, losing to Bob Barker and Adam Sandler in Happy Gilmore (another Vancouver production).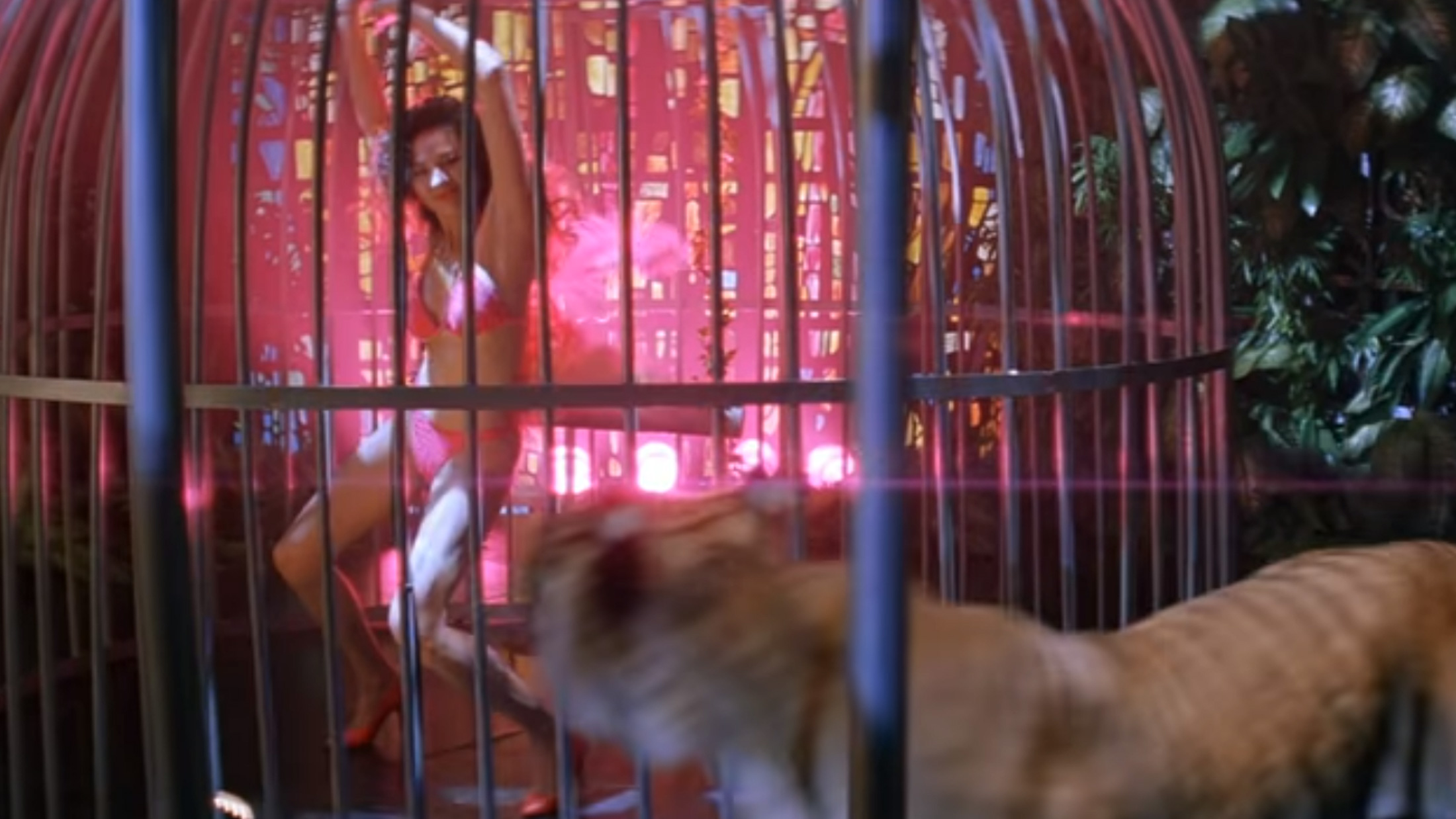 "It was the first Hong Kong film, dubbed in English, to break into the American rankings," Chan writes. He credits the success of Rumble and his subsequent hits to making his own style of films on his own terms. "They were true Jackie Chan films using all my key elements."
Rumble in the Bronx aided Chan's ascension to global superstar and whet the American public's appetite for Hong Kong–style action. Rumble established Françoise Yip as an in-demand actress on both sides of the Pacific and provided the late Anita Mui with one of her most memorable roles.
Now a quarter-century old, the film documents 1990s Vancouver from familiar storefronts like A&B Sound to the Granville Island waterfront to, yes, the golf course with the mountains.
The Bronx never had it so good.
---
Read more Film stories.