From the snow-capped mountains of the North Shore to the sunsets of English Bay, the dramatic natural setting of Vancouver has long inspired local artists, but anyone who has lived here knows the city's iconography is more than just postcard-perfect vistas. No one understands this better than Mikayla Hong, the artist behind the Artbedo Instagram account and online store. Whether she's paying tribute to quintessential local institutions like Pepino's Spaghetti House or documenting now-shuttered businesses like Huang's Beef Noodle, the self-taught illustrator has a knack for lovingly capturing the lesser-known but iconic places synonymous with everyday life in Vancouver—including those lost to the city's rapidly evolving streetscape.
I discovered Hong's Instagram page, which now boasts more than 12,000 followers, at exactly the right time. I spent the majority of the pandemic isolated on Vancouver Island. Like many people, I yearned for connection to the world outside my bubble, and Hong's colourful illustrations allowed me to feel connected to some of my favourite Vancouver haunts. Turns out, that was intentional.
"Through my artwork, I hope to create connections and a sense of familiarity," says Hong, who began sharing her illustrations online during the pandemic. She had just started a master's degree in biomedical engineering when her classes were moved online. "I was in a position of immense privilege to have some additional time on my hands, which led me to create art again," she says. "In October [2020], I drew a local Vancouver business called Federal Store because it's both one of my favourite cafes and I liked how the storefront looked. To my surprise, they reposted it on their account."
Hong received so much positive feedback about this illustration that she decided to draw more of her favourite spots around the city, such as Livia on Commercial Drive and Chinatown BBQ. "It's been so wonderful to be able to share these gems with others."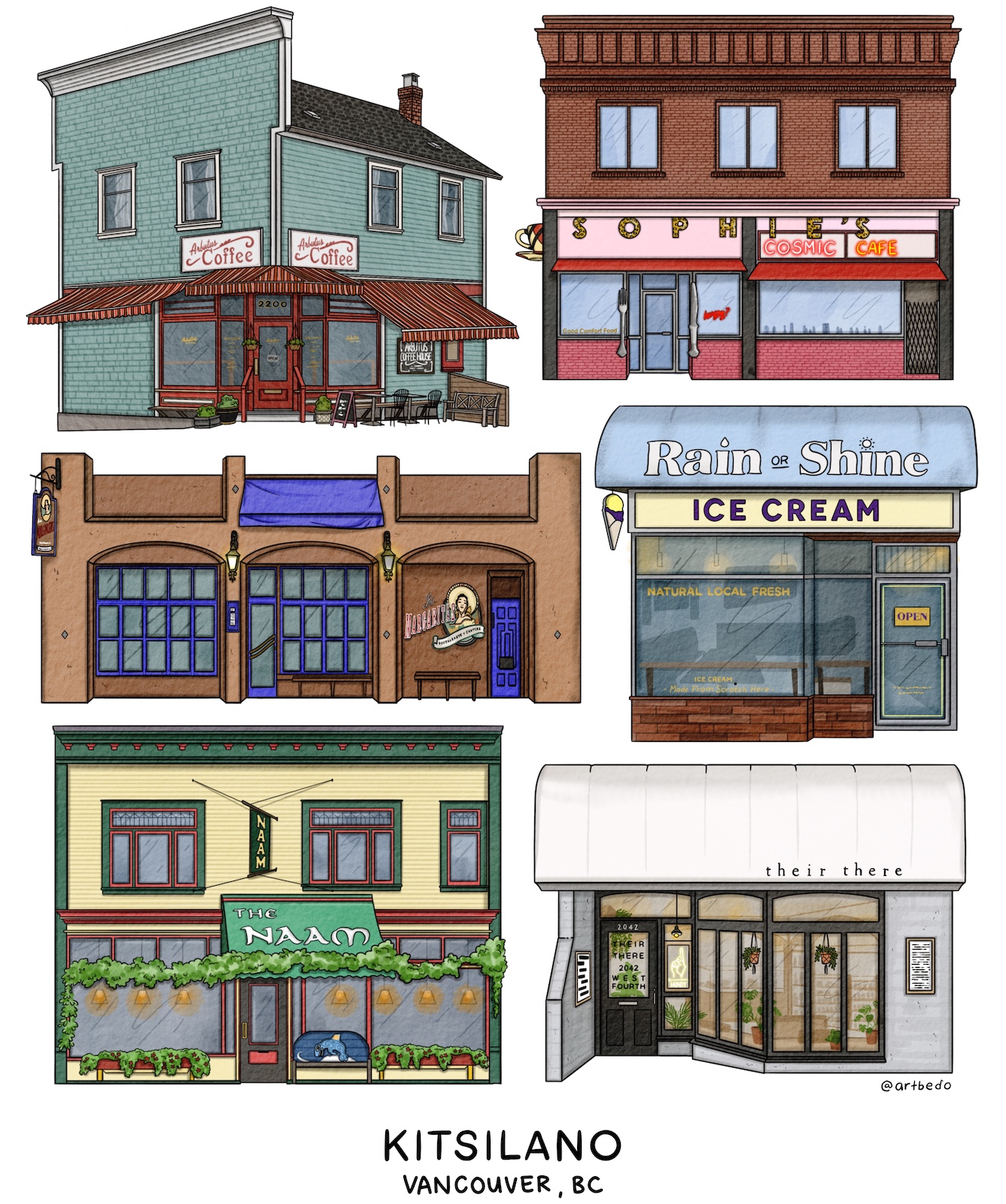 In the beginning, Hong illustrated most of her pieces with pen and watercolour paints. "As my style has evolved, I still incorporate hand-drawn techniques with digital tools such as Procreate on the iPad and Adobe Illustrator," she says. The result is images awash in vivid colours that still somehow capture rainy Vancouver.
When creating a new piece, Hong says, "I also receive my reference images from a variety of sources, from family photos to Google Street View. Inspiration is everywhere!"
One of the most touching examples is her illustration of Wo Fat Co., the longest operating Chinese bakery in Vancouver, which her great-grandfather opened when he arrived in Canada in 1923. "His shop was famous for almond cookies, sponge cakes, and mooncakes—all made by hand. After his passing, my grandfather immigrated here with his family to take over the business," says Hong, who worked with family members to ensure the illustration captured the look and feel of the bakery, right down to the almond cookies displayed in the window.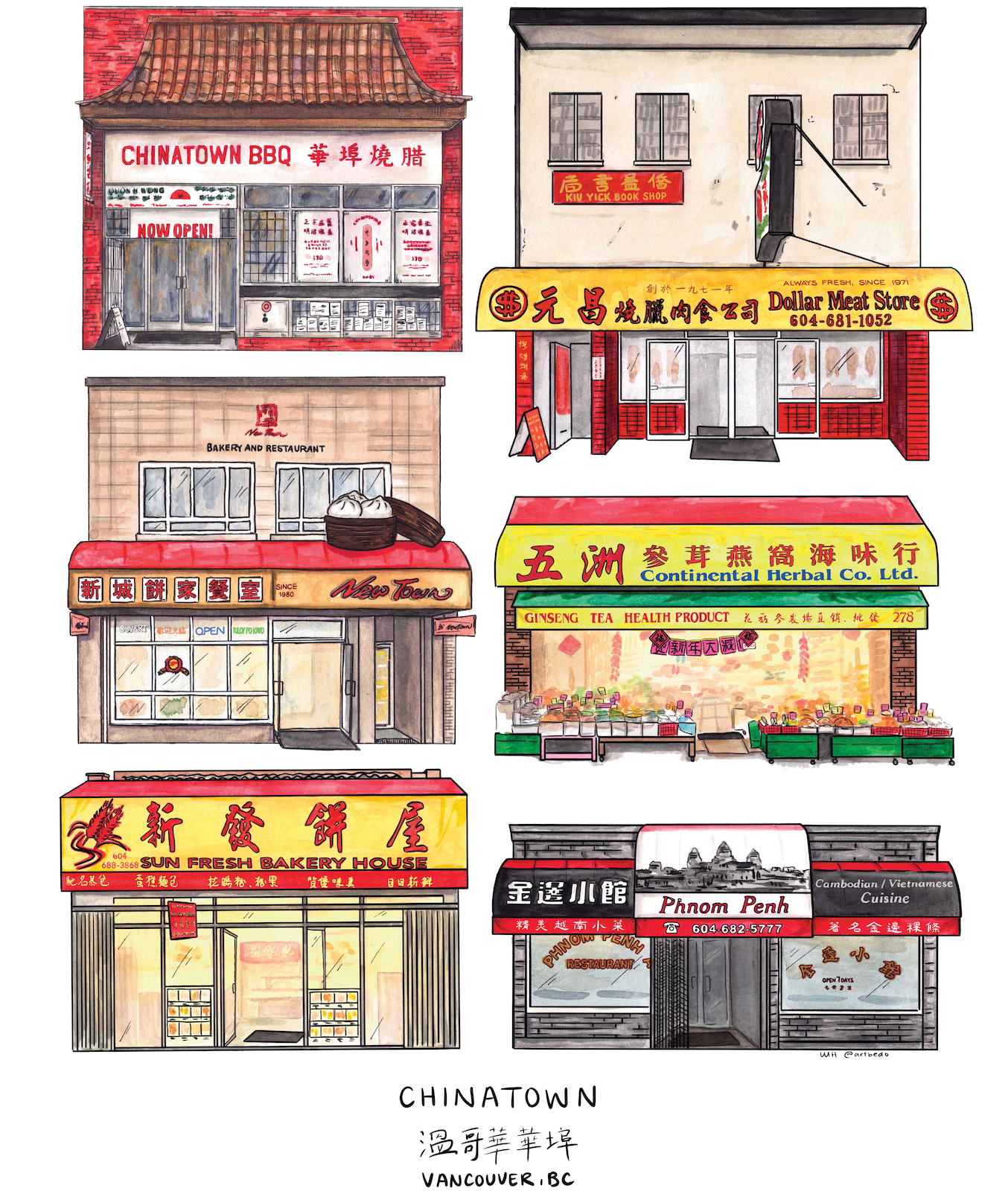 Hong's work pays homage to both her Chinese Canadian identity and the multicultural fabric of Vancouver. Her tribute to Wo Fat Co. is part of a collection of illustrations that documents the storefronts of Vancouver's Chinatown in the 1970s. As she shares on Instagram, "Chinatown in the 1970s was full of vibrancy; largely due to restaurants, cafes, and nightclubs owned by new immigrants like my great grandfather."
Whether she's sharing images of her favourite Chinese pastries and snacks or documenting the forgotten urban landscape of Vancouver, Hong's work always transports me back in time to my childhood experiences in Vancouver: excursions to Chinatown with my grandparents, fuelled by fistfuls of White Rabbit candy washed down with slender tins of guava juice. "That is exactly how I hope people feel when they see my art," says Hong. "A large focus of my illustrations is all about embracing nostalgia, bringing back those warm childhood memories and shared experiences. I strive to capture the essence of these nostalgic moments, whether it's the simple pleasure of enjoying a bag of White Rabbit candy or reliving cherished meals with grandparents."
But Hong's art is more than just sentimental deep cuts. At a time when the landscape of Vancouver is changing rapidly, including ongoing gentrification that has rendered parts of Chinatown nearly unrecognizable from the 1970s and 1980s, her illustrations are an act of resistance. "While these businesses and the neon lights may be long gone, it's important to remember the sacrifices made by previous generations who built this community," she says. This includes her illustrations of businesses like Au Petit Café, which closed during the pandemic.
Even as Vancouver evolves, Hong's love for her hometown remains strong. When she's not working, she likes to grab coffee at local cafés and enjoy the city with her dog, Sadie. Unsurprisingly, she also appreciates the local food scene: "One of my favourite things to do is visit new places to eat and drink throughout the city—whether it's an older establishment that I've never been to before or a place that just opened."
One silver lining of living in a city undergoing radical transformation is that there's always somewhere new to try. "Right now, Wa! Curry is on my list of restaurants to visit, and I recently fell in love with Analog Coffee in Yaletown."
When asked how she feels about Vancouver's changing landscape, Hong expresses mixed emotions. "While progress is evident, it's important to acknowledge the loss of historical and cultural landmarks. Capturing now-shuttered businesses like my grandfather's bakery, Wo Fat, through my illustrations allows me to keep the memory of these places alive in some way. It's a means of preserving their legacy and ensuring that they are not forgotten amidst the city's transformations."
---