At about four o'clock every morning, while her household is still asleep, Bif Naked watches the sunrise. She absorbs the rays slowly as they beam between the towers lining the street in front of her two-bedroom apartment, casting golden glitter on the surface of Lake Ontario. The ambrosial hours, the small hours, are hers to keep.
Before moving to Toronto four years ago the singer, songwriter, and humanitarian lived in Vancouver. From the early nineties, as a young punk on the brink of rock superstardom, Naked called the West Coast home and would get up at 2:30 a.m. to care for her beloved dog who was old and sick and needed medication and comfort in the night. After the dog passed away, the habit stuck.
"The thing about it is," Naked says, speaking over video chat, resting her chin on her palm, "it is an opportunity to take time to yourself, whatever that looks like." It can be reading a book, making coffee, whatever—but making a quiet part of your day that is restorative is nurturing. Without it, "I would be more stressed, just in general, and I think it's probably true for a lot of people. It's hard to find the time to get up early, but it's really worth it."
If you follow Naked on Instagram, you've seen her sunrises. She shares photos of them often, captioned with affirming words of love and kindness. A recent one, for example, goes: "Today could be anything. Showing up for the day ahead is about showing up for the people IN it. Start with yourself."
This openhearted sincerity is Naked, who she is in her soul. It's a defining characteristic that has been a guiding compass through an incredible life and successful career. Born in India to a teenage mother and adopted by missionaries, she was raised mostly in Manitoba as Beth Torbert. Her formative years were filled with what she describes as misadventure: she was a teenage runaway, narrowly escaped being trafficked, and survived sexual assaults. Finding her voice in music and performance, Naked went on to carve out a singular space in punk during a time when female singers weren't common and the industry was rife with unacknowledged misogyny. She made an indelible mark on Vancouver's cultural landscape, touring with legendary local bands like D.O.A. and The Wongs, the latter fronted by Mr. Chi Pig, whose shoulders she'd sit on as they dueted to Meat Loaf's "Paradise by the Dashboard Light." She headlined venues like the Town Pump and Commodore Ballroom. She hung out at PD's Hot Shop, the Kitsilano skateboarding landmark.
International acclaim came after going solo from her bands Gorilla Gorilla and Chrome Dog, with powerful hits like "Moment of Weakness," "Spaceman," and "I Love Myself Today." She made history at music festivals like Edgefest where, in 1998, she was the only woman on the lineup alongside acts like Green Day and Foo Fighters. She dipped her toes into acting, guest starring on Buffy the Vampire Slayer and The L Word.
And then, in 2007, she was diagnosed with breast cancer. She had a lumpectomy and chemotherapy, the experience inspiring a commitment to advocacy. The word Survivor, etched on her arm with over 70 other tattoos that fortify her body like armour, fits.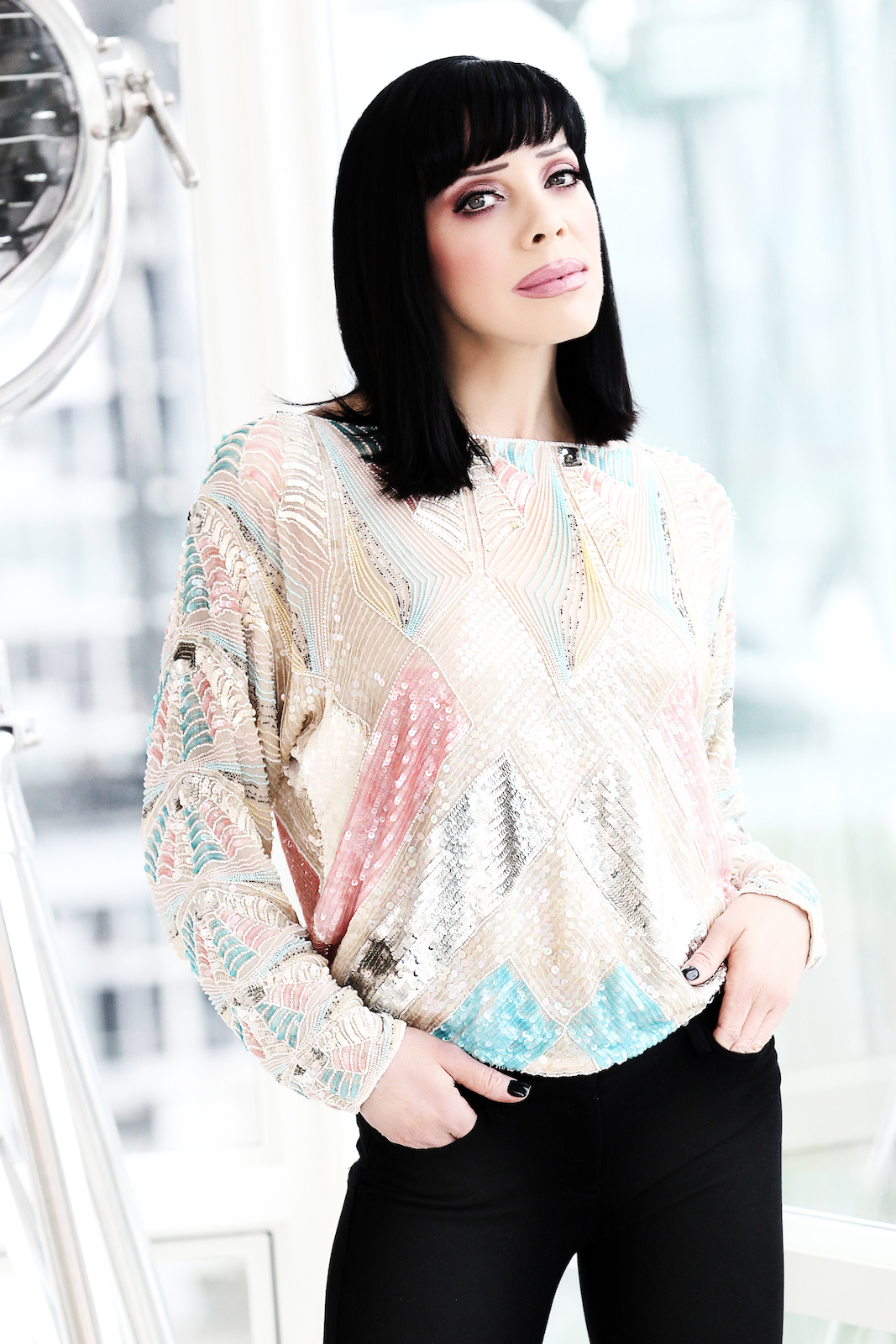 Naked smiles from her dining room, a cherry red tapestry adorned with illustrations of KISS as her backdrop. Her husband, Snake, is a big fan of the glam rockers and a serious collector of their merchandise. Naked swivels her computer around. "My entire place—you probably can't see it all—but it's all guitars down the hallway, everything is KISS, everywhere," she laughs. "It makes it very vibrant."
Naked has always been an optimist. "Annoyingly so," she admits. But it is bound with a sharp self-awareness. She acknowledges that as a white cis-het woman, she has the privilege of being optimistic. Even as a child she gravitated to the bright side. "I grew up in a house where we said 'thank you God for everything' every five minutes. My parents were just always drilling gratitude into our heads. And as I became an adult, I think that a lot of the misadventures that I experienced—I will always find a way to find the silver lining. If I was with an abusive guy, I would say, well, at least he didn't break my jaw. Yeah, this happened, but at least this didn't happen."
Naked thinks about having a working toilet, water, heat, a healthy dog, and a reliable car. Simple things we take for granted. It sounds corny, but it's true, she insists. Her reflectiveness is one of the reasons her new album, Champion, her first studio effort since 2009's The Promise, has been on hold for two years. It was finished, ready to go, with an intentional rollout of songs planned to showcase an eclectic scope. The sweeping, dark, glittering "Jim" was released first in early 2020 and "Broke Into Your Car," a playful dance-pop love song, was supposed to follow that summer. Then the pandemic happened. And George Floyd was murdered.
"Minneapolis was just on fire, man," Naked exhales. "There was such a need for solidarity, for justice, for keeping the conversations going for racial equity, for the uprising that was happening in America and in Canada. And it was just, like, my record means nothing—it's not important right now. I want to just go through the world locked arms with everyone else. That's what I'm passionate about, that's important to me. And music can wait. It'll always come."
Naked immersed herself in the community. Her social media feeds are filled with support for organisations like 64 Gifts, which raises funds for grassroots and harm reduction programs in Vancouver's Downtown Eastside. Naked's corner of the internet is a bright spot in a cyberspace that's often divisive and negative. It's a choice, she says.
"It's hard not to talk to our computer screen and go, you've gotta be fucking kidding me. And I say that all the time: you're fucking kidding me." Naked calls it "windshield talking," like spitting out unfiltered frustration inside our cars stuck in traffic. "But I'm not going to tweet that. Not because I don't think it—because of course I think it—but that's not what I'm going to put out there. People don't need to hear me complain. How can I be part of the solution instead of part of the problem? I can repost somebody else. Their voice needs amplification, not mine. You don't need my voice. You'll hear my voice in the song or on stage."
Naked's adoptive parents were civil rights activists who marched on Washington with Martin Luther King. Her father, especially, inspired her profoundly. She describes him as a hilarious, pontificating, socialist-minded preacher's kid from North Dakota. "He thought that my sisters and I should be in the army to learn self-discipline. And he made us watch Gandhi, the movie with Ben Kingsley, every single Christmas, my entire life. He really influenced me almost more than my mom, or even my birth mom—who I also know, she lives out here," Naked smiles and trails off for a second. "It's cool to look like someone and have all these same mannerisms as her. Same enunciation style, even though I didn't grow up in her house. I mean, it's just, like, wild."
"But," she continues, returning to her point, "I really think that my dad influenced me so much. There's just no way that I can go through life not being a big mouth."
Naked feels a gravitational pull towards advocacy work. Before the pandemic, she was studying to become a death doula. She has an appreciation, having gone through breast cancer, for patient care and health equity. Once she recovered, she volunteered in palliative care. "I feel like sometimes there are voices that don't get heard loud enough," she says. "And I've got a really loud voice—physically, not even as a platform, I just mean I can talk loudly. It's rewarding, and I really like it. I think that as I get older, I'll probably do a lot more of it."
Champion is a direct nod to Naked's innate resilience. Her records have always illustrated her life's chapters, like how Purge in 2001 symbolized a release from the long journey to create its predecessor, 1998's I, Bificus. The Promise followed cancer treatments and pledged hope in all its multifacetedness. With Champion, it's simple: she feels like one.
"I feel like I have worked very, very hard in my life to try and be respected by my peers," Naked says. "And, most of my career, that's just been dudes. And for me, as a young artist, I mean, I quit drinking—I never wanted to be misinterpreted. I didn't want to present myself in any way that would be misinterpreted. I was anyway because, 'welcome to living in the world as a chick.'"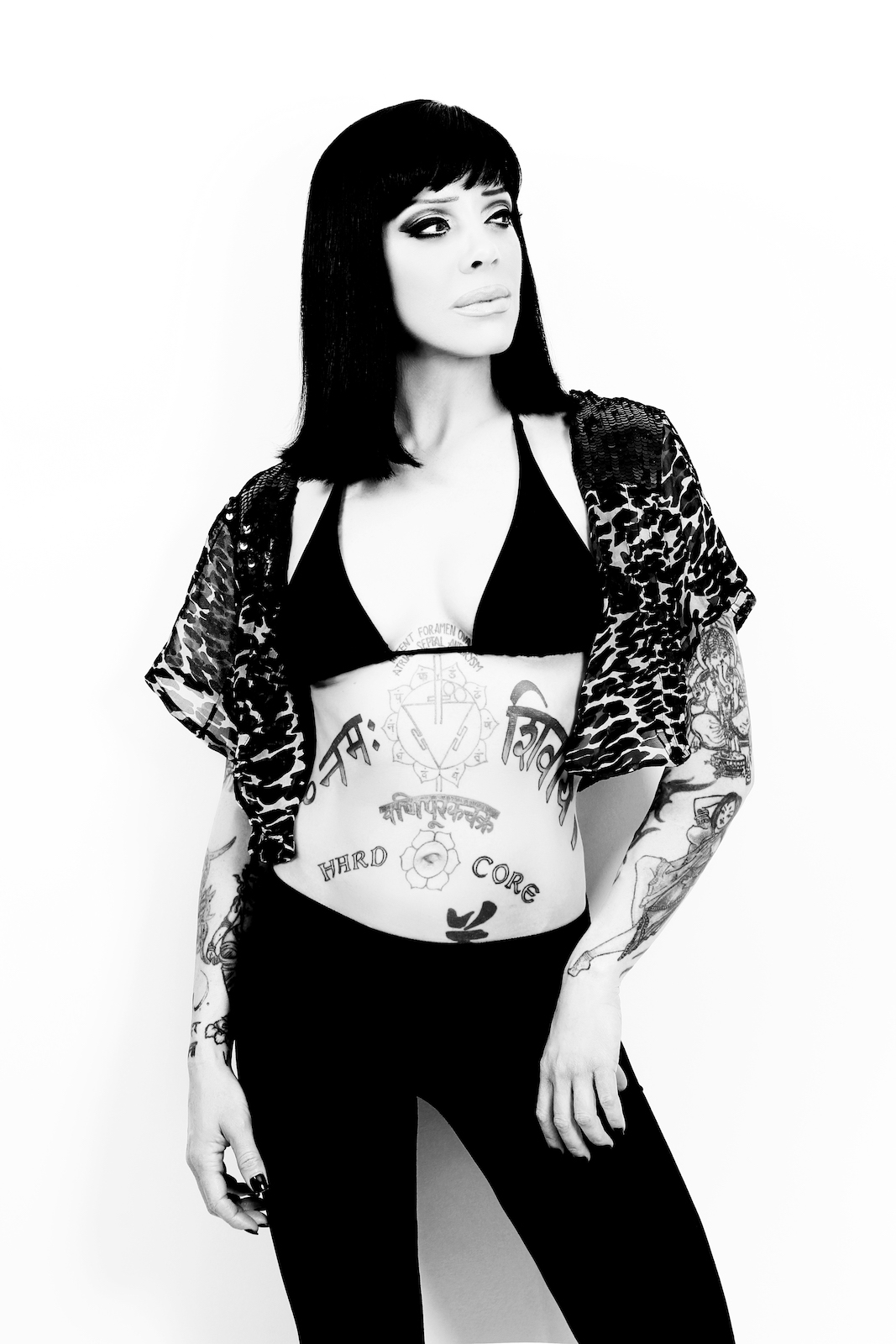 "I had worked for 30 years and I felt like I had done what I wanted to do, I had represented myself the way I wanted to be represented. And, as a historical body of work, I felt very happy with where I came from and where I was. I felt like a champion. I still do. I have survived this bullshit business that so many people bemoan. And I just thought, I have no bad memories, you know? None. And there were lots that I should have. But, as I get older, I only remember the good things."
She recalls one night in San Francisco on tour with Chrome Dog, parked outside a peep show club, when a guy violently tried to break into the band's van while they were sleeping. "There were so many different things. And I remember everything so fondly and just think, what a life. I could die happy. But I've always kind of felt that way, anyway. And Champion, for me, there was no better word."
After pausing the album's release, Naked began tinkering with its production. Then she started writing more songs. "And it was like, oh my goodness, I'm so happy that we didn't put it out because our best songs were still coming. Now, at this point, it'll be a triple record. There's different stages in it, different sections." Naked found herself writing a lot of thrash metal. She even blew her voice out screaming in the studio—something she hasn't done since she was in her first band. She grins. It felt good. One of those songs is called "Stay in Your Lane," inspired by the last two years of pandemic-living.
On a different note, she recently collaborated with the Toronto Tabla Ensemble on "Prayer for the Mother," a song that honours the Earth. "The creative process has been very, very fulfilling for me on this record," Naked says. When Champion eventually comes out—hopefully sometime this year—she's excited to perform it.
Naked returns to Vancouver's Rickshaw Theatre on February 18. It's a homecoming in many ways: she's back in the city she loves, the one that helped raise her, marking a new era in her career at an iconic venue she'll play for the first time in almost a decade.
To be in a band and have it as a vehicle for emotions, words, and language, to bang her head, punch her fists in the air—there's nothing like it, Naked says. She can't believe she's been able to do it for so long. "I have come to figure out that performing, for me, has actually been the art form. The writing and the recording and stuff is all supernatural. But the performance was really something that I came to finally—finally! At 50!—understand that's my art form. That's where it is. And that's something that I just really want to get back to. I want to embrace it again."
---