A sea of umbrellas lines the sidewalk forming a canopy, as people cluster together to get a closer look at the strange new additions to Alberni Street. Flowers. Everywhere.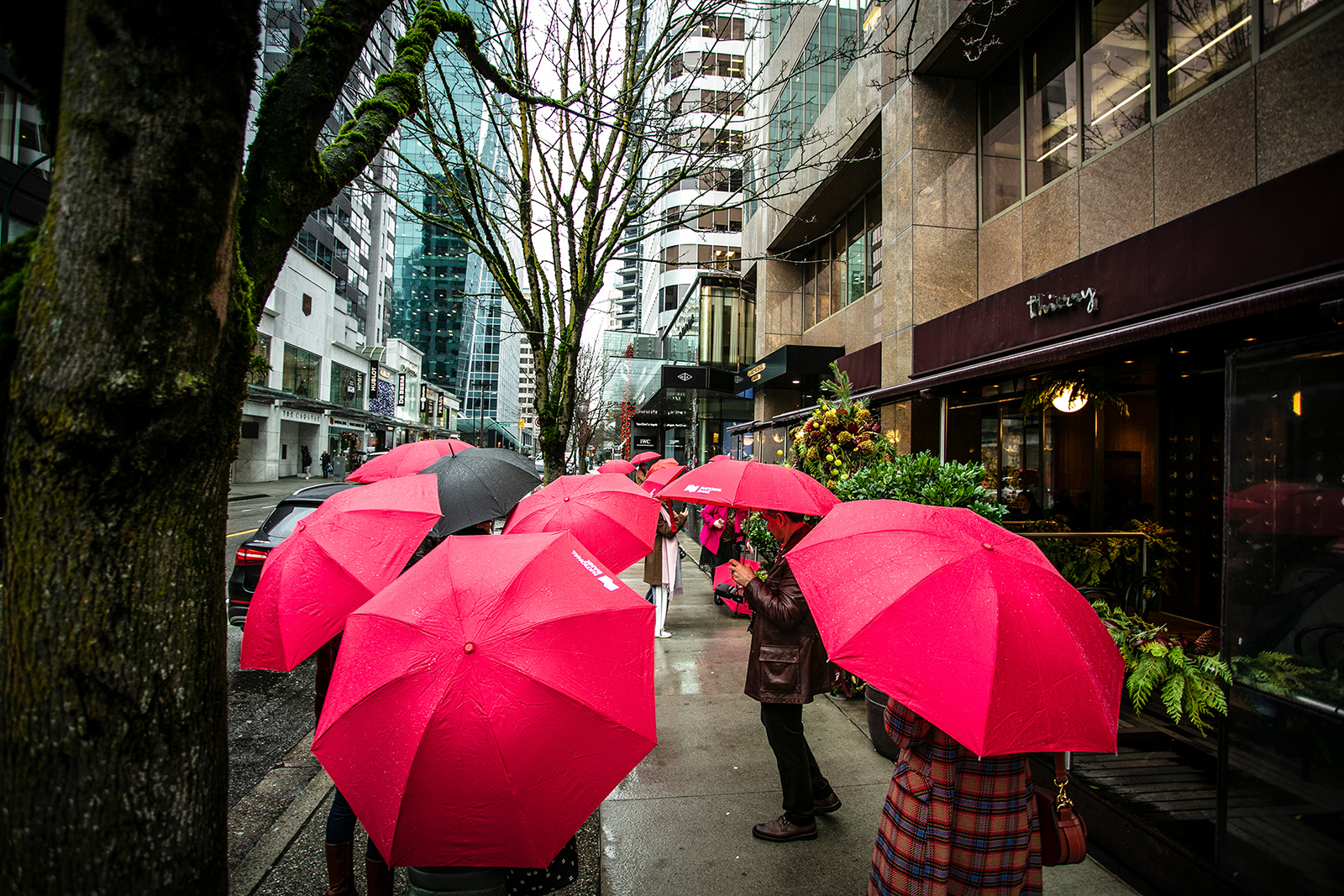 Small floral details and large-scale installations have popped up in a three-block radius downtown to create a trail of petals that unfurls from Burrard to Bute Street. For the next week, thanks to Vancouver-based company Fleurs de Villes and an army of local florists, 20 public art pieces are adding to the beauty of Vancouver.
A mannequin adorned in a ball gown of crimson roses holds out her hands to guests in the Fairmont Hotel Vancouver. She is the "Lady in Red," the floral embodiment of the ghost that haunts the hotel's top floor, and the work of Granville Island Florist.
Two more mannequins beckon from the trail, along with two cars topped with large, Christmassy floral arrangements. It's called flower bombing and "there is so much more to come," promises project manager Kathryn McCready.
Fleurs de Villes Noël is the first of its kind in Vancouver, and the city has already taken notice, with plans to expand the Burrard Street bus stop installation, now that it has seen what Fleurs de Villes can do.
Fleurs de Villes' motto of "flowers make us happy" has already taken them to New York, London, and across Canada, creating runway and mannequin shows in partnership with each city's local florists. Their combination of fashion, design, and imagination blossoms into increasingly unexpected details that offer a stark contrast to the slate grey concrete of the city.
On a pillar at the entrance of 1028 Alberni Street cascades a waterfall of amaryllis still in bud. As the days pass, the installation will grow and change until the flowers are out in full force, a completely different display than its initial presentation.
Each stop on the trail is designed to withstand the Vancouver elements and add an injection of whimsy and colour on even the greyest of days. So, if you see the umbrellas come to a stop, I suggest you stop, too. Look up, look down, there is beauty around every corner. Let the flowers make you happy.