It's mid-morning on the last day of 2017, and a rare bout of sun shines on the street as I walk into popular Gastown cafe Nelson the Seagull. Though the room is busy, it doesn't take long for me to spot who I'm here to see­—but she's not alone.
"Can we see you in anything else?" a man asks Jodi Balfour, who is seated at one of Nelson's cushioned benches. I realize that this fellow has recognized Balfour, an actor, probably from her recent role as Jackie Kennedy on Netflix's Queen Elizabeth period drama The Crown. They speak for a few minutes, and when he and his wife leave, Balfour turns to me: "This never happens!"
But it could very well start happening. Balfour may have only appeared in one episode of The Crown's second season, but her impact was felt almost instantly, with the show's massive fanbase wondering exactly who this new starlet is. So it's not hard to envision a world in which Balfour is recognized on the regular. Still, she admits, it's not as though the role changed everything.
"It doesn't seem to get any easier," Balfour says of the fact that she does not have any new projects in the works (though fans can next see her in the BBC One/Cinemax co-production Rellik, a gritty crime miniseries that has already aired in Britain and will debut in North America in April 2018). "Hopefully in a few years I won't be saying that. But right now it's still going from extremely busy to extremely question mark. It's such a stupid job! With so much joy."
Balfour speaks between bites of croissant, baked right here on premises. She is very familiar with this baking, as she is with the whole cafe—because while she is South African by birth, and now lives in Los Angeles, there was a period of time when Balfour lived in Vancouver. Her parents had moved to Vancouver Island, so upon graduating university, she hopped continents to be closer to them. Family friends Jonathan and Lee Snelgar moved to Vancouver themselves a few months later, and moved into Balfour's "crazy weird shared housing in Kitsilano." They became incredibly close, and the following year, the three of them joined forces to found Nelson the Seagull.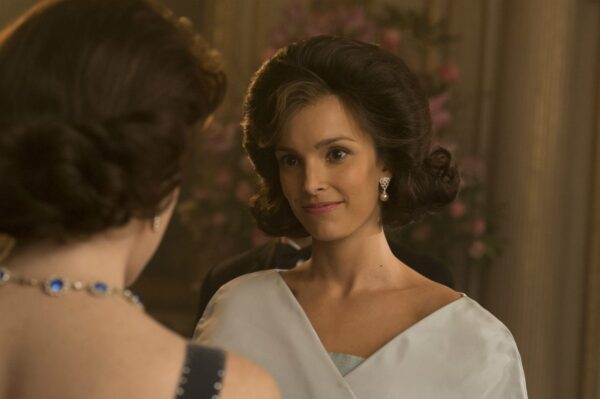 Jonathan had worked at a prestige bakery back home in South Africa, but for Balfour, the reason to join the sibling duo in opening a cafe was "a bit of a career crisis. I had a really good first year in Vancouver, just doing guest-stars on hilarious shows now to think back to," she recalls. "And then I didn't work for like seven months and I freaked out big time." About five months after opening Nelson, though, Balfour got her first big break as a lead role on Bomb Girls. The show needed her to live in Toronto for six months, so it became harder and harder for her to participate in the bakery.
"This place has always been a labour of love," she says. "Jonathan and Lee, for the first two years, were here all day every day, so it wasn't constructed in a way that I could still partake from afar." So she split from the siblings professionally speaking, although they remain close to this day. (In fact, later in our conversation, who walks in but Jonathan. He heads straight for Balfour, and they hug the way only good friends do.)
Bomb Girls was cancelled after its second season, which aired in 2013. Not long after, Balfour made the move to Los Angeles. She had a leading role on Cinemax's Quarry, which ran for one season in 2016; and then came Mrs. Kennedy and The Crown. It is one of the most expensive television shows in history, and undoubtedly a daunting set to walk onto—but Balfour felt immediately welcome.
"From the moment I stepped onto the makeup trailer they were just hugs all around, as though I'd been there for years," she says of The Crown's main cast, including the remarkable Claire Foy, who plays Queen Elizabeth. "The best kind of people." It must have helped her nerves some, since she was playing such an iconic figure—though she does joke that she got through it by having "three panic attacks a week."
To prepare, Balfour "read everything there was to read and watched everything there was to watch," and worked with dialect coach to attempt perfecting Kennedy's distinctive pitch and drawl. Still, sinking into such a meaty role came with many challenges. "Where I feel my strength lies as an actress is when I'm allowed to be messy and explore and fuck up and make shit up in the moment, and this was not that at all," Balfour admits. "For me it felt like I was acting in a glass box. I wanted to find a level of that play and spontaneity and discovery and not have decided everything. But almost, metaphorically, if I went a step too far, I would have shattered the whole thing."
Balfour's performance is calculated but sincere; and while it shows her prowess, there are also some aspects of the role that she must inherently possess. Much like Kennedy, Balfour commands attention in a room. She has a lightness, and a beauty that extends far beyond her appearance.
---