Denzel Curry remembers exactly the first Akira Kurosawa film he saw. "Yojimbo," the Florida-born rapper says without hesitation, naming the legendary Japanese filmmaker's 1961 samurai epic. "And it was like, oh, shit," he says with a smile. "This is fire."
Curry had developed a fascination with spaghetti westerns after watching 1966's Django and wanted to know where the genre came from, where it took its influences. In Yojimbo, he immediately recognized that it was "the damn near spitting image" of A Fistful of Dollars—Sergio Leone's 1964 unofficial Yojimbo remake. A full-circle moment.
Curry's interest in cinema and martial arts are key to understanding his new record, Melt My Eyez See Your Future, how they exist as vehicles for observations about his inner and outer worlds. The album, with a freewheeling sonic palette that experiments with jazz, drum and bass, boom bap, punk, and R&B, recognizes Curry's roots—from emerging as a teenager with the influential Raider Klan collective to pioneering the SoundCloud rap movement with edgy musical landscapes and poetic sensibilities—and applies it to an incisive, self-reflective, breathtaking body of work that sets Curry on a mission toward peace and renewed purpose, and beyond his own boundaries.
Curry describes overcoming suicidal thoughts on "Mental" alongside a visceral monologue from spoken-word poet Saul Williams. He finds a higher power within himself on "The Ills." "Sanjuro," another tribute to Kurosawa, here referencing his 1962 jidaigeki film, reflects on respect in the rap game. Curry confronts political issues, police brutality, and systemic racism on a number of tracks, including "The Last"—a powerful moment tackling the response to George Floyd's murder on the streets and social media ("Your so-called revolution ain't nothin' but a post") that then pivots into colourism in the music industry. "[The world] needs to grow up and see we all human, at the end of the day," Curry says. "It's like, 'there's a Black race, white race, Asian race, Mexican race'—no, fuck all that. It's a human race. We're all part of the human family."
There are also clever historical hip-hop references woven throughout the album, with lines like "Me against the world, it's me, myself and I, like De La / Got in touch with my soul"⁠—that wink at Tupac and De La Soul.
Curry began planning Melt My Eyez See Your Future in 2018, a grand vision percolating carefully and deliberately as he released two other full-lengths, 2018's TA13OO and 2019's ZUU. As he told Loud and Quiet in an interview this year, he listed questions that felt crucial to drive his new album forward: How could he make it radical? How would it be different to other innovative albums, such as Kanye West's My Beautiful Dark Twisted Fantasy? How would it be different from his previous work? Will it create a legacy?
The answers are found in Curry's recognition of his own humanity. And standing in the immense power of his vulnerability is the boldest statement he's made in his career yet.
It starts with ego death. "To melt your eyes, you have to melt the perception of what you think you are—or who you think you are, so you can get the real, true you and capitalize on that," Curry explains. "So I wanted people to melt their perception of who they thought I was so I could give them who I really am. And 'to see your future' is the self-reflective part." This is clear immediately from the opening track, "Melt Session #1," on which, with soothing instrumentation from jazz pianist Robert Glasper, Curry is candid: "My eyes see imperfections within myself / Cracked images, bad luck, and broken mirrors / Funny how I see in permanent so clearer."
"That's the deepest I've ever got on a record," Curry admits. The source material was taken straight from therapy, which he began attending a few years ago to improve his mental health. The shift within inevitably began to bleed into his music, not just lyrically but also in reconfiguring his entire creative approach. "In therapy, they wanted me to focus on how I feel—and mainly, that's what I gave on this project," Curry says. "It was less about words and more so about feeling, instead."
In particular, Curry set out to incite feeling through the album's sonic landscape. "I just wanted the record to move," he says, adding that he mapped out genres he wanted to play with and intentionally tried to veer from anything he's previously done. That desire for movement—something also heard in the rhythm of Curry's prose and the dynamic cadence of his delivery—aligns beautifully with the album's experimentations in jazz and collaborations with Glasper, jazz drummer Karriem Riggins, and Thundercat, known for his fusion of acid jazz and neo-soul.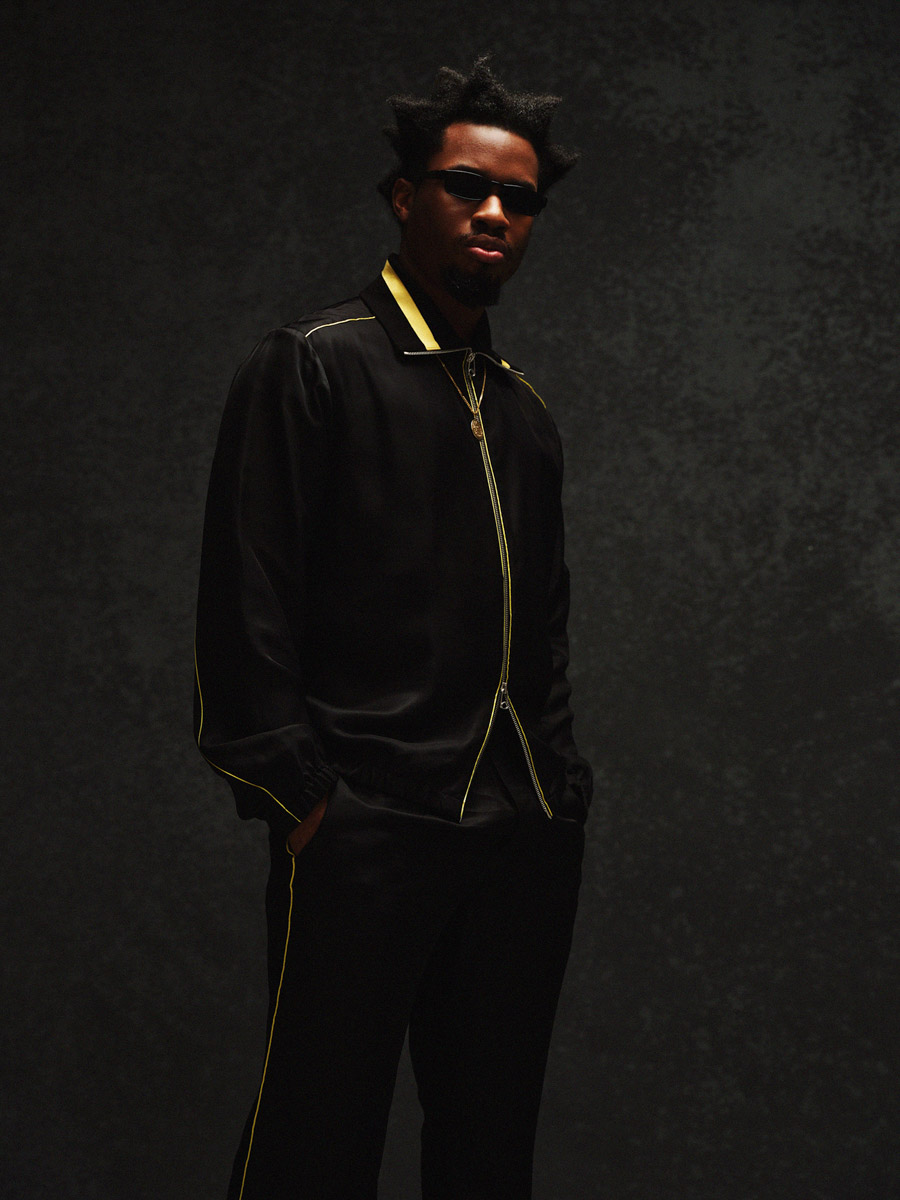 "The Smell Of Death," the mind-melting cut featuring Thundercat, is an album standout. Curry says "Cat," as he affectionately refers to his friend of almost a decade, gave him the track. The two first met in 2014 through producer Flying Lotus and bonded over shared interests in anime and martial arts. They became especially close during the pandemic, cultivating a friendship that made an enormous impact on Curry as he worked on Melt My Eyez See Your Future. "Cat gave me the confidence to be able to convey what I wanted on this album the most," Curry says sincerely. "He gave me the confidence of just being myself unapologetically."
Melt My Eyez See Your Future has a stylistically diverse and carefully chosen cast of collaborators including T-Pain, 6LACK, and Buzzy Lee. Like therapy, martial arts—muay Thai in particular, which Curry has been doing since 2017—has affected him in "all ways," and he draws parallels between the fighting style and his approach to collaboration.
When you spar, Curry explains, you trade techniques. "Same with if you go into a studio with another artist, and he may be good at something you're not good at and you're good at something that he's not good at, so y'all trading techniques with each other." Then it comes down to doing your own thing, understanding what works best for your body. "And that goes with looking at other artists, because people tend to get lost looking at other rappers and what they have got going on. Even I am not a stranger to it. I would be like, Why don't I have this? Like, fuck them. Focus on you. This is the answer to what they're doing. Do you."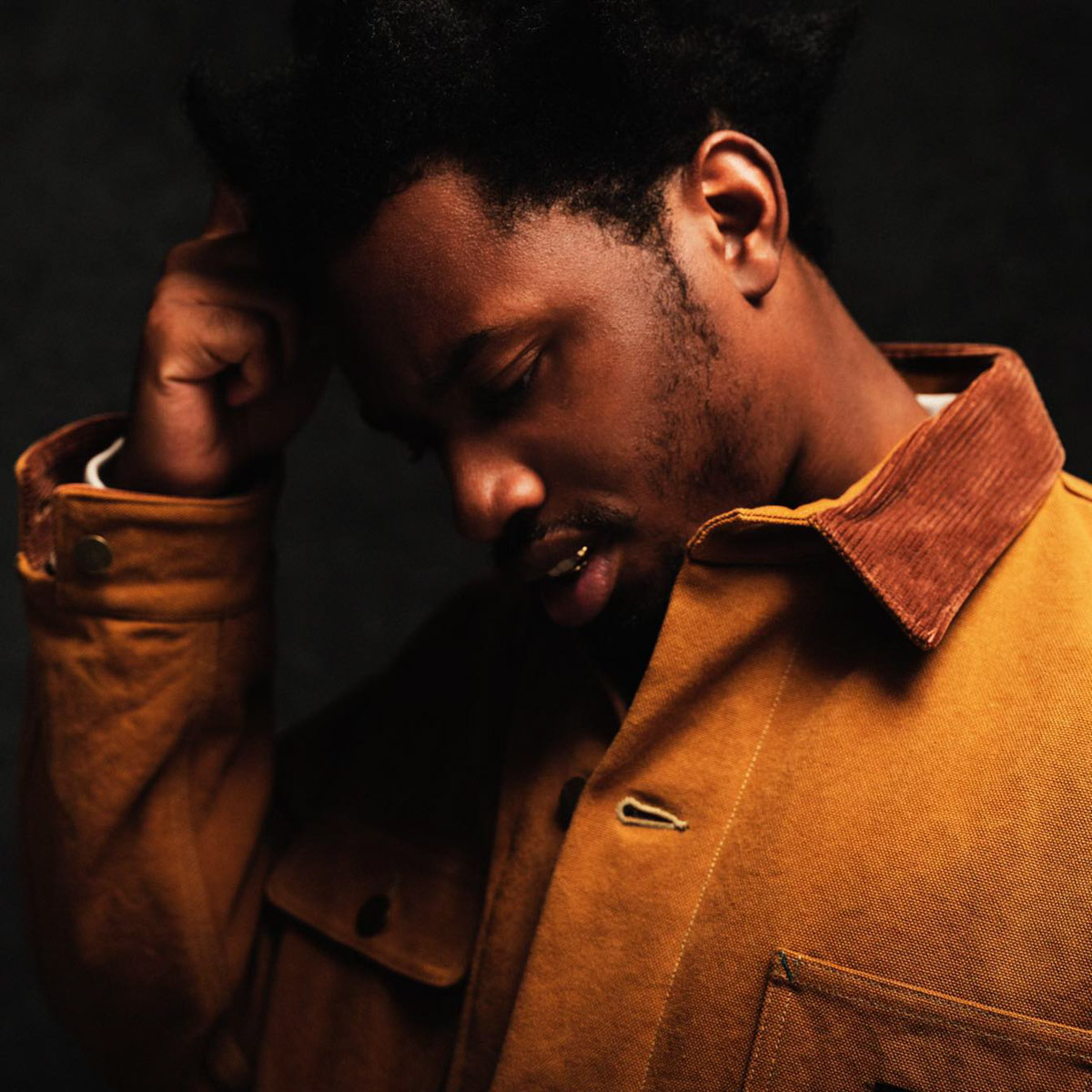 Furthermore, Curry adds, in martial arts, you should always feel as if you're having a conversation. "And that's what I wanted my music to feel like: a conversation."
Curry's furious energy exchange with grime punk slowthai in "Zatoichi," named for the iconic 1960s Japanese film character, a blind blademaster, embodies this best. "I'm Zatoichi, leadin' the blind," Curry fires over a blistering drum and bass beat. The music video, shot on location in Peru, takes it a step further, featuring Montreal-based dancer Sophia Gaspard as a blind sensei facing off against Curry's samurai hero. Curry, alongside choreographers Fred Nguyen and Justin—"We call him Francis Knuckles in the gym"—Berdings refined the fight sequences so it felt real.
Just as "Zatoichi" fully immerses Curry in his inspirations, so does a line at the end of "Walkin": "This is a Zel Kurosawa film / Directed, written, and starred by / The one and only / Zeltron." Here, Curry—as his alter-ego Zeltron—playfully revels in the connective tissues of Melt My Eyez See Your Future. As the main character in his own epic, Curry rambles on, with his back to the sun, along a path toward a higher purpose, feeling the glorious movement of it all.
---
Read more Arts stories.