Teresa Alfeld sucks at bowling.
A key scene in her new documentary, Doug and the Slugs and Me—premiering at DOXA on May 14th—has filmmaker Alfeld inviting Doug Bennett's three adult daughters to Grandview Lanes on Commercial Drive to be interviewed while bowling together. She doesn't explain why she's chosen the locale, but remarks in passing that she bowls like she's five years old, which she proceeds to convincingly illustrate, squatting with the ball swinging between her legs.
But Alfeld—a much better filmmaker than she is a bowler!—has a trick up her sleeve: she surprises the Bennett girls with footage of the four of them—Shea, Devon, and Della Bennett, and Alfeld herself—bowling there as children, circa 1992: footage shot in part by Doug and the Slugs' vocalist Doug Bennett himself, and including a moment in which Teresa's childhood incarnation adopts exactly the same awkward posture to send the ball on its journey.
So just how crafty is she? Does she still really bowl that badly, or was her duplicating her childhood form as an adult, in fact, staged for the film?
Alfeld, reached via Zoom, laughs. "I wish I could say it was. I'm a terrible bowler! We used to call it the 'Granny bowl'…"
Like many people who were not of age in the early 80's⁠—who couldn't get into bars to see them perform and didn't own their records⁠—Alfeld underestimated how good Doug and the Slugs were. She remembers the big hits: "Too Bad" and "Making It Work," both of which made the top 40 charts, and stuck around on oldies radio. Then, of course, Norm McDonald used "Too Bad" for the opening of his show throughout the 90s. And Alfeld remembers singing "Makin' it work, makin' Tre Stelle, makin' it work, it's the right cheese," after the cheese company licensed the song for an ad.
"But in making the film, the first thing I got to do was go out and get all the vinyl and listen to it front-to-back several times," she says. "I was floored! I had no idea that they had this incredibly sophisticated and genre-defying catalogue that never got radio play."
Alfeld grew up next door to the Bennetts on Vancouver's Semlin Drive, and was best friends with Shea Bennett as a child; her film is not just a music-rich history of Doug and the Slugs, but a personal recollection of Mr. Bennett, the goofy dad next door. It is also a window into Canadian popular culture of the time, with interviews from Sir Bob Geldof (who was editor for the Georgia Straight when Bennett was drawing cartoons for them) and Slugs' manager Sam Feldman to veejays Michael Williams, Terry David Mulligan, Ed the Sock, and Denise Donlon (who also served as Doug and the Slugs' publicist). Bennett's peers from the Canadian music industry, including Bif Naked, Ron Sexsmith, Darby Mills and Steven Page, weigh in about Doug and the Slugs' impact. And of course all surviving members of Doug and the Slugs' original lineup are interviewed, as well as Bennett's family.
The interviews are charming and informative—and the archival footage of the band performing is compelling—but it is the use of home movies that makes Doug and the Slugs and Me as warm and engaging as it is. Unlike Alfeld's previous feature documentary, The Rankin File, about Vancouver activist, lawyer, and mayoral candidate Harry Rankin, which began in Alfeld sourcing archival footage that no one had seen, the existence of the Bennett family home movies came as a surprise; she had no idea that Nancy Hare, Doug's widow, "had kept this box of home movies until she told me and gave them to me."
Nor had the Bennett daughters seen the movies themselves. "Nancy had the tapes in storage, and I think everyone forgot they existed. I spent a lot of time in Nancy's storage container looking at old materials. The girls had not seen these tapes, ever." Sharing the footage with them "was really special," Alfeld says.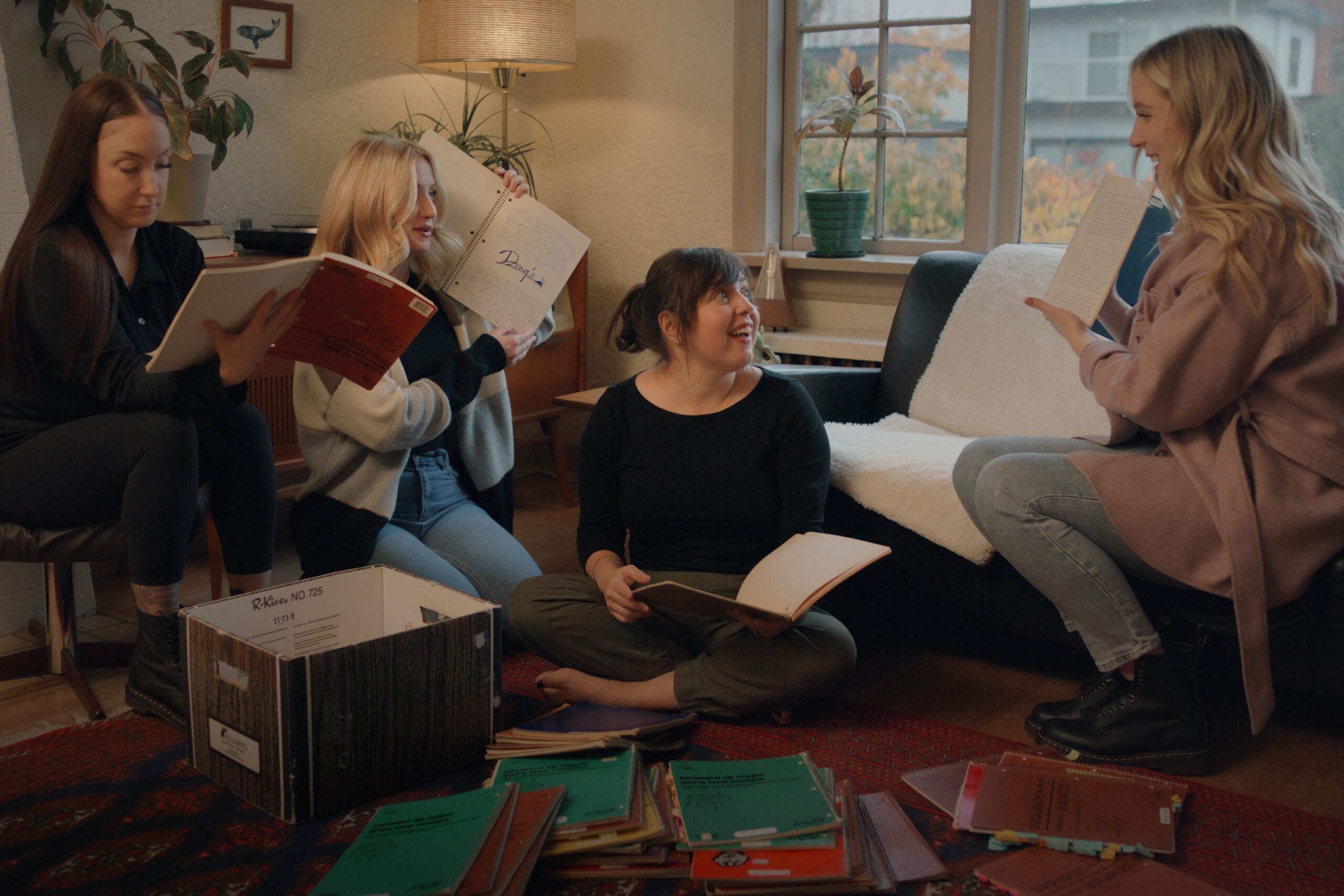 So too is the moment, also at Grandview Lanes—likely shot circa 1992—when Doug hands the camera to Alfeld, instructing her how to shoot, and giving her her first taste of filmmaking. Alfeld herself had forgotten that moment took place. "I wish I could say I remembered it and attribute everything"—ie., her whole filmmaking career—"to Doug, but it was a total surprise… I just watched that scene and thought, 'Holy shit!' I couldn't have written that. Here I am making a film about Doug Bennett of Doug and the Slugs, and here's this actual moment where Doug guides the camera into my hands. It was stunning. I consider myself agnostic, but I sometimes like to wonder if Doug"—who died in 2004 at age 52—"is still out there, wherever he is, pulling some magical strings for us."
Alfeld—whose project has led to all of Doug and the Slugs' back catalogue being remastered and made available on streaming services for the first time—had another key resource in making her documentary: access to the journals that Bennett kept from the band's outset, neatly handwritten in 39 ring-bound notebooks, covering the whole of the 1980's. Alfeld read them all at least two times, "front to back, making post-it notes, and quickly making notes in a big Excel spreadsheet."
It was producer John Bolton ("an incredible force in getting the film done") who suggested having all of the books scanned and transcribed into searchable documents. "We thought we could use character recognition software to transcribe them; that didn't work. So we ended up paying a team of transcribers to take these scans and hand-type them. It was a very labour-intensive process, but it was the smartest thing we did, because it meant that I could word search what Doug thought about this event, or this person, and see it come up."
Frequently in the film—most movingly with Denise Donlon, who had no idea that Bennett thought she made a fine publicist—Alfeld hands pages from Bennett's journals to the people being written about, giving Doug a voice from beyond. And there's plenty else in the journals of interest, Alfeld notes: "It isn't in the film, but he writes about Mt. St. Helen's erupting, the murder of John Lennon… it's just so interesting to be able to ask Doug questions and literally get a response right away."
It is too soon, Alfeld says, to talk about physical media emerging from her film, which—to say nothing of Blu-ray extras—could spawn one heck of a soundtrack album, given the number of Doug and the Slugs rarities, live recordings, and demos that exist out there. But there is discussion of publishing a book.
"We're having a big conversation right now with the band and the family, and specifically with the band's original photographer, Hans Sipma, who has maintained this beautiful archive of photos, to pull together a book that would bring in some of Doug's journal writing, his incredible hand-drawn posters, a lot of Hans' photos, and even just more from the Slugs themselves," she says. "I mean, my biggest regret is not being able to tell even more of the story of Doug and the Slugs. All of the guys"—John Burton, Simon Kendall, Steve Bosley, Richard Baker, and Wally Watson—"are incredibly quirky, weird, talented folks. I wish we could have done a miniseries! But that's why we're looking at the book."
---
Teresa Alfeld, the Slugs, and possibly members of the Bennett family will be present for the screenings of Doug and the Slugs and Me at SFU Woodward's on May 14, and at SFU Woodward's and the VIFF Centre on May 15. More 
information on the DOXA website. 
Read more local Arts stories.