The reading room at the University of British Columbia's Rare Books and Special Collections may be closed for now due to COVID, but it still houses an impressive array of archival material that can be accessed remotely. In this story from our archives, we remember the excitement of obtaining a rare edition of the Kelmscott Press' Works of Geoffrey Chaucer for the university community's collection.
---
Perhaps the only smell more enticing to literature enthusiasts than that of a new book is that of an old one. A really, really old one.
In a monumental achievement, the UBC Library has acquired a rare edition of the Kelmscott Press' Works of Geoffrey Chaucer. Printed in 1896, the-18-by-12-inch book holds the complete works of the cornerstone medieval poet and, purchased for a cool $202,000 USD, is now one of the most valuable pieces in the library's Rare Books and Special Collections section.
"It's one of the most famous books ever made," says UBC department of English assistant professor Dr. Gregory Mackie, who was a driving force in bringing the book to Vancouver. "The poet William Butler Yeats called it 'the most beautiful of all printed books', and he's not exaggerating."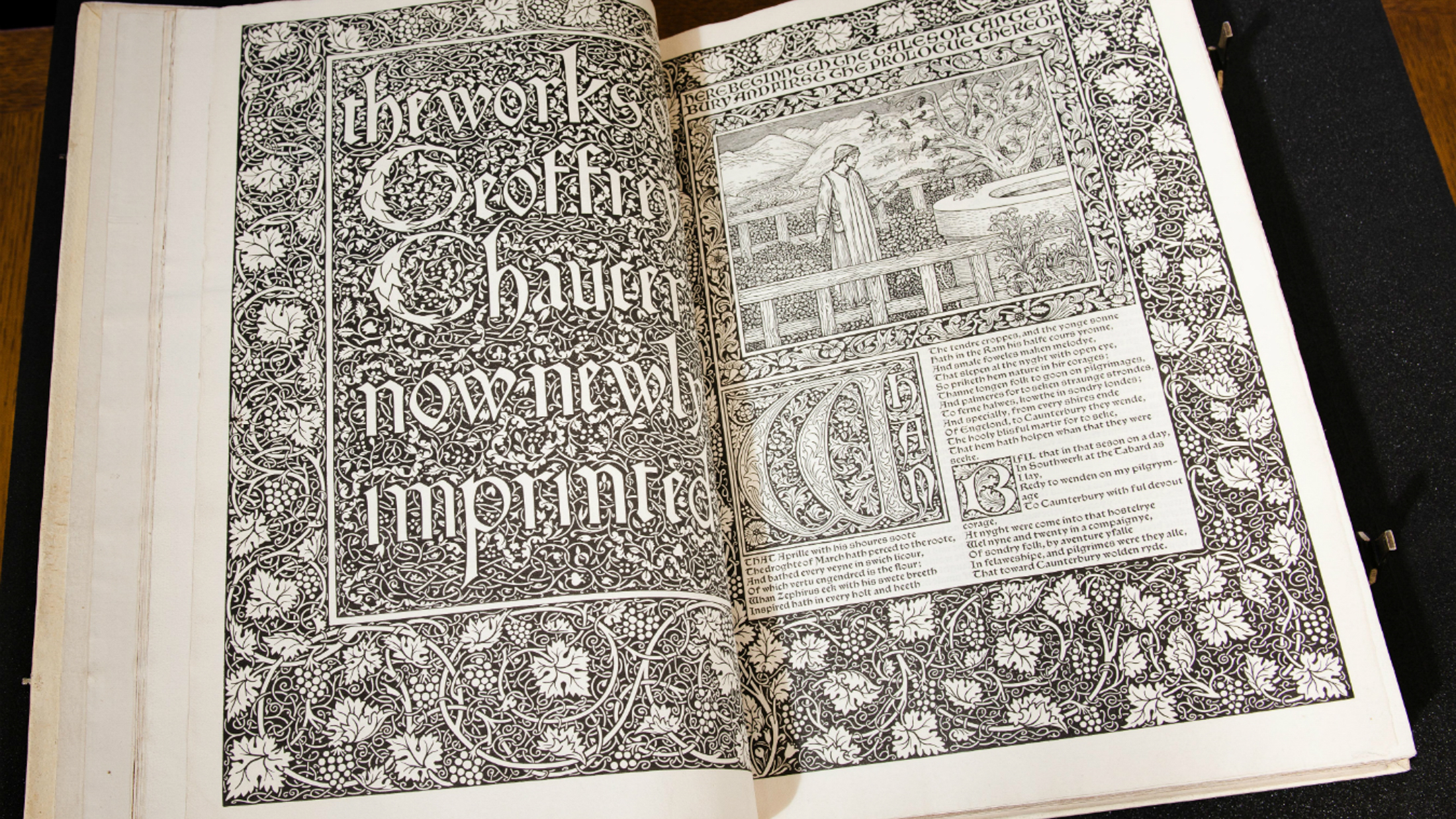 The massive rare volume, one of only 438 in the world (although of that, only 48 have this particular higher-quality binding), features rich illustrations, expressive fonts, and embellished borders. Indeed, every page was treated as an individual work of art. Kelmscott Press was founded by the arts and crafts movement's William Morris, who spent four years creating the anthology as his version of the perfect book.
"It puts UBC in the ranks of some of the great libraries in the world to have a copy of this extremely rare and valuable volume," Mackie says. Those university libraries include Stanford, Cambridge, Princeton, and Oxford. Not bad company at all.
It took, however, two years of proposal-writing, fundraising, and planning to bring the book here. It all started when head of Rare Books and Special Collections Katherine Kalsbeek saw a copy at a New York book fair and was gobsmacked by its artistry. Fast-forward to today, and the hard work was clearly worth it. "Our phone has been ringing off the hook with people wanting to come see it," Kalsbeek says. "I've never seen this level of excitement before, and I'm so thrilled that in addition to the students and faculty, the public is excited about this acquisition—because as a public university, these are British Columbians' books."
Fans of historic literature and poetry can view the book simply by dropping in any time the library is open and asking to see it; alternatively, those looking for a more comprehensive view of the rare books collection (including the Second Folio of Shakespeare) can join a free drop-in tour every Wednesday from 11 a.m. to 12 p.m. And seeing it for yourself really is the best way to understand its magnitude.
"Greg and I were actually undergrads here at UBC, and I think back to when I was reading Chaucer in the Norton Anthology—and I wish I'd had a Kelmscott Chaucer when I was in school," says Kalsbeek. "I feel like it brings the text to life in a way that the Norton, no offense to the Norton, doesn't do. I'm hoping that first- and second-year students, if they see the Kemscott Chaucer, that they'll have a transformational experience—and that the stories from the medieval times will be brought to life for them in away that our modern textbooks don't allow."
---
This article from our own archives was originally published on August 26, 2016. Read more on Vancouver's world of Art.