Daphne Roubini believes in magic. She's seen it enough times to understand that there is something in her beloved ukulele that has the power to transform a life. And not just her own.
"It's more than just people coming out of their shells," she insists. "People turn up to their first class feeling shy and nervous, sitting by themselves. Before I know it they're laughing with new friends. Soon they're inviting people to their house and sending me videos of themselves singing and playing. Nothing gives me more pride than that. It brings tears to my eyes."
It's understandable why the London-born Roubini gets emotional when she starts talking ukulele. She's turned her love for the instrument into a thriving business and Vancouver success story: Ruby's Ukes.
She hadn't been playing for long when, back in 2009, she found herself unimpressed that there weren't any group ukulele classes in her adopted hometown. Unwilling to take no for an answer, Roubini started some of her own. Since then, thousands of Vancouverites have come through her doors and discovered the joy of four strings. Ruby's Ukes, located downtown in the Seymour Building, is possibly the world's biggest ukulele school outside of Hawaii.
If there is a secret to the success of Ruby's Ukes, it's that its founder appreciates what it is like to start learning a new skill as an adult. She was a novice herself not too long ago. "I bought a $25 ukulele for my two-year-old nephew as a birthday present. My husband, Andy, is a wonderful guitarist. He taught me to play 'Happy Birthday' and I was hooked," Roubini recalls. "I couldn't believe how easy it was. I could play piano and read music, but I'd never played a stringed instrument before then. It was way more fun than playing the piano. Once I'd learned to play 'Cold Cold Heart' by Hank Williams and 'Crazy' by Patsy Cline, I was obsessed. It sounded killer! I kept that ukulele and bought my nephew another one."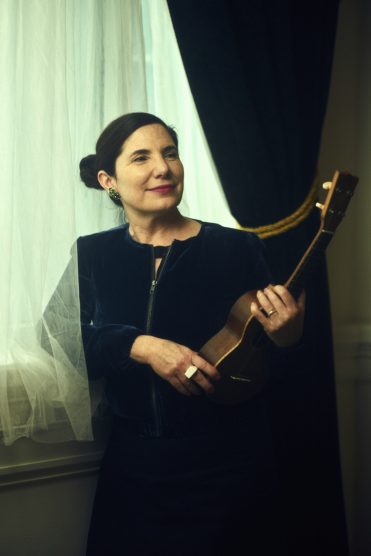 Infatuated with her new discovery, Roubini instinctively understood that if she wanted to inspire others, learning and playing as a group would be the way forward.
"I'd taken private singing and piano lessons before. They're so exposing. The teacher is watching you and when you make a mistake, it feels so frightening," she explains. "I knew that a lot of people would be coming to my classes with musical wounds—they had past experiences of teachers who told them they couldn't sing or had no sense of rhythm. I knew because I'd been through that myself. But in a group class, you have the fun of everyone playing together. If one person makes a mistake, it doesn't matter. I say to every beginner's class, 'You're all very good at something else. You just don't know how to play ukulele yet.' Everyone laughs and we start learning."
The first Ruby's Ukes class was taught by Vancouver multi-instrumentalist Guido Heistek. There were 12 students in that lesson, plus Roubini sitting at the back, making tea and doing whatever it took to get more people through the door. Today she welcomes 1,000 students every year onto her 10-week programs, ranging from absolute novice to intermediate players and beyond. Along the way, Roubini formed a pair of bands (vintage jazz-folk combo Black Gardenia and ukulele duo Ruby and Smith), founded the annual Vancouver Ukulele Festival (2018's edition happens in April and features Heidi Swedberg, best known as Susan Ross, George Costanza's ill-fated fiancé), and even created a musical career path for her students—Ruby's Ukulele Orchestra gives graduates a chance to perform publicly.
Self-belief is at the heart of everything Roubini does, and few music teachers are as gifted at passing that confidence onto their students. "Before this I taught Argentinean tango and salsa. I had taught massage and reflexology. I can teach anything I know," she says. "The biggest obstacle to adult learning is high expectations. People are used to being able to do something straight away. You can understand music, but you will only be able to do it if you practice. You have to be patient. Music is about muscle memory. It's okay to find it hard."
---
Discover more music.