In the winter of 2019, Simon Ward was returning home from a European tour with The Strumbellas. The indie rock band's front man was feeling uneasy and not much like himself: he was lethargic, couldn't seem to find joy in anything, and his thoughts were becoming dark and self-critical. It was so overwhelming that Ward checked himself into hospital, where he stayed for a couple of weeks.
For the past two years since, Ward has been learning everything he can about his depression and what he can do to manage it. He speaks to his psychologist every week. He's tried a number of medications. He meditates every day and takes his dog, Gus, for walks. But despite all that, Ward is very much still navigating through the darkness.
"I used to wake up every morning at six, come down to my station, which I'm at right now, and write music for two hours before the kids got up, before my wife got up, and I loved it—I loved doing it," Ward says, motioning to the home studio around him. The room is bright and airy, with large rectangular windows and a charcoal sofa, which Gus is curled up on. "And right now, I'm struggling to even sit at a keyboard."
Listening to music sometimes helps. Ward has always been attracted to what he describes as "slow, indie, folk-type" sounds—like what he creates with The Strumbellas—and leans on a curated playlist that features bands like Great Lake Swimmers. But he hasn't been finding much solace in it lately. He finds listening to music a little heartbreaking, he admits, because he's not writing it himself right now.
Ward is honest about how the healing process from depression is rarely, if ever, linear. His struggle with his mental health is a significant part of his life, which is why he's an open book about his story—and why he spends so much time listening to the stories of others. "So many are like, you know, 'It's been five years, it's been 10 years, it's been 20 years.' And they just have to learn how to manage it as opposed to cure it, fix it, and get rid of it," Ward says. "That's a huge thing I'm working on with my psychologist right now. He said to me, 'You might have this for many more years, so you gotta start to learn how to manage it and still live the best life you can.' Little things, like not taking your thoughts so seriously and stuff like that. That's why I love talking about it, because it's there, and I'm living with it, and I'm just making the best of my day."
Ward's latest batch of songs were written before that November two years ago, a debut album released under the name Simon and the Island⁠—a few words that appeared in his head one day, motivating him to write.  His candour is reflected across confessional lyrics and raw, sweeping soundscapes that put emotional honesty at the fore. That open heartedness has always been a hallmark of Ward's songwriting, as well as exquisite prose that illustrates the things that are the hardest to articulate—like on 2016's "Spirits," the song that catapulted the Strumbellas to worldwide fame, in which ghosts and guns stand in for inner demons.
On the self-titled album, Simon and the Island, "Scared Of Not Knowing" demonstrates this beautifully:
"As the days go by in the house of the fallen, the sun comes up but it hides behind every cloud. In the house of the fallen, I try to keep it quiet but it always seems to get so loud." 
With its visceral imagery, the ballad mines a frightening, uncontrollable gnawing feeling inside. "I wrote it for myself but I also wrote it for others, too," Ward explains. When he writes, he usually sits with his guitar, plucks at the strings, and lets things just materialize. When "Scared Of Not Knowing" came together, Ward was thinking about how he was feeling, and how he wanted others to know it's okay to feel the same way.
That element of understanding is built into the bedrock of Simon and the Island. With delicate strings swelling alongside a clapping beat, the album's magnificent opener and lead single "Muse" is a rallying cry for hope—a reassurance that we're not alone. "Oh my god, I know you're struggling and, oh my god, I know you'll love again," Ward booms on the refrain. "I'll take your side, no matter what you do. You'll be my muse." The song's inspiration is twofold: Ward's wife—who he describes as his soulmate and appears in lyrics throughout the record—and anyone else out there struggling with mental health. They are all also, Ward underscores, his muses. That sense of community is deeply important to him.
"Muse" is the one track on Simon and the Island that was written this year. "I remember I was sitting at this keyboard and I hadn't written anything cool in, like, three months," Ward recalls. "And I just came down one morning and banged out 'Muse' on this piano in about 10 minutes." Ward also created a music video for the song in collaboration with sand artist James Sun. It's a mesmerizing sight: the footage is sped up to show the grains pouring into a white frame to form stars twinkling over a mountain range and the silhouette of a person holding out an umbrella to another. It feels like a metaphor for life: how there is still beauty in the world even when you feel like you're drowning in quicksand.
Simon and the Island's cover art features a forest painting by Peterborough County artist Lucy Manley. Thick brushstrokes depict green trees—some full with leaves, some bare to the trunk—and blue sky peeking through the white clouds. Ward discovered Manley's work at a Christmas parade he attended with his family last year in Fenelon Falls. "I love her art. I wanted to buy a piece right there and then, but I didn't for some reason. And so when it came time to make the art, I remembered her and I told my manager, like, 'We gotta find this artist that I saw in Fenelon Falls.'" After some digging, Ward found Manley's contact information and asked if she'd be interested in having her painting as his album's cover. She said yes. "I don't know exactly where that is, but it reminds me of the area," Ward continues. "That's why her art gets me."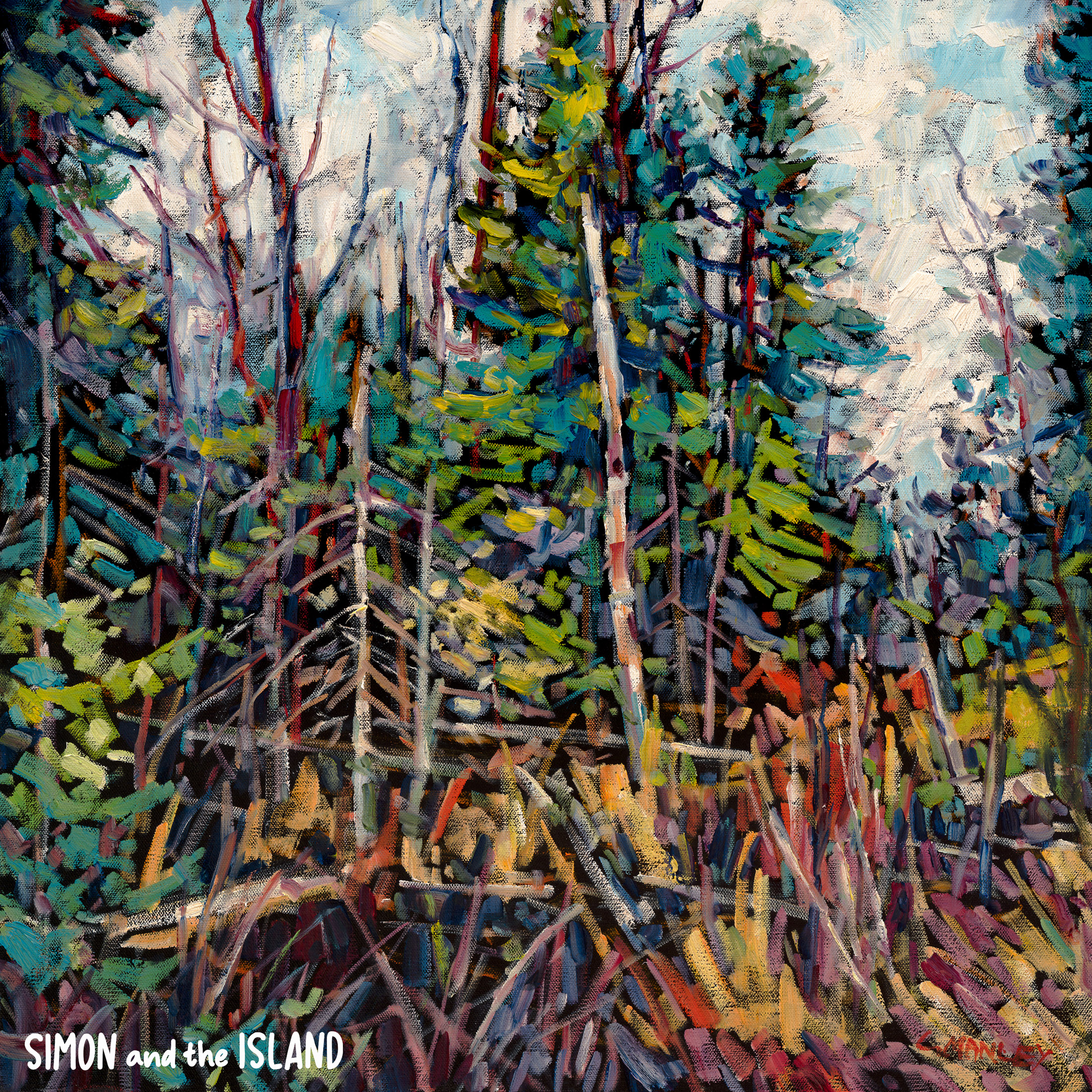 For Ward, nature is healing. He enjoys hiking with his family and Gus, particularly at the conservation area near where they live in Lindsay, Ontario. And the small town, in fact, is why Simon and the Island needed to be a solo voyage; it came down to convenience. The album's producer Brian Pickett—who is also Ward's brother-in-law—lives just a few doors down the street and they recorded at their home studios. It's exactly how Ward likes to make music, he smiles. "I would sit here and write the lyrics and write the melody and then literally walk to his house and we would work on it together there. It was like being teenagers again. We didn't know if it was going to go anywhere, we just did it for fun."
Ward also wanted to pair his contemplative lyrics with unique contributions from Pickett, who is a composer for children's television shows such as PAW Patrol and Total Drama Island. "I thought that'd be a really cool juxtaposition," Ward says. "There's a ton of big strings and there's lots of instrumentation, and that's what he does for his kids songs—he puts a lot of stuff in it. So that was the idea behind it, just to pair it with a kids producer and make this sad but really lush record."
The instrumentation, especially the orchestral arrangements, gorgeously compliment the poignancy of Ward's words and vocals, creating layers of dynamism in an emotional journey that ebbs and flows. Haunting keys progressively build like waves into a crashing crescendo on "Ghost." Ward drops into a deep rumble against melancholic notes and howling swells on "I'm Not Doing Fine," highlighting his vocal range. On "Moon," Ward's voice floats over finger-plucked strings. "I keep climbing up these mountains just to fall back down," he sings gently, then belts "Please don't let me drown."
There is a hopefulness that runs throughout Simon and the Island, both musically and lyrically. An especially bright spot is "Sweep Me Off My Feet," a jaunty folk song that Ward is particularly attached to, with lines like, "I'm thankful for the things I have, even though I don't like what's inside of me." It came out of a basement jam with his brother, who, Ward says, always wanted to play in a band but never did it professionally. "That has a special place in my heart, because we got him a songwriting credit and we used his actual guitar in the song."
Perhaps one of the most striking moments, though, is also the least hopeful—the final track, "Lighthouse." The arrangements are symphonic and soaring, yet the song doesn't close the album out on an optimistic note, as if Ward has found his way towards the light. Because that's not the reality, Ward says. "Lighthouse" considers a world without Ward in it. "Maybe I should come home. Maybe all that glitters ain't gold. Maybe I'll get better soon. Maybe it's just a dream," he sings, almost whispering. His voice then rises: "From the lighthouse, I'll be watching you. From the lighthouse, I'll be missing you."
"It's kind of the saddest thing in the world, to be honest," Ward says. "It breaks my heart talking about it, because there's elements in the lyrics about me passing away and so I thought that makes sense to be the last song on the record, just because it's kind of the end." He pauses. "I know that's dark. I feel bad that it's so dark, but that's the truth."
Again, though, it's Ward's candour, his realism, that makes Simon and the Island so resonant, relatable, encouraging—and so powerful. He admits he feels anxious about releasing these songs out in the world, his mind unpacked on the table. Being an open book isn't easy. But, he counters, other musicians who have done the same have saved his life.
"When I was going through my first depression, Shannon Hoon and Layne Staley and Kurt Cobain—those guys literally saved me. And that was before the Internet, so I didn't have Google to go, 'I'm feeling this way, what's going on?' There weren't a million people going, 'Yeah, I feel like that too.' But I listened to Shannon Hoon and he said these sad things and I go, 'Oh my god, at least there's one other person in the world that felt like that.' So, in the end, I just really hope that even just one other person hears these songs and says, 'Okay, I'm not alone. Somebody else in the world feels this way.'"
Maybe it'll make them feel better, Ward says. Maybe it'll give them some hope—a light to help navigate the darkness.
---
Read more Music stories.