When two distinct cultures unite, the results can be inspirational: especially when they combine two passion-generating subjects such as art and wine.
For seven generations, the Boscaini name has been synonymous with winemaking; their company name, Masi, is derived from Vaio dei Masi, a Venetian valley purchased by the family in the 18th century. The Valpolicella region in Northeastern Italy is known for its traditional wines made, in part, from dried grapes. It's a unique practice; grapes are harvested in the fall and then laid out to wither on trays in buildings known as fruttai. Once raisined (90 to 100 days later), these grapes are used to make the area's iconic reccioto, amarone, and ripasso wines.
As one of the area's most notable producers, Masi has a range of wines including sparklings, whites, and reds from within the borders of Valpolicella, and also from neighbouring Trento and Prosecco. However, the wine that truly makes a statement is the flagship Costasera Amarone della Valpolicella Classico. Overlooking Lake Garda (the western border of Valpolicella) within the designated Classica zone, the Costasera vineyards are planted with three of the region's main grape varieties: corvina, rondinella, and molinara. In these select vineyards, long sunny days ripen the fruit to sweet maturity, while the moderating effect of the lake ensures freshness in the grapes, and ultimately in the finished wine.
In 2013, a venture to compliment this special offering was set in motion: the Masi Contemporary Art project. Every two years, a different artist from around the world (from countries where Masi wines are strongly represented) is chosen to produce a work of art dedicated to the Costasera wine. The final piece adorns Masi's Costasera Amarone della Valpolicella Classico label. For the current release of the 2000 vintage, the work of Vancouver's Susan A. Point is proudly displayed on select bottles.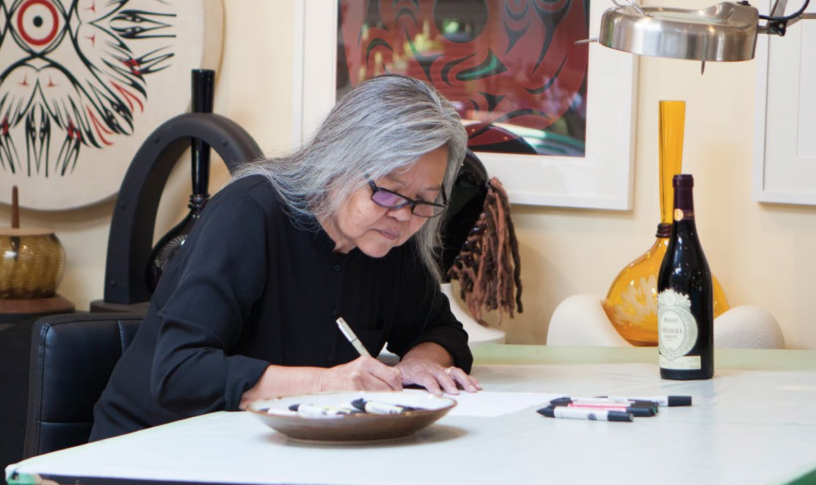 A Musqueam artist, Point has been producing contemporary Coast Salish art for 30 years. "I think this is amazing," she says, getting comfortable inside Wildebeest, where her painting Traditional Legacy and the corresponding Masi Costasera label were unveiled. "I'm happy that I was chosen, so I can highlight my version of contemporary Coast Salish art." Point's modesty is notable, as she was instrumental in the revival of the Coast Salish craft. "It has gone from an almost lost art to being very important; so many young people are now involved in it, including my children," she says. "They are all artists; they carve, paint, and work in glass."
Her four children, now adults and proudly accompanying their mother to Wildebeest today, inherited their skills from one of the best; Point has worked in almost every medium one can think of. "Thirty years ago, I started in jewellery, gold and silver, at Vancouver Community College. Then I went into printmaking. In 1986 I got into glass work—sandblasting imagery onto glass. I was too heavy-handed, though; I work better with wood," she admits. "Then I did the stained glass for [Vancouver's] Christ Church Cathedral, and sculptures in metal, brass, aluminum, and polymer, but I love carving—it's a concentration, it's meditative as you whittle away." One of her best-known works is Spindle Whorl, a giant circular carving that hangs in the international arrivals hall at the Vancouver International Airport, welcoming visitors with an important reminder of the city's cultural history.
For the Masi project, Point turned to the web, researching Valpolicella and gathering material she could fuse into the piece. "It was a challenge," she admits. "Trying to combine both worlds, the Northwest Coast and Northern Italy—but I am happy with the end result." The encompassing symbolic theme of the piece is the circle, and it emerges throughout: in conceptual images of the sun, the moon, the salmon egg, and the grape. Depending on the viewer's perspective, the head of a salmon, an eagle rapidly descending toward its prey, an octopus, and perhaps a butterfly can be seen. All converge on a central image of a phoenix.
The beauty of Point's work is how individuals will uniquely identify with it. Flying in from Verona for the unveiling, Masi wine ambassador and marketing director Raffaele Boscaini notes, "When I came to Vancouver I was so pleased when Susan showed me her work—like wine, everybody has his own taste and interpretation." Together, Point's art and Masi's wine create a harmonious intimacy of place and culture. Certainly everyone can cheers to that.
---
Read more in Arts.