In a compact workshop on Barnard Street, sunlight streams through an open window onto a row of musical instruments that could be described as a guitar, if a guitar widened its girth and severely injured its neck.
The odd shapes on the wall are not guitars—injured on otherwise—they are lutes, a musical instrument that can trace its history back to ancient Babylon and Egypt, though it was recently most popular in Shakespearean times. Today I'm here to meet with one of the few artisanal lute makers in the country.
Travis Carey keeps his long hair tied back and dresses casually, staying fit cycling to work daily from his east side home. He wields his words as easily as he plays his music. Beside him, shelves are packed with cut wood and rolls of drafting paper. Tools are scattered on a small table along with a mold and a hot plate for making glue.
"The lute has a chiming sound," he says explaining what makes his many-stringed instrument different from its more popular cousins, "and is lightly strummed with the finger tips." It's also as light as a feather.
Carey discovered lutes at 36, teaching English in a Saskatchewan high school, when he borrowed a vinyl recording from the public library, and when it played, it was—quite literally—music to his ears.
"When I heard that first chord," Carey remembers, "I thought 'what a vivid sound.'"
He was also attracted to the shape of the instrument. Made of wood and shaped like a pear sliced in half, the angelic instrument has a decorative sound hole called a rose, which is carved directly out of the wood and covered with a grille in the form of an intertwined vine or knot. Also, unlike a guitar, the peg box at the top is bent back.
Paintings from the early middle ages in Europe show evidence of the presence of lute players. The instrument enjoyed its greatest popularity in the 1500s to the mid-1600s, when lutists were favoured in the European courts of kings and queens. A lady or gentleman might play a lute for enjoyment as well. In the early 1700s, Bach wrote music for the instrument. But in the 19th century, the 'quiet' lute was eclipsed by other stringed instruments in the concert halls. Interest was revived a century later and by the 1960s, researchers were setting out to "re-discover" how the lute was made, spurring research in museums and art galleries.
After Carey encountered lute music, he immediately wondered, 'how can I make a lute?' For someone with craft and carpentry skills, this wasn't as intimidating thought as it would be to most. Carey bought a book with a chapter on the subject and joined the Saskatchewan Woodworking Guild where he met an instrument maker who encouraged his project. He was satisfied with the end result, but also knew there was much more to learn.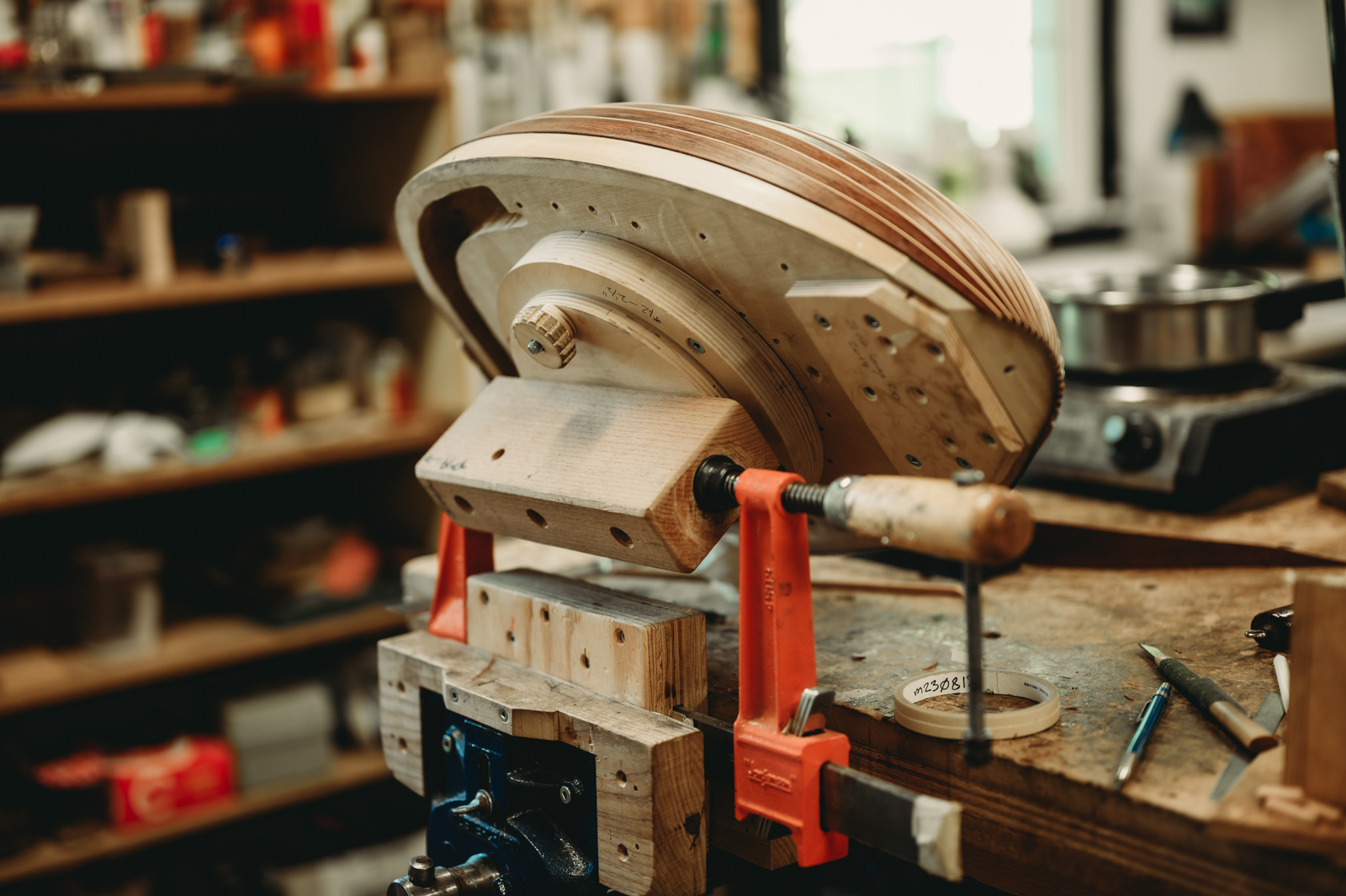 He packed that first hand-made lute in his suitcase when he moved to Vancouver in 2008. The city was a mecca for artists, musicians and instrument makers, Carey recalls. Wood was plentiful too. "At one time, people beach-combed for wood," he says.
Carey made a second lute and showed it to Grant Tomlinson, an accomplished lute maker working out of a two-storey building at 8696 Barnard Street, in the city's Marpole neighbourhood. Originally a ladder factory, the wooden building was established in the 1940s. Its tenants, comprising instrument makers and small business owners, had dubbed the place the Barnard Street studios.
The visit was a turning point for Carey and led to a one-year apprenticeship with Tomlinson in 2008, aided by a Canada Council for the Arts grant. Afterward, Carey set up his own workshop at the Barnard Street studios. Tomlinson continues to be a workshop neighbour and colleague.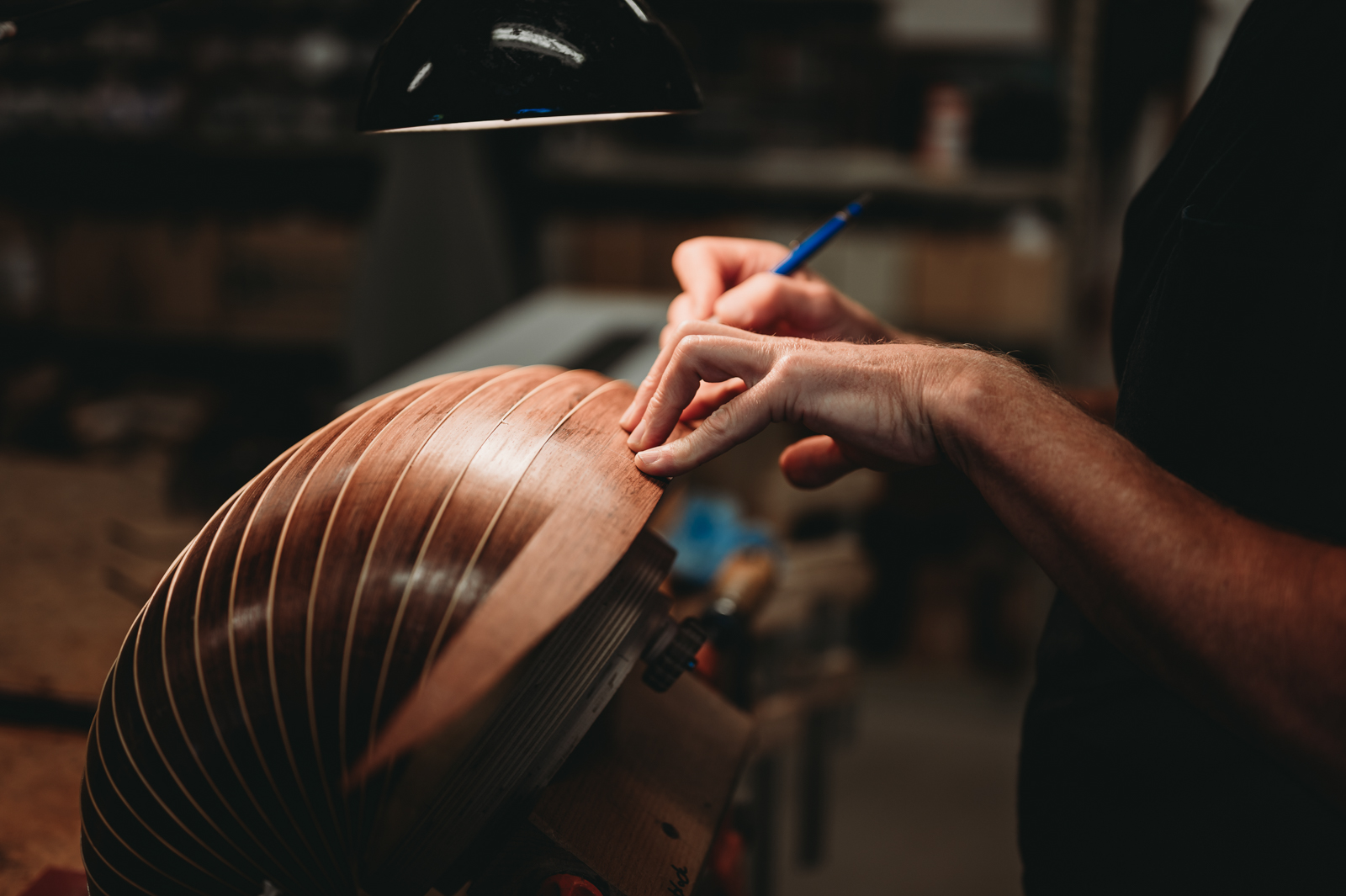 Carey says he receives on average six commissions a year, with his prices starting at about $7,000. Customers are both professional and amateur musicians as well as collectors. Most hail from the United States, including his highest profile client Ronn McFarlane, a professional lute player and composer in the folk style.
Musicians tend to come to the lute from the world of the classical guitar, Carey says.  "I'm contacted by musicians who are wandering and have big ears, and want to explore lots of sounds."
A lute takes about two months to make and Carey says he often works on his orders concurrently. Most clients have heard about him by word of mouth. "It's a small world," he says. "People that come to me usually know what they are looking for."
Contemporary lute players, performing solo and in an ensemble, are from around the world, Carey says, but the music they play is rooted in the British and European Renaissance and Baroque tradition, back in its heyday.
"Lute makers have come pretty close to the sound that would have existed," Carey observes.
Though interest in lutes has been revived—and Carey has found his calling—the future of his city workship is uncertain. The Barnard Street studios has new owners intent on re-development. The building, made of solid beams, pillars and floor and ceiling joists of old-growth Douglas Fir will likely be demolished. Carey hopes by getting the word out, the Barnard Street studios will be saved.
"Vancouver is losing so many artists' places," he says. "The building is a gem. It breathes like a musical instrument breathes."
After such a long, storied and musical journey, Carey would know.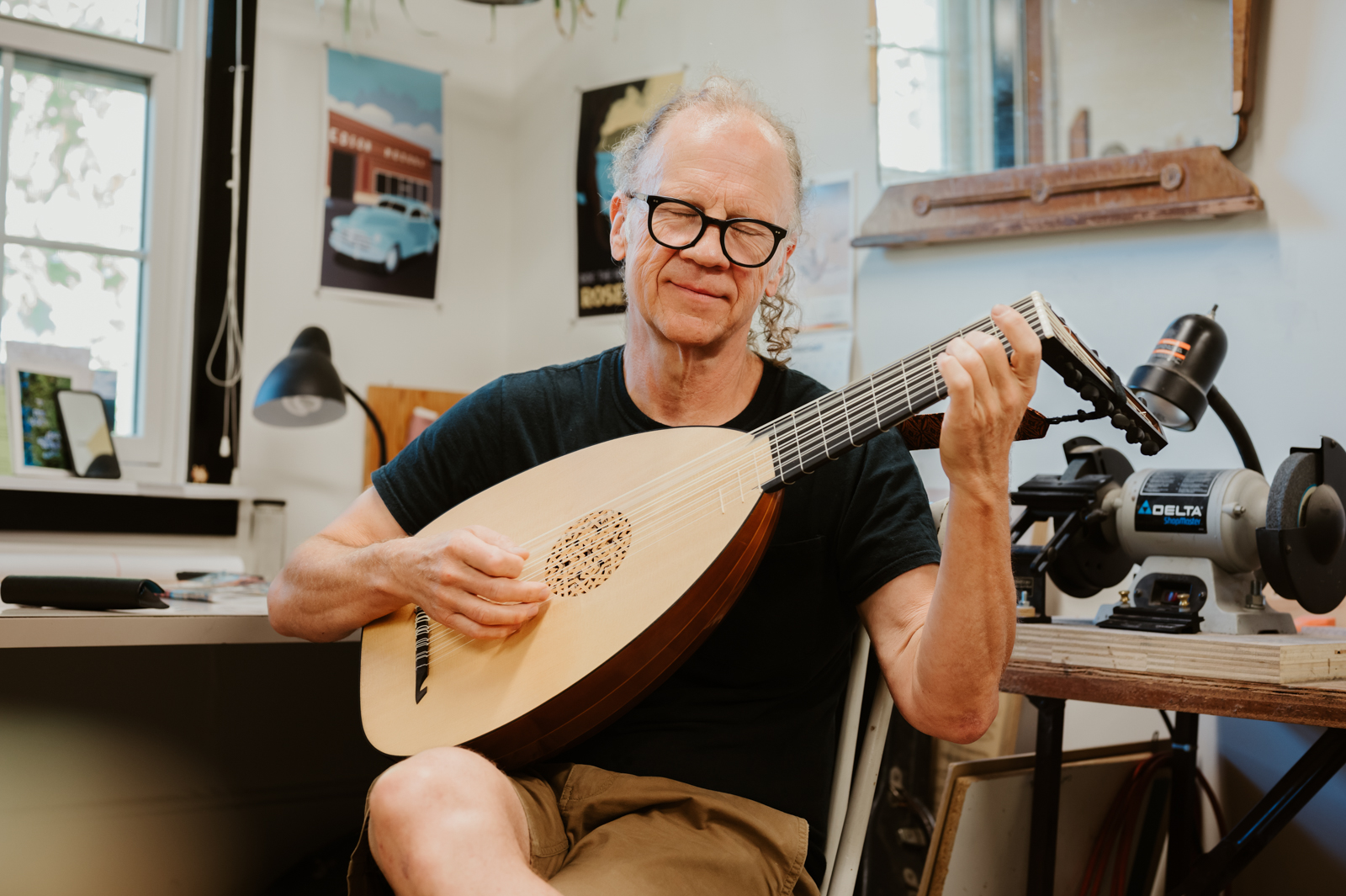 ---
Read more Arts' stories.