The Zoom window loads, and I'm suddenly face-to-face (or screen-to-screen) with a stranger. A 20-minute timer counts down, and with no formal introduction, the stranger begins to tell a story. They walk me through each detail, pausing for effect where it matters, narrating their inner monologue with thoughtful insight. It's an intimate exchange, hindered only by occasional technical glitches on my screen. I don't say much; my role is to listen.
The exchange is part of Zee Zee Theatre's Virtual Humanity project, which pairs participants—the "audience"—with storytellers for one-on-one interactions. If the concept sounds familiar, you're likely recalling Human Library, a project started in Copenhagen in 2000 by the organization Stop the Violence, in which you can go to a community centre or library and check out an actual human to tell you a story or memory of their life. Catalyzed by an act of violence committed against a friend of the organizers, Human Library aims to foster human connection through conversation and storytelling. It nurtures empathy on intimate scales and provokes thinking about alternative perspectives. The movement has grown internationally, with libraries popping up in over 80 countries, including, for the past nine years, Zee Zee's Vancouver installation.
All things pandemic considered, it was only natural that this year's Human Library turn virtual. Virtual Humanity: Two Spirit & Indigiqueer Futures shifts the original project's focus to the intersections of Indigenous and queer perspectives. "This project was really designed to help crush some of those preconceived notions we have of other people in our community and help us understand each other's otherness," Alysha Collie, co-curator of the project, says. "What makes us unique, but what makes us, with our human experience, also very similar."
Collie, with co-curators Dallas Yellowfly, Raven John, and Deborah Williams, found over 20 people to share stories of their lives. Collie's curating method? The tried and trusted sliding-into-DMs technique, she shares with a laugh. She felt confident reaching out to strangers—and asking them to share stories from their lives—because of Zee Zee's financial backing: storytellers will be paid for their time and work. "Indigenous representation is great, but paid Indigenous representation is definitely the way things need to be," she says.
For Collie, an Indigenous artist from the The'wá:lí (Soowahlie) First Nation with African and settler ancestry, ensuring that space was reserved for unheard perspectives was as important as offering payment. "A large problem brought up by the Afro-Indigenous and Black Indigenous communities was that these folks were excluded from what Indigeneity looked like in public and visible spaces," she says. Recognizing this, Collie took care that six of her 10 invited storytellers belonged to both the Afro-Indigenous and LGBTQ2S+ communities.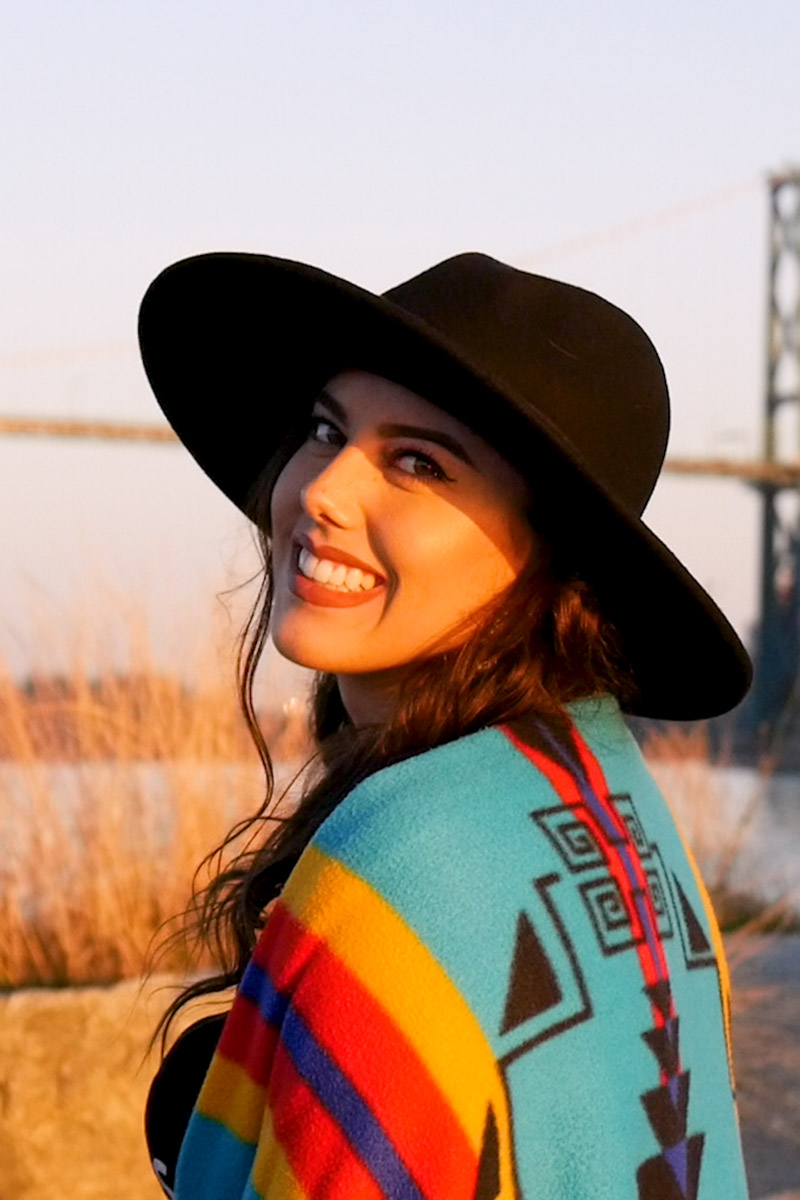 "Indigenous peoples, to begin with, have been historically invisible from many public spaces. And if we have been visible, it's been written by white folks who have really appropriated our identities," Collie says. "And so I think something that's really important about this project is we're giving space to authentic voices. We're giving the power back to our people."
These storytellers are not actors but real people sharing their lived experiences. Their stories are joyous, painful, and formative. Collie and her team worked with their storytellers for two months to develop their stories, offering support and even bringing on a counsellor. "Something that we really take to heart with this project is it's not meant to be something that causes you trauma talking about," she says. "I also understand as an Indigenous person that when we talk about many stories from our life, because our experience is Indigenous, the stories attached to our identity can sometimes be emotionally laborious. Some of the things that we have faced as a collective are unique to our cultural and historic backgrounds. Things like residential schools, things like intergenerational trauma, things like cultural loss, things like intentional genocide by the government."
As I reserve my spot on Zee Zee's booking portal, I'm given a list of story options. There are no names or context, only titles that give away just enough to pique curiosity: "Dancing With Strangers," "Content Warning: Hot Girl Shit." I select a couple of titles, receive a Zoom link, and dive headfirst into a one-on-one session with no idea where it will take me.
My storytellers guide me gently. One takes me to the first time they admitted their sexuality to themselves and invites me to dance on the floor of a gay nightclub; another explains the disillusionment and danger of online dating as a trans woman and shares what it feels like to be empowered by sexual liberation.
"For a lot of folks, this project has been a healing process," Collie says. "This project has been taking a story, a little piece of yourself, and being vulnerable enough to share it with a complete stranger. And I don't know if you've ever done that, but it's not always easy. It's something that requires a lot of strength, a lot of resilience, a lot of determination and dedication. To not just tell a story, but to craft it in a way where you feel good talking about it."
---
Virtual Humanity: Two Spirit & Indigiqueer Futures takes place December 4 and 5 from 1 to4 p.m. Spots can be reserved here. Read more Arts stories.