The steaming towel wrap. The luxurious lathered cream. The surgical flick of the razor in the steady hand of a seasoned barber. Getting a shave with your haircut was once among a man's most enjoyable rituals. But who among us today partakes in this most masculine of indulgences?
"Mostly mature men come for the Full Dandy," explains Jordi Sancho, while selecting the very first straight razor to ever make contact with my face. "Men who work hard and like to take a little time out to relax." Sancho is the co-owner of Dandy Barber, which opened in September 2017, sharing a heritage building with Eight ½ Restaurant Lounge on 8th just west of Main.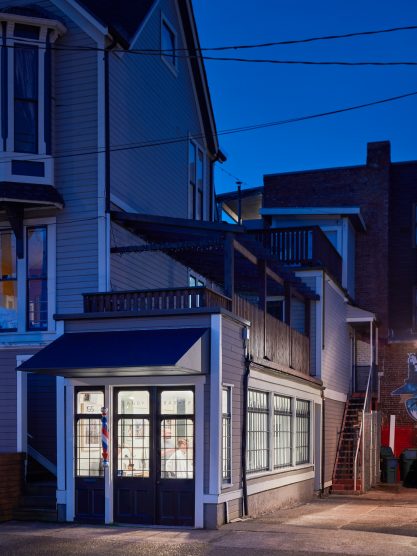 Sancho's signature treatment, the Full Dandy, promises to relax me with a slow-paced haircut and a comfortable shave, plus a scalp and face massage infused with aromatic oils, fresh cucumber, and witch hazel. He begins by massaging my face with jojoba and almond oil to soften my facial hair and provide optimal glide for the razor. He next applies a hot towel wrap, the facial equivalent of a warm hug, then brushes on a Weleda cream—a natural, rich, lathering biodynamic shave cream made from almond and pansy extracts and goats' milk.
I could get used to this, I'm thinking, just before the cold steel of the razor's edge brushes my cheek. Tensing up, I'm suddenly the eye of the camera slowly descending upon Robert De Niro as gangster Al Capone in The Untouchables, menacingly wiping blood from his nicked cheek onto his terrified barber's white towel.
Allowing a stranger to run a razor blade across your throat is a leap of faith. But after Sancho's rock-steady hand makes two clean passes, the first with the grain and the second against it, I begin to breathe. This man is a samurai—precise, quiet, and calm. "I relax as much as you do when I shave you," he explains. Still, I have to ask: how does one train for the blade? Because clearly there is little margin for error. "I started on my own face. I bought myself a straight razor and learned how to shave myself, then shaved my friends," Sancho says. "It's actually really hard to make mistakes."
Born in Tarragona, a Spanish port city about 100 kilometres south of Barcelona on the Costa Daurada, Sancho immigrated to Quebec with his family in 1979. After relocating to Vancouver in 1983, he worked as a restaurant server, a profession he says he was born into back in Spain. After 14 years at Bishop's, he switched to barbering, learning the trade from local Greek and Turkish masters. When one of his clients, local architect David Battersby of BattersbyHowat, suggested they partner to open a shop, Sancho had the perfect name. "When I was learning English, the word 'dandy' really caught my attention," he says. "I thought it was charming, and so when I had to pick a name for the barbershop, I remembered 'dandy' and it fit."
Shave complete, Sancho wraps my face in another towel, chilled and covered in witch hazel, distilled cucumber, chamomile, and a hint of mint intended to close my pores. After a generous application of soothing Weleda moisturizer, I'm ready for my cut: classic short back and sides, quick and simple.
As I get ready to depart the shop, mug as smooth as glass, Sancho hands me his business card, pointing out the diagonal strokes over the name. "They refer to the angle of the razor's stroke you need to provide a perfect shave," he says. "You want to slice the hair, not chop it." Al Capone would have concurred.
---
Read the best of hair and beauty here.