Walking into the sun-filled waiting room of Face Place's West Hollywood location on Santa Monica Boulevard, it is clear that this spa is serious about facials. The name alone suggests that the face is its top priority, which is enthusiastically expressed by co-owners and former Torontonians Tony Silla and Paul Rogers. With a bright complexion and a smile to match, Silla, who is also the head esthetician, introduces the Signature Facial: a treatment featuring a mask that could be confused with the one worn by Sir Anthony Hopkins in The Silence of the Lambs.
In reality, the mask is Face Place's secret weapon—one that has been sought after by celebrities including Laura Dern, Tom Cruise, and the ever-ageless Cher. The Signature is the only facial on the menu (there are other options such as peels and LED light therapy, though), taking a clinical approach using extraction techniques and delivering collagen-stimulating vitamin C and zinc deep into the skin through galvanic current (similar to physiotherapy treatments used for injured muscles or ligaments). "The galvanic pulses exercise the muscles of the face. It's like going to the gym for your skin," says Silla, after which Rogers adds: "No matter how good the delivery systems are, with topical preparations you still cannot get those ingredients as deep into the tissues as you can with galvanic current. Which is important because that is where you can stimulate collagen and really rejuvenate the skin."
Its focus on deep cleaning, rather than on traditional pampering, is what has garnered Face Place its many loyal clients. On a sunny Thursday in July, another Canadian happens to be making a regular trip to visit Silla and Rogers. Before Wendy Creed's treatment, the three of them chat about the Ontario summer camp where her daughter is a counsellor, and the nearby camp that Rogers attended as a kid. Creed has been a regular client of Face Place since it was owned by Ernie Benson, who founded the company in 1972.
"I have to explain to people that it is totally different, but the whole point to me to have a facial is to clean your skin," says Creed, who runs an event planning company and is now based in Los Angeles. "I love cleaning and scrubbing. So to me it is not about lying there and having the creams. Go and have a massage for that."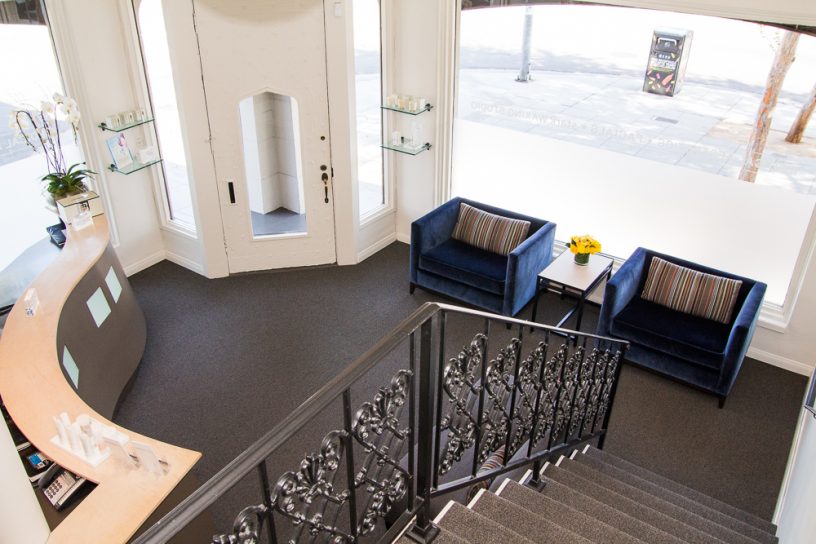 The Signature Facial's result is glowing, firm, smooth, touchable skin. Benson used to describe the post-treatment sensation as being similar to leaving the dentist's office and running your tongue over your teeth with satisfaction. Silla and Rogers met Face Place's creator on a beach in Puerto Vallarta, Mexico; the chance encounter led to a friendship, with the couple visiting Benson in Los Angeles to experience their first facials. "The compliments that I started getting on my skin were incredible," Silla gushes. "I said, 'Well, people can really see the difference.' It was life-changing for us."
At the time, Silla was a teacher while Rogers had a financial consulting business. They began visiting Benson on a regular basis and shipped Face Place's in-house products to Toronto to maintain their skin care routines in between trips. When Benson started discussing retirement, Rogers (who had recently sold his business) and Silla were inspired to seriously consider a move to California to take over Face Place. They purchased the company from Benson in 1997, with Silla training under him to learn the treatments and Rogers handling the financials. The couple went on to open a second outpost in New York's Meatpacking District in 2005, and in 2015 opened their first location outside of the United States at the ultra-luxury Rosewood London hotel.
Silla, who grew up in Toronto's Little Italy, and Rogers, who grew up in Burlington, met through a mutual friend. They have been together for more than 30 years and wed five years ago, when same-sex marriage was legalized in California. And while Los Angeles is now home, the pair regularly visits family in Toronto, and Silla's mom escapes harsh Ontario winters for a few sunny months in LA.
Vancouver could be a site for future expansion through Face Place's partnership with Rosewood, and a pop-up at the hospitality brand's new Hôtel de Crillon in Paris is also a possibility. "We are happy with our three at the moment," Rogers says, "but we are quite willing to be opportunistic in that if something presented itself then we would take a very close look at it." A close look is also what they give the skin of each person who walks through their doors, and each person is better for it.
---
Read more from Beauty.