From pricey retinol-packed moisturizers to age-defying serums, many of us happily spend the equivalent of a small Eastern European country's GDP on our skin-care routine. But do we pay as much attention to our sunscreen? The protective creams and powders should be a key part of your daily routine, as integral as moisturizing, eating healthily, or brushing your teeth.
Because too many Canadians will develop some form of skin cancer in their lifetime, and with warm weather around the corner, it's time to address the single most important part of skin care: UVB/UVA protection.
Mineral sunscreen used to mean you had to rock the zinc oxide white-nose lifeguard look, while chemical sunscreens were invisible and easy to apply. But Vancouver-based physician Dr. Janet Ip, who specializes in dermatology in her general practice and works with the Project Skin MD clinic, says it needn't be such a stark choice.
Both types of sunscreen are equally effective at blocking rays, she says, but now that mineral sunscreen has evolved from that white cake-y stuff  to near invisibility, it offers added benefits too. Unlike chemical sunscreens that use harsher ingredients, mineral sunscreens don't clog pores. They're generally hypoallergenic, have skin-soothing minerals, and most importantly, because they're natural, they are also reef-safe, which is good news for those beach vacations hopefully hovering on the horizon.
"Chemical sunscreens are like a sponge that absorbs UV rays to prevent them from going into the skin, but they can cause skin irritation in some," Ip explains, while "mineral sunscreen, or physical sunscreen, is like a shield that deflects the rays from the skin—it sits on top of the skin and serves as a barrier that prevents anything from getting absorbed."
With sunny days, and sun exposure, undoubtedly in the forecast, here are six sunscreens for summer 2021:
Sheer Physical Fusion UV Defense SPF 50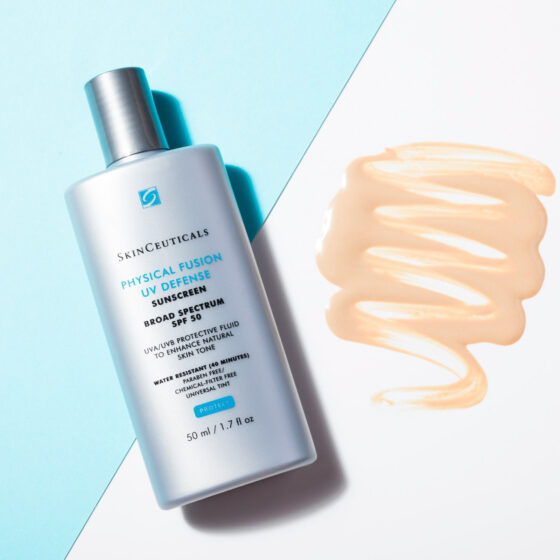 SkinCeuticals mineral-based Physical Fusion UV Defense SPF sunscreen features a transparent zinc oxide, which means there's no chemical absorption into your skin, while artemia salina, a plankton extract that increases skin's resistance to UV- and heat-induced stress, packs an extra punch in the fight against the sun. There's a tinted version too for fair-skinned people who want a weightless smoothing of the complexion. Dr. Ip says, "I'm finding a lot of men love it as it gives them a bit of colour without looking like makeup."
Loose Mineral Sunscreen by Colorescience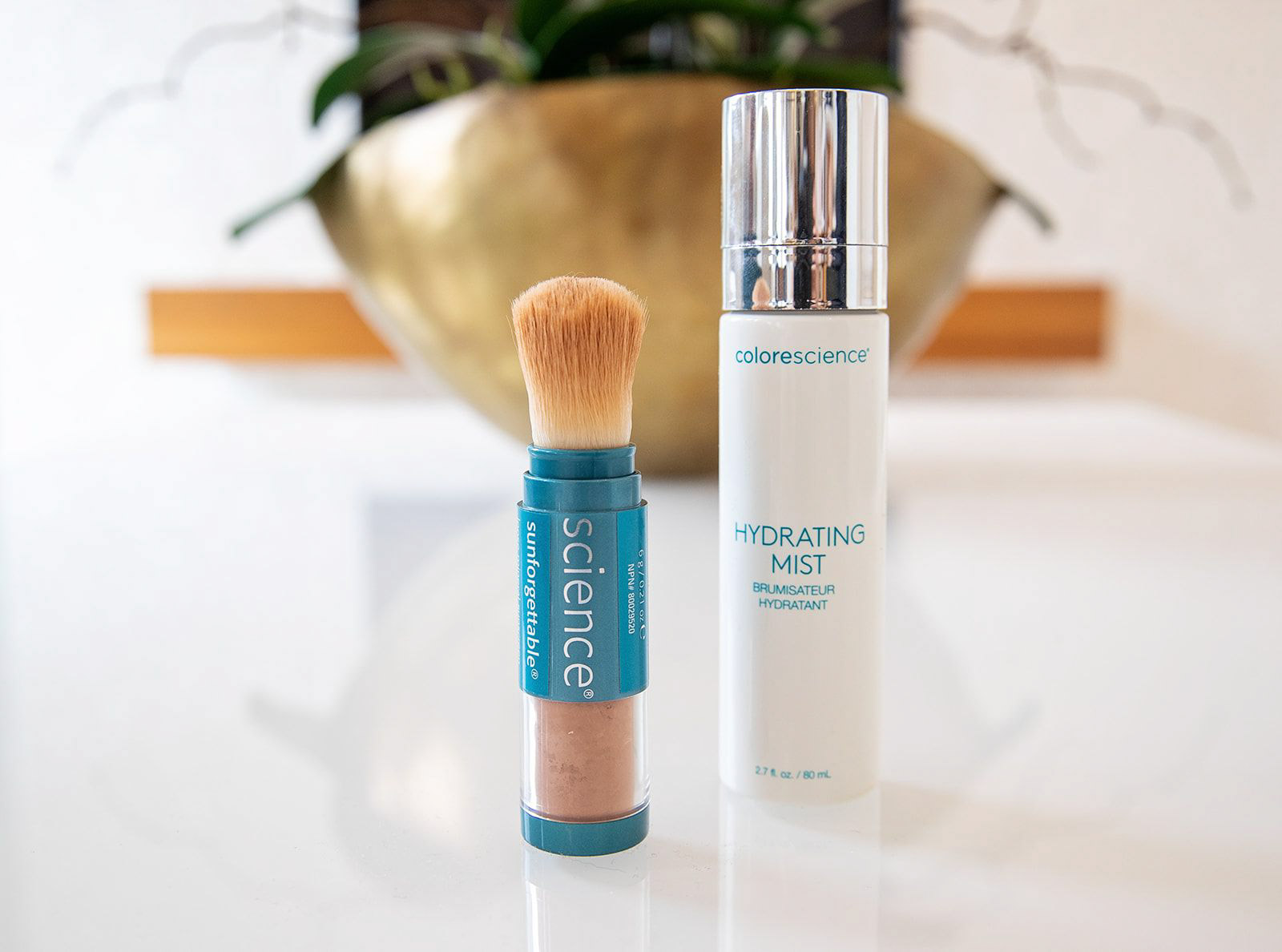 Dr. Ip is also a fan of Colorescience's Sunforgettable loose mineral sunscreen SPF 30. It comes in a tube with a brush on one end—application is just like putting on blush or bronzer. "This is a fantastic and convenient physical sunscreen; it's a mineral powder that, if you're prone to pigmentation, you can easily brush this on over your makeup." It's great for touch-ups, but not as a replacement—"it's just a good additional filter," she says.
Kiehl's Butterstick Lip Treatment SPF 30
In the fight against sun damage, we can't forget our lips. Kiehl's nourishing lip balm with fairly traded coconut oil that's rich in fatty acids (to soften and hydrate) and antioxidant lemon butter adds some SPF heft with a pop of colour for a two-for-one punch. Formulated with broad-spectrum SPF 30 protection against UVA and UVB rays, it soothes and hydrates lips for up to 12 hours. Choose from four shades or untinted.
Coola 360° Refreshing Water Mist Organic Face Sunscreen SPF 18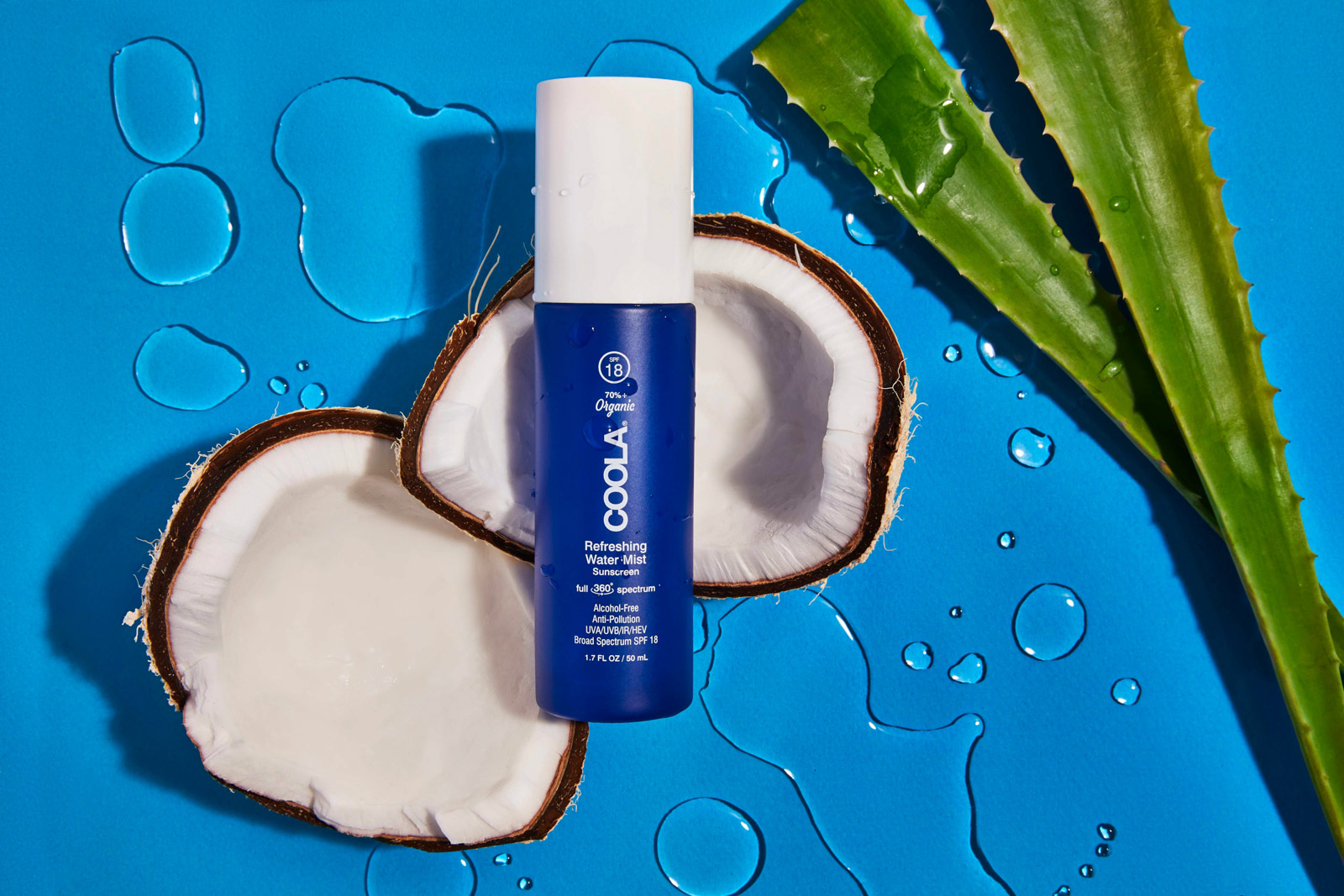 Generally, dousing yourself isn't the best way to keep your sunscreen on, but when that water actually is your sunscreen, it's a win-win for both refreshing and protecting. Coola's newly launched Water Mist is an alcohol-free formula infused with organic aloe and coconut water. It also contains the all-natural brand's plant-derived Full Spectrum 360° Complex that mitigates the effects of HEV light (our computers' blue light), infrared light, and pollution.
Just spray your face with its blend of antioxidants and Indian jasmine stem cells, and the weightless mist keeps you hydrated, refreshed, and protected—the holy grail of fun in the sun.
Garnier Ombrelle Mineral Sunscreen SPF 50+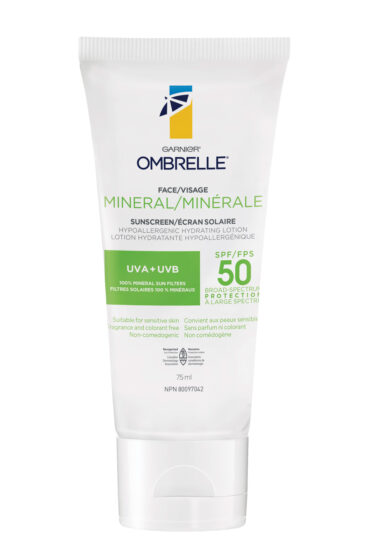 I've been a faithful follower of Ombrelle ever since my dermatologist prescribed it more than 20 years ago for my sensitive (read: high-maintenance) skin. Garnier is now part of L'Oréal, yet the behemoth brand continues to invest in its efficacy.
The new Ombrelle Mineral Sunscreen SPF 50+ is a cruelty-free lightweight yet hydrating lotion; it's also free of fragrances and colourants, and features hyaluronic acid to help hydrate.
Shiseido Clear Sunscreen Stick SPF 50+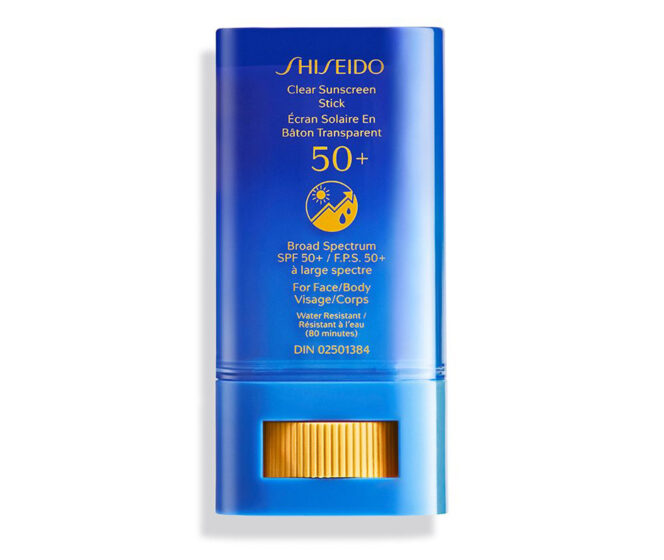 Sunscreens tend to be for either the face or the body, and never the twain shall meet. But Shiseido's Clear Sunscreen Stick SPF 50+ is a tiny clear stick that works effortlessly on both. The tube glides on to provide an invisible lightweight veil that activates when wet or heated either over or under your makeup.
Free of oxybenzone and octinoxate, it's also safe for all skin types (and claims to be both dermatologist- and ophthalmologist-tested), and it's compliant with Hawaiian regulations. Which means—aloha—it's the perfect vacation companion for when borders open up!
---
Read more Beauty stories.