A psychic medium in a pink sweater walks through a group of women inside Vancouver's Stanley Park Pavilion with a mic in hand. "There is a man's spirit here today in the room and he has a message to give one of you," Susan Grau says. A woman from the audience raises her hand apprehensively, agreeing with Grau's claims that Richard, a man who died from liver failure, was her late father. Her face quivering, the woman listens as a conversation is channelled. "He wants to know you were loved," says Grau. Women throughout the room begin to tear up.
This is the In Goop Health summit—the first one outside of the United States that the Gwyneth Paltrow-helmed lifestyle company has hosted—and for many, emotions run high. The wellness event is all about bettering oneself, after all, and that means letting go of any apprehension and simply being present.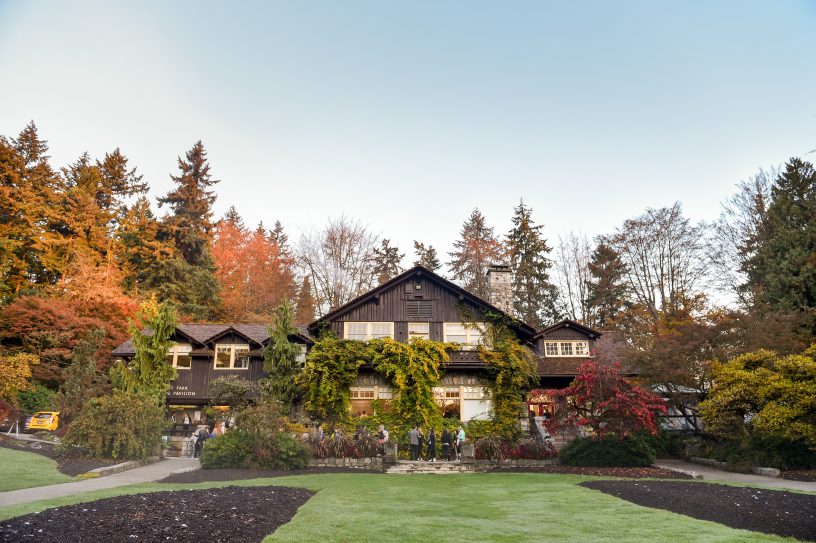 Paltrow's content and e-commerce business has grown into what its generally female demographic considers an authoritative figure on all things alternative health. Be it naturopathic or homeopathic, Goop has presented both the convincing (whole grains for digestion) and the outlandish (bee swarms for skin rejuvenation). While its readership is strong and devoted, Goop is also often criticized for publishing unsubstantiated claims about how to improve one's health; in fact, it recently settled a case in Los Angeles regarding falsified information about jade eggs and fertility. Still, Goop is estimated to be worth $250 million USD, and the $400 ticket price to In Goop Health Vancouver did not stop the event from selling out.
At the summit, local volunteers usher attendees into the pavilion, draping them in white-beaded tassel necklaces. The building is decorated with cheerful greenery and colourful bouquets, and guests wander in and sift through the Goop boutique area where purchases (makeup, aromatherapy, books) can be made. Coffee is available (with options to stir in any milk of choice, along with YouTheory collagen), and blue and pink alkaline juices from Glory Juice Co. are on hand for hydration. For lunch, it's an unsurprising (but very delicious) spread of clean eats: potato salad, beets with goat cheese, hummus, and simple proteins of salmon and broiled chicken. Throughout the day-long event is a series of health talks on nutrition and relationships, plus a Lululemon-led yoga session and a skin care lesson with London esthetician Anastasia Achilleos, whose radiant skin truly glows as she discusses various Goop skin care products.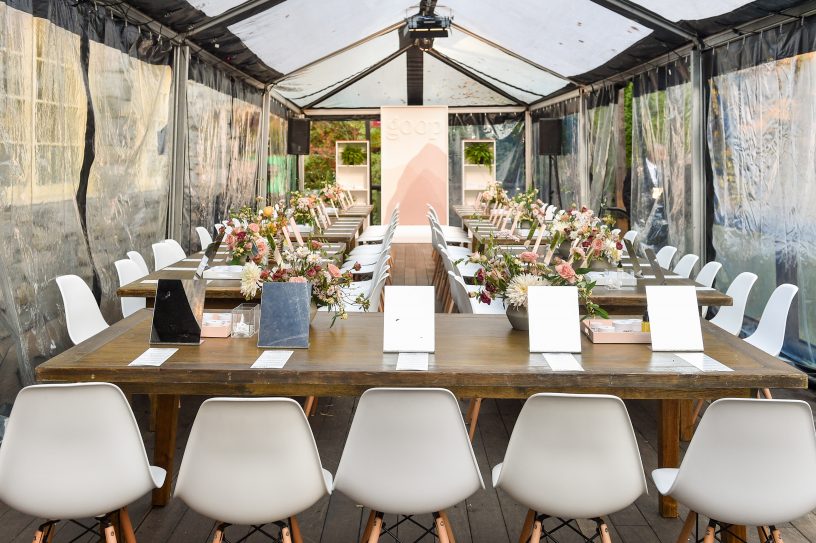 As the day goes on, Goop chief executive of content Elise Loehnen is seen strutting around the room, a red-skirted beacon amongst a sea of athleisure-wearing Vancouverites. And though she stands out today, she feels right at home here. "We have an affinity with Vancouver as a West Coast sister city," she says as a swarm of chic staffers buzzes around the space like honeybees. "It feels like you guys are already there, if not beyond, where we are in terms of your understanding of health and wellness and a lot of the things that are sort of central to Goop," she continues. "So, it felt like a really soft landing, a place where we could go, where there's definitely a community of women who are already in that space." As for Paltrow, Loehnen has nothing but praise for the actress-turned-entrepreneur and the way she has built her lifestyle empire, which began as a newsletter back in 2008. "I think she has an innate ability, and now Goop as a brand has that ability, to find out what's new. Which is often years ahead of what is integrated into a typical primary-care physician's practice," Loehnen says. "She has challenged us to push and be there and to evaluate some of these things and these greater implications in people's lives. And a lot of it comes from curiosity, and listening."
In Goop Health might not be ground-breaking, but it is certainly interesting. It is a safe gathering space for people who have a shared passion for self-care; above all, maybe the greater concept of the summit (and the brand overall) is about offering women alternative solutions to their ailments, along with a wider sense of sisterhood in a shared pursuit of living well. Goop has its faults and its dramas, but there is still some deliciously goopy goodness to be found.
---
Find more Beauty secrets here.