Smiles may measure just a few centimetres, but they're surprisingly complex—multiple muscles and skin types are required to form one. The lips are "intermittently wet and constantly in motion," says dermatologist Dr. Shannon Humphrey, who explains that this can make things challenging for the skin barrier, the layer that's keeps moisture in and irritants and allergens out.
Lips can get particularly dry in cold weather because low humidity evaporates moisture from the skin. "This gets much worse if you start licking your lips, which feels better for about 10 seconds and then dries them out more," Humphrey says.
If you have persistently dry lips, you need a lip balm that's occlusive—thick and seals in moisture. "Specific ingredients are less critical than that texture that will stay on the lips and act like a barrier," she advises.
If you have persistently chapped lips, you can also receive a cosmetic procedure in which hyaluronic microdroplets are injected into the lips, which Humphrey says gives them a glossy appearance without making them lips bigger. If you do want an amped-up pout, you can also get hyaluronic acid injections to change the size or shape.
To reduce lines around the mouth, Botox can be used to relax the muscle, or energy-based treatments like micro-focused ultrasound can help smooth skin.
For a more temporary effect there are makeup tricks. "Outlining the lips with a liner that is a bit darker than your natural colour, blending it smooth so it is more of a shadow, filling in with a lighter lip shade and finishing with gloss can create a fuller pout," says makeup artist Oz Zandiyeh.
Despite mask wearing,  Humphrey says there's been no change in demand for in-office lip and mouth procedures. Oz believes that bright lips are making a comeback for spring with high gloss shines.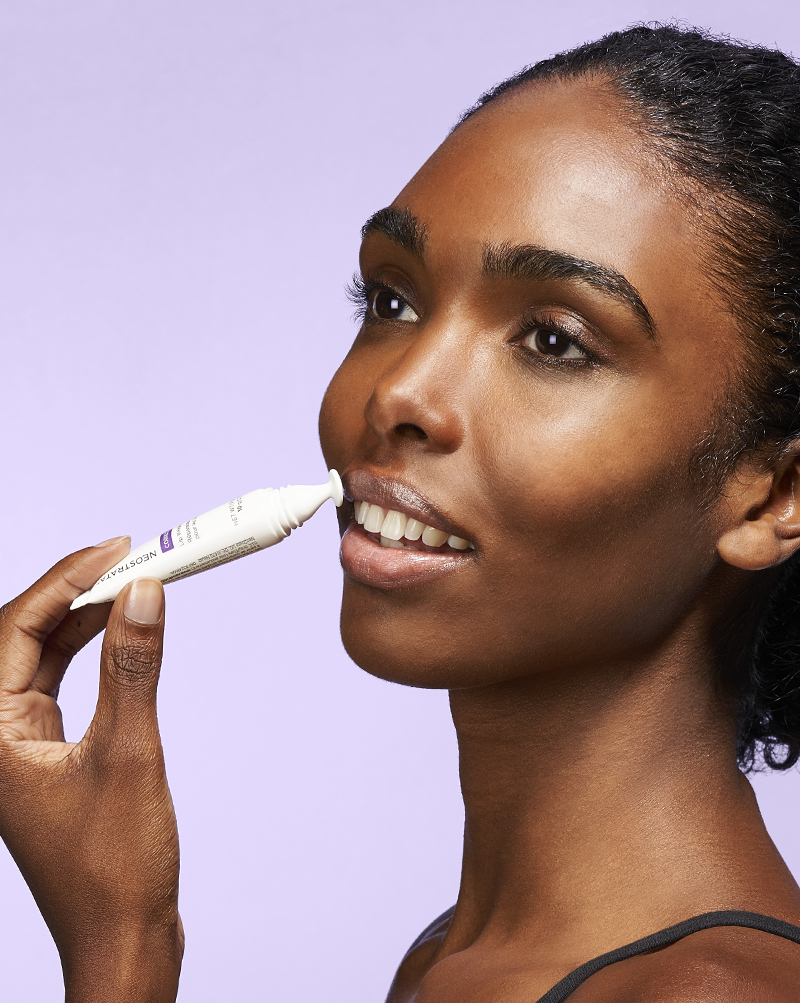 Here are our picks for the lipstick, liner, gloss, balm, treatment and even toothbrush you need to draw attention to your lips.
Armani Lip Power Lipstick
This intensely pigmented lipstick comes in 15 shades including reds, pinks and beiges, and is long lasting, with a satin finish
Burt's Bees Gloss & Glow Glossy Balm
Accomplish sheer colour and high shine with this balm, which has emollient mango butter to seal in moisture.
Bruush Electric Toothbrush
A sonic toothbrush that cleans brilliantly, has a four-week battery life, and looks far more stylish than your average dental equipment.
E.l.f Love Triangle Vegan Lip Liner
This liner has a triangular tip, which allows you to line lips more precisely, and comes in seven shades with a semi-matte finish.
Fresh Sugar Lip Polish
Lipstick can cling to dry skin so you get a patchy finish if your pout is parched. Use this scrub to exfoliate before moisturizing in order to get a better finish.
Neostrata Lip Wrinkle Repair
Hyaluronic acid helps plump skin, while peptides target fine lines. Neostrata recommends applying this serum twice a day (a tingling sensation may occur) to reduce the appearance of wrinkles in three days. Humphrey cautions that if you do have chapped lips, you should skip active ingredients, which could be irritating.
The Body Shop Cupids Bow & Mistletoe Lip Balm Gift
This quartet comes with four fruity flavours—one for every pocket or handbag. The balms are in pot format rather than stick, which means you can really pile on a thick layer, making them great for overnight.
---
Read more beauty stories.