When we think of hair aging for women, the first thing that springs to mind is greying. But there are actually a number of different changes that can take place—for example, to texture and density—and some can be halted or reversed with beauty products or medical treatments.
Most people's hair changes colour as we get older—it happens as we lose melanin in the follicle, so if you still have a bit of melanin, your locks might be grey. Once there's no melanin left, hair becomes white. It's hard to predict when that might happen, says Dr. Shehla Ebrahim, a cosmetic dermatologist at 8 West Clinic in Vancouver who specializes in hair restoration. "There isn't a specific age—I started to turn grey at 16, whereas my mother wasn't grey until she was 65 or 70," she says. "Dark-haired people might notice earlier because the contrast between white and black is sharp, compared to blond or ash blond, where it would be camouflaged." There's also a stress-related component to greying. For now, there's no way to reverse grey hair other than dyeing it. You can also enhance greys with purple-toned shampoos that counteract yellowness.
Hair can also become more brittle, drier, and coarser with age, since the scalp produces less oil. This leads to a lack of shine and to hair breaking more easily. "It's important to be using shampoos, conditioners, and leave-in treatments that will penetrate deeply into the hair cortex, to leave your hair feeling soft and smooth," says Syria Tortora, a Toronto hairstylist and global ambassador for Redken. She also points out that textural changes can vary according to ethnicity and genetics: "People with naturally straight hair may notice less textural changes compared to those with curly or coily hair."
Around half of men experience some hair loss by age 50, but it's a significant problem for 40 per cent of women that age, too. Ebrahim says there's also been a sharp uptick in hair loss since the pandemic, though this observation has no studies to back it. The hair loss could be a side effect of having had COVID-19, or it could be related to stress. Then there are conditions like alopecia areata that can affect men and women of any age. It's also possible to experience hair loss because of thyroid problems or iron deficiency anemia.
Tortora says to consider changing your hairstyle if you feel self-conscious about thinning hair. "If you're looking for shape and body, you can opt for a more blunt cut with soft face-framing layers to add shape," she says. "This will ensure that your ends feel nice and full, which in turn will make your hair appear overall thicker." You can also protect your hair's thickness by avoiding tight ponytails (which can, over time, lead to traction alopecia) and shielding hair from UV damage by wearing a hat.
A GP might be the first port of call for those who feel like their hair loss is extreme, but Ebrahim says they often lack the time and knowledge to help. In that case, you may want to visit a dermatologist, though be aware that some hair loss (around 100 hairs a day) is considered normal. "It's when the pillow is full of hair in the morning, or the shower is clogged, or if you run your hand through your hair and 50 come out instead of five, there may be a problem," says Ebrahim.
Her consultations start with a detailed history and then general bloodwork to determine if an underlying issue exists. Certain dietary changes could help, but Ebrahim says there's no nutritional magic bullet. "Pay attention to what you eat, eat all the colours of the rainbow, and opt for a Mediterranean diet full of good fats and grains," she says. "Nuts, especially peanuts and pumpkin seeds, are good for hair, and supplements like biotin and marine collagen may be helpful. I'm familiar with two nutraceuticals—Viviscal and Nutrifol—that have been clinically tested, and there is proper data backing their efficacy."
Tailored treatment under the care of a dermatologist might include HRT if your hair loss is due to the menopause, or topical treatments like minoxidil. "Often I find that treating hair loss is not a single, simple entity," Ebrahim says. "I might combine low-level light with some minoxidil, platelet-rich plasma, and skin boosters to improve the nutrition of the scalp."
Another option for disguising thinning hair is scalp micropigmentation—basically, tattooed dots all over the scalp. "I roll a pattern on and use a fine needle to create different sizes of dots with a long-lasting carbon-based pigment," says Brianna Errelat of BE Brow Studio. "It allows me to create a hairline, and it's very detailed, fine work. It will take around four hours, done in stages, and then the healing time is about two weeks." After that, the look lasts for several years and fades naturally.
Ebrahim says that while not all hair loss and thinning are treatable, it's important to take people's concerns seriously. "For some individuals, hair is such an important part of their external appearance because it gives the appearance of vitality and youth, and losing it can have a detrimental effect on self-esteem," she says. "It's very gratifying to treat people with hair loss and see the results."
Kerasilk Redensifying Scalp Serum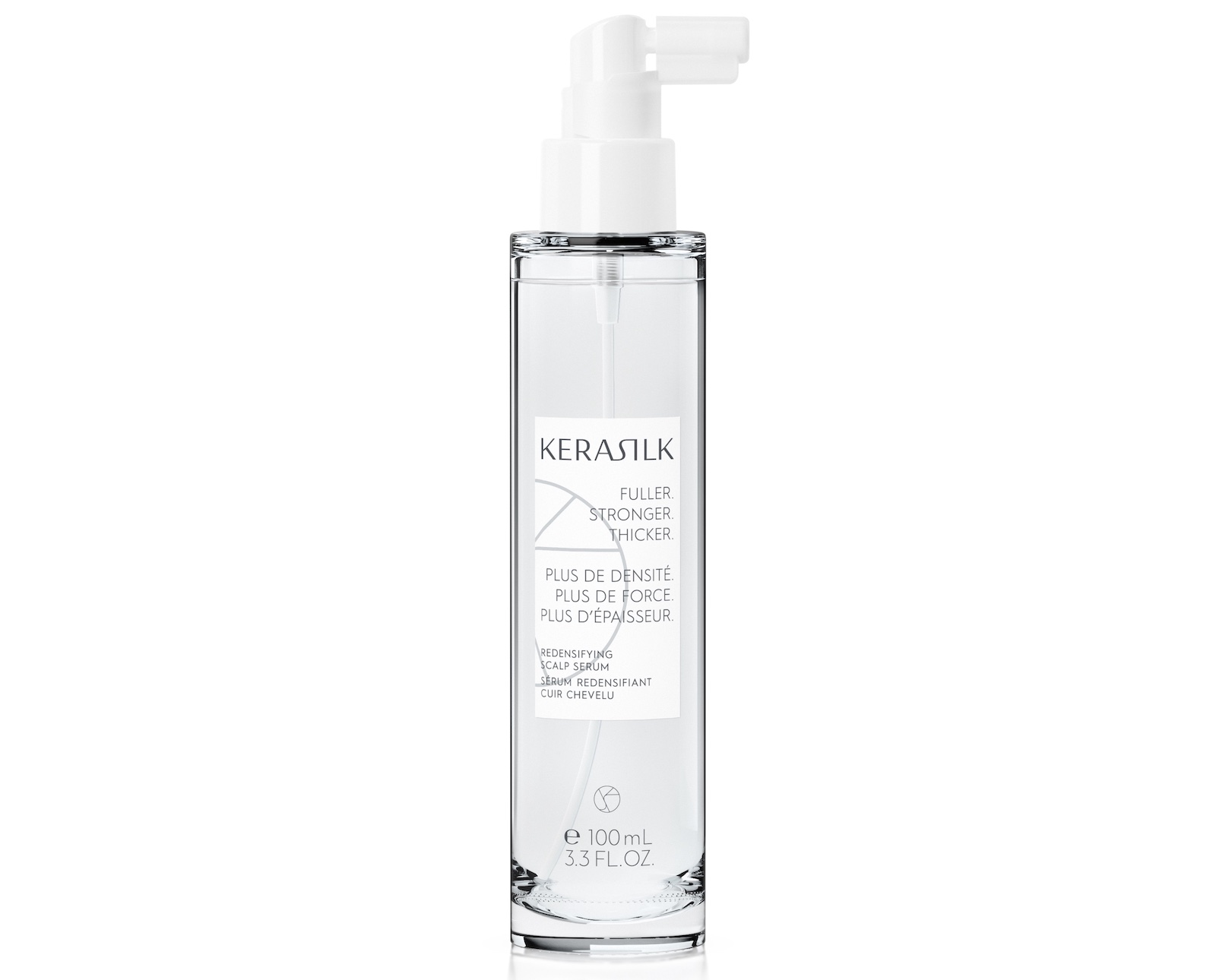 This serum has ectoin, which is touted as being able to repair the scalp's moisture barrier, along with menthol, which stimulates blood flow to the scalp. Every day, apply the serum to the scalp and massage it in.
Olaplex No. 3 Hair Protector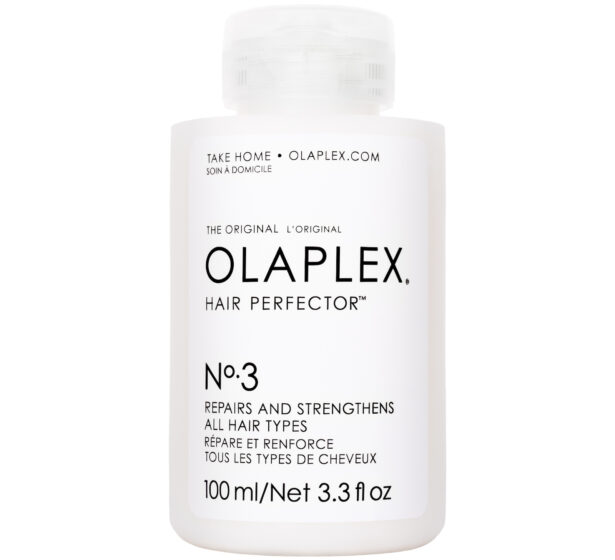 Reduce hair breakage and repair damage with this treatment. It has an ingredient called bis-aminopropyl diglycol dimaleate, which is said to bond together damaged hair and even mend split ends. Apply it to damp hair, leave it on for 10 minutes, and follow up with shampoo and conditioner.
Oribe Silverati Illuminating Treatment Masque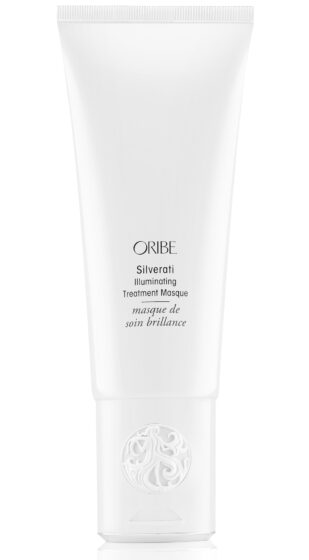 Grey and white hairs can look yellow because they have little or no pigment, so it's very obvious when they absorb colour from styling products or environmental pollution. This mask has a blend of blue and silver pigments that counteract brassy tones.
Redken All Soft Shampoo and Conditioner
Age can make hair drier and, therefore, more prone to breaking. This shampoo and this conditioner have argan oil for moisture, plus proteins to strengthen the hair.
The Ordinary Multi-Peptide Serum for Hair Density
Ingredients in this serum include Procapil, which is said to increase blood flow to the scalp, and Redensyl, which is believed to target stem cells. Apply it to the scalp before bed, and leave it on overnight.
Viviscal Advanced Hair Health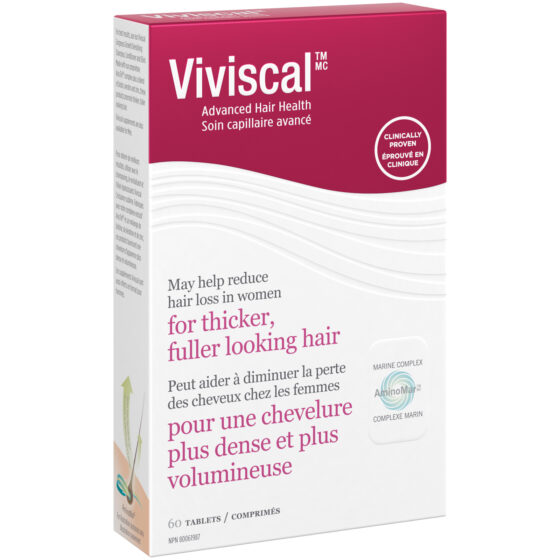 In clinical studies, this oral supplement has been shown to nourish thinning hair, and it may help reduce hair loss. It contains biotin, an essential B vitamin, along with marine collagen complex, vitamin C, and iron.
---
Read more beauty stories.