Perched on a stool at the window bar in Hamilton, Ontario's Saint James coffee shop, a young woman is snapping a photo of her brunch from above, perfectly positioning her coffee cup so that a sliver of the white subway tile wall makes it into the photo.
A Bahamas album is playing quietly on the stereo in the background, and behind the counter, the steam punk coffee machine is whirring—a next-level hipster process that has totally enthralled the small lineup of 20-somethings waiting for a table.
Saint James is one of the latest additions to Hamilton's thriving James Street North restaurant scene. Ten years ago, it would have taken real imagination to picture this downtown street so bustling with energy. Now it's difficult to keep up.
For a long time, Hamilton, a city of roughly half a million, was defined by its steel mills—and when the industry took a nosedive, so too did the proud blue-collar city. But after a few hard decades, it is now in the midst of a well-publicized revival. Once dubbed "Steel City," it now calls itself "The Ambitious City."
Though just an hour down the highway from the Big Smoke, Hamilton is no Toronto, and it celebrates that fact. It is a city that has embraced its underdog reputation; artists and entrepreneurs have flocked to the city en masse, lured by the cheap real estate and charmed by the dozens of nature trails, waterfalls, and conservation areas.
There is a very punk-rock, do-it-yourself attitude about Hamilton. As a city still figuring itself out, it is a place where people feel free to experiment.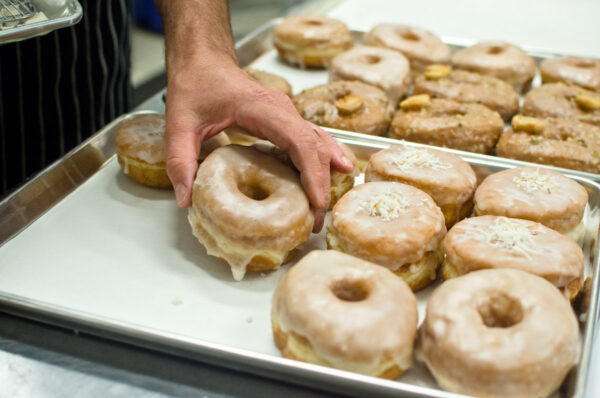 Donut Monster. Photo by Reuben Vanderkwaak. 
On a sunny Saturday in October, new breath has been pumped into the old Lawson Lumber yard in the city's east end. The yard has sat vacant for years, but today, string lights hang from wood beams, and metal rolling racks of vintage clothing dot the massive concrete floor. Colourful banners hang from the industrial bay doors.
Young couples and friends stroll through, coffees in hand, admiring the bones of the old building as they browse handmade jewellery and vintage ceramics, records, and fur coats. Out back, an art installation has been set up in a dilapidated garage, where a mysterious resort-like mural has been painted on the inside. Local DJ duo Summer Fling is spinning vinyl by the front door as people come in, while organizers Whitney and Erika McMeekin wander around greeting friends and checking on vendors.
This is the Hamilton Flea. Set up in a new location each time, the event is as much about the goods as it is about the space. And in this town, there is no shortage of cool old buildings to discover.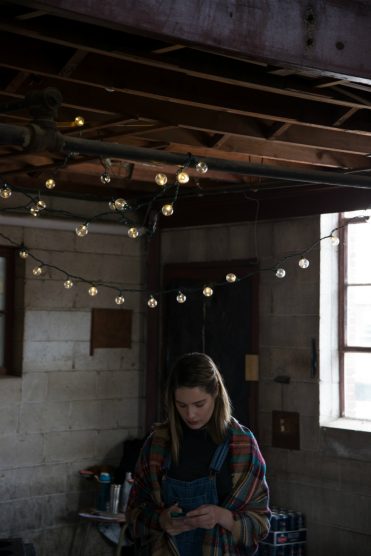 Hamilton Flea. Photo by Dylan Ward.
That sense of opportunity was one of the things the McMeekin sisters fell in love with here. The pair grew up in a small town on the outskirts of the city before heading off to Toronto and Montreal for school. It was only in their mid-20s that they returned, bored with the rat race and anonymity of big city life.
For Erika, whose background is in youth work, not being able to find a job spurred her to launch her own creative business in Hamilton. Today, among numerous projects in addition to the thrice-annual Flea, she runs the Academy of All Things Awesome: a collective of pop-up experiences across the city, from dance lessons, to capture the flag matches, to rollerskating jams, to cooking classes. The goal is to give people a chance to learn new things and meet new people, which works because of the inherent enthusiasm from the community. "People are generally just down to try and support things," she says of Hamilton's welcoming feel. "There's also not really pressure to be rich and successful and well-dressed and connected and all of that, so you can kind of just get down to business without being distracted or mired in comparison."
Co-working spaces are popping up across the city, and local journalists and entire restaurants have been crowd-funded. As Whitney, who in addition to event planning also owns a vintage boutique on King Street East, says: "It's a dreamers' town."
Reuben Vanderkwaak is one of the vendors at the flea. He launched his small donut business, Donut Monster, just over a year and a half ago. Previously a graphic designer and stay-at-home dad, he was inspired to take the leap into entrepreneurship after he and his wife took a bold year-long bicycling trip across the continent with their two young kids.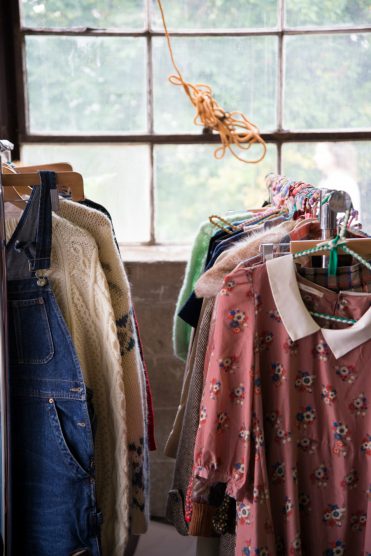 Hamilton Flea. Photo by Dylan Ward.
Even in that short time, they felt a shift upon their return. "The attitude and image of Hamilton has also changed so much over the last five years, from a city that was self-conscious about itself and down on its luck, to a place of hope and excitement," he says. "It really is a great time to live and work here."
And that secret is now out. Hamilton has suddenly found itself on the "cool" radar, and as a result, new businesses are popping up almost daily. Bidding wars are now the norm for the old brick Victorian homes that you used to be able to get for $200,000. Growth is good, but the city's next challenge will be to ensure no one is left behind during the gentrification.
Vanderkwaak, for one, has faith. "It is still early enough in the process that the barriers to entry for participation in that rebirth are still low enough for even first-time entrepreneurs," he says.
For Sara Froese, another flea vendor, affordability was key when she made the move from London, Ontario. She is the designer and printer behind All Sorts Press, a letterpress print shop. Froese found her business a home in The Cotton Factory, a massive repurposed old brick factory on the edge of the industrial sector that now houses affordable studio and event spaces. "It's a big city, but the scene is still small enough that you can try something new and everyone will be pumped," Froese says. "To see that there were so many other young business owners and artists I could relate to and be inspired by (and who were making it work here) was also so great. I feel like these sorts of connections would have never happened for me in a bigger city like Toronto, or at least would have been way harder to break into. That being said, Toronto is so accessible and close to Hamilton that I can still easily draw from that scene for custom work—without having to fork out the rent to live or work there."
---