In 2014, Whitney Wolfe Herd found herself in the eye of a misogynistic maelstrom during a very public lawsuit against Tinder, the dating-app she co-founded. The ordeal exposed her to online abuse from total strangers, and while the lawsuit eventually settled, Wolfe Herd didn't just let it blow over. Instead, she turned the tide of verbal abuse into an opportunity to rebuild—a call to rewrite the internet, recoding it with kindness.
Wolfe Herd describes the daily barrage of nasty comments as "swarms"—an unintentionally poetic segue into why she founded Bumble: bees swarm to build new hives, and she used hers to design a new world. Even in the midst of this "torturous moment," she worried about the future of young girls growing up in the same system of abuse. Social media had moved bullying from the playground to the smartphone, bringing both constant connectivity and constant pressure. "When I was growing up," Wolfe Herd says, "if you got bullied, you came home and watched the Disney Channel. Today there's no escape, there's no one policing nasty behaviour—they don't have recess monitors on the internet."
Identifying a serious need to recalibrate the way humans treat each other, she wanted to find a solution: "I started with the question of what it would be like to have a social network made up of people you didn't already know," she reflects, seated inside her office at Bumble's headquarters in Austin, Texas. "Where compliments are the only form of communication and without the aspects of bullying and sexual aggression."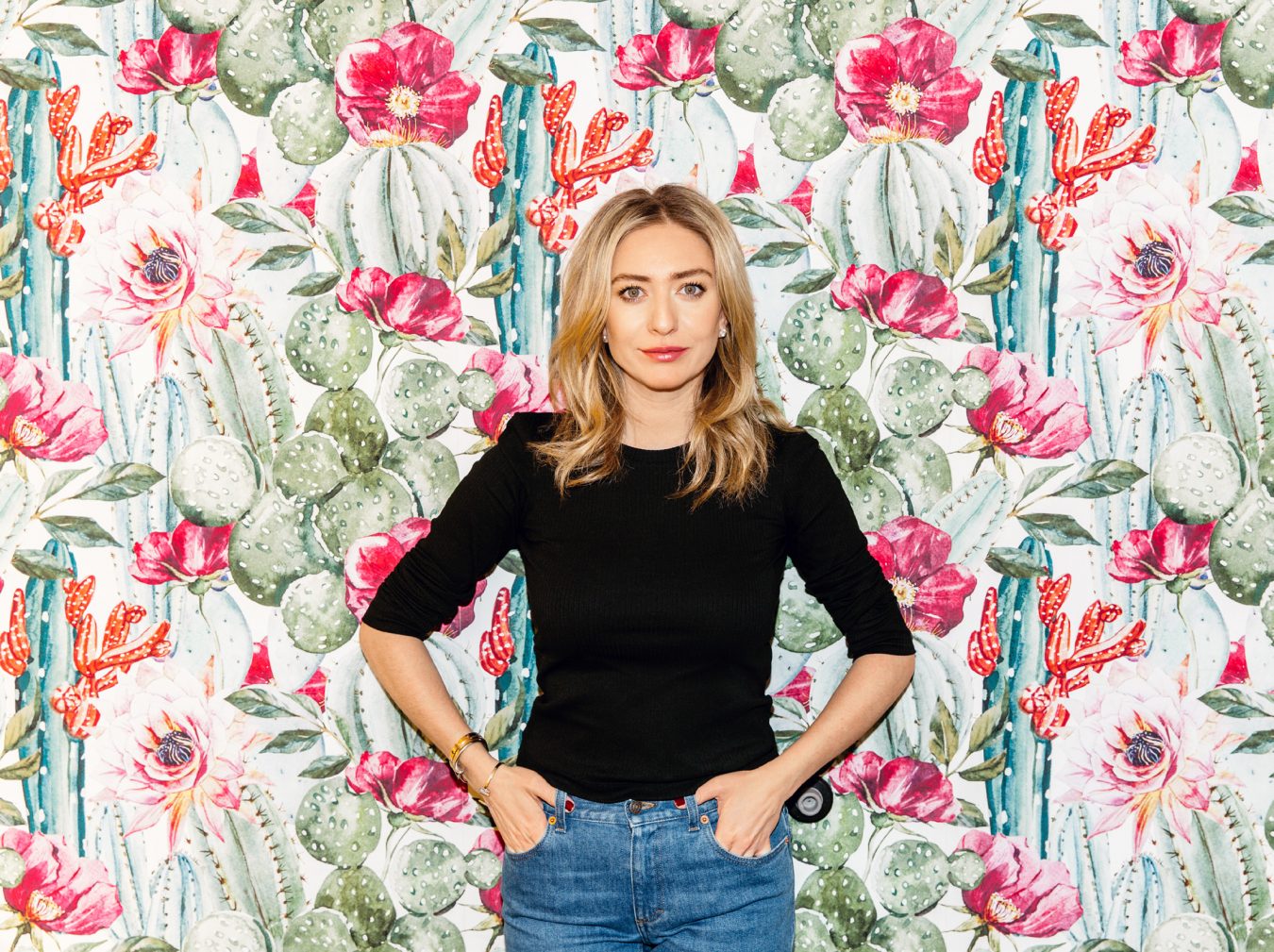 Her strategy has been swift and steady, owning one market before tackling the next. She actually started with an app concept called Merci (it wasn't dating-focused), but her new business partner insisted she create Bumble, where women are given control. Bumble launched as a dating app in 2014 before expanding into the realms of friendship in 2016 (Bumble BFF) and career in 2017 (Bumble Bizz). Just a handful of years later, the app now enables nearly 50 million users in 150 countries to find love, friends, and professional connections on one platform, and all with one goal in mind: to end misogyny. And Wolfe Herd has done all this before turning 30.
Perhaps the first truly feminist dating app, Bumble differentiated itself from other platforms with its unique model: women make the first move. "Matches" are made when both users confirm interest in each other's profiles (the act of "swiping right"), but if women don't initiate within 24 hours, the connection expires (in same-sex matches, each party has 24 hours to engage). Reversing the roles relieves unnecessary stress on both sides, Wolfe Herd argues: without the pressure to say something first, men don't need to display negative social behaviours associated with insecurity and the fear of rejection.
"It flips the script for both sides," she explains. "Women have been trained to reject, and men have been sashayed into the same dance—in music, books, movies, you name it. When women initiate, you completely remove that outlet for aggression and anger."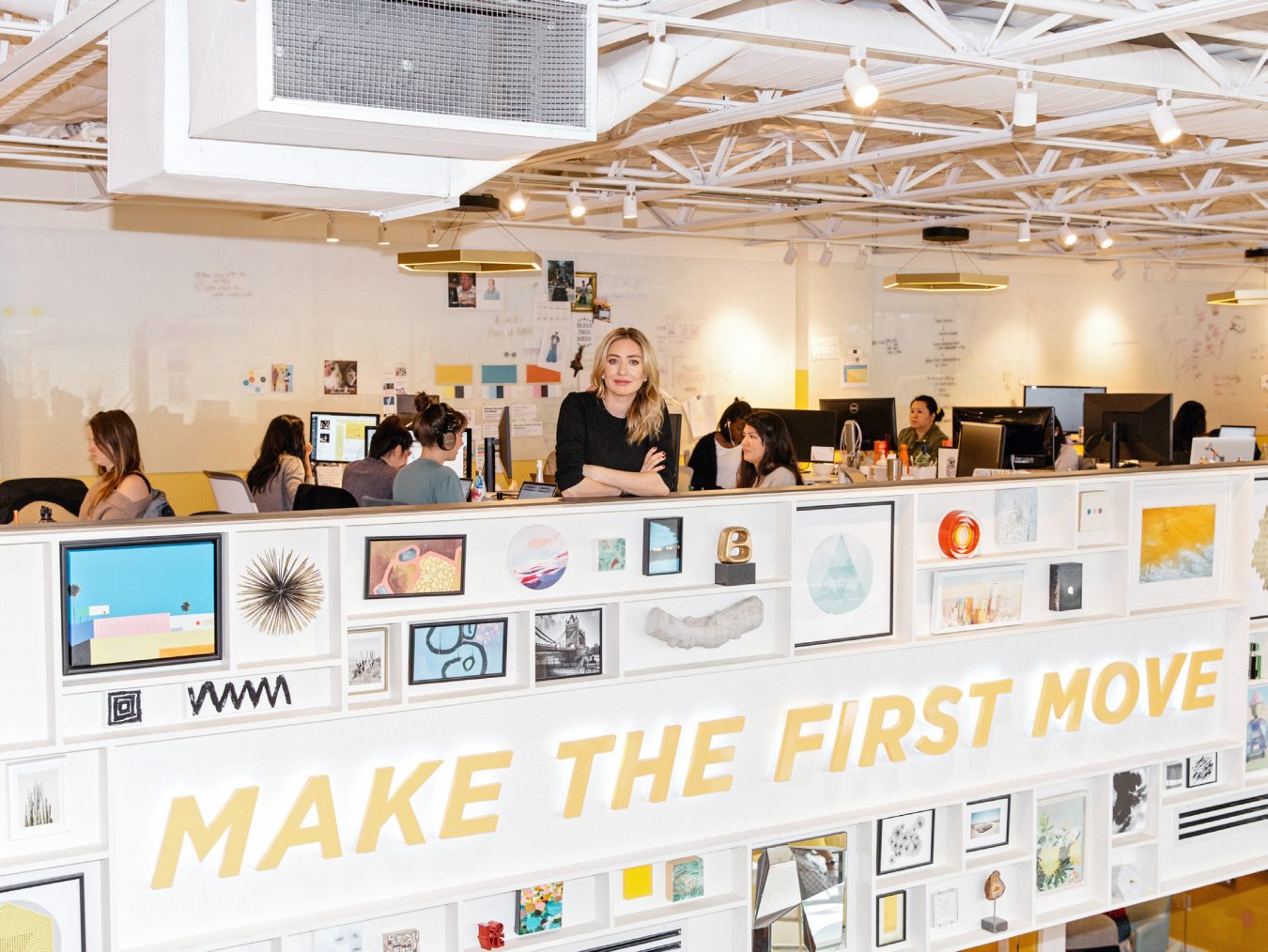 Along with its unique model, Bumble's guidelines also outpace the parameters of other social networks: the app's terms outline a zero-tolerance policy for nudity, harassment, violence, or any "language that could be deemed offensive…or otherwise offend human dignity." The goal is neither to eliminate nor emasculate men, but to enforce equality by excluding the behavioral byproducts of a traditional patriarchal system. At its core, Bumble revisits the debate of nature vs. nurture: if we nurture a new way to connect, can we challenge the outdated assumptions about our respective natures?
Initially, Wolfe Herd's utopian vision was not met with universal agreement (especially from male investors), but that only confirmed her belief and sharpened her vision. "People told me I was crazy, that women won't initiate," she says with a smile, "so we made it our goal to spell out a completely new language."
A side-by-side comparison of Bumble's rapid growth against its historically low reports of harassment and abuse suggests that the world has welcomed Wolfe Herd's lexicon. Paired with a robust reporting system, the rules not only protect women, but also empower them to speak up. And Bumble's moderating team takes swift measures to reprimand and remove reported profiles, sometimes for life. One case went viral when the company drafted an open letter to a male user permanently banned for fat-shaming: "Harassment and misogyny don't belong [here]," it read, so "sometimes we have to kick a wasp out of the hive."
"At first, it felt like we were beating our heads against the wall that came crumbling down with #MeToo. The floodgates finally opened, but we had always been this pond on the other side."
Wolfe Herd explains that "this engineered accountability has always been our foundation—in our product, our marketing, and our clear policies. It seemed impossible in 2014, but culture is catching up; at first, it felt like we were beating our heads against the wall that came crumbling down with #MeToo. The floodgates finally opened, but we had always been this pond on the other side."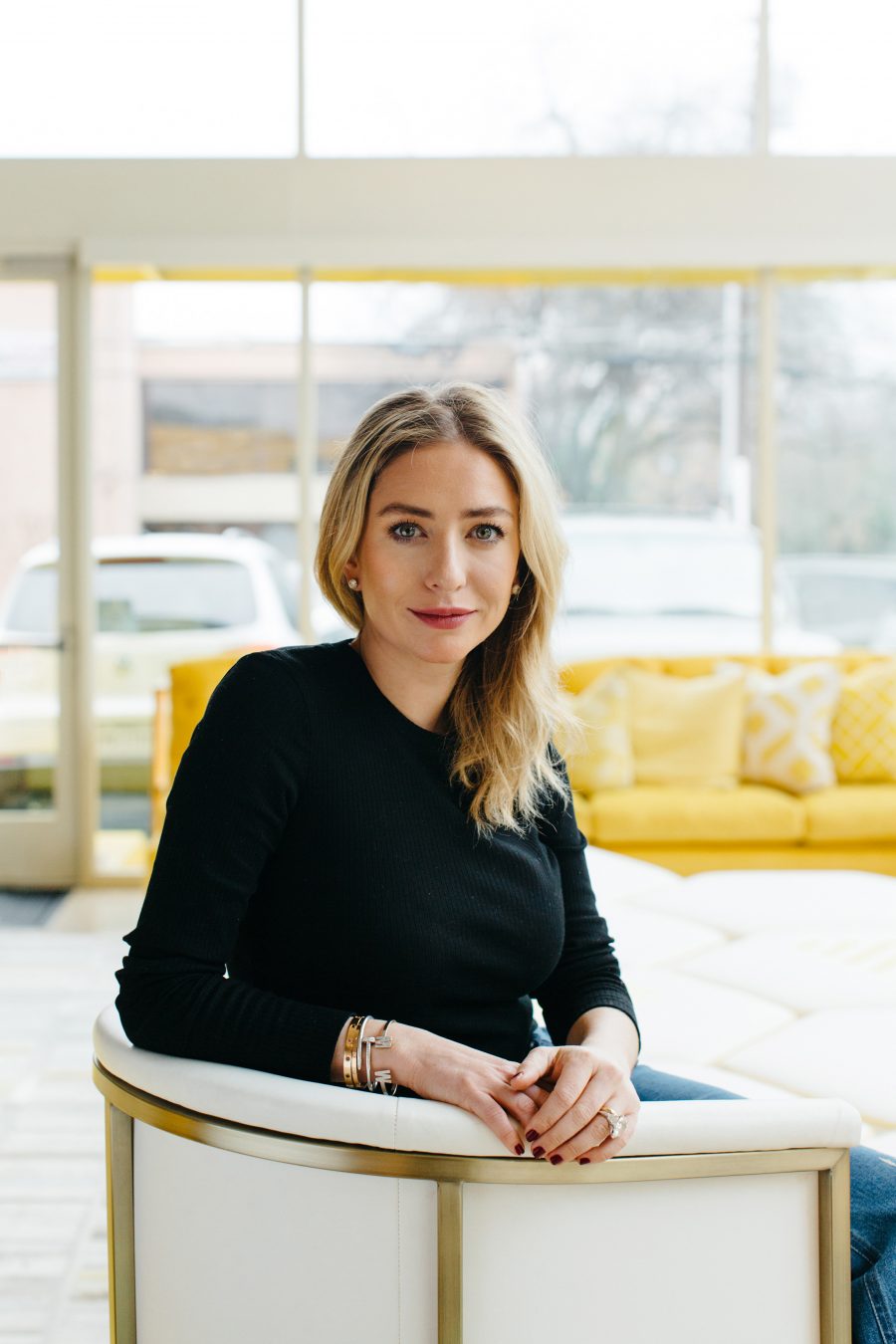 Bumble strives to remain on the other side of the next cultural shift, too, listening to what users want. In March 2018, the company donated $100,000 to the March for Our Lives campaign organized by survivors of the mass shooting at a high school in Parkland, Florida, adding firearms to its list of banned content. Announcing the new restriction, the company said in a statement that "online behaviour can both mirror and predict how people treat each other in the real world."
If ending misogyny is the north star, Wolfe Herd enlists sage counsellors to guide Bumble on its path, especially when entering new markets. Just months after Thomson Reuters named India the most dangerous country in the world for women in June 2018, Bumble announced actress and philanthropist Priyanka Chopra as a global adviser for its India launch.
The idea evolved over a Bumble Bizz dinner at New York's The Grill, formerly the Four Seasons Restaurant: the iconic site of the first men-only power lunch. ("We wanted to show that women can have that, too," Wolfe Herd says, smiling.) Inspired by the company's mission of female empowerment, Chopra (now Chopra Jonas) wanted to help navigate customs and culture to bring Bumble to the women of India. She stars in a campaign that targets local attitudes towards ambitious or curious women as "loose," repositioning them as #EqualNotLoose: free to make the first move in love, life, and business.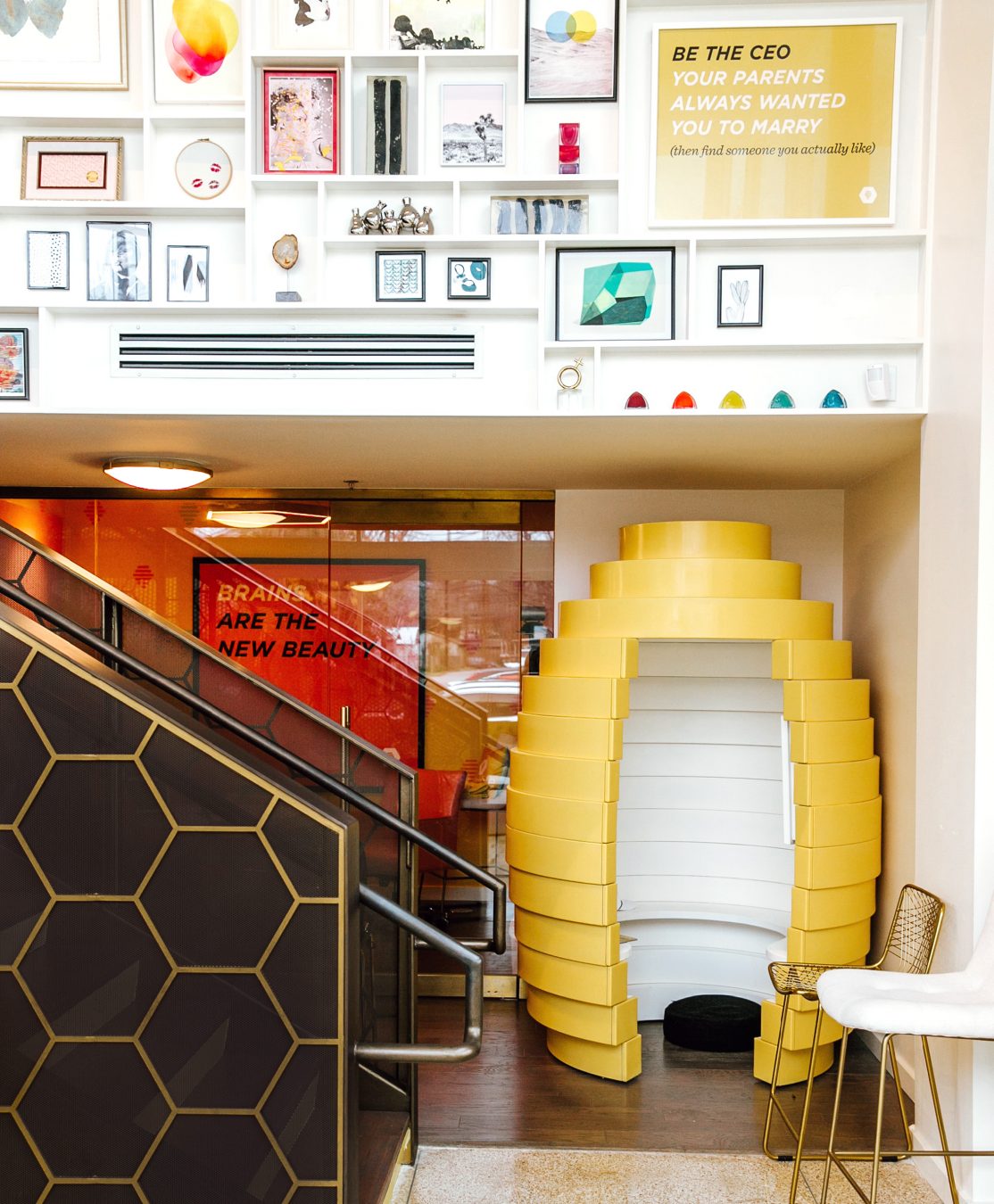 The partnership differs from standard celebrity endorsements, says Wolfe Herd: "They aren't just spokeswomen, they are global advisers because of what they bring to the mission." They also happen to be icons, she adds, referring to tennis star Serena Williams, whose Super Bowl spot with Bumble kicked off a year-long campaign called The Ball is in Her Court.
"Serena is the embodiment of our brand because she never hesitates, but she always does it with grace," Wolfe Herd shares, disclosing that in the early days of Bumble, she went to a tennis court and wrote "Make the First Move" on some tennis balls and sent pictures to her growing team. "I always hoped that if we did well enough, we could partner with Serena someday—so this is a real dream come true."
As for where Bumble will build solutions next, Wolfe Herd hopes to expand into Asia with the right team and timing. The company will launch a skin care line in Spring 2019, and will continue investing in female-driven businesses through the Bumble Fund. When asked how she balances these ideas with the broader dream, and how she plans her day (much less her year), Wolfe Herd smiles: "Nothing is premeditated. It all comes down to serendipity; we just ride the tides of the day." But Bumble's growing office tells a different story than Wolfe Herd's modesty allows: out in the common area, with its repeated motifs of happiness and hope, busy bees type away under a bright "Make the First Move" sign. They're not so much riding a tide as they are creating new currents.
---
This article from our archives was originally published on March 12, 2019. Read more in Business.