A corner store. A glorious beacon of community, coaxing the neighbourhood inwards. The comforting smell of fresh baked bread and coffee weaves its way through the streets and alleyways, and in that moment you cease to curse the spiralling cost of housing in Vancouver.
The (Somewhat) New Kid on The Block
A much-loved institution on the corner of Quebec and 10th Avenue, Federal Store is marked in age by the original, vintage signage that still clings to the side of the building. Last March, Christopher Allen and Colette Griffiths just happened to be walking by and noticed the previous tenants had vacated, and the smokes-and-chips store had been closed. "We ended up writing a note and slipping it under the front door, because they weren't advertising it for lease yet, and we thought, maybe, just maybe…" says Allen of their serendipitous start in the corner shop business. The couple had always hoped to open something, but as is with love, when they saw the space was free, they fell hard and fast, and everything became clearer in that moment. After many discussions, a last-minute gazumping, and what Griffiths describes as a "rollercoaster of emotions," within days of slipping that note under the door, the couple had the keys to Federal Store.
Photo courtesy of Federal Store.
Quickly they set to work opening up the space, uncovering bricked-in windows and adding light to the room. "We did it all ourselves," Allen explains. "We were fortunate to have some friends that could point us in the right direction and connect us with some people, but they weren't hands-on directly." So they got by with a little help from their friends? "A lot of help!" Griffiths exclaims. The community has rallied around its pioneering residents—Allen and Griffiths live just a block away—planting lettuce in the garden, helping lay the floor, and writing notes and emails offering what they can. "It's good that people can take ownership of the place a little bit," Allen says. "That they feel able to and want to participate in creating it."Boasting coffee beans from
Bows & Arrows
and an in-house baker, the excruciating wait for Federal Store to open has been worth it. The steamy windows are lined with a creative crowd quietly tapping keys or reading, while children and locals delicately poke through the pick-and-mix candy and jars of pasta sauce for dinner. In a glass cabinet at the counter, pastries, cookies, and cakes are sure to find their way into your basket or onto your plate, whether you planned it or not.
The Trailblazer
From the imposing black shingled wood exterior, the inside of Le Marché St. George is almost imperceptible—that's why the intersection out front is a constant stream of couples bickering over whether or not this is the place. Customers dance around the periphery of the premises, much to the annoyance of the shop's neighbours (who let's just say aren't as enamoured with Le Marché as much as the rest of us are), and inside you'll find a mix of eccentric seniors, young families, and tourists. Out back, there are chickens and beehives that really shouldn't be there, but those are rules, and Le Marché St. George is just as synonymous with tearing up the rulebook as it is with quality food and coffee and a cool, nomadic vibe.
And why does it work so well? "You start with a toaster oven and a lot of luck, but it's real, and I think that's the draw," co-owner Pascal Roy says. "People can feel the sweat." Not literally, of course, but cross the threshold of Le Marché St. George and it's evident immediately not just how much work has gone into keeping the dream alive, but just how much it's loved.
Photo by Issha Marie for Le Marché St. George.
The Artist's Favourite
Well-rooted residents and MacLean Park—a meeting place for artists, families, and friends—make Strathcona one of the most established and welcoming neighbourhoods in Vancouver. To the east of the park on Keefer Street sits Wilder Snail: a local institution that, despite changing hands frequently over the years, still serves the original sandwiches dished up by the very first owner. Current runners John Thomas and Isao Ishigaki have lived in the neighbourhood for years, and now run their business from the adjoining apartment in the same building, meaning they have a real handle on what the community needs and wants from its corner store.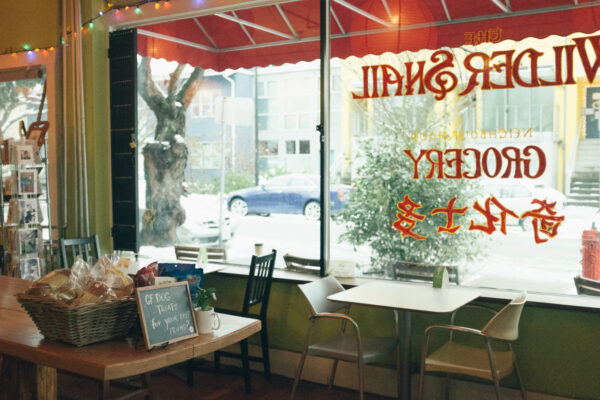 "We've downsized the type of things that we carry to accommodate travellers," Thomas explains while discussing the impact Airbnb has had on the way they do business. "It's simple changes, like taking in containers for milk and organic meat, but in small packages for one or two people." Ishigaki's background is in coffee, and that's where Wilder Snail shouts its merits, but it also strives to offer a curated selection of hyper-local products from East Vancouver and the surrounding area.
The Feels-Like-Home
Leafy, chalk-doodled pavements lead the way along West 18th Avenue to The Mighty Oak: a gourmet cafe-come-grocery store with shelves of local fresh and dry produce, and hot sandwiches and coffees, too. It's a testament to Ray Weind and Lauren Lowe (the husband-and-wife duo who have owned the business for little over a year) that mid-conversation, a customer animatedly interrupts to tell Weind, "You guys rock!" He thanks her graciously, and the woman sets off with a shopping bag in one hand and a smile on her face.
The morning is a laid-back melange of mums who have just dropped their kids off at school, entrepreneurs who look like they've made it, and tourists who must be counting their lucky stars that their Airbnb place came with one of the most charming corner shops in the city. And as for the neighbourhood? "There's a million kids and young families. It's a neighbourhood I've never experienced before in Vancouver, and we've lived all over the place," Weind proclaims. "As soon as the coffee machine is on, we're open. That's one nice thing about being local."
The Best of the Rest
Vancouver is a city of choice. Owing to its multicultural inclusivism, a plethora of nationalities, ethnicities, and cultures makes the food scene vibrant and fast-moving. Turn things down a notch, though, and that's where it gets tricky. The sandwich—an East Coast staple, found plentifully in bodegas and delis—is something of an urban legend in Vancouver. Of course, gourmet variations exist, but a classic Reuben on rye? That's where Cardero Bottega steps in. The pretty pistachio, lemon, and cherry-red store sits on a residential street almost equidistant from Stanley Park, Davie Village, and Coal Harbour. And it is known for its sandwiches. Through summer, and on winter days when the rain refuses to fall, get there early and have your coffee or tea on the benches outside—they're a magnet for conversation.
Meanwhile, alongside Wilder Snail, Union Market and Finch's Market (sister to Finch's Coffee and Tea House) complete a trifecta of Strathcona gems. They are small hubs of community that offer daily exchanges and familiar faces alongside fresh brewed coffee, straight-out-of-the-oven pastries and bread, and a small selection of produce curated to see you through life's entertaining (even if you are only hosting yourself) emergencies. Union Market sits on the Adanac bike route, fuelling commuters, locals, and tourists from the west to the east end, while Finch's Market's quaint, English tea-room-style residence on the corner of East Georgia Street and Jackson Avenue is a welcome juxtaposition to the chaos that ensues just a few blocks away.
Of course, the appeal of a corner shop should really be that it's on your doorstep, but if you don't happen to live within a stone's throw of one, you can always go to these places and pretend.
---