There is something mystical about the Lions Gate Bridge. From Charles Marega's lions, to the strong, sweeping lines of the bridge itself, driving over it in a car or under it in a boat never ceases to amaze. But for an even more arresting view, one might consider visiting Prospect Point. And thanks to the Capilano Group, the Stanley Park tourist spot received a major facelift.
"They came on horse and carriage in 1888," Capilano Group owner Nancy Stibbard says with a smile, standing at the Point's lookout on a glorious autumn day. Needless to say, a lot has changed at Prospect Point over the decades, as the city developed around it. But launched in the summer of 2017 is an entirely new look for the point, which is now so much more than a lookout.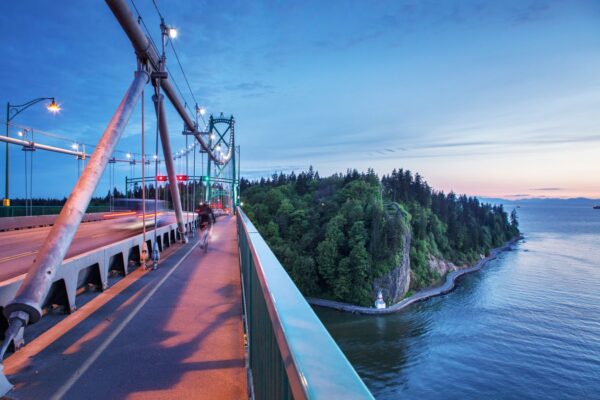 There is still the classic ice cream stand, of course, which serves up Rocky Point scoops from Port Moody. But there is also a new cafe (serving North Van's Moja Coffee); gift shop (featuring the required fudge and souvenir mugs); and a restaurant complete with hanging Edison light bulbs and a seasonal menu boasting local ingredients. From a juicy burger with fries to a steak quesadilla and seafood chowder, the Prospect Point Bar & Grill makes a day spent winding along Stanley Park a whole lot cozier. Topping it all off is an incredibly intimate view of the Lions Gate Bridge from the restaurant's large and sunny patio.
The Capilano Group is to thank for the revitalization of the Capilano Suspension Bridge park, and the company seems to have done the same thing with Prospect Point. Stibbard likes to keep it local, focusing on properties and projects in British Columbia and Alberta, breathing new life into tired places and thus reinvigorating the surrounding community. Surely those folks on horse and carriage would be impressed.
---