Thoughts of Vancouver Island often leave one thinking of rugged coastlines. Of quaint towns with general stores. Of natural beauty in the form of endless rainforests, crashing waves, and sea-washed boardwalks. And while all that is true, beauty can also be found in tamer, more manicured environments.
No visit to the Island is complete without a stroll through the world-renowned Butchart Gardens, which was recently granted a prestigious Award of Excellence at the 2018 World Federation of Rose Societies conference in Copenhagen. Stepping into the grounds of The Butchart Gardens allows life to slow down, easily getting lost among the foliage. The facility was founded in 1904 by Jennie Butchart, and has been thoughtfully tended to ever since by a staff of passionate gardeners and caretakers; keeping things in the family, it is currently owned by Jennie's great-granddaughter Robin-Lee Clark. Located just outside Victoria's city centre, The Butchart Gardens features a breathtaking 55 acres of landscaped lawns and beds filled with floral finds for locals and tourists to enjoy year-round, rain or shine.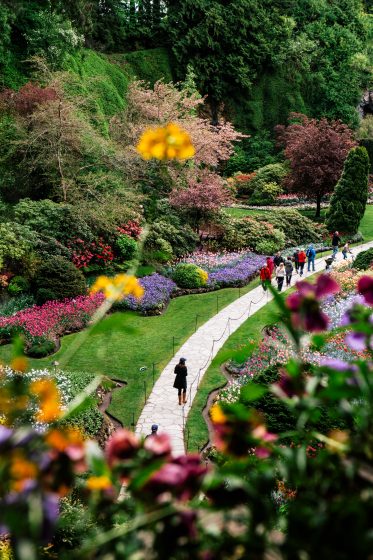 An easy walk through this National Historic Site of Canada will bring visitors to over 900 plant varieties, including fields of multi-coloured tulips and curious-sounding indigenous trees. The Rose Garden is a true treat, filled with countless different kinds; every turn reveals a bounty of fragrances and colours to spark the senses.
From the Japanese Garden to the Mediterranean Garden, there is so much to discover here. Located in the original Butchart family home, The Dining Room serves up afternoon tea in a space that overlooks the Italian Garden and Tod Inlet; there is a carousel for the wee ones, and plenty of open space to sprawl out on a blanket. Be prepared to be instantly captivated by this garden oasis with a slow wander through its seemingly endless fields of floral.
---
Stay active in the Community.