People are drawn to Stanley Park for many reasons. There is the allure of a walk along the Seawall, and the quiet contemplation among the stillness of the woods. Maybe it's the beach, a round of golf, or a tennis match. But no matter where you go in the park, you're never far from a garden.
Dozens of foliage plots dot Stanley Park, each bursting with stunning and layered arrangements of colour and scent. Unlike the old-growth woods surrounding them, though, each of these sections is highly designed, and exist thanks to the hard work of a small team of dedicated green thumbs.
One of them is Jennifer Keskula. Among other areas, Keskula is responsible for the three large stone planters at Prospect Point, where visitors are treated to an arresting view of the Lions Gate Bridge, but can be equally enamoured with her work. This season, Keskula has selected a vibrant mix of warm tones: gradients of deep reds and oranges, bright flashes of yellow, and rich violets sliding into purples.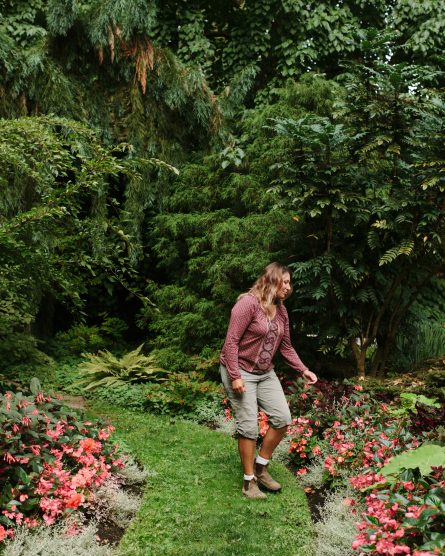 But she's already thinking about next year. When designing a new plot, the visual is only the first of several factors Keskula considers. There's also scent, to offer passersby a spritz of perfume on their walks. Then there's texture, and thoughts of dimensions: which plants are tall and slender, which will fill out the lower surface of the planter and how, and will there be something draping over at the bottom? How will every petal, stem, and leaf fit together to make a complete picture? And if it will attract birds, what kind? Even sound comes into play. When planting in a breezy area, Keskula uses grasses for the soothing rustle they make as they sway.
As the season wanes and she begins planning for next year, Keskula says, she'll pick specimens as she makes her rounds of her areas, then bring them back to the lunch room, combining and re-combining them while her coworkers gather around and contribute their thoughts. Once she has made her decisions, she'll order the selection from Sunset Nursery at 51st and Main. The three planters at Prospect Point alone require four or five thousand bulbs every season.
Even as she walks around her beloved gardens, passing by smiling apprentices who are tending to the plants, Keskula slowly collects a bouquet. As she chats, she pulls out dead material to add to a compost pile. She began at the park as a temp in 1999. She then studied horticulture at Capilano University, and soon returned to Stanley Park, where she has been ever since. This park is unique, she says, for its mix of cultivation and untouched nature. "The gardens are on the edge of a forest," she says. "A true forest."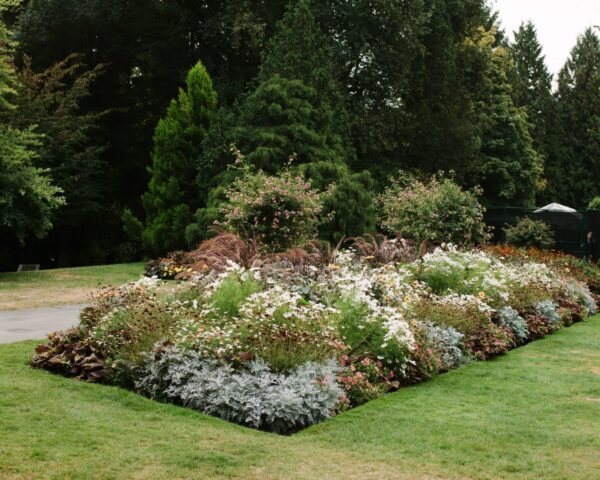 Given the amount of time and scrutiny these hard-working gardeners give the park, they are privy to some of its secrets. Keskula points to a spot just off the road, a place of brown earth overhung with boughs, where a rare orchid has taken root. Somehow, this tenacious little plant has come to life in a small, untouched corner of the park.
The beautiful flowers are what first draw the eye, but not all of the horticulturalists' work is as visible as the cheery gardens. Much of the greenery that lines the upper shoulders of the cliffs along the Seawall, for instance, was actually planted by Keskula—hanging in a harness and armed with dozens of bulbs—in order to help solidify the edges and prevent erosion.
Like all the park's employees, Keskula dedicates herself to creating beautiful installations without tampering with the natural course of the park, considered one of Vancouver's crown jewels. "It's just like our city," she says, and gestures at a wall of untamed green. "Our garden displays could be anywhere, but they're on the edge of this."
---
Read more about Vancouver.