Looking to spice up your fit life? Sometimes a little novelty can give your existing routine a real boost.
We set out to discover some unique workouts around Vancouver to add a little excitement to your exercise.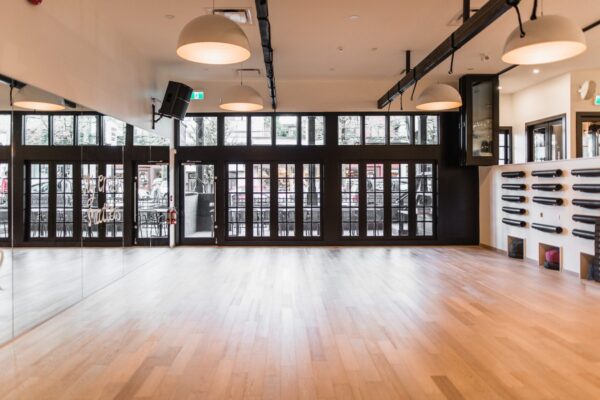 TurF. Photo by Ben Owens.
"My sister called me one day and asked, 'What's our perfect day?'" recalls Deanne Schweitzer, who co-founded Kitsilano's TurF with sister Delaney. The answer? "We workout, have great coffee, eat plant-based food, and do some shopping," says Schweitzer, who, along with Delaney (both retail veterans from
Lululemon
), decided that list of activities involved too many stops. "So we created a space where potentially you didn't have to compromise."
The result is TurF: part cafe, part boutique, part workout studio. A curated selection of thoughtful apparel, accessories, and home goods line the shop, while the licensed kitchen and coffee bar—with a communal long table, row of booths, and cozy patio bar—serves breakfast, lunch, and dinner; definitely dig into some post-workout smashed-pea toast with a Moja coffee, or the caramelized fennel flatbread with a local brew or British Columbia wine.
"We were inspired to re-create the community centre—the new meeting place—and a space that allowed people to look after themselves so they could go on to live what we call an 'enormous life,'" says Schweitzer. Much of that is sparked through movement at TurF, with a range of innovative high-intensity classes that complement the existing yoga studios in the neighbourhood.
The exceptional roster of instructors who have joined the team include Dr. Genieve Burley-Howes, a chiropractor, yoga teacher, and creator of Blueprint. "Blueprint is a combination of everything I've learned as a fitness professional and chiropractor," says Burley-Howes. "I wanted to create something that included mobility, agility, strength, surrender, breath, resistance, aerobic training, and coordination, which means we do a little bit of everything. My fitness philosophy is that we should exercise for health, for joy, and for social wellbeing. I'm here to facilitate connection, mindfulness, and empowerment, and TurF is a perfect platform to do that."
New Balance on Robson Street hosts a free pop-up yoga class the first Sunday of every month in order to "promote healthy living, give back to the community, and show that as our lifestyle brand has grown, we're still a fitness-first store," explains general manager Dave Nordby.
Ashley Brodeur, who owns Feelosophy yoga, is one of the fabulous local instructors tapped to lead the bring-your-own-mat class. "I'm always drawn to opportunities that make yoga more accessible, and felt that teaching at New Balance allowed me to teach to a community that I had not taught in before," says Brodeur, whose light-hearted classes are paired with feel-good music. "I think that yoga can be a great access point to slowing down and connecting to yourself and your community, so I aim to teach a style that's very accessible no matter your experience. I'm trying to change how we interact. I don't want people to show up, practice, and leave. I want people to engage, connect, and find commonalities with the people around them. I try to create space for people to unplug from their phones, their responsibilities, the things that cause stress, and plug into themselves, what they need, what they want, how they are feeling." Following each class, stick around for snacks, socializing, and coupons to use in-store.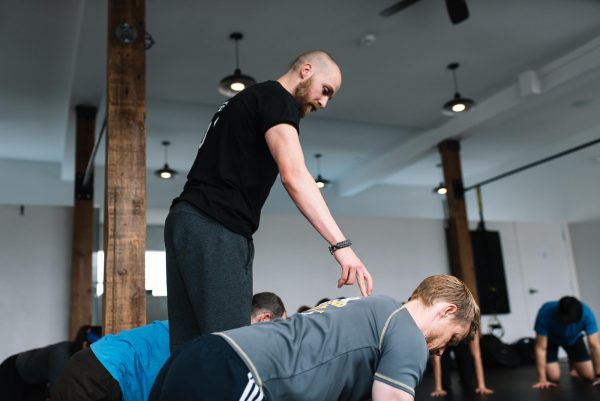 "It was our original intention to create a community hub where like-minded individuals could connect, sweat, shop, and share," says Kristin Knapp, retail manager at RYU Apparel's West 4th flagship store.
This location, with an outdoor courtyard and an upstairs gym, offers numerous weekly RYU Sweat Club workouts (as do RYU's outposts downtown and in Park Royal), from strength training and boxing to yoga and run club. "We highlight different instructors and offer free classes to the community to experience the wide variety of incredible workouts available in the city," explains Knapp. All you have to do is show up.
The front courtyard can easily fit 20 bodies doing burpees, and the second-floor gym has pullup bars, free weights, kettlebells, and cardio equipment for a variety of heart-pumping classes—such as athlete and artist Arno Schurmans's calisthenics workouts. "My calisthenics classes are a blend of breathing, animal locomotion, and power poses on the ground and on the bars, all with the intention of opening up the body and exploring our range of motion, alignment, and awareness," says Schurmans. "RYU—Respect Your Universe—is about respecting yourself, respecting your environment, and respecting others. The aim of my classes is to get closer to our natural state of being, to observe ourselves, and to become stronger and more grounded. We are in control of our own health and have all the tools to heal ourselves. With this recognition of internal power, there are no limits."
Indeed, be it at a cafe or a shoe store, our destinies (and our muscles) are ours to shape.
---