"A good ranger slows his step and never leaves the trail. A true ranger looks and listens all around. A ranger is always curious and looking for signs everywhere."
The words are emblazoned on a poster plastered to a Douglas fir tree at Cougar Mountain, just eight kilometres north of Whistler Village. Right next to it there is a lineup of people: six rangers in green shirts, black pants, and orange handkerchiefs. The sign above their heads lets us know this place is called Camp; it feels like we have been transported onto the set of Wes Anderson's Moonrise Kingdom.
A contagious excitement is in the air as people lounge in Muskoka chairs and play gigantic Jenga at the headquarters for The Adventure Group, Whistler's go-to company for ziplines, treetop adventures, and more. We're about to experience something new, although no one is entirely sure what.
"I heard it's like a nature walk."
"Well, I heard it's a light show."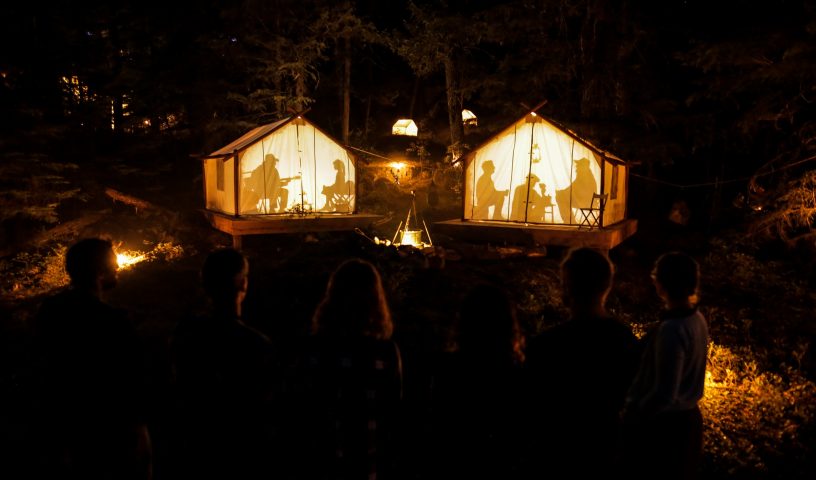 "I'm not going to try to put words to it," Joey Houssian, founder of The Adventure Group, says as he addresses gathered guests. "You guys will see for yourself soon enough. Welcome to Vallea Lumina!"
It's the name for the multimedia project that Houssian and his team have worked passionately on alongside Montreal-based multimedia and storytelling studio Moment Factory (responsible for more than 400 shows and experiences around the globe, including Madonna's 2012 Super Bowl Halftime Show and Arcade Fire's Infinite Content Tour). "We think there's huge value in connecting people with special places," Houssian says. "In this case, this beautiful forest in the coastal mountains." Moment Factory has brought its Lumina concept to Asia and other parts of Canada, but this is the first one in the West. Just 10 months ago, over sushi and sake at Sushi Village in Whistler, Moment Factory and The Adventure Group got together to conceptualize Vallea Lumina: an interactive light display unique to the area and its terrain.
"It's been quite a journey," Jonathan St-Onge of Moment Factory says. "What we do is create stories and experience, and we use two things to inspire ourselves: we use the local culture and we use the natural beauty of the site." Before entering Vallea Lumina (which runs until Oct. 15, 2018), St-Onge reminds us to take our time, look around, and listen to the sounds of the night. "Go at your own rhythm and allow yourself to get immersed into the world."
And with that, the adventure begins.
It is, as Houssian mentioned, hard to explain. And even harder to capture with an iPhone camera. It's a one-of-a-kind sundown experience, fusing together lights, soundscapes, video, and scenography in a way that is utterly seamless. The forest comes alive in a sensory journey that celebrates the wonders of B.C.'s wild landscape.
All participants are first sworn in as rangers and are then sent out into the forest, tasked with looking for clues about two lost hikers. We touch and interact as we follow cryptic radio transmissions along the glowing lantern trail. The deeper the pathway extends, the more beauty there is to discover.
As a soundscape of cooing owls and heavy drums rings through the night, I begin to forget my ranger duties, mystified by every turn and corner. The old-growth forest, its trees guarding the trail like watchmen, whispers to me about the unknown magic that lies ahead. It's here in Vallea Lumina's story that I find things especially hard to explain. They say seeing is believing, and in this case, it truly is.
---
Read more from the Community.