Every Monday through Saturday, furniture and design lovers wander through the glorious Vancouver showroom that is Livingspace. The expertly curated collection of brands and displays is enough to make any interiors junkie weak in the knees—but little do most of them know that right above their heads, an entirely different treasure chest quietly buzzes with life: the headquarters of Bocci.
The lighting design company, based in Vancouver with offices also in Berlin and London, is internationally recognized for its thoughtful, versatile pendants and installations. And naturally, it has a workspace to match. Taking up the top two floors of this West First Avenue building, which used to be a printing factory, Bocci's office is a lesson in seamless contemporary design.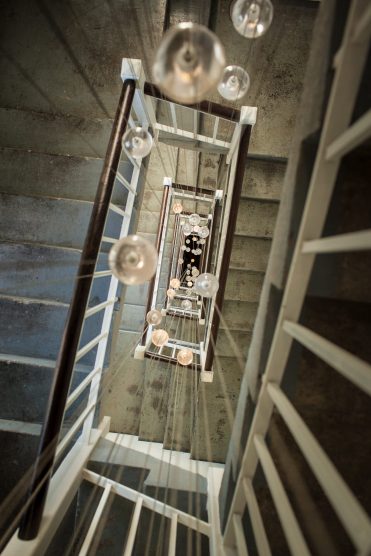 Natural light streams in large sliding glass doors that look out onto an idyllic courtyard, and geometric white shelves are lined with books and pieces of blown glass in various shapes. Glass is Bocci's signature material, after all, and the company's now-instantly recognizable dangling orbs also dot the modern workplace.
If the home is where the heart is, the office is where the brain is. Bocci proves that visual stimulation is integral to the creation process. It is an industry leader—just look around and you'll see.
---
Want to see more amazing offices? Browse the rest of our series.