"Instead of two guys working together in a basement, we're now all of a sudden a shop of about 125," says Joost Bakker with a laugh. He is referring to himself and Norm Hotson, architects for and partners of the North American firm Dialog's Vancouver studio. Over the past four decades, the pair has formed some of the city's most beloved neighbourhoods and buildings, from waterfronts to community centres to public plazas. The city-shapers are known for their "people places" philosophy—one that focuses on creating spaces for the community to enjoy. For these contributions, the duo was recently awarded the 2017 Lifetime Achievement award from the Architectural Institute of British Columbia.
Granville Island was their first project together. The two were hired by the Government of Canada to transform the derelict industrial site into a dynamic urban realm. They delivered a plan that challenged city council's original vision for a 38-acre park, as well as the conventional urban planning of the mid-1970s, by combining industry with markets, an arts college, artist studios, a children's water park, restaurants, a brewery, a hotel, and (floating) housing. This multi-use concept—and its lack of sidewalk and curbs (allowed by the Queen's Prerogative over federal lands)—resulted in a theatrical element of the island. Even the garbage handling and deliveries were part of the act. "Everything comes off the street, so you have this incredible mix of activity," describes Bakker. "We thought it was equally as exciting for a young kid to see how cement trucks work as it was going to a theatre or buying food at the Market."
Previous attempts to rejuvenate the island had failed, but Bakker and Hotson's version worked because it was all about people. Today, Granville Island is Canada's second most-visited tourist destination (after Niagara Falls), and its design has been key to its success.
After Granville Island—and the lessons learned in civil engineering, landscape, fresh food markets, and waterfront development—Bakker and Hotson found ample new opportunities in community-oriented work. Across Canada, the pair would be tasked to design Toronto's John Street Roundhouse and the St. Lawrence Market, the Roundhouse in Victoria, and North Vancouver's Lonsdale Quay, among numerous other civic-minded initiatives. In Vancouver, the Roundhouse in Yaletown proved to be another shining example of their creativity. The old building—once the western terminus of the Canadian Pacific Railway—was rejuvenated for Expo 86 as a transportation museum and art gallery. Despite community protests, there had been immense pressure to demolish the entire structure. A civic committee was formed to explore the merits of retaining the building, and Hotson was among those arguing the case for preserving its heritage value. He would wind up leading the restoration project (though it was VIA Architecture that, in 1998, turned the building into the community centre we see today).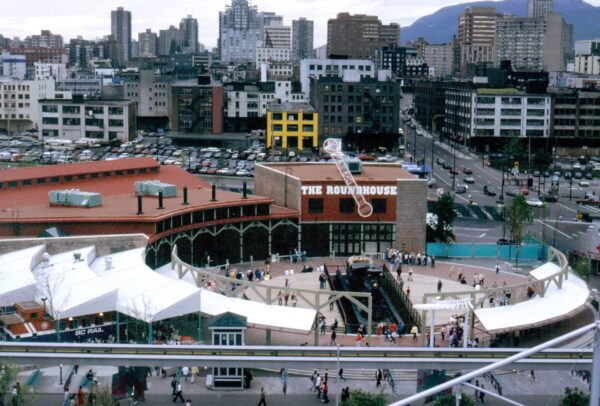 Leading up to the 2010 Winter Olympics in Vancouver, the architects were commissioned to renovate and expand the CBC's local headquarters. The brief was to transform the structure from its internalized concrete bunker to an outward-facing public space. "It was an exciting project to part of," says Bakker of the renewal, which combined the production of radio and television, and English and French programming, in an integrated newsroom. The brutalist architecture was made friendly with exterior screens that aired the Games live, while a permanent freestanding JJ Bean coffee shop animated a new pavilion created for Olympic events and summertime concerts. As part of an annual exhibit (a joint collaboration between the Vancouver Heritage Foundation, CBC, and JJ Bean), the wall above the pavilion was enlivened with a giant piece of art. And most paramount: a 30,000-square-foot glass addition offered a peek into the studio, turning the building inside out for the public's enjoyment.
Bakker and Hotson also defined broader communities, including the master plan for Southeast False Creek in the early 2000s. Then-director of planning Larry Beasley was intent on a building form more in tune with the character and industrial nature of the surrounding area, as opposed to the prevailing tower and podium concept. "Larry brought me in to help facilitate finding a plan that could work. We came up with a plan for the 80 acres that reinforced the idea of a mixed-use and walkable community," recalls Hotson. The strategy introduced a whole new typology to the city: a "European" mid-rise (up to 12 storeys)—dense, but different from what the city had seen before. The firm, along with a local landscape architecture studio, oversaw the project's centerpiece, the Olympic Village plaza: a waterfront public square surrounded by lively restaurants, cafes, retail, and the False Creek Seawall.
Reflecting on their career of influential projects, Bakker and Hotson are quick to point out that their success is due in large part to the support and relationships they've cultivated along the way. "It's a lifetime achievement, but you recognize we came across amazing people," confirms Bakker. "And as well, they were amazing times in a changing city … It was an era where one was able to speak one's mind. Developers were smaller, experimenting with different things … I think we've now come to an era of giant development communities, giant construction firms, and a certain conservatism. I hope we don't totally extinguish that [exploration and inventiveness]. It's just really important for a city to have those vital energies."
---
Read more in Design.