I find myself at Livingspace on a cloudy Saturday morning. There are Scottish bagpipes playing outside on the street, the Interior Design Show is in town, and I am interviewing Germany's Philipp Mainzer, founder of the furniture line e15. Mainzer talks about his work and approach to e15, the stories he brings into his designs from travelling through Iran, and his vision for the company.
Throughout the course of our interview, I find my perspective on the design industry changed. I don't think I can look at a piece of furniture the same way again. It is quite an extraordinary thing.
Tell me about the start of e15.
I started e15 while I was training to be an architect in London; e15 started not as a business idea but more as a gut feeling for me to produce minimalist furniture with character material. Back in 1995, the furniture scene was super minimal but also cold—it was mostly created with aluminum surfaces, glass, and lacquer. e15 started as pieces that are reduced in form but feel warm at the same time. We use a lot of solid wood, which to this day remains a part of our collection.
If you could describe e15 in a few words, what would they be?
Premium, quality, modern; furniture focusing on natural materials and interpreting craftsmanship in innovative ways.
Do you think you bring a lot of German influence into the work you create?
Certainly, in terms of quality and materials I use. Solid wood is a very popular German material. There is a strong art history with the Bauhaus in Germany. The whole idea of minimalism is close to our heart. We believe in form following function.
When people look at e15, they cannot tell where we are from. We have a British background with German influence. Sometimes people even think we are Italian. I started e15 in London and soon after, I moved to New York. You can see a lot of international influence in e15, but it will always be important for us to maintain our German roots.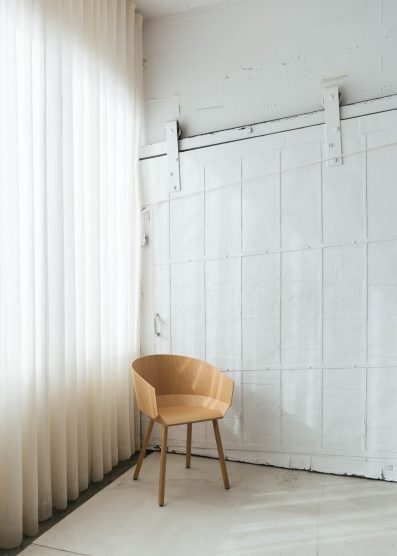 What is the story you are trying to tell through the brand?
We are quite defined in the picture we paint of the collections. Each piece is carefully selected to build an image so everything fits together. We don't see ourselves as a commercial brand that follows a trend, but rather creates the trend.
I think that what people appreciate most about e15 is that we are not mainstream, and we don't want to be mainstream. It is very much related to my background in architecture, which I still practice every day. In architecture, we design from a place where quality and aesthetic match the architectural standard. In a way, I approach furniture design much like the way of an architect. I want to create austere, quality pieces that are timeless.
I know that you travel frequently to Iran for holiday and inspiration. Is there anything about Iranian culture that inspires your designs?
My wife is Iranian and she is a fashion designer. Through her I am able to travel extensively throughout Iran and collect a more intense picture of the country. Iran has such a strong history and heritage. We visited many major cities where the architecture is super interesting.
e15 carries a few tables that are inspired by Iranian tea culture. It is a modern interpretation of the culture and pace of life I have experienced in Iran. It adds to the storytelling we create through furniture.
Are there any architects or designers who inspire you?
I don't look to other creatives for inspiration. I look to cultures, different types of furniture, art, and architecture. I think it is only in this way that you can produce something new, rather than be influenced by what other people are doing. I do look at design magazines, so I know what is out there and can refrain from creating the same thing. At e15, we develop our concepts through ideation and drawing. Then, we do research to make sure it hasn't been done before.
This interview has been edited and condensed.
---