Frank Lloyd Wright believed that you couldn't properly understand—and therefore design—a kitchen unless you'd worked in one. Similarly, you can't properly appreciate Wright's genius until you have spent a bit of time in one of his buildings.
Though the late architect's designs are all over the world, one of the most prominent, both in terms of his vision and his closeness to the project, is Scottsdale's Taliesin West.
The National Historic Landmark is now home to the Frank Lloyd Wright Foundation and Taliesin, the Frank Lloyd Wright School of Architecture. But in its heyday, it was the winter camp of Wright himself, along with his apprentices and his wife. The first Taliesin sits in Wisconsin, Wright's home state; every winter, the group made the pilgrimage to Scottsdale—a journey that the architecture school still takes.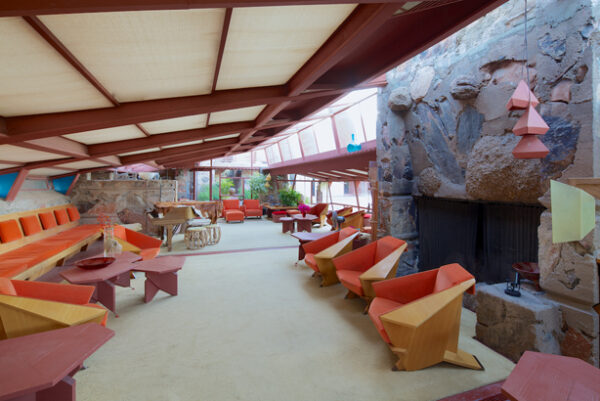 Photo courtesy of Taliesin West.
Wright never wanted buildings to stick out from nature, he wanted them to connect to it. As such, he made a rule that when creating a structure on a mountain, the peak must remain untouched; it belongs to the world. As such, the name "Taliesin" was chosen because it means "shining brow" in Welsh. As in: build on the brow, not the crown.
Designed and literally built from the ground up by Wright and his trainees, Taliesin West embodies the architect's bold innovation and distinctive flair. Focusing on natural elements, as was his practise, Wright employed rock for the exterior; wanting to capitalize on Arizona's sunny climate, he made the roof of cloth panels that blocked the harsh rays while letting in natural light. And, insisting they drill below the property, Wright struck gold with a buried onsite aquifer that allowed them to produce all of their own water (they still do). There is even a theatre for evening parties and performances; sloped and gloriously retro, it is 97 per cent acoustically pure.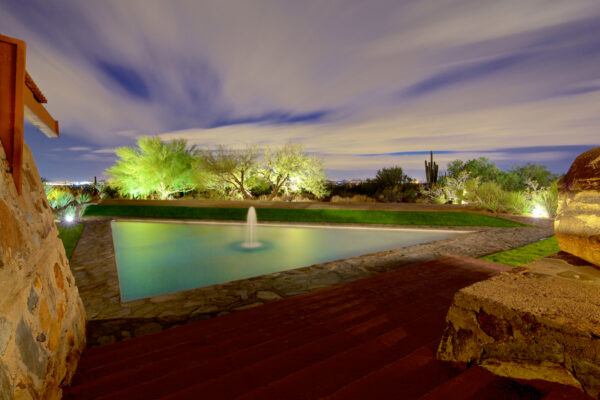 Photo courtesy of Taliesin West.
Not even Wright himself lived in the house until he was elderly; before then, he joined his students camping outside, using the home only for education and sustenance purposes. Still, eventually he added a bedroom for him and his wife, along with an office and the site's first washroom. Much about those rooms remains the way they were during the Wrights' lives.
A sitting room (created to give the apprentices a place of solace from the heat and tents they were living in) features furniture designed by Wright himself, including a set of truly unique and spectacular wooden chairs with jagged and unpadded armrests. Taliesin West is open to the public via guided tours, which offer a deeper understanding beyond what the eye can see; upon leaving the sitting room, a woman on the tour turned to her guide and asked, "Are these chairs for sale?"
---