Office Space is MONTECRISTO's digital series highlighting some of the most beautiful, interesting, and coveted work environments in Vancouver and beyond. Think your place should be featured? Email digital@montecristomagazine.com.
We've reached peak 21st century when apps are described in terms of other apps. But indeed, Vancouver-based company Mogo could be defined as the Hootsuite of banking; conversely, CNBC proposed it could be called the Uber of finance. In more accurate terms, Mogo is an app that fast-tracks personal loans, boasting low interest rates competitive with many credit card companies. It also provides credit scores as well as payment updates featuring fire emoticons to illustrate how "lit" your plan is.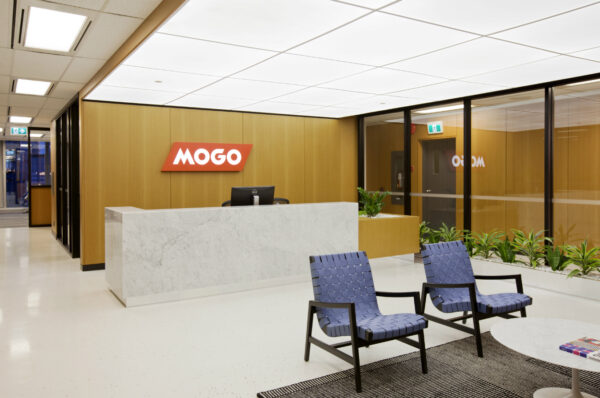 Mogo's IRL (in real life) space mimics its young and fresh outtake on banking. Located in downtown Vancouver, the headquarters embody the look of classic mid-century workplaces reminiscent of Mad Men, but without all the problematic office politics. Carrara marble at the front desk, teak accents, and slick lounge furniture from KnollStudio drive this look home. Perched on the 21st floor, the office also has 360 degree vistas of the city, democratically on view from nearly every desk. And in the most Vancouver of additions, Mogo commissioned local mural darling Ola Volo to do one of her signature panels in the office. Fun and finance, together at last.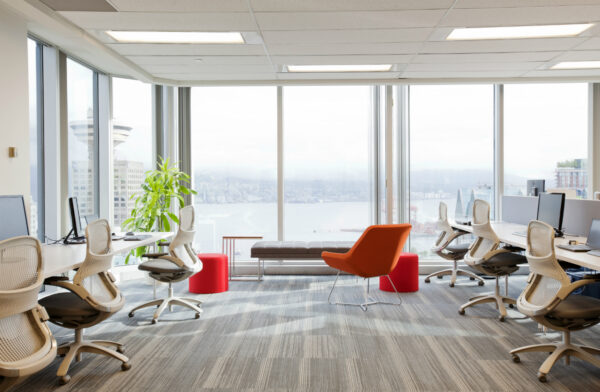 ---
Read more from our Office Space series.