Interior design here in the Pacific Northwest tends to run the gamut from monochromatic and serene to serene and monochromatic. Exuberant colour is rarely used to any effect—colour and pattern even less so. But in a new spot in South Granville, saturated hues and decorative detail reign supreme.
After a year of lockdown, the lifestyle concept from Details By Mr. K sparkles brightly and couldn't have arrived at a more welcome time.

"Because of our amazing natural beauty here, we have an influence of simplicity in our design," says co-owner Andrew Karrasch, who opened Mr. K's doors in November. "It's monochromatic and calming, yes, but my experience living abroad is that people like something more than just beige and grey."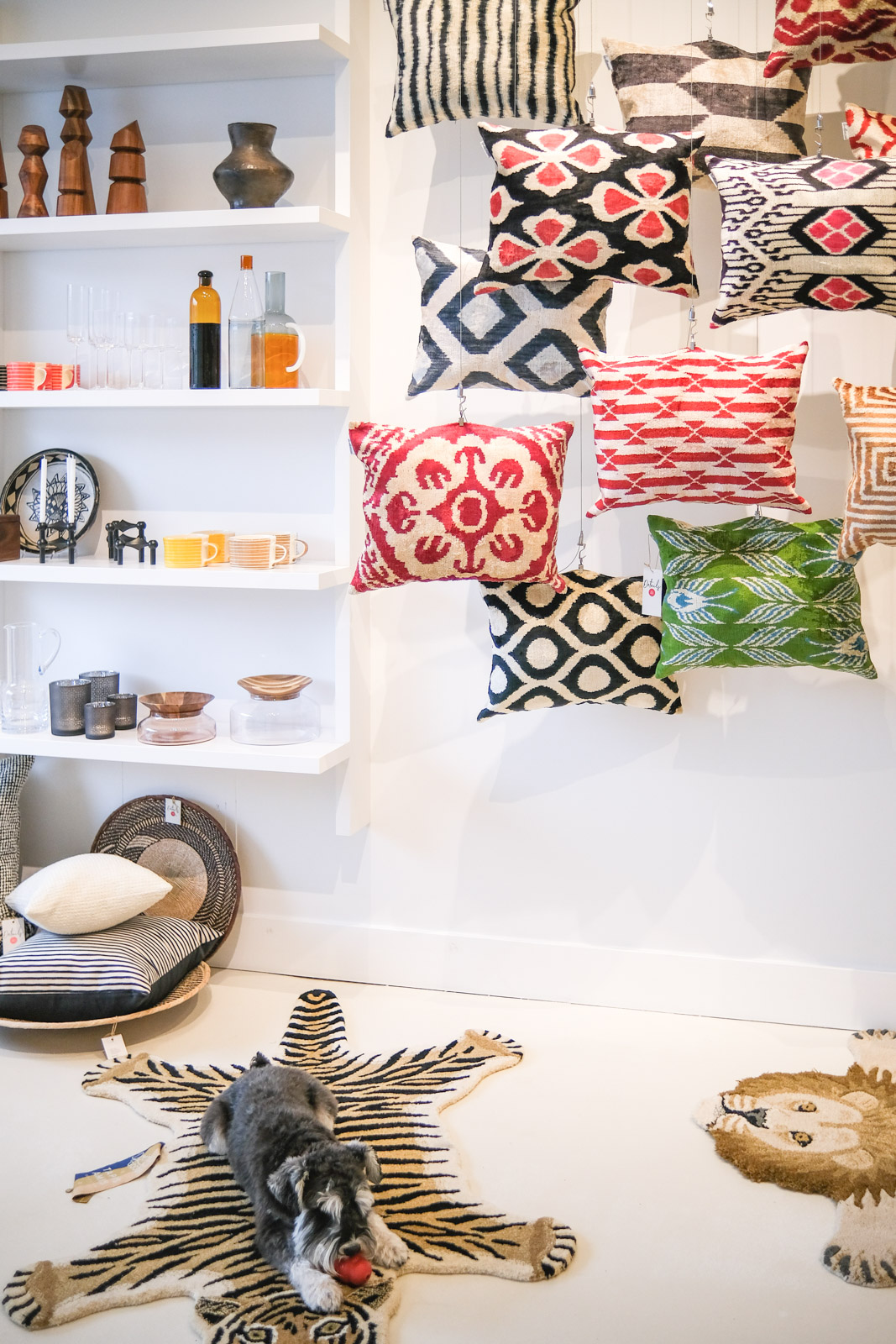 Karrasch, a born and raised Vancouverite, spent 25 years in Hong Kong working in fashion—first at Esprit, then Benetton and finally heading up product management at Calvin Klein, where he was responsible for everything from underwear and jeans to accessories and the brand's premium lines. That immersion in fashion took him weekly to such far-flung places as Germany, Italy, Holland, Australia, and India.
It's precisely this combination of work experience and travel that informs Details by Mr. K's aesthetic. Ranging from hand-carved teak wood trays to kaleidoscopic pillows, every item at the shop embodies a global, eclectic approach to living.
"I like to be a little provocative," Karrasch says of his approach. "People are scared of colour and personality!"
A bold hued pillow can transform a neutral sofa; a silver crab designed by a woman Karrasch met in Java, Indonesia brings a touch of quirk; brass bee "pins" to stick in your candles add quixotic charm; a timeless yet modern hand-carved lotus leaf bowl from Craft District Bali offers the perfect finishing touch on a table. The wildly popular reproduction Air France travel posters circa 1940s to '60s come via a partnership with the Musée Air France.
Karrasch is adamant that although it may look like people enjoy living in monochromatic spaces in magazines, it's not necessarily representative of real life. "Everyone has their own personal style, just like everyone has their own personality," he says. "Why would our spaces all look the same if we're not all the same?"
Because he's spent most of his life travelling, Karrasch seeks to distill those diverse influences down to this tiny perch, which he co-owns with his partner Nigel Tsang. "The most beautiful cushion will make you fall in love with your sofa again," he says. "It's fascinating to me how people around the world can bring such uniqueness to their homes."
The concept has been a hit with local designers, as well as locals just looking to infuse their spaces with a jolt.
"We're trying to bring in objects that will make an impact when finishing off a project or filling a space," he says. "Each product has a story behind it, and a lot of the objects that I select are perfectly imperfect—I don't like things to be too polished."
---
Read more Design stories.