If you've visited the beautiful outdoor garden on the roof of the Vancouver Public Library, you may have been struck by how naturally and seamlessly the terraces, with their Japanese maples and long grass, welcome visitors. But for two decades, the secret library garden was closed to the public, a dream of an outdoor public green space in the sky that was dashed, hidden away, and then brought back to life. Here, from our archives, historian Jesse Donaldson writes about the decision to open the rooftop gardens in 2017, and their final unveiling in 2018.
---
August 2017: A look inside the secret garden
Since its completion in 1995, the Vancouver Public Library has been one of downtown Vancouver's most recognizable structures. At the time, it was the city's largest capital project to date; the towering Colosseum-style building, designed by renowned Canadian architect Moshe Safdie, cost over $100 million to construct, and opened with an estimated one million books to great fanfare and a crowd of thousands.
But the building also includes a section rarely seen by the public. On the ninth floor, through a series of service corridors and up a metal ladder, sits a 20,000-square-foot oasis of Japanese maple trees, shrubs, and grasses—a rooftop garden that has been hidden for more than 20 years.
"The roof wasn't designed for human occupancy," explains chief librarian Sandra Singh. "In the early 1990s, when the library board and city council were planning for the library, there was public input into the design of the building. Three architects were invited to present models, and the model chosen included an occupiable green roof space—an outdoor garden and terrace on the top floor. It also included a small amphitheatre and a few other features. But, of course, with a very large project like this, things can happen to the budget. So that vision for the roof had to be removed."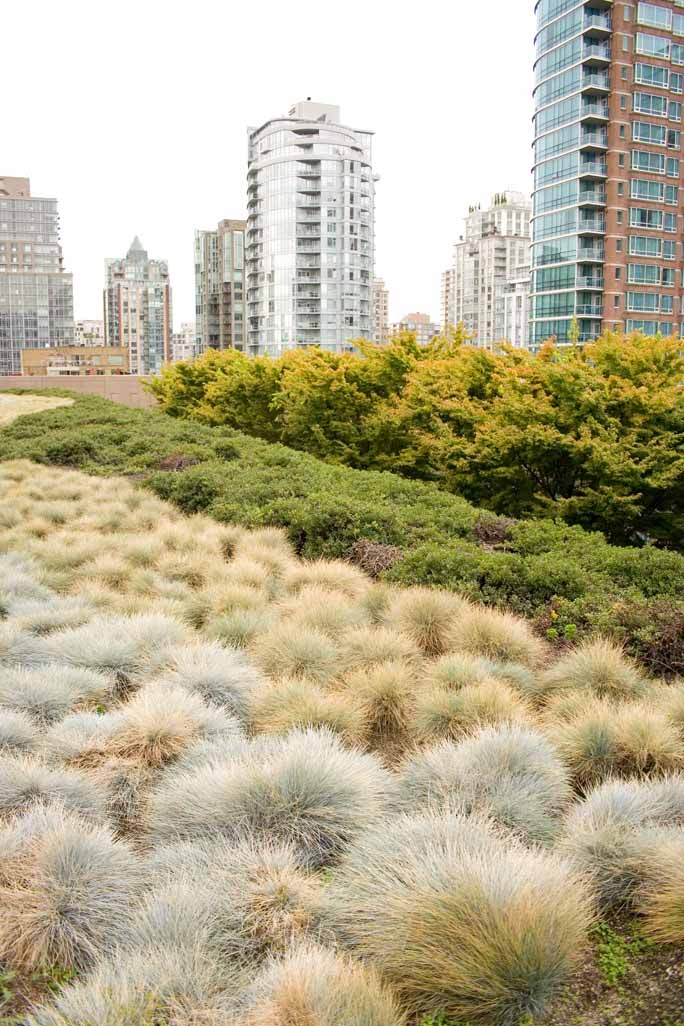 Faced with a financing shortfall, the city had no choice but to abandon its initial vision, and the top floor was instead transformed into a functioning "green roof." Designed by noted landscape architect Cornelia Oberlander, it features both blue and green fescue bunch grass, as well as kinnikinnick—vegetation native to B.C.'s southwest, arranged in a pattern meant to reflect the shape of the Fraser River. Visible only by aircraft and from one or two nearby office towers, the roof was constructed with functionality in mind; not only does it absorb urban carbon monoxide, but its presence also acts as a heat sink, and provides a downtown habitat for bird and insect life. The grasses were carefully selected—not just for their appearance, but for their relatively light weight when wet (important for a roof cover) and ease of maintenance.
Visiting the roof on a rare occasion, it immediately becomes clear that this green space was never intended for the public. There are no guardrails between the edge and the city below, there are likewise no footpaths, and the lack of cover (other than the Japanese maples) leaves visitors exposed to a surprisingly punishing wind.
But of all that is about to change.
After being off-limits for more than two decades, one of Vancouver's most high-profile hidden spaces is about to be a lot more public.
"The last opportunity to see the green roof in its previous form has passed," Singh says, referencing the library's multi-phase renovation project. "The roof demolition has already started. This expansion of the library's eighth and ninth floors was planned as part of the original build. Those two floors were built as expansion space, and the agreement was that, after 20 years, the library would take it over. And that's what happened in 2015. With that, we'll be adding 35,000 more square-footage of library space, most of which will be accessible to the public."
It will take years to complete. However, phase one includes renovations of the eighth level—formerly occupied by the provincial government, and which includes outdoor terraces—and the ninth level rooftop, which is set to encompass meeting rooms, a theatre, an exhibition room, and finally, the long-awaited public rooftop garden. Slated for completion by spring of 2018 and designed by the original landscape architect Cornelia Oberlander, the garden will be a wholly reimagined version of its former self: an 8,000-square-foot community space that will retain the already-standing trees, alongside a smattering of Arbutus tossed in for good measure.
"It's being designed for informal use," says Singh. "People can just come up with their coffee and get a brief respite from the bustle of downtown. Or, we can set it up for a lecture. It's going to be quite flexible." The building's renovations, which are expected to continue until at least 2020, make up the largest project the library has undertaken since it opened, and will include an extensive reworking of the interior space.
And while anxious Vancouverites may have missed their chance to see the rooftop garden in its original form, Singh promises that the library's newest civic amenity will be well worth the wait. "[Oberlander has] designed a garden that's in keeping with the Roman character of the building," she says. "Back when the library was built, the public expressed a preference for this building, and they picked a building that blended this long tradition of a public space. And that's something we're really proud of."
November 2018: The secret garden opens
The Vancouver Public Library central branch's new rooftop garden has been a very long time coming.
Twenty-three years, to be exact. When the 42,000-square-foot, $16.8-million renovation project was opened to the public at the end of September 2018, it was the realization of an architectural vision that dates back to the building's launch in 1995 as a place in the heart of the city for Vancouverites to gather and create.
"We wanted to make Vancouver a more engaged and connected city," explains chief librarian Christina de Castell. "The Vancouver Foundation recently did a series of surveys and found that people are really looking for spaces to come together. They're experiencing more loneliness. We're seeing more families coming into the centre of Vancouver, and we know that there's a real need for community spaces. That's what we were thinking of here, and that's one of the reasons for having the rooftop garden: to give people somewhere to escape and connect in the middle of the city."
The project, which took four years to plan and roughly two to complete, brought back the team who designed the original library building and its (closed to the public) green roof: renowned Canadian architect Moshe Safdie and landscape designer Cornelia Oberlander (who, even in her late nineties, is still going strong).
The garden and its connected terraces add approximately 8,000 square-feet of new space and have retained the original green roof's Japanese maple trees, while adding a few arbutus ones for good measure. Other foliage includes lavender and honeysuckle, and seating is provided via benches made from Brazilian walnut: a wood known for its resistance to rot (essential in rainy Vancouver).
While having a publicly-accessible rooftop was part of the initial Library Square concept dating back to the 1990s, the scope of the project and cost overruns prevented the plan from making it to the design stage. Instead, levels eight and nine of the library were leased to the provincial government for 20 years, and when that lease expired in 2015, the facility decided it was time to revisit the original plans.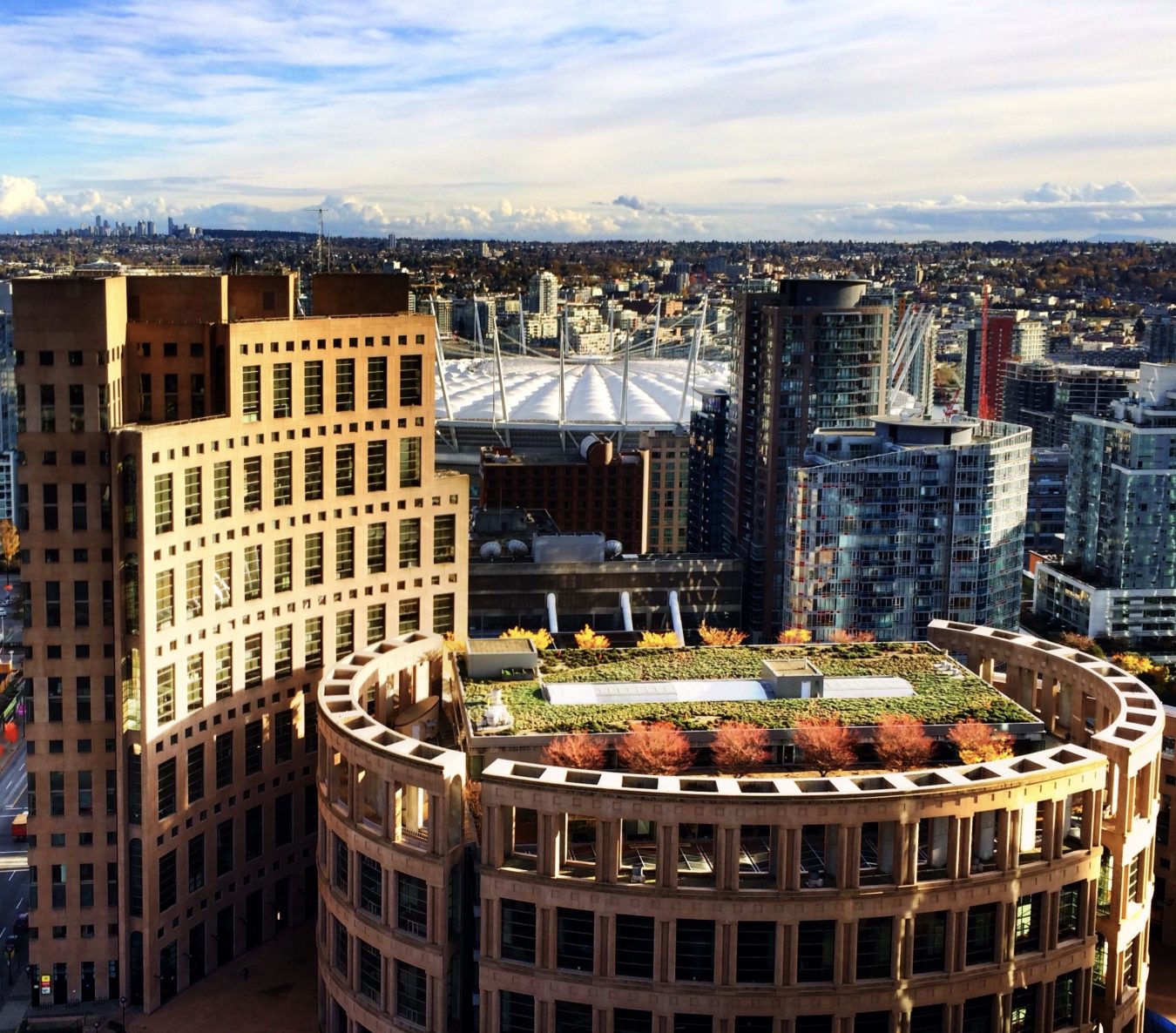 Construction presented an interesting challenge, with engineers having to bring all the necessary materials up from street level, including two floors' worth of escalators and 250 cubic yards of soil (which had to be blown up to the roof through a hose). And most impressive of all, de Castell notes, the building managed to stay open throughout the process. "A lot of construction projects wouldn't keep on operating during this kind of work," she says. "But the library is such an important building for the people of Vancouver. We see about 5,000 visitors a day. So it was very important to us to stay open. And we really saw that love of the library through the entire project, because visitors still kept coming."
There is more on levels eight and nine than just the garden, too; also added is a Reading Room, an exhibition space, a Poet's Corner, an 80-seat auditorium, and a grand staircase made of honey maple, which can be used as anything from a public seating area to a mini amphitheatre. "It's inspiring artists and creators, even when they're just standing on it," de Castell muses. "I was talking to someone who composes music, and they were talking about composing something specifically for that space; I was talking to someone else who's involved in an orchestra, and they were imagining a performance that could take place on the stairs. The way it's already been inspiring those creators is wonderful to see."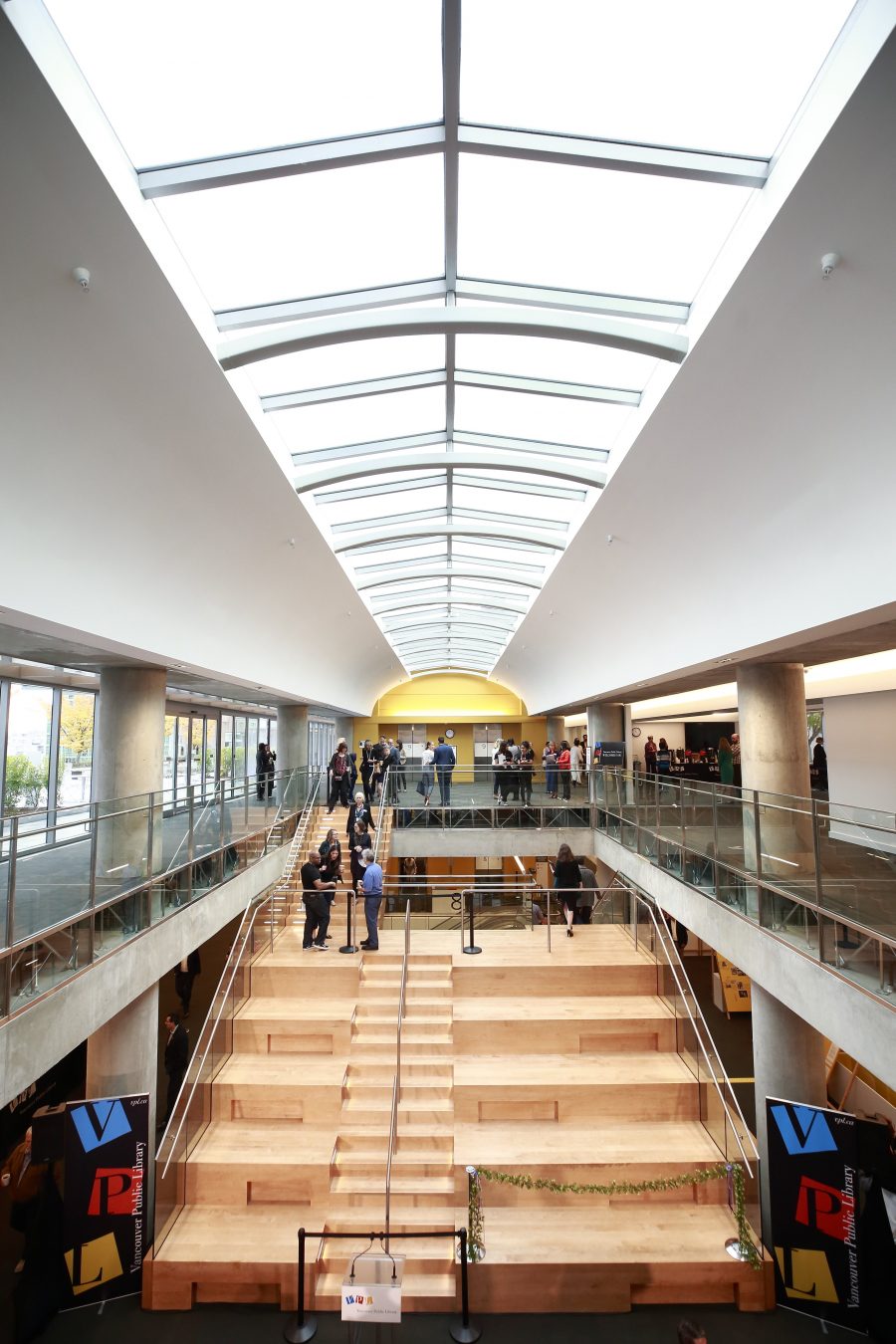 The expansion is just one more part of a broader reimagining of Library Square that has taken place over the past several years. Beginning in 2014, the central library's holdings—some 1.3 million books—were reorganized to increase efficiency. An Inspiration Lab was added on level three (free recording studios in which Vancouverites can create music and podcasts), and in 2016, a musical instrument lending library, the first of its kind in the city, was added. So far, de Castell says, the response from the public to all of these changes has been overwhelmingly positive.
"People love it," she says. "The seats are full in the Reading Room. People have taken ownership of it almost right away. And the fall weather has been so good that each day, many people have been out in the garden. They're reading, they're drawing, they're taking selfies, they're posting them on Instagram and sharing them with us. So we're having a great chance to share in the public's enjoyment of the new space."
And although the garden and other community areas might be the most impressive of the central library's new features, they won't be the last; soon, level seven will be the new home of the City of Vancouver Archives and its collection of some one million photographs, 4,000 maps, and millions of historical documents dating back to the 1800s; and the Children's Library, thanks to a $5 million donation from The Dilawri Foundation, is set to be revamped to include more play spaces and interactive zones. The overall philosophy, de Castell explains, is to recraft the library as a place for people to come together and engage—with their city, with their neighbours, with literature, and with their own imaginative impulses.
"We've gone through a lot of change," she says. "We're exploring this idea of a library as a gathering place, and a place that supports creativity. Because that's what a library should be: a place for people to create and share stories."
---
These stories from our archives were first published respectively on August 25, 2017, and November 6, 2018. Read more Design stories.