When Sabina Hill found a wooded waterfront lot in Madeira Park, she knew it was where she wanted to live. The undeveloped land, sloping steeply from the road down to Pender Harbour on British Columbia's Sunshine Coast, was nothing but bush and boulders. Yet as Hill made her way down to the ocean, she recounts, "I put my hand in the water, and that was it. I really never looked back."
Hill and her partner visited the Sunshine Coast for the first time for the 2013 Sunshine Coast Art Crawl, an annual event where more than 100 artists open their studios to visitors.
"As soon as we got off the ferry, I think our blood pressure went right down," Hill says. She was immediately drawn both to the region's serenity and to its active art scene. Going from studio to studio, she visited an artist in a live-work space set back in the woods. Hill remembers thinking, "This is the kind of lifestyle that I want, a cabin by the ocean in the forest."
An artist, interior designer, and architect, Hill purchased her property in 2015 and started what became a six-year project to design and build a house with a live-work studio. The steep, wooded lot was "topographically challenging," Hill notes, with very little flat space to construct a house. She designed her home, coated in cedar shingles and industrial-style corrugated Galvalume siding, to take in the expansive view toward Pender Harbour, lining the living space with windows across the oceanward side.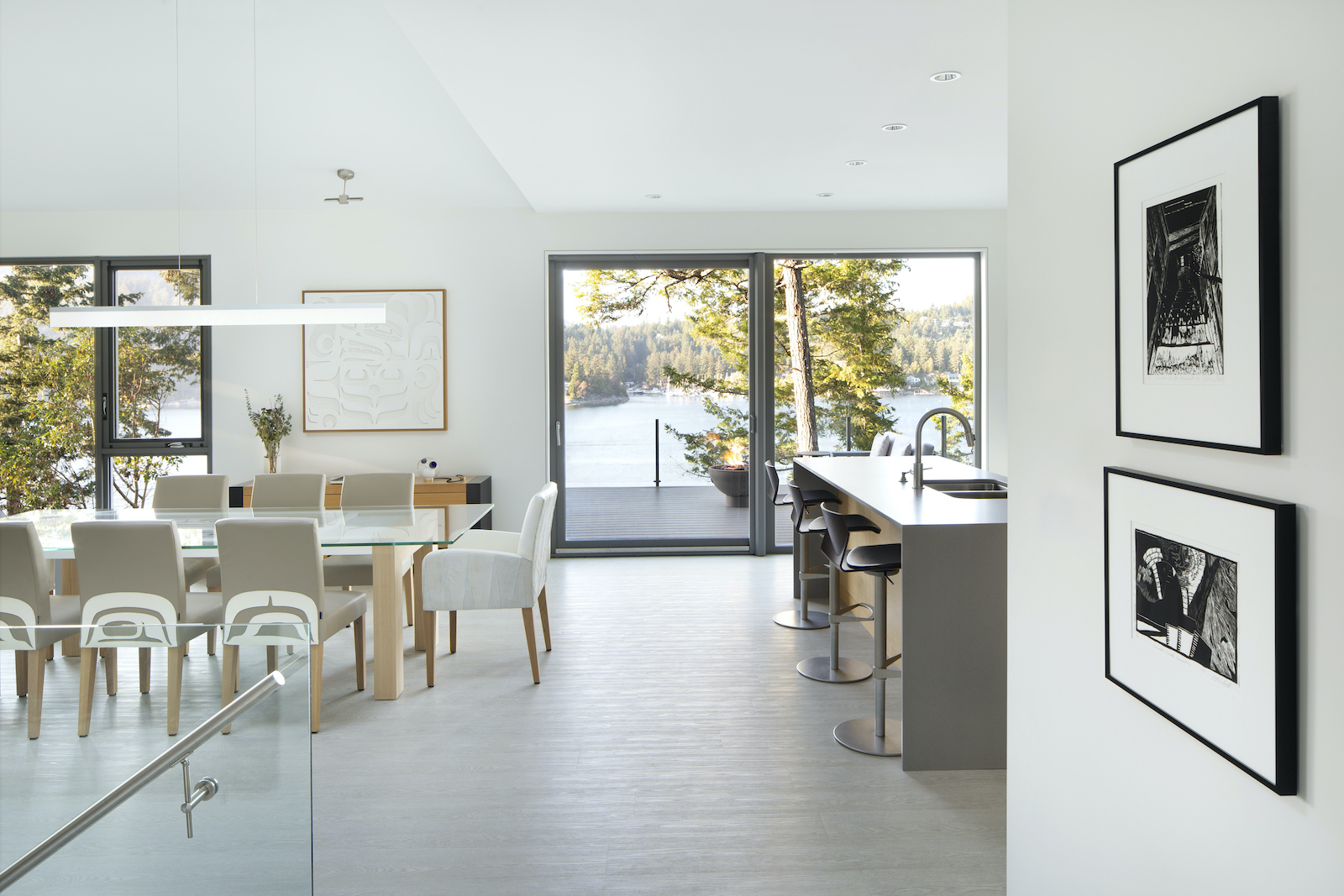 In 2021, she completed a stunning rental suite on the lower level, filled with her artwork and furniture, where she began hosting overnight guests, who are welcome to tour her studio and talk with her about her work.
Since many of the pieces that Hill designs, including tables, chairs, etched glass, rugs, and ornately carved wood panels, are intended to be used in her clients' homes, she wanted her Sunshine Coast residence to be a "live-in gallery," showcasing her work in a domestic setting. Compared to seeing a piece in a more traditional art gallery, she says she can show visitors, "Here's how you actually use these things."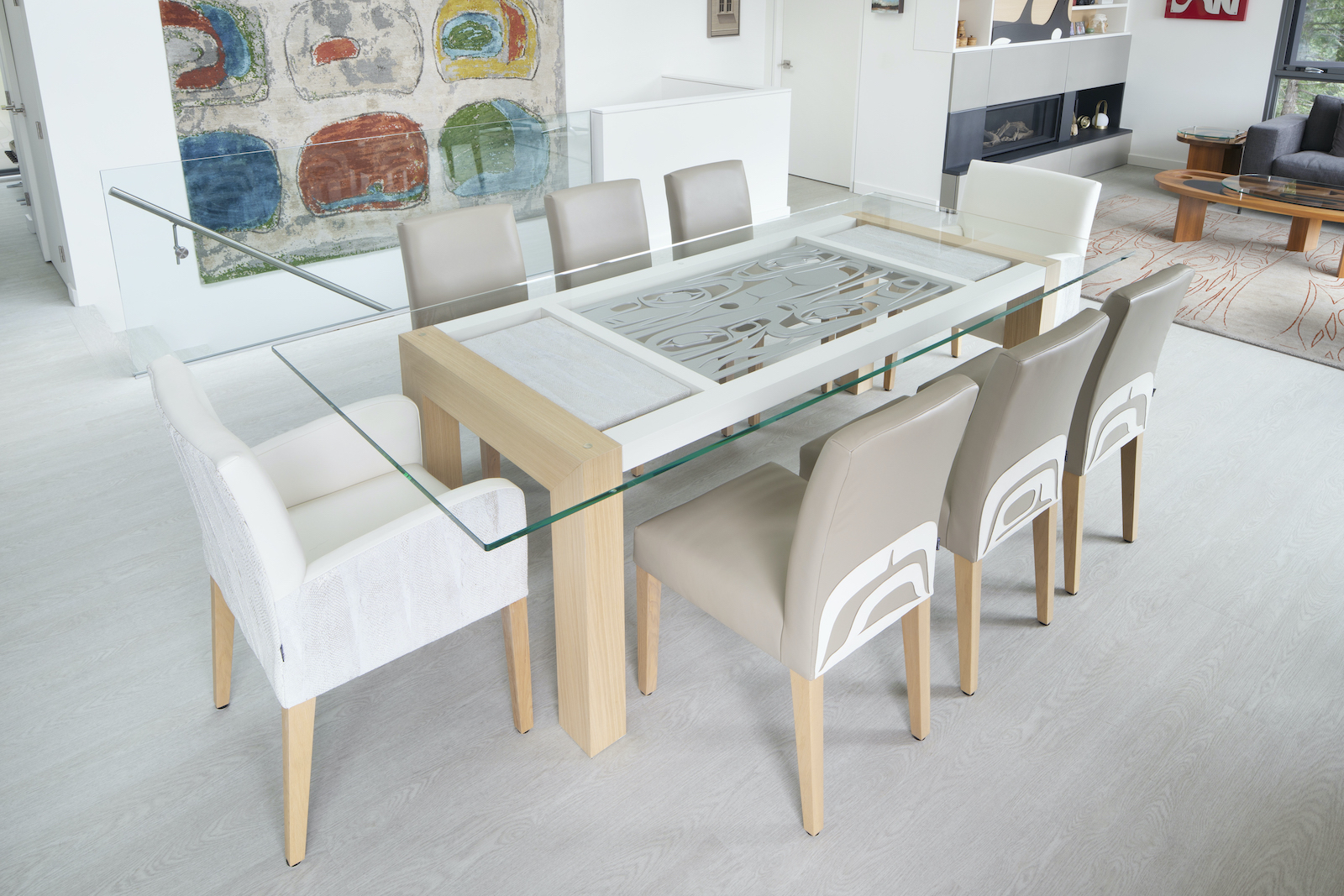 Her dining table, designed in collaboration with Mark Preston, a Yukon-based Indigenous artist of Tlingit and Irish heritage, is made from white oak, salmon leather, and laser-cut glass and anodized aluminum. The upholstered leather side chairs, another collaboration with Preston, are hand-stitched with "u-forms," curvaceous shapes often found in the Indigenous art of the Northwest Coast. One of Hill's solo pieces hangs from the wall, a rug incorporating "ovoid variations," a form that appeared in some of her earlier furniture pieces, now reinterpreted as a textile.
Downstairs in the Sea Forest Guest Suite, overlooking the water on her home's lower level, guests can live with Hill's work during their overnight getaways. The glass and wood coffee table, which Hill designed with artist Andy Everson of the K'omoks First Nation, sits in front of a sleek grey sofa, near Hill's salmon drum table, a cylindrical side table covered with salmon leather. On a sideboard is a stainless steel serving tray with an eagle motif, a collaboration between Hill and Kwakwaka'wakw artist Steve Smith.
"It's such a kick for me to see people's expressions" when they first walk into the suite, with its wow views, contemporary furnishings, and original artwork, Hill says. She's found that she loves sharing her property and her art with her guests.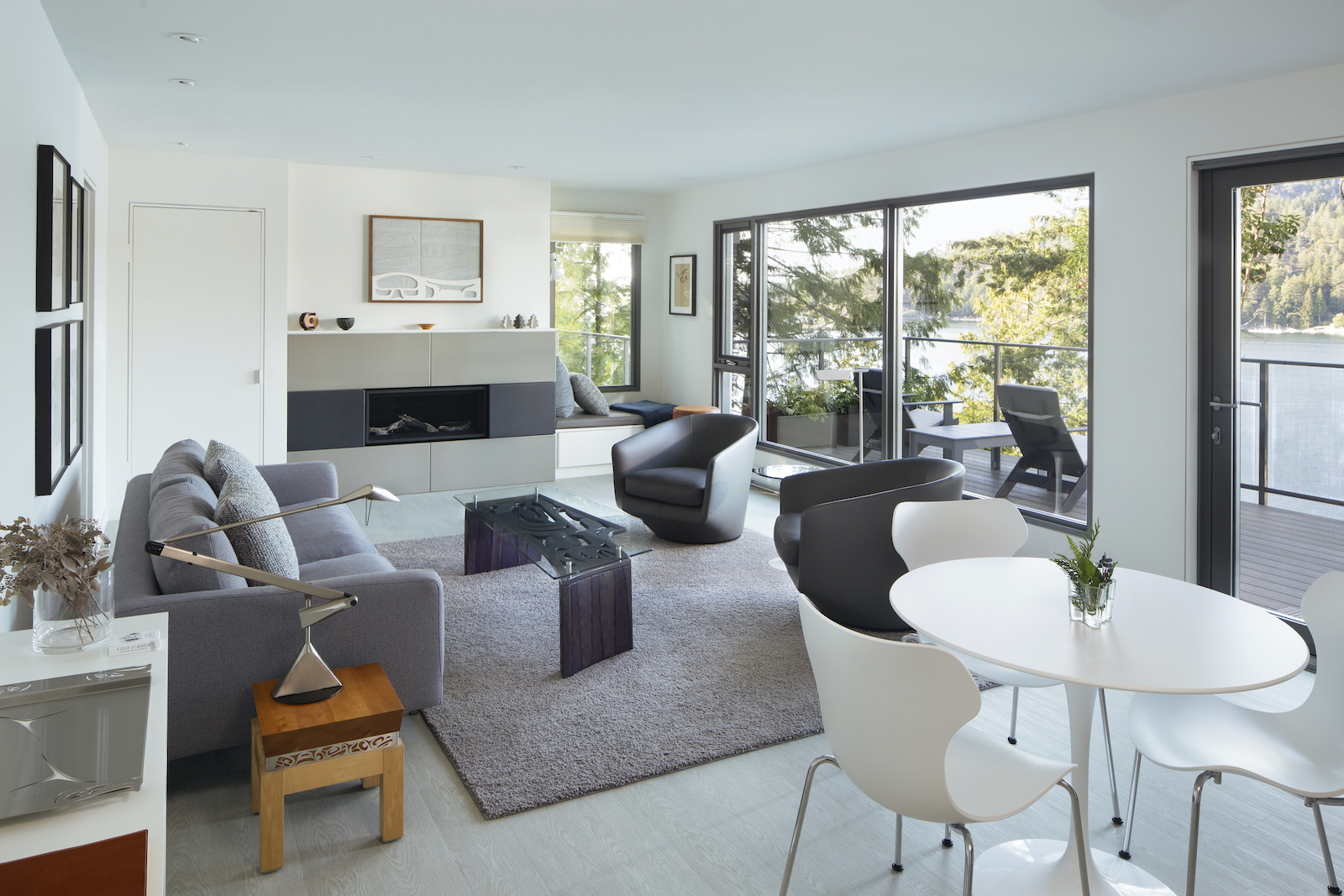 Much of Hill's work draws inspiration from Indigenous forms found throughout British Columbia's coastal regions. Earlier in her career, she frequently worked in partnership with First Nations artists, including Smith, Everson, and Preston. 
Through these "cross-cultural collaborations," Hill explains, she wanted to integrate "a contemporary, architectural aesthetic with the very organic form lines of Northwest Coast art." 
She and Preston collaborated on the design of several rooms at Skwachàys Lodge, Vancouver's Indigenous arts hotel, while she and Everson worked together on furniture, such as the Thunderbird chair and ottoman, leather and walnut pieces that feature a Northwest Coast motif.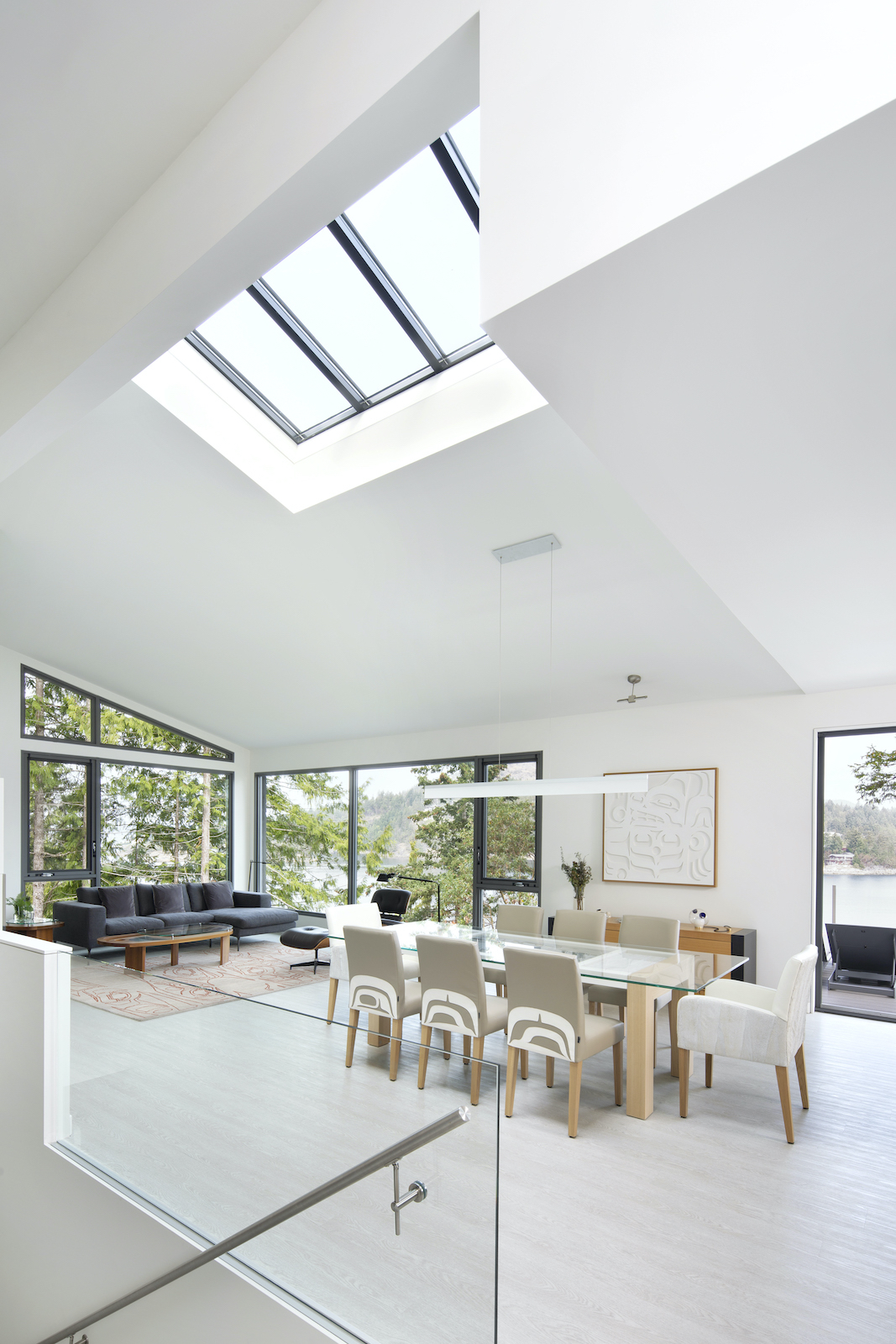 "We're working together to create something beautiful," she explains. "It's reconciliation in practice."
The collaboration, she adds, "is something that neither of us could do individually, but then together⁠—there it is." These partnerships also inspire her solo projects, where she often works with or refines motifs that arose from the collaborative pieces.
Hill also draws inspiration from the land and sea surrounding her live-work space on this quiet corner of the Sunshine Coast, where both she and her guests can live⁠—and sleep⁠—with her art.
---
Read more design stories.