I have always felt that stepping into someone else's home is like getting a glimpse into their soul. Today I find myself in the in a quiet neighbourhood in East Vancouver with Dara Dammann, the textile designer and creative mind behind Symmetry & Grace.
Born and raised on Vancouver Island, Dammann takes inspiration from the West Coast, from the depths of oceans, and from the layers of mountains she grew up surrounded by.
We take photos around her home and workspace before settling on the couch to talk about her designs. Here, surrounded by her world of books, scents, and linens, Dammann walks me through the process of dying, scouring, washing, drying, and working with fabric. I watch her eyes light up as she talks about her love for tradition, for craft, and for the joy of seeing her creations adorn a person or a piece of furniture.
What is the inspiration behind the name Symmetry & Grace?
From the age of 19, I knew I wanted to start a company of my own with the words Symmetry—for my love of balance—and Grace—for elegance and a lightness. After taking a course in textile design at Emily Carr, I found a platform where I was able to combine my love of linen, interiors, and creating structured products, and Symmetry & Grace was born.
What inspires you creatively?
I am inspired by the simplicity of nature, and by structure while giving space for freedom. My work is also influenced by people in my life—my tribe of creatives—including my mother, my nonna, my chef brother, my husband, and friends. People who hone their craft and people who are nearest and dearest.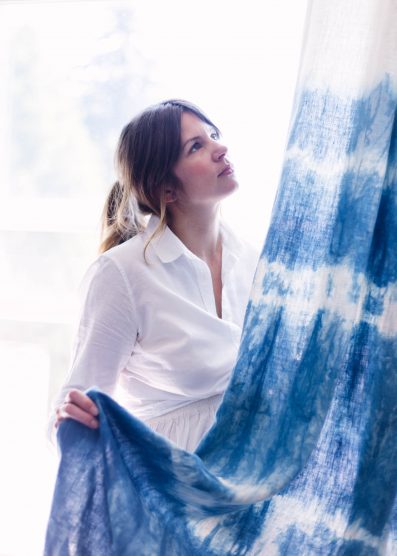 Tell me more about indigo dye and your love for linen.
Indigo is a dye derived from plant leaves in India. The leaves are soaked in water and the colour is extracted under the heat of the sun. The dye settles and the top layer is siphoned, and the resulting liquid is filtered and dried into indigo cakes. During the dying process, the dye turns from green to blue after reacting with oxygen on the fabric. As for linen, I find it to be the most elegant of fabrics and an absolute favourite to work with. Linen wears with time and takes life as it is. It is almost like wearing a living piece that grows and changes with you throughout time.
What does success mean for you?
Success is feeling happy about the work you produce and put into the world. It is being able to stand wholeheartedly behind yourself. It is trusting your gut and moving at your own pace. It is redefining success on your own terms, while being compassionate to yourself and others.
This interview has been edited and condensed.
---
Read more Design stories.