Floral arranging, despite being one of the oldest and finest practices of the artistic world, is often glossed over when one thinks about design. But Vancouver's florists are making a swift case for the induction of floral design into something of an elite class—one that deals in art, in architecture, in interiors, and in food, but also in the cycles of life. Beautiful, innovative, and ethical? One simply has to stop and smell the roses.
Granville Island Florist
Suzane Lee, founder of Granville Island Florist, has observed the business from all angles. While apprenticing in the profession, Lee found that floral designs and arrangements were far more than simply aesthetic, but that each combination instead was marked by careful, precise technique, personal flair, and an underlying philosophy that differs for every person. "It's an art that is food for the soul," she says. "I live and breathe it." Lee has learned from florists all over the world, bringing a vast array of influences and experiences into her shop. "I'm acquainted with designers from Germany, France, England, Japan, China, the States, even Russia and Iraq," she notes. "The trends are contagious and infectious."
Greenstems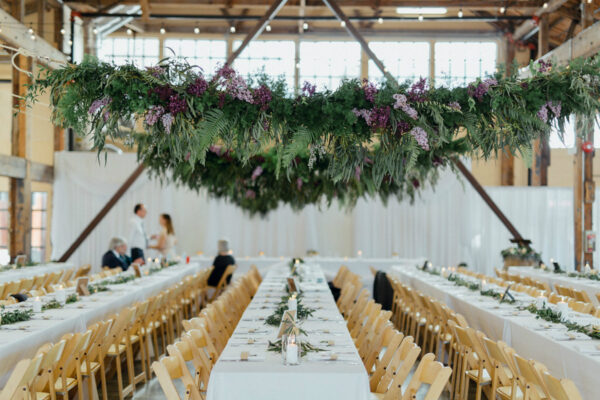 Heather March of Greenstems, specializing in botanical installations, finds herself constantly referencing the dense and lush forest floors of British Columbia's temperate paradise. "I find our backyard to be full of inspiration," she says. "And I try to pull that into my designs for 'greening up' interior spaces in unique and complementary ways." The exciting part about working in botanical installations is the variety. March may be creating beautiful bouquets for a bride, or installing a conceptual living moss wall in a residential development, or constructing a contained greenwall installation for a shop or restaurant—and this variety is the spice of her job. "I always hope that my work creates a feeling of peace and mindfulness," she says. Think of the stillness we feel during forest walks, appreciating the silence. "If I can create a small fraction of that feeling within my work, then I'm winning."
Serpent Botanical
Serpent Botanical is the two-year-old flower child of entrepreneur Katie Fritz. After a one-hour arranging class on Commercial Drive, Fritz was inspired to undertake her own floristry, and the practice has since grown into something of a happy monster. Fritz appreciates the tension between life and death that flowers possess—a sped-up version of our own timelines. "I think flower design is this incredible, immediate thing. I can design a beautiful arrangement, and enjoy it, but then it dies," Fritz says. "It's so grounding to make something incredible knowing that you'll never see it again. But that's the point of it all." Fritz creates bouquets that are somehow lush and luxurious but muted, emanating a quiet, sophisticated beauty—one that certainly lives in on memory.
Celsia Florist
The name on every bride's lips come wedding season is Celsia Florist. The shop's recognizable style has come to be defined by soft pastels and prim greens that speak to each other in their ethereality but still fit into a variety of aesthetics, from minimalist concrete venues to farmhouse weddings. Operating since 2008 by Johanna Siu, and initially as nothing more than a hobby, Celsia has bloomed into Kitsilano's hub for all things floral: from everyday bouquets, to elaborate wedding or event decor, to workshops for the most hands-on students. Originally from Atlanta, Siu brings a love of her hometown into her designs, which smell so sweet it's worth a stop by the shop just to experience it all.
The Flower Factory
Gloria Henry found her love of flowers as a teen. After switching into a horticulture major at UBC, Henry opened The Flower Factory with two close friends in her early twenties. The shop celebrates its 20th anniversary this year. "We're lucky," Henry says. "We're still a neighbourhood store—with all of Vancouver as our neighbours." Recently on the docket: The Flower Factory team geared up to design a second-generation wedding—meaning, Henry designed the parents' wedding many years ago and now is preparing flowers for their child's nuptials. "We've built some great relationships over the years but that really blows my mind," she says. The sweetest smelling theme of late? The Flower Factory created a literature series that paid homage to the ageless Jane Austen novel Pride and Prejudice. "I approach design very organically, and I love natural lines," Henry says of her style. Today, this penchant for the effortlessly beautiful persists.
Longbranch Flora and Greens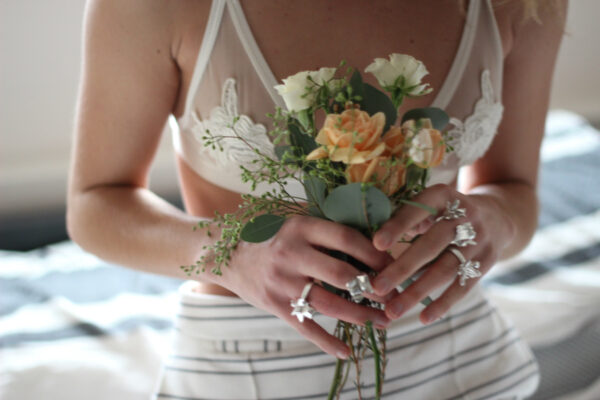 Andrea Chapin was pulled into the floral industry almost by accident. After helping a friend in high school with her floral job, Chapin was hired on the spot for her work ethic and keen eye. Eleven years later, she still often feels as though she's designing for close friends. "You're often making arrangements for people's milestones: celebrations, weddings, births, deaths—and people really make you a part of it," she says. "I've laughed and cried with many customers." For Chapin, the toughest part about being in the floral industry is knowing how harmful the production of goods can be to the environment. "The importing of genetically modified inorganic flowers is brutal, from farming to transportation to packaging," Chapin says; so "buying local is huge." She is currently drawn to arrangements that do less with more: employing fewer blooms in her bouquets, she mimics the rugged and perfectly unkempt meadows of B.C.
Bloom Room Botanical Gallery
Bloom Room Botanical Gallery is for the whimsical. The boutique flower shop has a proclivity for succulent centrepieces and lush mosses that seep from opulent hanging planters, and it's nearly impossible to leave the shop without a new vase or sprawling plant. Founded by Sarah Spencer Tannahill (formerly of Olla Urban Flower Project), Bloom Room isn't only an arrangement studio; the gallery welcomes visitors into something of a floral antique shop—busy, overflowing with locally grown bounty, and sparking the feeling that treasure is hiding somewhere on the long table in the centre. The designs summon earthy, modest notes that feel as though they belong in a loved one's garden, and make it very hard to leave without carefully examining and appreciating every bloom.
From bud, to blossom, to wilt; from baby showers, to sweet 16s, to weddings—these florists are well versed in all of life's moments. Though the influences and backgrounds of each enterprise vary, a common theme true to the Vancouver mantra threads them together: they all seek to respect the natural cycles of flowers, people, and the earth.
---
Read more about floral design.