Beyond the ridge, a plume of smoke rises into the sky⁠—remarkably close⁠—but on the waterfront property where we're staying, the atmosphere is buoyant. Water bombers have been buzzing overhead, and the excitement is at a fever pitch. A gaggle of young kids, close to a dozen strong, watch with dinner-plate eyes. This is a bingo card of kids' favourite stuff. Airplanes? Check. Firefighters? Check. The roar of engines making the hair stand up on the back of your neck? Check. Obliviousness to danger? Check, check, check.
The adults are just as captivated. Our explanations for the fire have fewer barbs and thorns than they should. Right now, there are at least three planes in the circuit nearest to us, circling so close you can see the spray of water released from their bellies into the air before they skim the surface of the lake to refill their tanks. We sip wine and watch, unruffled, even when friends drop in and report that their car was coated with a sprinkling of ash when they climbed in. Later in the evening, the sun sinks low and the glow from behind the ridge intensifies. The planes are replaced with helicopters trailing huge buckets.
We are just outside Oroville, Washington, only a hop across the border from its Canadian neighbour to the north, Osoyoos. We visit our friends here every summer for at least a long weekend, basking in the hot weather, sipping regional wine, and swimming, paddling, and boating on Osoyoos Lake.
There are a few signs that probably should concern us at this point, like the towering plume of smoke. It's impossible to see the fire's origin because the mountains surrounding the property are stacked like dominoes, one range behind the next. But one thing is certain: the fire is close. And the planes, too—much closer than I've ever seen before. Then there's the mirage-like shimmer of flames. I've never seen that before, either.
Instead of acknowledging my concern, I snap photos, convinced that at any moment I will turn around and it will all be gone.
There are a lot of us—24, kids included—but only one is truly worried: Brittany, a young mom of two. By now it's evening, the kids are in bed, and the adults finally take stock. We can see the orange glow coming over the ridge and track its movement. Brittany paces and watches the orange light obscure the indigo sky. She wants to leave; her husband wants to stay. I walk over to stand with her, but before I do my husband says quietly in my ear, "Maybe try and calm her down if you can."
I try, not insincerely. From my point of view, the fire will take a route past us. An awe-inspiring sight, sure, but soon gone. Because we all know that wildfires burn in straight, predictable lines. Right? But she isn't buying it. "That's really close," she says. My husband snaps a photo⁠—the two of us standing in the dark, watching the flames. Later we jokingly name it "Brittany Was Right."
Eventually she goes to bed, as do a number of others. But even though I try to convince Brittany—and, more importantly, myself—everything is fine, I am not going to bed with the fire this close. I have a loose plan: watch the fire burn past the property with my own eyes, then go to bed. It's not a great plan.
It's never said out loud, but a few others must feel similarly. We settle in to watch from the plush seats of the pontoon boat tethered to the end of the dock. Some sip beer or wine. Others abstain, "in case I have to drive." At around 10 p.m., the wind picks up and we all become expert meteorologists.
"Look at the leaves on that tree. It's blowing that way."
"No. It's coming off the water."
"It's blowing down the mountain. Look."
Before long, the lantern-like glow from behind the ridge rises into visible flames, close enough that we can see individual trees flare up white hot and explode.
The wind is shifting, sending the fire back on itself—good. But it's also sending the fire towards us. Before long, the lantern-like glow from behind the ridge rises into visible flames, close enough that we can see individual trees flare up white hot and explode.
"Okay, that's pretty close," someone finally says.
If it continues burning down the ridge, only a ribbon of highway protects us. Is that enough? I don't know. Suddenly, I am very aware of everything I don't know. The wildfire seems big—it is big—and I feel very small, like a child at the top of a slide, looking down. Is it safe? Stay or go? What I really want is an adult at the bottom, telling me everything is fine. The reassuring voice of authority. But I also know that if police or firefighters arrive to deliver news, it won't be good.
We all know the news, even if we don't want to hear it. The climate is changing, and areas like the Okanagan are feeling the heat. Here, in an economy dependent on tourism and agriculture, we celebrate "42 straight days of sunshine" during the summer. According to the local tourism board, that heat wave made the 2022 season a "smashing success."
As we're all experiencing, climate change isn't just about rising sea levels and disappearing coastlines. It's about more frequent and intense storms and weather events. It's about habitable places becoming uninhabitable. It's about heat.
This past July was the hottest month ever recorded on Earth—likely the hottest July in 120,000 years—the unwelcome cherry on top of the Northern Hemisphere's warmest summer ever recorded. The wildfire season started earlier, too. By July 27, 2023, Canada had broken its own known record for area burned in a single season, with almost two months of summer still to go. In the heat, the fuel that the fire needs becomes dry and incendiary. Just a small spark can prove devastating.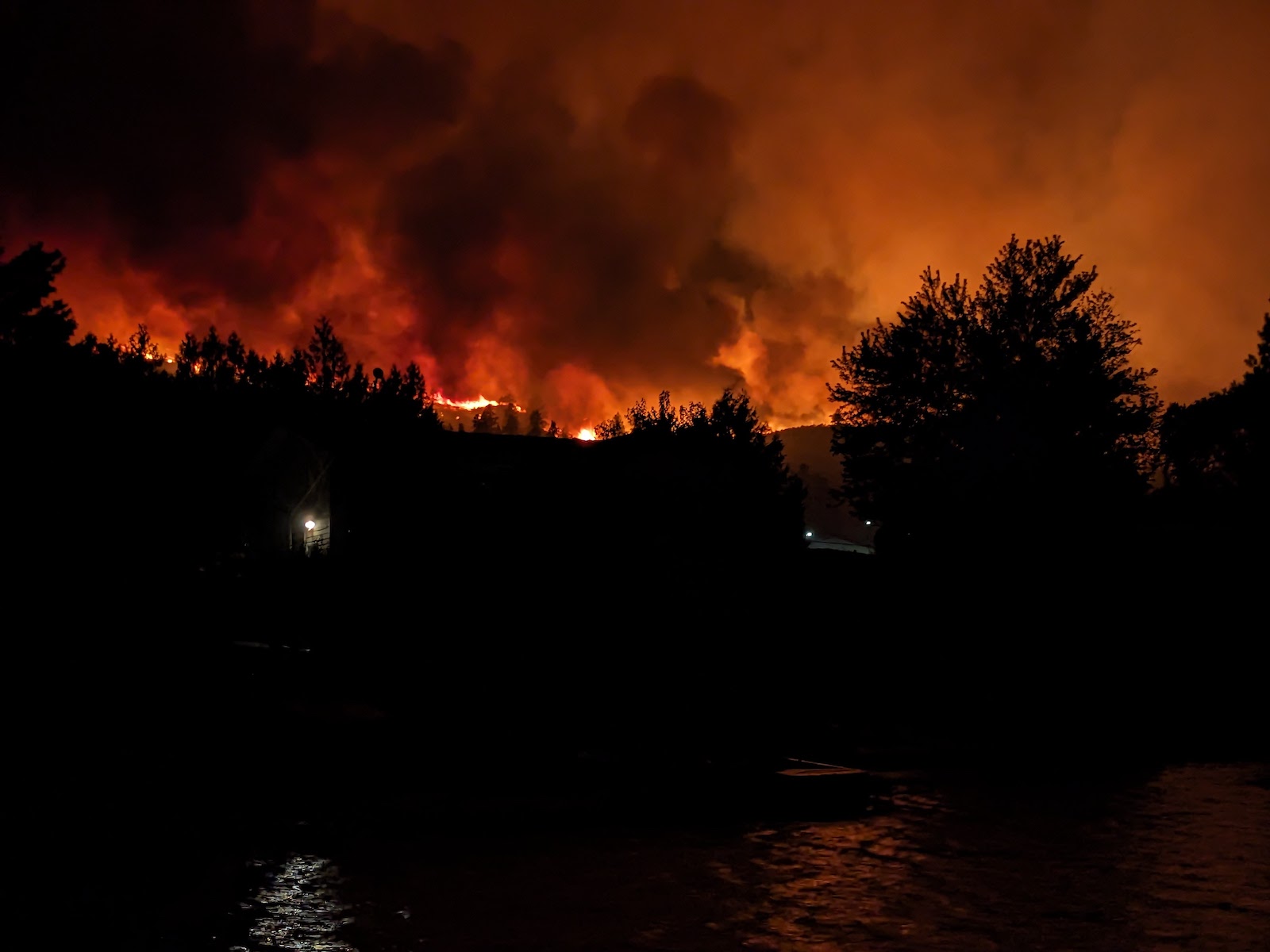 Weather events like this are part of a larger trend. The arid, grape-growing, tourism-boosting climate also creates the dry conditions that kindle wildfires. And while smoky conditions are not rare during the summer in the Okanagan-Similkameen—hence our initial indifference towards the water bombers—these hot, dry stretches now fray the nerves.
The Okanagan is so aware of the devastating effects of global warming that the area commissioned a climate projections report in 2020 to better understand what changes are coming. The conclusions: expect more drought, floods, and wildfires as climate change progresses unchecked. The recommendations: take immediate action to reduce emissions. Perhaps more tellingly: help communities adapt to the future climate.
At this time, no one knows what sparked the Eagle Ridge fire that jumped the border between Canada and the U.S. on July 29 and caused evacuations on both sides of the 49th parallel. At around 1:30 a.m, the authorities knock on our door and tell us we need to leave.
Stepping out into the night with my four-year-old in my arms, I see that the fire has progressed down the ridge towards us—not a lot, but enough. Emergency vehicles and heavy machinery are now flashing their lights, joining the fire's eerie orange glow. They are parked just across the highway, trying to save a water treatment facility and the border crossing, both a mere stone's throw away.
Looking back, I never really believed we would be evacuated. Even as I watched the angry flames crawl steadily towards us. Even as I finally tucked myself into bed, well after midnight, hoping to get some rest in case I had to drive. Even as I lay awake, unable to sleep. If I had believed, I might have packed a few things. I might have looked for my son's shoes, saving myself a frantic search in the dark. I might have made better decisions about what to bring (the kids' travel beds and lifejackets) and what to leave behind (several bottles of wine).
Thousands of others leave wondering whether they will ever see their homes or belongings again.
In the car, my daughter, who is two, pipes up from the backseat. "Fire, funny," she says. Out her window she can see the scrawls of orange, writ large across the mountains. She's the only one who doesn't seem to mind being woken up in the dead of night. In fact, she looks delighted.
It is, of course, neither funny nor delightful. The Eagle Bluff fire goes on to burn over 70 square kilometres on the Canadian side and 66 on the American side—combined, that's nearly the size of Saltspring Island. We are lucky we can just pack up and drive away. Thousands of others leave wondering whether they will ever see their homes or belongings again.
We drive through the dark back to Vancouver, arriving in the early morning hours. The air is clear and the sun is shining. Strangely, this is what feels unreal. We have arrived in heaven, just a four-hour drive from the inferno.
Weeks later, my two-year-old daughter still talks about it in her own way.
"Where fire?" she asks.
"Not here. No fire here," we assure her.
True now, but for how long?
---
Photos courtesy of Jill Von Sprecken. Read more Impact stories.