My grandfather sold his share of the Dragon Room restaurant in Chomedey, Quebec, to his uncle and cousins. With the money, Gung-gung settled on a small plot in Saint-Eustache. The farm's property lines revealed its origins in New France. It lay on the north side of the Rivière du Chêne on a former seigneurial tract that once stretched to a screen of trees on the horizon. Sometime after 1752, a chemin parallel to the river split the property in two. Gung-gung owned the nine acres between the river and the road. There he and Poh-poh grew Chinese vegetables like bak choi, gai lan, and ong choi.
As a child, I didn't know any of this. I had no idea that they had immigrated in 1964. I assumed my grandparents had always lived here and were part of the land as much as the old barn, the mighty oak in the front, or the pond with its unknown depth. I thought the farm was an eternal fact of my life.
My memories of the place can be reduced to two seasons: summer and Christmas.

Summer was all about kite-flying (my grandfather could make them out of scraps of bamboo and garbage bags), taking the green boat out on the river to fish (without a life jacket), and handling shotguns, rifles, and Czechoslovakian air rifles without adult supervision (which would have landed those adults in jail today).
Christmas involved driving to the farm from Saint-Lambert on Christmas Day, the Oldsmobile ploughing through an ocean of snow like some great landship, and arriving to find the old farmhouse filled with uncles, aunts, cousins, friends, Poh-poh, Gung-gung, and a tree in the corner. Under its boughs, my extended family would pile 50 or 60 presents, mostly for my brother, my sisters, my cousins, and me. I could tell you about zipping Hot Wheels cars down the orange tracks, or the Danish butter cookies that come in blue tins, or the clack of mah-jong tiles against the table after Christmas dinner, but lately my mind keeps returning to one particular memory that could have been forgotten forever if it hadn't been for my son Jack.
I'm sure I've jumbled up the details, but here goes: I'm 11. We've come to the farm a day or two before Christmas. I share a room with Uncle Philip, who uses the box spring while I sleep on a mattress on the floor. Philip is only a year and a half older than me, and at times we are more like cousins or brothers, but secretly he's a hero to me. He is taller and more athletic, and, because he skipped a grade, he already plays on a basketball team. Usually my first overnight stay since Thanksgiving would mean a long conversation until late. In the dark, he would give me the latest on high-school life and maybe even girls. Sometimes he focused on something he was puzzling over, but I was always too young to be of any help.
This time our conversation veers to why our family celebrates Christmas. Why we aren't religious. Why we don't believe in Christ. Maybe we do it for the children. Or to bring the family together. Or because it's fun. Neither Philip nor I considers that we do it because we want to fit in, to make a claim to this place, to belong. Our late-night ramble goes from topic to topic, and somewhere between does-God-exist and who-is-the-perfect-girl or some such, we drift off to sleep.
The next morning I wake up earlier than everyone else. The floor is cold. The vast kitchen is flooded with an even grey light. There's a humongous laundry machine on the right. Beside it is the freezer, big enough to stuff a moose inside. On the left, a long counter stretches past the sink to a refrigerator stuffed with provisions for Christmas dinner. In the centre of the room is a dining table that seats six, but there's space enough for two tables seating another 16.
Soon a mountain of food will cover both: winter melon soup, dumplings, rice rolls, baked lobster, roast beef, crackling pork, turkey, tourtière, war su gai, Chinese boneless chicken. Perhaps this is an image of all my Christmases put together, or maybe that's exactly how the table will be laden. With maximum attendance, there will be four of Gung-gung and Poh-poh's children, four children's spouses or dates, eight grandchildren, and three or four friends—about 22 people around the two tables here, another table in the living room, and the youngest children eating from the coffee table. But now I'm alone and I just want a bowl of cereal and a glass of orange juice.
The cupboard to the right of the sink holds small A&W root beer steins, curvy Coca-Cola glasses, white CorningWare mugs, and tumblers printed with hearts, diamonds, spades, and clubs. I think the last were originally mustard jars. In the cupboard to the left of the sink, the plates and bowls are decorated with waterfalls, phoenixes, pagodas, and dragons. They must have come from the Dragon Room. For some reason, I notice how the pattern is worn. The images are faded, ground away by customers' forks and knives in a way chopsticks never could. I also notice how thick and tough they are. Indeed, they have been handled roughly, probably for years, tossed in and out of commercial dishwashers who knows how many times before coming here. On some plates, the glaze has worn through to expose the near-unbreakable, industrial-grade ceramic underneath.
It is only a passing moment of recognition. I take one of those bowls, eat my cereal, and have my Christmas. I grow up, move to Vancouver, marry, raise my own family, and forget about that quiet morning at Gung-gung's farm.
My grandfather died in 2012. The property had to be sold. My mother and sisters considered buying it as well as the land across the road to reunite and restore the seigneurial plot. Eventually my mother nixed the idea. Her words came from a well of hurt to which I had no access. She decreed, "The past is the past. Let it die."
So I did. Then one evening, three decades later, it all came back to me. My son Jack, who was nine, stared down at his cleared dinner plate and said, "It's depressing."
He meant the pattern on the only matched set of dishware my wife Melissa and I owned. The blue-on-white design is called Riverwood. Melissa and I both knew the theme was autumnal, but we had no clue what Jack was talking about.

The set came from the basement of the Hudson's Bay on Granville Street. The budget-housewares department was actually a sub-basement below menswear and shouldn't be confused with the fifth floor, with the fine china and crystal. Before marrying Melissa, I thought of the sub-basement as an alternative route to get from the street to the SkyTrain platform. It was the place where people bought knock-off Bodum, plastic-handled knives, and kitchen gizmos as seen on TV. In truth, back then, I really couldn't say what they sold. I was a lousy homemaker.
The day Melissa moved in with me, she discovered just how lousy. I owned a fork, a spoon, a table knife, two rice bowls, two pairs of chopsticks, a pot big enough to make a single serving of instant ramen, and a small cast-iron pan I'd found in a dollar store. My wife, however, insists there was no fork.
The first meal I made for her we ate off the top of a box covered in a Mexican blanket. That dinner should have been reason enough for Melissa to abandon a life with me, but she didn't.
We got married a month later. She was in Canada on a travel visa, and getting hitched was the only way she could stay. No one from Melissa's family came from Australia for the civil ceremony. There wasn't time. Nanna Stephens, though, sent money as a wedding gift. When the cheque arrived in the mail, Melissa said, "She made me promise we'd use it to buy some dishes."
The Riverwood came with four settings made up of a dinner plate, side plate, bowl, and cup and saucer. Instinctively, I liked the blue-and-white pattern.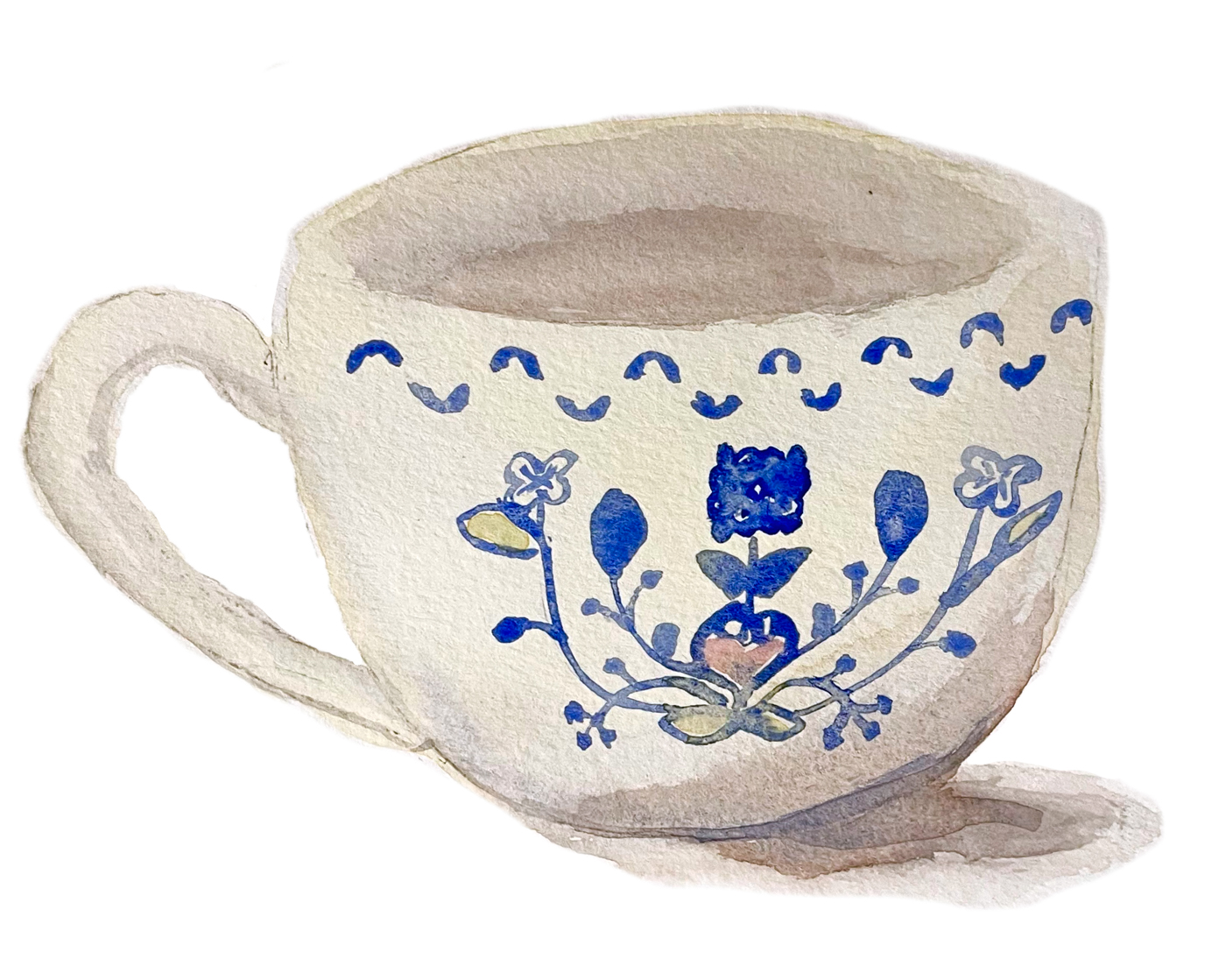 I picked up Jack's plate to have a closer look. A flock of geese against a dreary sky, flying south to escape the cold. I went to the cupboard and checked the other Riverwood pieces. For the first time, I really studied them. Each was decorated with a rural vignette: a fallen fence, bare-branch trees, a collapsing barn, or a hay wagon with a broken wheel. Jack was right. The dishes were bleak as hell. Only now, in retrospect, I realize that the pattern brought me back to the crowded meals around Gung-gun and Poh-poh's table. With those dishes, I'd tried in my own life to evoke moments from the farm.
The Riverwood has served as the backdrop for auspicious moments. I'm not the type to photograph food, and nor is Melissa, but I do have one nice picture from a beautiful summer day when I made faisan vigneronne with grapes, cognac, and crème fraîche to celebrate my 45th birthday. Okay, I used chicken instead of pheasant, but the sense of plaisance was as real and as Gallic as it gets. The blue-and-white pattern can hardly be seen, yet it is there—part of the story.
The Riverwood has never seen the inside of a dishwasher. Our first place was a basement suite on Burnaby Street in Vancouver, and dishwashers were not allowed. The sink sat in a dark corner, which may explain why I never noticed the pattern. Our second apartment, on Queens Avenue in New Westminster, had the same restriction against dishwashers, but the kitchen sink was amazing. While washing and rinsing by hand, you could look out the window and, from time to time, witness the corner drug deals. I mostly watched the wind sway the branches of the nearby birch.
We couldn't stay there forever. The apartment was fine when it was just Melissa and me, but then we had Jack and his twin, Emmet, making it four people with just one bedroom. We had our queen-sized bed and two cribs jammed in there. I hate to admit it, but the boys used those cribs until they were eight. There just wasn't enough floor space.
By the time we moved out of Queens Avenue, we had lost most of our Riverwood. The day we packed to move to a two-bedroom on Seventh, I counted four bowls but only three big dishes. Just one side plate remained.

As for the cups and saucers, they had all been snapped, dropped, or shattered. I finished off the last cup while washing it. I pushed a sponge a bit too hard into the cup, then I heard a snap and felt a tremor through my fingertip. The cup clattered on top of the dishes in the sink. The handle remained between my thumb and index finger.
Since Jack's observation, we haven't bothered replacing lost Riverwood. Instead, Melissa decided on English ceramics with white or cream bases, gold edging, and floral or fruit patterns. The older the better. They didn't need to match. Montreal Crockery's King Edward pattern alongside Crown Ducal Florentine, Hammersley's Peony, Johnson Brothers Posy, Royal Albert holly, were all found one piece at a time at thrift shops—which is where, I assume, the dishes from Gung-gung and Poh-poh's ended up.
According to a friend who is very British and knows these things, a collection of mismatched dishes is called a harlequin set. When I heard that, I felt relieved. Until then, the hodgepodge nature of our dishware—and, really, our life in general—was starting to get me down. At times, it feels as if we haven't moved beyond our days of eating off the top of a box. Sometimes naming a condition, a circumstance, or a state of life (or dishware, in this case) confers dignity. It was just what I needed to hear. I became proud of our harlequin set.
My family has its own Christmas traditions now. In the morning, we invite friends and neighbours to our suite for a yuletide breakfast. I use two leaves to extend the oak gateleg table. Melissa fries mushrooms and boils a dozen eggs. I bake rashers of bacon and warm a pile of Portuguese buns. Melissa puts on tea and coffee. I lay out a board of cheese. Alongside all this, on a white tablecloth, we add Melissa's mince tarts, two small jars of cheap caviar, and Quality Street chocolates that sparkle in their gem-coloured wrappers. And, finally, we set the table with our strange collection of mismatched white and cream dishes, our harlequin set.
Christmas isn't like my childhood. There is no farm. And seven people isn't quite 22. Still, the dining room fills with talk and laughter and the scrape and clink of dishes and glasses. My mother was wrong. The past isn't the past. Some things never die.
---
Read more essays.