On an unassuming corner at Knight Street and 41st, Duffin's Donuts retains an aura of retro mystery, not to mention a sprawling multicultural menu with everything from donuts (of course) to Salvadoran pupusas, Mexican tortas and tamales, Vietnamese banh-mi, and Fritou chicken. In this story from our archives, Michelle Cyca tells us why she loves every bite.
---
To paraphrase an Ancient Greek aphorism, in Vancouver, you can never walk twice down the same street. The speed of change here is sometimes staggering: you look away from a familiar block in Chinatown for a few months, and suddenly there are four different must-visit restaurants on it. New neighbourhoods pop up like mushrooms (the River District) or impose themselves rudely on top of existing ones (the "East Village"). One day you're eating Freshslice and feeling no shame about it, and the next there's a Neapolitan place on the opposite corner transforming pizza into a gourmet dining experience.
All of this is to say that sometimes, the most intoxicating moments in this city arrive with a heady whiff of nostalgia. I love $14 cocktails and artisanal dumplings as much as anyone, but sometimes I yearn for a time I barely remember: when one could procure dinner and dessert for less than $10.
Duffin's Donuts, on the unassuming corner of Knight and 41st, is one such time machine; the longtime Vancouver institution has still, after decades, retained an aura of mystery. For instance: was DuffinsDonuts.com, which appeared to only sell T-shirts and sweatshirts with the shop logo on them, once a bizarrely minimal official website or an equally bizarre fan site? And in a city of soaring real estate prices, how has an independent restaurant that sells $5 sandwiches stayed afloat? Finally, there is the principal mystery, and for many customers the greatest appeal: its menu.
I love $14 cocktails and artisanal dumplings as much as anyone, but sometimes I yearn for a time I barely remember: when one could procure dinner and dessert for less than $10.
The food offering is sprawling, and includes your typical diner fare: donuts, obviously, but also burgers, fries, onion rings, fried chicken, all-day breakfast plates, and chili dogs. But Duffin's also serves Salvadoran pupusas, Mexican tortas and tamales, and Vietnamese banh-mis. The drink menu includes green smoothies, bubble tea, horchata, and plain old coffee (a jumbo size is only $2.38). The fried chicken, by the way, is called Fritou chicken, a Quebec brand that is described on its website as "a leader in the fried chicken market in Canada." Duffin's stopped selling Chinese fast food a few years ago, but the signs still advertise it, along with noodle soup—a dish I've never seen on the menu or anyone's table. Another mystery.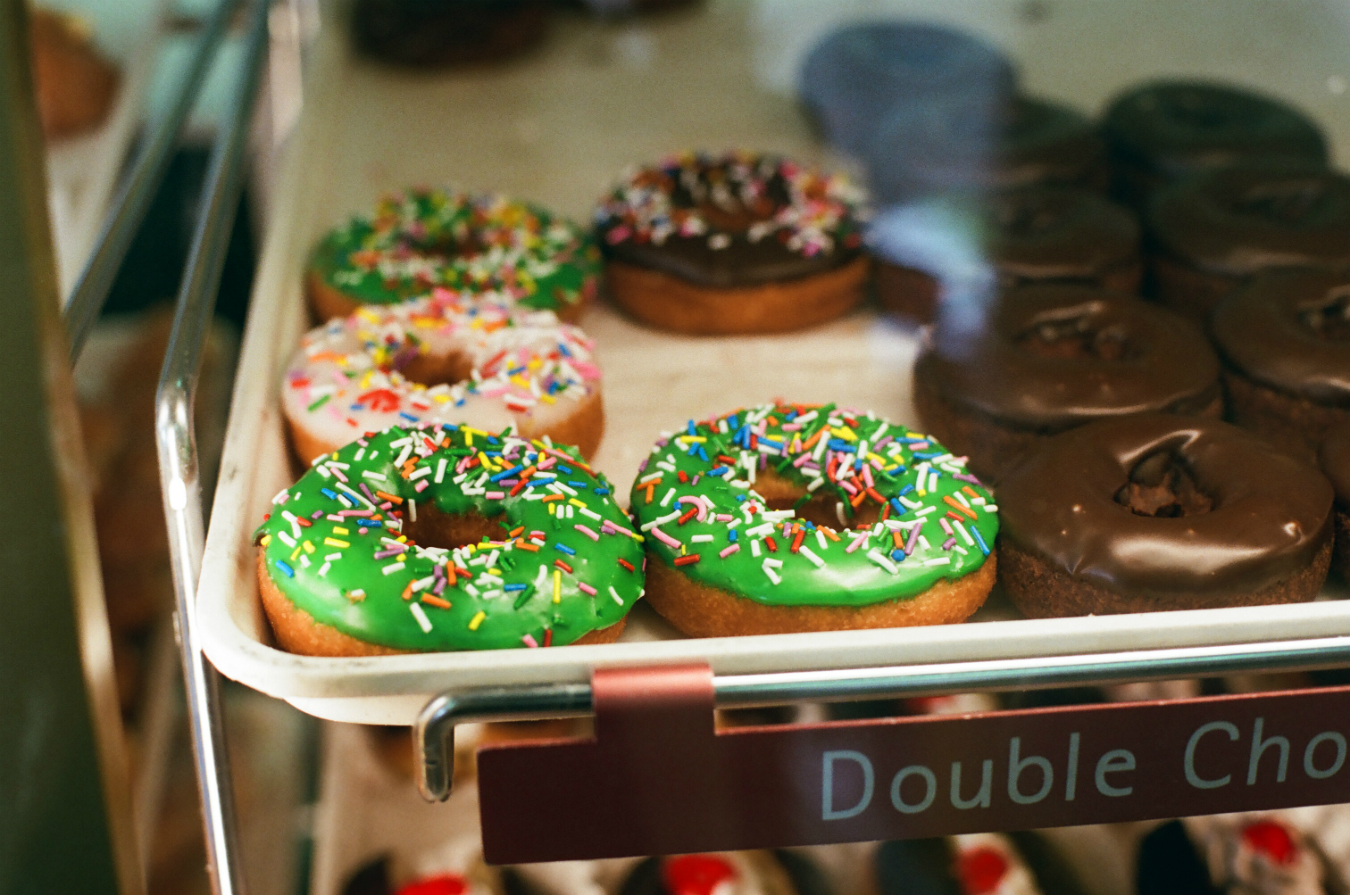 The proprietors, Tony Chhuon and Paula Sim (first revealed in this great Vancouver Courier article), came to Canada as refugees from Cambodia in the early 1980s, and opened the original Duffin's on Main and 33rd in 1987. That location closed 20 years later, subsumed by urban development and the skyrocketing cachet of Mount Pleasant, but the shop on Knight Street is still going strong, serving fresh donuts 24/7/364 (they close on Christmas). If you drive south on Knight toward 41st, it appears suddenly on your right, the red sign rising over stubby palm trees like a cheerful mirage. When I went recently to pick up a half-dozen donuts, the women at the counter knew the customers behind me by name. It was a weekend afternoon, and the tables displayed a diverse cross-section of cohorts: young families, painfully hip teens, older men eating their meals with the rote motions of deep familiarity, and one very fit guy in a CrossFit tank top. I've never seen the parking lot with fewer than 80 per cent of the hazardously tight spaces full. Like your favourite TV show hangout—Cheers, the Peach Pit, Central Perk—it's never empty, but there's always room for you.
If Duffin's has been renovated or updated in my lifetime, the changes are imperceptible—except that one day I noticed the battered outdoor booths had disappeared. The colour palette inside is beige, brown, and orange; the photos of tortas, displayed above the donut case, are so faded that you can only guess at their ingredients. The lighting is unremarkable; you'll want to put a filter on that photo of your fried chicken thigh. The appeal is retro, which is another way of saying there's a lot of well-worn seating and chipped laminate. Not that it matters in the slightest—you're not here for the window dressing.
You can't go wrong with the donuts. They've got all the classics: jelly, dipped, Boston cream, a pink sprinkled one that would make Homer Simpson's heart sing.
The menu is all over the place, and not just regionally, but literally: the donuts are labelled in their display case; the tortas have a photo menu; the burgers and hot dogs are on another menu, to the right of that. The fried chicken is in a separate case, along with spring rolls (why not?), with combo prices listed above. Miscellaneous signs advertise specials, drink options. The refrigerated sandwich shelf has whatever it has, but don't bother looking in there. If you're overwhelmed, stick with the crowd favourites: the spicy Fritou chicken is crisp and flavourful. Apply the same common sense as you would for movie theatre popcorn and ask when it was made (don't be shy here). If it's been lingering, order a pupusa: they're made to order and served with salsa (great) and coleslaw (only for the diehard coleslaw enthusiasts, if they exist). If you want something with more complexity, get a torta: my staple is the machaca (a juicy, spicy shredded beef) with avocado, which is somehow always perfectly ripe. Almost every item is $5 or less; combos are under $10. Welcome to the past.
You can't go wrong with the donuts. They've got all the classics: jelly, dipped, Boston cream, a pink sprinkled one that would make Homer Simpson's heart sing. There are a few specialties, too, such as the Chocolate Peanut, a chocolate cake donut coated in crushed peanuts; the Buttermilk, lightly sweetened and topped with jelly, custard, or lemon; and the Angel, filled with a fluffy chocolate cream, dusted in powdered sugar, and anointed with a dollop of jelly. They're $10 for a dozen, or $6 for a half. Listen, I don't want to overdo it here, but where else can you get something delicious and fresh and filled with chocolate cream for a dollar? Even actual dollar stores have changed their signs to read "$1.25", and some vending machines have the nerve to demand $1.50 for a Snickers.
Duffin's and I were born in the same year in Vancouver, and I've been eagerly opening those white-and-red donut boxes for as long as I can remember. But familiarity can breed complacency, an absence of critical thought. So I tried, recently, to see Duffin's like a new customer, to see if it was really that special; I imagined it replaced by a sleek new tapas bar or microbrewery or vegan brunch spot. Maybe people would love that. Then I ordered my favourite torta: pillowy bread, salty-sweet beef, creamy avocado, crisp lettuce. My sandwich emerged from the kitchen window, toasty-warm and fragrant. Nostalgia can carry you a long way, but it's trumped by reality and experience every time. I nervously took my first bite. The sandwich was still perfect. I chased it with a rainbow donut.
---
This article from our archives was originally published on September 30, 2016. Read more local Restaurant stories.