When a Filipino family or friends gather for a meal, it often ends with the arrival of the desserts and the larger the feast, the wider the selection of sweets—from chewy cakes to jiggling jellies next to glistening custards, to a variety of fresh fruit slices, deep-fried treats sprinkled with caramelized sugar, and cups of creamy frozen dessert.
With so many tropical fruits, not to mention sugar cane, native to the Philippine islands, Filipinos have been concocting different ways to indulge their sweet tooth for generations.
Here are Vancouver's best Filipino desserts—many of which are still available for delivery—to provide some sweet relief even while in social isolation.
La Glace: Ube Ice Cream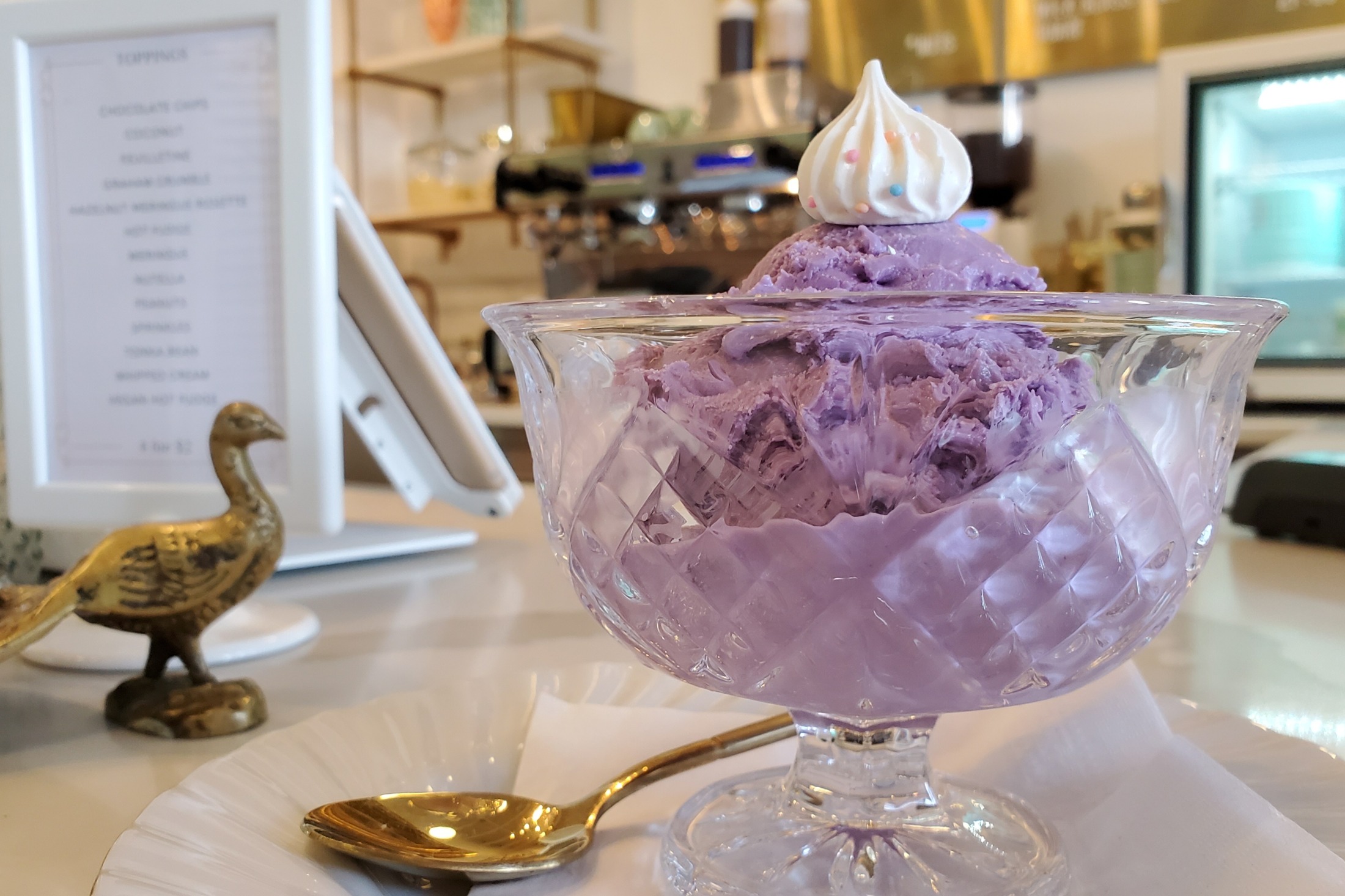 By the corner of West 16th Avenue and Macdonald Street, La Glace combines French-style ice cream with the taste of Filipino sweets. Which is hardly surprising since founder and culinary director Mark Tagulao was raised in a multigenerational Filipino household that loved to cook from scratch and instilled in him a love of making desserts.
To capture an authentic Filipino taste, Tagulao took inspiration from a book of family recipes handwritten by his mom and aunt, using them as the basis for his ice cream flavours such as ube. A purple yam unique to the Philippines, ube is similar to taro but has a sweeter, earthy vanilla flavour that lends itself perfectly to creamy desserts. Since the French process for making ice cream uses a thick custard base of egg yolks and heavy cream, the result has less air and a more solid flavour, coating your tongue with a rich taste of milky ube that never gets too sweet.
Another Filipino flavour not to be missed here is the vegan coconut pandan. Thick and heavy thanks to a base of coconut, the soft hints of pandan are cleansing to the palate, allowing you to take your time and savour the dessert.
And if you like citrus in your ice cream, try the seasonal sherbet made from kalamansi, which uses sour cream as a base and perfectly replicates the sweet, refreshing taste of kalamansi juice, also known as the Filipino lemonade.
La Glace is open for pickup and delivery via Foodora, Skip the Dishes, and Uber Eats.
Plato Filipino: Turon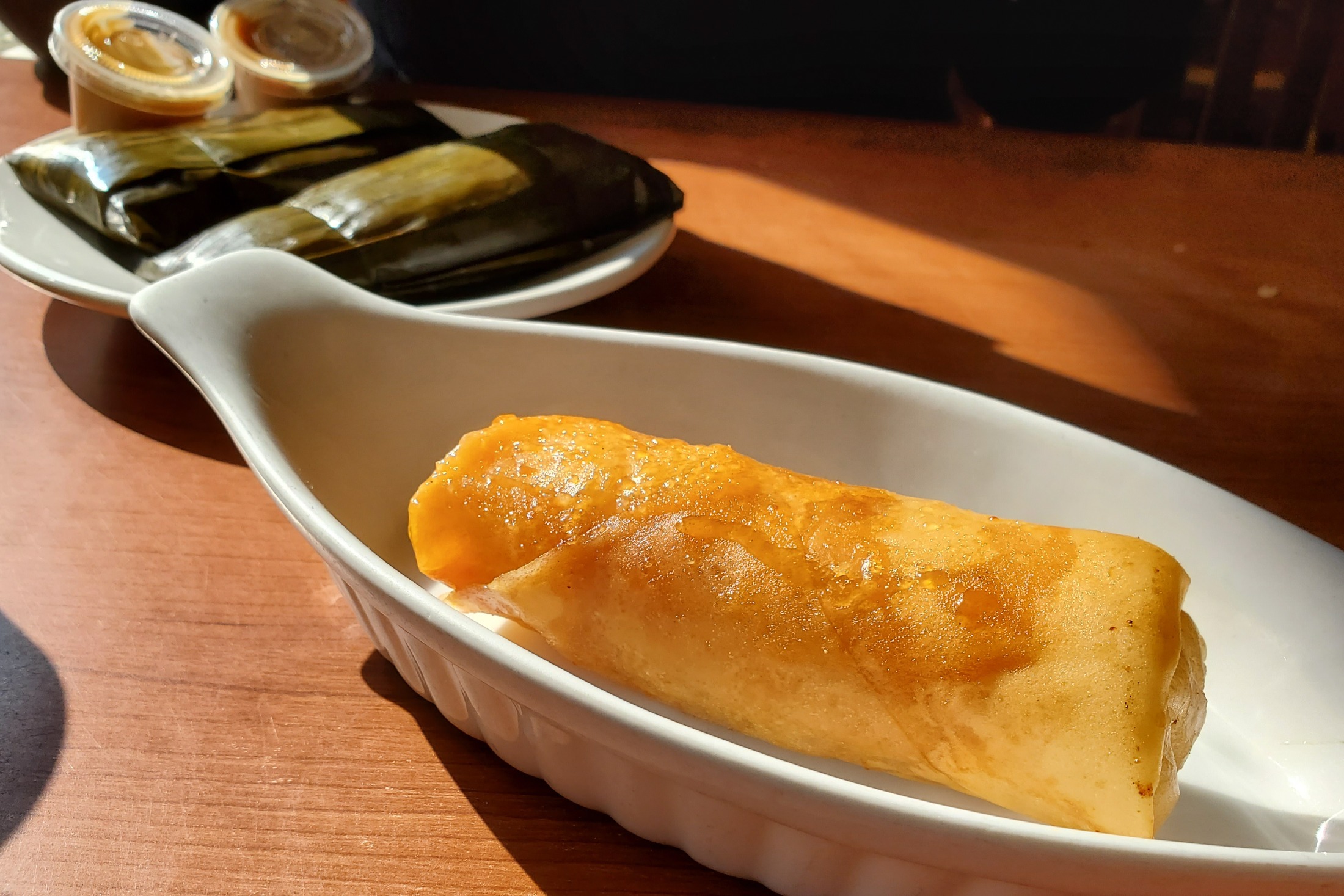 With its bold red awning, Plato Filipino stands out in a row of Filipino restaurants located near Joyce Street and Vanness Avenue. And rightly so. After settling down in Vancouver, owner Bennet Ganata decided to open a restaurant with her husband Joseph and their friends Rio and Jay—all Filipino chefs—to share traditional Filipino cooking with Vancouver.
One of their most popular desserts is turon, or deep-fried banana spring rolls. The dessert utilizes plantains, which are firmer and starchier than most bananas, making them ideal for cooking. Before the rolls are deep fried, sugar is sprinkled into the hot oil. This allows the sugar to caramelize onto the spring rolls that follow. The crunchy bursts of sweet caramel on the wrapper contrast with the subtle sweetness of the plantains, which have become tender from the heat. A slice of ripe jackfruit is also tucked into the wrapper, just enough to provide one perfect bite with three different levels of sweetness.
If you want to try something really traditional, try the suman sa lihiya, a cake made of glutinous rice that is steamed in a banana leaf to infuse it with a subtly sweet, grassy flavour. It comes with a side of sweetened coconut milk, which you'll want to pour onto the green-tinted parts of cake that are the most chewy and moist.
Plato Filipino is open for delivery via DoorDash.
The Khaykery: Ube Silvanas and Ube Flan Cupcakes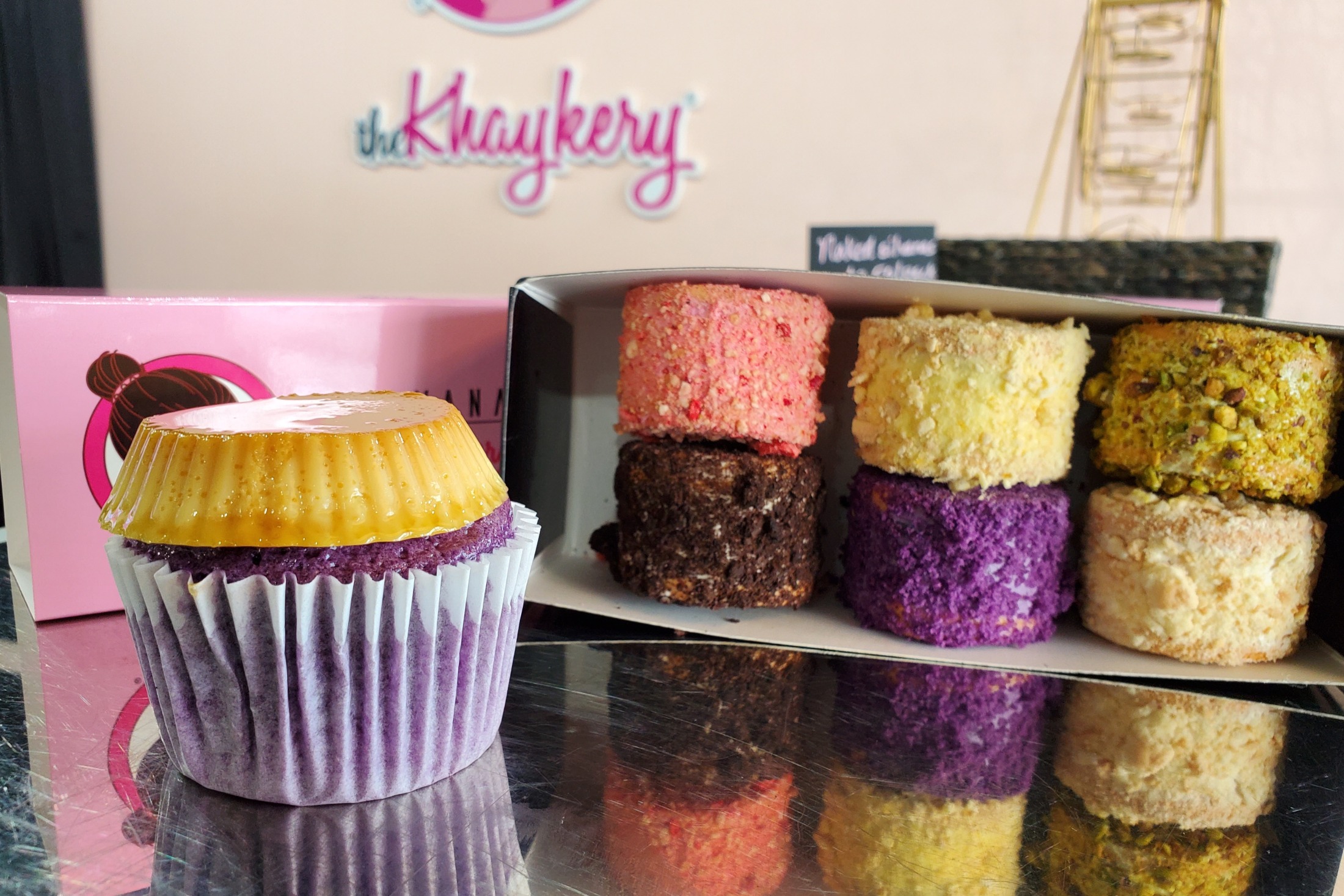 Located on the first floor of the Robson Public Market, the Khaykery serves updated versions of classic Filipino desserts. The bakery is the brainchild of Khay Nagasan, who discovered her passion for baking after she tried to make a cake from scratch for her son's birthday party and successfully created a three-layer fondant gateau. Inspired, she attempted recipes that echoed her own cravings for desserts from the Philippines.
One of her favourite after-school snacks was silvanas, Filipino cookies made by sandwiching rich buttercream between two cashew meringue wafers, coated with cookie crumbs, and then frozen to hold its shape. A silvana appears soft, but each bite is a mixture of soft, chewy, and crunchy textures—and best enjoyed cold.
Describing them as "a distant cousin of the macaron," Nagasan updated her silvanas by expanding into flavours beyond the traditional. Her ube silvanas are packed with a vanilla-like flavour thanks to the in-house ube jam she makes from scratch. The jam is mixed into both the buttermilk and the cupcake crumbs sprinkled on top of each cookie, further boosting their flavour and adding the texture of a fluffy chiffon cake.
You can also order full-sized ube cupcakes, which come topped with leche flan, or Filipino custard dessert. The leche flan is firm, hitting your taste buds first with the flavour of creamy caramel, followed by the contrasting airy texture and earthiness of the cupcake. Together, they provide just the right amount of sweetness. Leche flan is a popular dessert in its own right—paired with an ube cupcake, it's a dessert combo you'll definitely want to sink your teeth into.
Delivery via Foodora and Uber Eats
(Please note: The Khaykery is temporarily closed due to COVID-19. Please check its Facebook pagef for updates.)
Bella Gelateria: Buko Pandan Gelato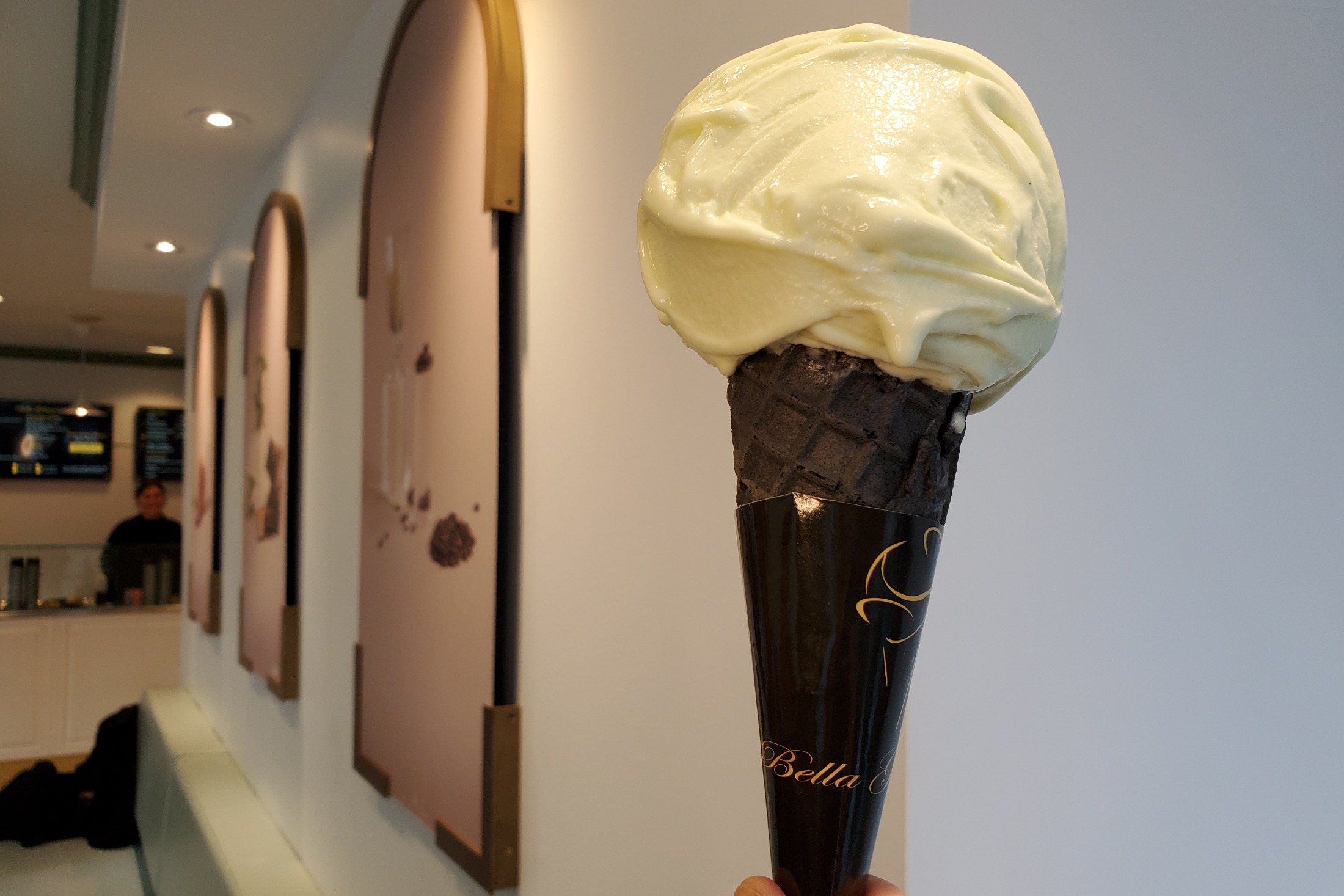 On the corner of West Cordova and Burrard streets, Bella Gelateria serves gelato flavours inspired by desserts from around the world. Among them is the buko pandan gelato, modelled after a Filipino dessert made by mixing young coconut strips and pandan-infused jelly in sweetened cream. When a Filipino friend urged Alex Bluhm, the gelato master here, to try a bowl of the traditional dessert, she was determined to create a version of her own.
Also known as the Vanilla of Asia, pandan is a tropical plant whose fragrant, earthy leaves are used to flavour sweet and savoury dishes alike. Finding the right ingredients for a gelato version took a lot of trial and error, as Bluhm came up with the recipe from scratch. Handcrafted with locally sourced whole milk, the resulting silky dessert delivers delicate hints of pandan and a light, refreshing coconut flavour that never overwhelms the tongue.
Other popular flavours here include the Akbar Mashti, a Persian ice cream with saffron and rosewater, and Osmanthus Flower, inspired by a floral Chinese tea with a delicate apricot taste. If you're looking to fully indulge your sweet tooth, go for the chocolate sorbetto which, despite being dairy-free, has a decadently rich dark chocolate flavour.
Delivery via DoorDash.
Kulinarya: Ube Brownie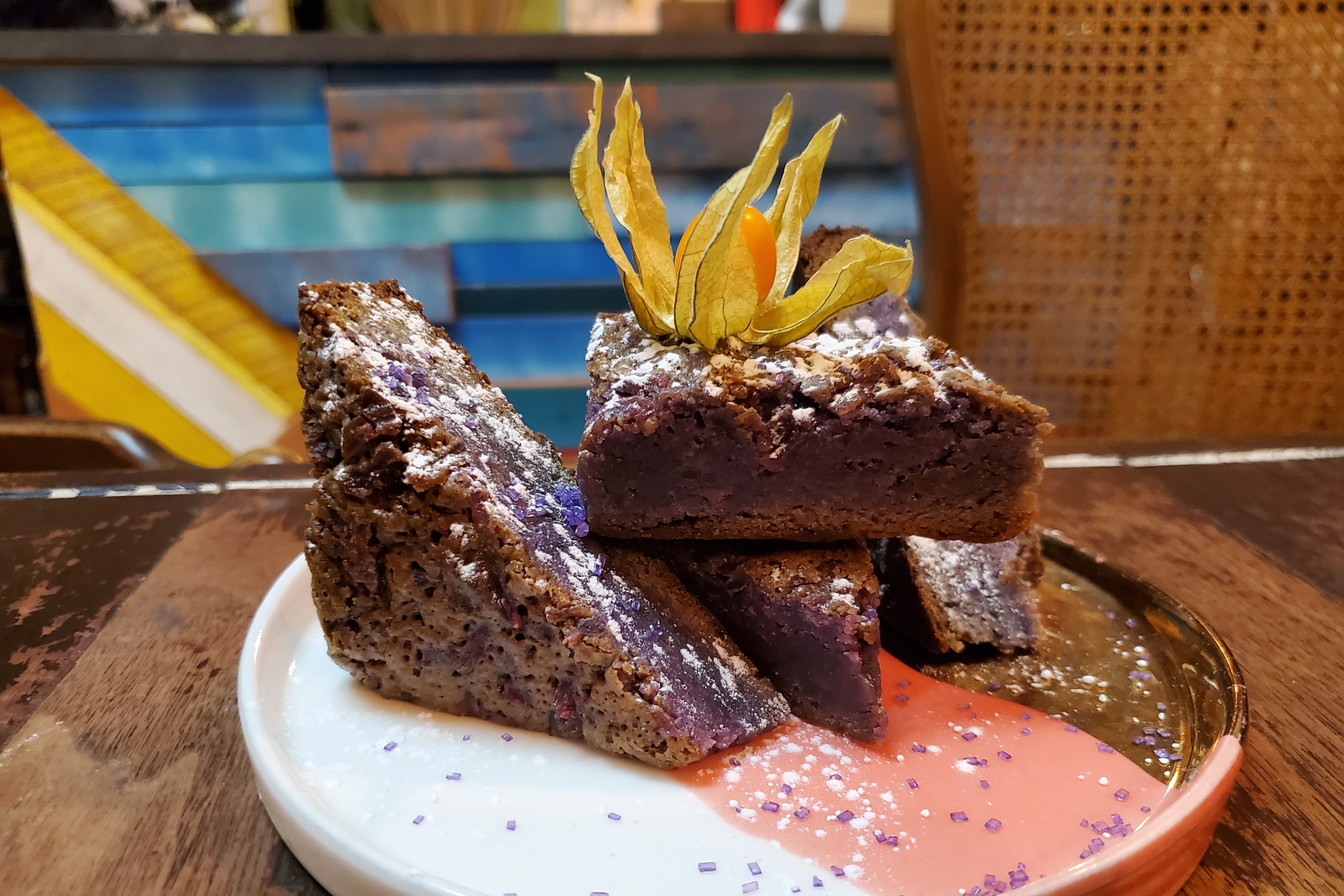 When Coquitlam's Kulinarya Filipino Eatery opened its second location on Commercial Drive near Napier Street, head chef Johna Alipes noticed it was attracting more than just a Filipino clientele. Hoping to make Filipino food even more accessible, she started experimenting with fusion recipes that combined elements of both Filipino and Canadian cuisine. One such creation, which has since become a local favourite, is her ube brownie.
Instead of milk chocolate, the brownie is made with white chocolate to retain more of the purple ube colour. Wet ingredients are heated in a double boiler to melt them together before the dry ingredients are mixed in and then baked for about 45 minutes. The sweet vanilla of the white chocolate harmonizes into the earthier vanilla of the ube to really bring out its flavour. The outer edge of the brownies is dense and fudgy, and as you get closer to the centre, it becomes more moist and full of ube chunks that are mixed into the batter.
Made in-house, ube halaya, or ube jam, is a key ingredient in Kulinarya's ube pancake. Part of the breakfast menu, the stack of purple pancakes comes with a dollop of ube jam on top and uses Filipino condensed milk as the syrup. Instead of ham or bacon, the pancakes are accompanied by a fried chicken lollipop.
The ube halaya is also wrapped into the turon (deep-fried banana spring rolls)—and the updated version is completely vegan.
Adapting to the new neighbourhood on Commercial Drive, Alipes has slowly been working on making vegan versions of traditional Filipino dishes like halo-halo, a classic Filipino dessert made of crushed ice with sweet beans, jellies, crispy rice, coconut strips, sweet yam, ube jam, and coconut milk.
Delivery via DoorDash.
(Please note: Kulinarya is temporarily closed due to COVID-19. Please check the website for updates.)
O! Taho: Taho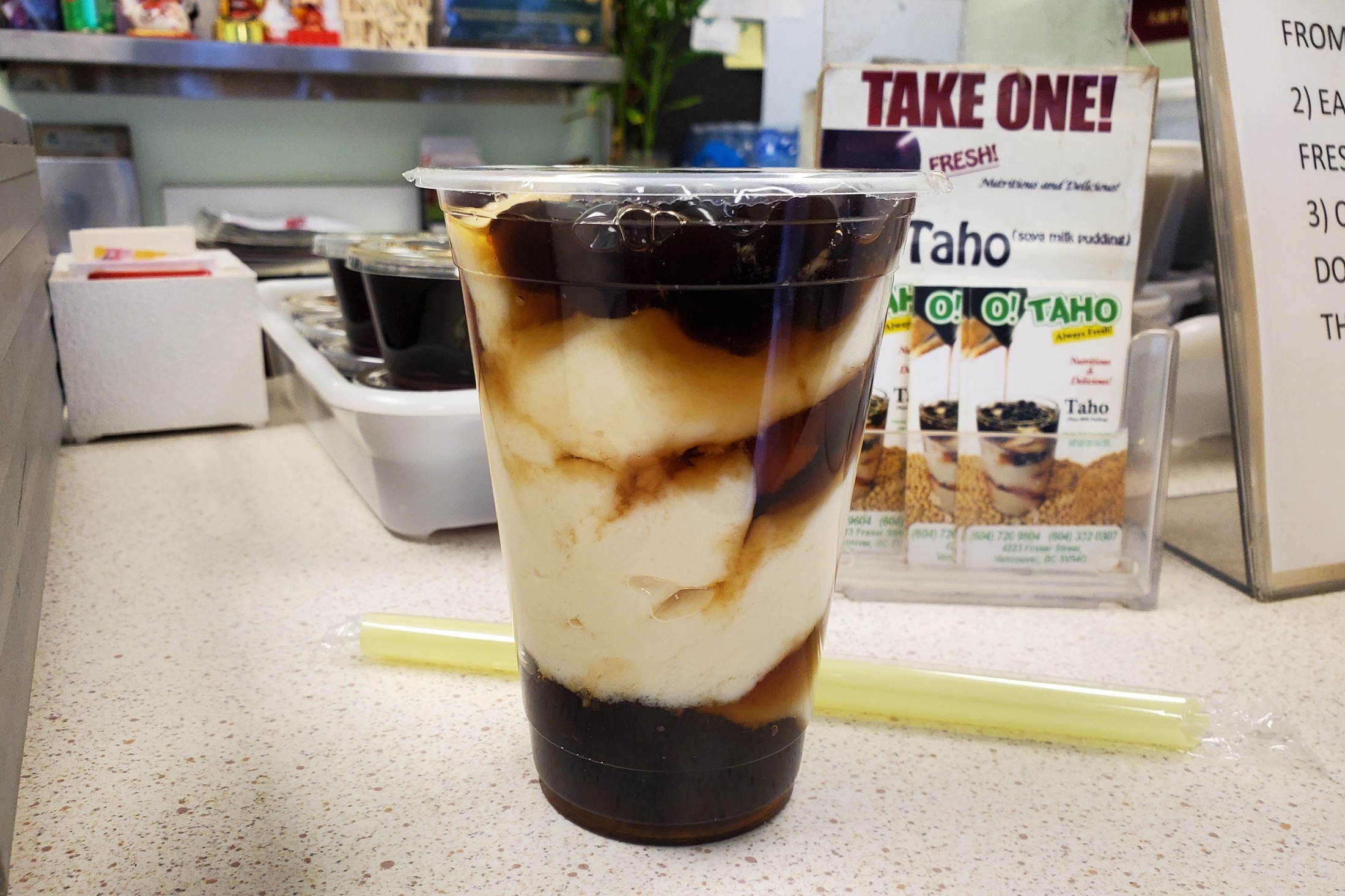 The Filipino equivalent of an ice cream truck is a peddler carrying two aluminum buckets on a pole and yelling "Tahoooooo!" As soon as they hear that sound, children grab cups and spoons and eagerly line up in the street for the sweet silken tofu dessert known as taho.
On Fraser Street at 26th Avenue, the aptly named O! Taho sells taho made from scratch that tastes just like the kind sold by Filipino street vendors. And it doesn't just sell single portions—you can walk out of the store with a one- or two-litre tubful of warm dessert.
Owner Brian and family were already big fans of taho, and after his daughter became allergic to dairy, his mother began experimenting with different soy-based dessert recipes. Following the traditional method of soaking soybeans overnight and grinding them the next morning, she kept experimenting until she came up with a recipe that tasted authentic. Her taho became so popular at parties that they decided to buy a restaurant—but were forced by the landlord to keep its existing name, Kabob Grill. For three years, Filipinos would flock to this Greek restaurant in Richmond to buy tubs of freshly made taho, until Brian and his family were able to relocate to Vancouver.
Taho originates from tofu custard pudding, known in Chinese Hokkien as tau hua. What makes the Filipino version distinctive is the addition of brown, caramelized syrup and chewy dessert pearls. Traditionally, they would be small, white pearls called sago. O! Taho uses black tapioca pearls that work perfectly in its cold taho, which is served in bubble tea cups. It doesn't use preservatives, so if you can't finish a tub of taho in a single sitting, share it with friends or finish it off yourself within three to four days.
(Please note: O! Taho is only open for pickup due to COVID-19. To ensure your order is ready for pickup, the store recommends calling about 30 minutes prior to arrival.)
---
Read more Food and Drink stories here.