Wandering around the markets of Paris in 2002, Lee Murphy was dazzled by the jars on the shelves of the preserves shops⁠—filled with new-to-her flavours such as strawberry pistachio, and pear with a pie topping of walnuts and oats.
She and her husband, Patrick, were already selling preserves using fruit from their Langley farm, Vista D'oro, but the Paris trip to celebrate their 10th wedding anniversary motivated Murphy to start her company, The Preservatory. "That's where I saw the opportunity to get a little more creative," she says. Twenty years later, with a newly launched shop on Granville Island, she reflects on her joyful journey with preserves.
Murphy first made preserves using only her knowledge as a home cook, but she quickly realized she needed a more refined skillset to get serious. "I went to culinary school, and that gave me more tools to do the flavour-pairing portion of the development," she says. Faced with an abundance of rhubarb, she created a preserve with vanilla to soften the tartness of the vegetable. Murphy sold her preserves at farmers' markets but soon expanded to supermarkets, once people started clamouring for her preparations.
Although Murphy switched from copper pots to larger copper kettles as production ramped up, she still follows the old-fashioned way of making preserves, free of pectin. She says unlined copper is the best material for the kettles since it conducts heat well and cools quickly. "It allows for temperature control, and there's probably a little bit of old wives' tale in there, but I'm okay with that."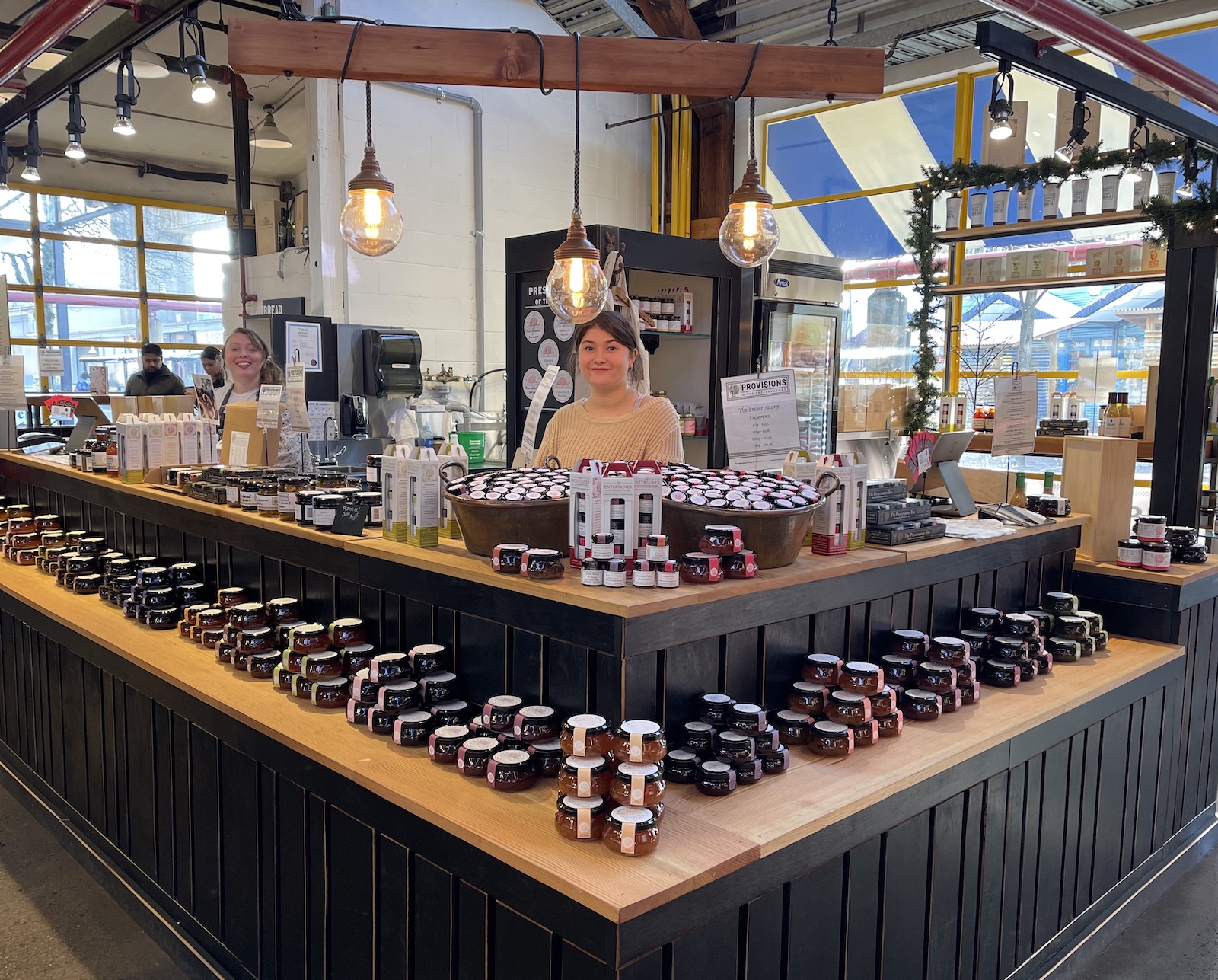 Murphy macerates the fruits or vegetables in lemon juice and sugar overnight to lower the pH, making the preserves shelf-stable. Then, the mixture cooks for roughly an hour at high heat, to retain its fresh natural flavour. Other ingredients are added at various stages of the process. Wine, for instance, is incorporated at the beginning of cooking, to meld with the produce and burn off the alcohol. Other ingredients, such as peppercorns, need to be mixed in closer to the end so their flavours remain vibrant.
Talking about her experimentation, Murphy becomes infectiously enthusiastic: "The creative portion is what I love—and the seasonality of the creating is exciting." She continually hunts for new flavour combinations. While dining in New York, she found inspiration in a dish of foie gras with orange and jammy beets; it led her to create a beet preserve with orange and pink peppercorns, the latter added for slight heat. Similar to composers who see music as colour, Murphy imagines hues when conceptualizing flavours. Red, orange, and pink swirl in her head for the beet preserve, and she envisions blue and purple for a blueberry lavender syrup. Her ideas usually work out, except for a huge batch of kiwi preserves, her biggest failure: "It ended up tasting like sugar. There's just not enough flavour, and there's so much water content."
Other times, she takes a dish she enjoys and concocts a preserve that will pair well. For example, the Murphys frequently sup on fish tacos at home and wanted to amp up the flavour. Since peaches were ripe at the farm, Murphy made a peach preserve, incorporating jalapeño and tequila, which she associates with fish tacos. "If you're having tacos, you're going to have a margarita," she says. Her latest creations, such as sangria, mulled wine, and cucumber gimlet, also draw on the taste profiles of some of her favourite drinks.
While most of the flavours are sold at other stores and supermarkets, some are only available in exclusive batches at Preservatory Provisions and Toast Bar, which Murphy launched in October in the Granville Island Public Market. She has a soft spot for Granville Island since, in the early days, she sold her preserves at a farm stand there. When she saw the posting for the lease, she leapt at the chance to showcase her preserves as well as other local artisan goods.
In addition to selling her preserves—which can be sampled by the spoonful—Murphy set up a toast bar, to serve her creations on high-quality bread along with other delicious toppings. The seasonal menu features a variety of toasts, including a flight with two slices of hot buttered toast and three daily preserves. Although Murphy had originally planned to convince a bakery to use her sourdough starter, she found breads with just the right texture and flavour from Terra Breads and Nelson the Seagull, as well as gluten-free buns from the Good Flour Company.
Visitors to the toast bar first choose their bread, such as Terra Breads' cheese sourdough, and then their topping combination. One delicious option is a toast with duck rillettes from Oyama Sausage Co., grainy mustard, house-made pickles, cracked black pepper, and fig and walnut wine preserves. The crunchy seeds of the fig provide texture, while the walnut wine's deep caramel notes and alcohol content both complement and contrast the rillettes. Murphy explains, "You want to cut through the richness of the duck since it's got all that lovely fat in it."
Another tasty toast, this one with camembert from Benton Brothers Fine Cheese, is topped with pears and fresh tarragon. Murphy matches it with pear and pinot noir preserves, to bring subtle fruit notes without overpowering the delicate flavours of the creamy cheese.
One particularly gorgeous toast has ricotta whipped with olive oil, lemon juice, and lemon zest. The ricotta then becomes the canvas for jewel-toned pomegranate seeds, fresh mint, cracked black pepper, drizzles of olive oil, and raspberry merlot peppercorn preserves. She says, "I'm obsessed with the sweet and savoury idea. The savoriness of the ricotta and the pepper brings out the raspberry notes."
At the toast bar, Murphy carefully butters hot toast before layering it with each of the toppings and small dollops of preserves. "I love creating new flavours every season. It gives us an opportunity to highlight the B.C. fruit in different ways as well as getting others to taste pairings they normally wouldn't consider."
---
Read more local food and drink stories.