High tea to me conjures images of tiered finger sandwiches, scones, and sweets served on floral china and (with luck) prosecco alongside a pot of Earl Grey. Thanks to a fairy godmother who still resides in Britain, it's a ritual I considered myself an expert in. So imagine my surprise when I learned that the phrase actually refers to a hearty after-work meal typically served on a high-top table to working-class men in the 1700s.
The gentry enjoyed afternoon tea, the delicate mid-afternoon snack I have come to love⁠—but have apparently been misnaming most of my life. There are, of course, several versions of tea time in the UK: cream tea, just scones and tea without the sandwiches or sweets—a lovely ritual for those without time or appetite for decadent ceremony; and of course, just tea,  another term for dinner when I was a child.
The baffling British lexicon loves its traditions, but in North America those boundaries have broken down, and for our purposes high tea and afternoon tea are conflated into one delightful afternoon of food and imagination.
History lesson aside, these are the five most inventive and beautiful high (or afternoon) teas in Vancouver.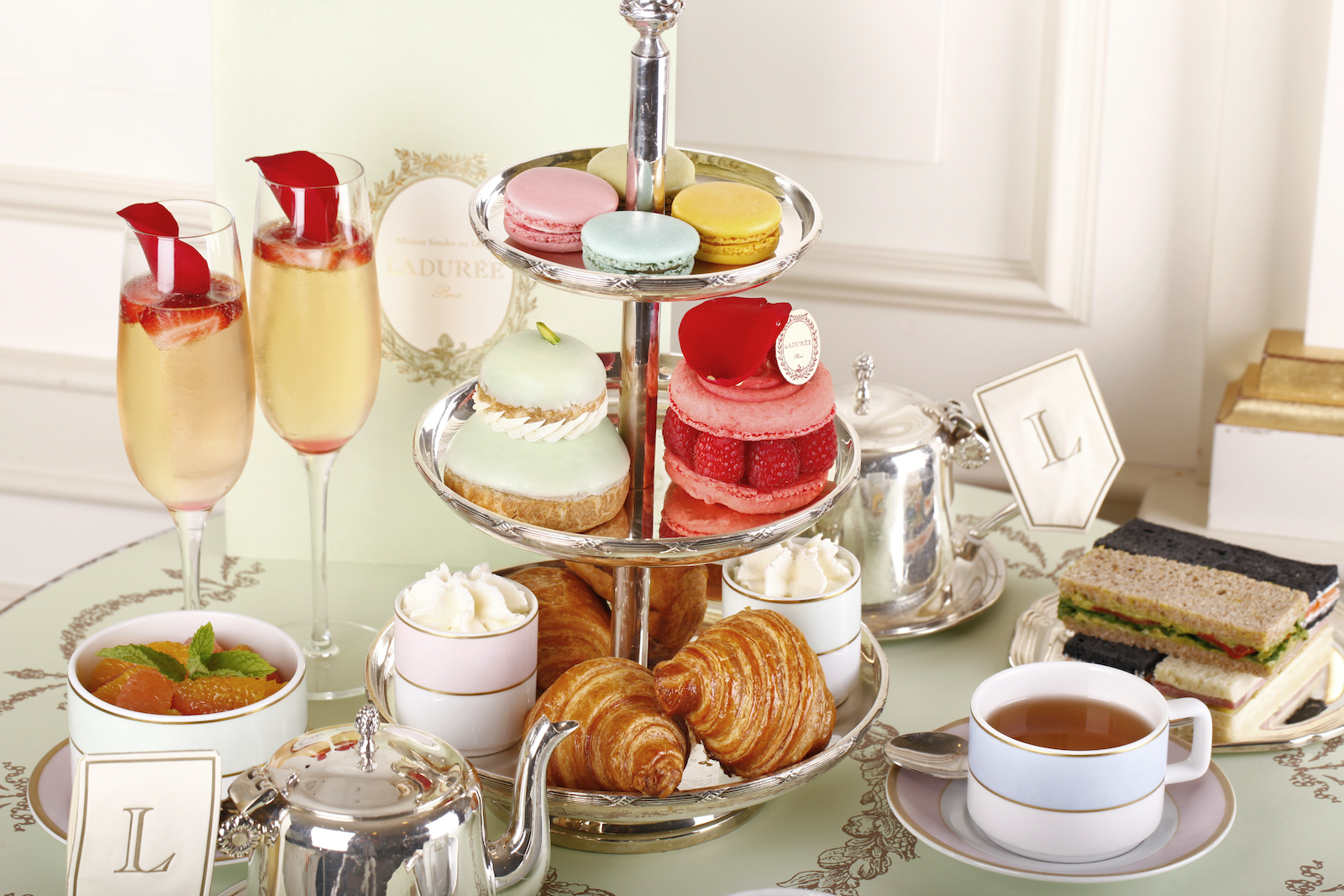 Years ago, my mother and I stood in line for 45 minutes on the Champs-Élysées just to order a box of Ladurée's famous macarons. When the Parisian patisserie house opened a location on Robson Street in 2016 ,it brought that pastel romanticism of France with it.
The tea service is alive with colour, from the first course of fresh seasonal fruit and Chantilly cream to the closing course of too-gorgeous-to-eat cake, melding fragrant florals with luxurious chocolate or nutty counterparts. The flavours of France are present in the sweet dishes, replacing traditional scones for madeleines and macarons inspired by Marie Antoinette. The savoury dishes also represent Ladurée's origins with West Coast twists such as smoked salmon mini-croissant sandwiches. The whole thing is in perfect balance, and you won't leave hungry after six courses.
Incidentally, Ladurée also uses the term "afternoon tea." Perhaps the French are that much closer to Britain?
Perhaps people arrive at the newly renovated Five Sails dining room for the sweeping views of Stanley Park, Coal Harbour, and the North Shore Mountains, but they stay for the enchanting tea service by dynamic duo executive chef Pascal Georges and pastry chef Daria Andriienko⁠—available on the weekends from noon to 3 p.m. only.

European inspired and West-Coast informed, the afternoon tea tricks the eye and delights the palate with surprises on each tier. Savoury madeline sandwiches with crème fraîche, tomato, and house smoked kampachi melt in the mouth; macaron "burgers" with smoked king salmon tartare and roe look as if they shouldn't work but stand out for both taste and inventiveness; a pistachio raspberry pastry looks like a shrunken ice cream cone but comes room temperature and bursts open with a variety of flavours and textures all at once.
Each piece on the tower is unique, and while they look small, they pack a large punch. Paired with the view and a champagne cocktail, it's an afternoon worthy of its historically significant name.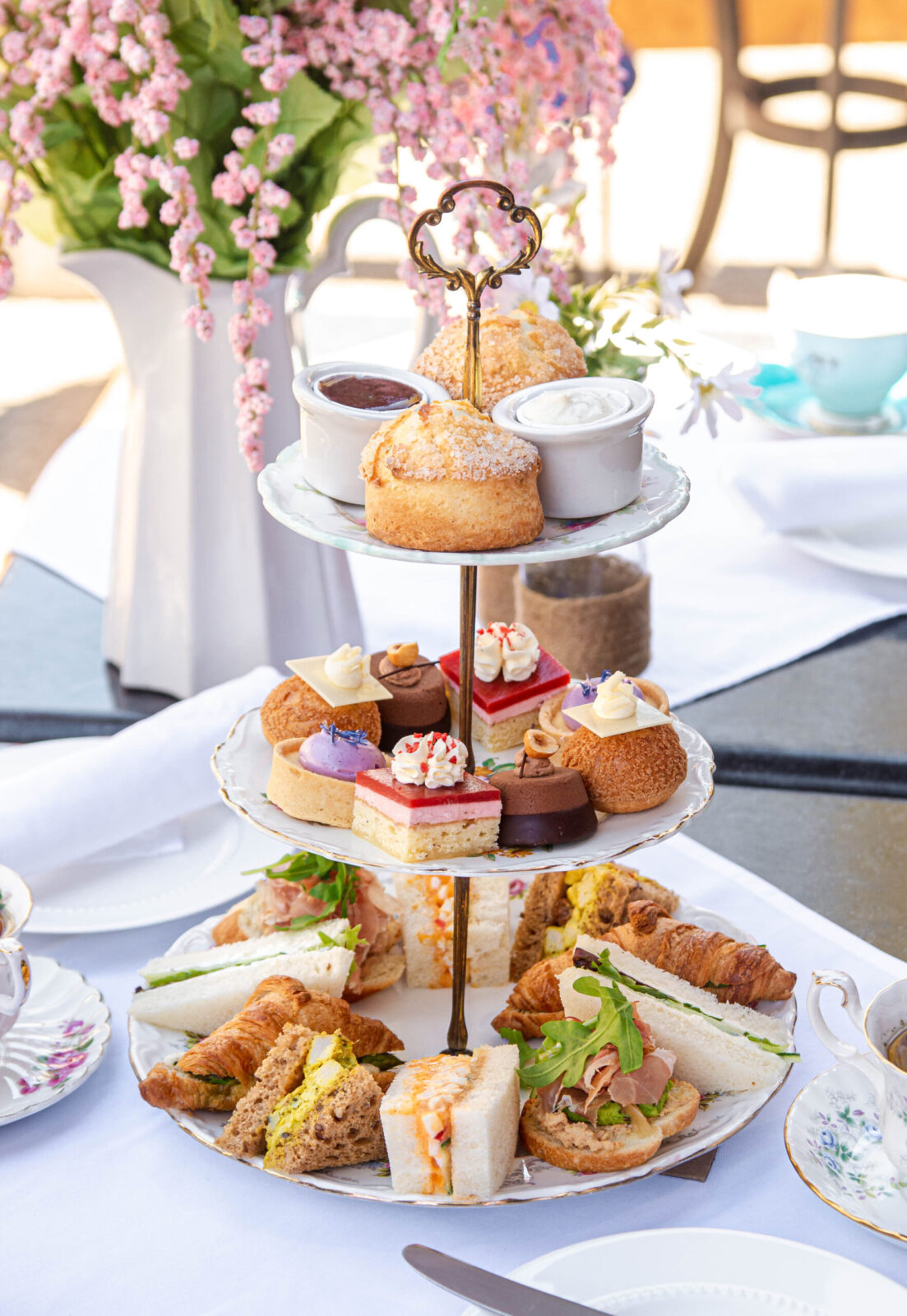 If you haven't already guessed, I am in favour of bubbles at tea time. Neverland Tea Salon in Kitsilano did one better and put champagne tea on the menu, which was so delightful I bought a bag to bring home. The Berry Me in Champagne tea is a Pai Mu Tan blend accentuated by raspberries and the aroma of Champagne. It pairs well with any of Neverland's rotating seasonal high tea menus.
Regardless of season, the tea service always features the traditional savoury, sweet, and scone tiers, but the flavours rotate to compliment the time of year. In summer, the savouries are flavoured with lemon and herb, tarragon, Thai red curry, and tomato pesto. Chocolate matcha and fresh red berries lead the charge in the sweets.
Neverland also serves to-go picnic teas that can be ordered ahead of time and served on a biodegradable three-tier tower in nature. It comes with reusable cutlery, vintage paper plates, and frilly paper napkins so no part of the experience is lost, even outdoors.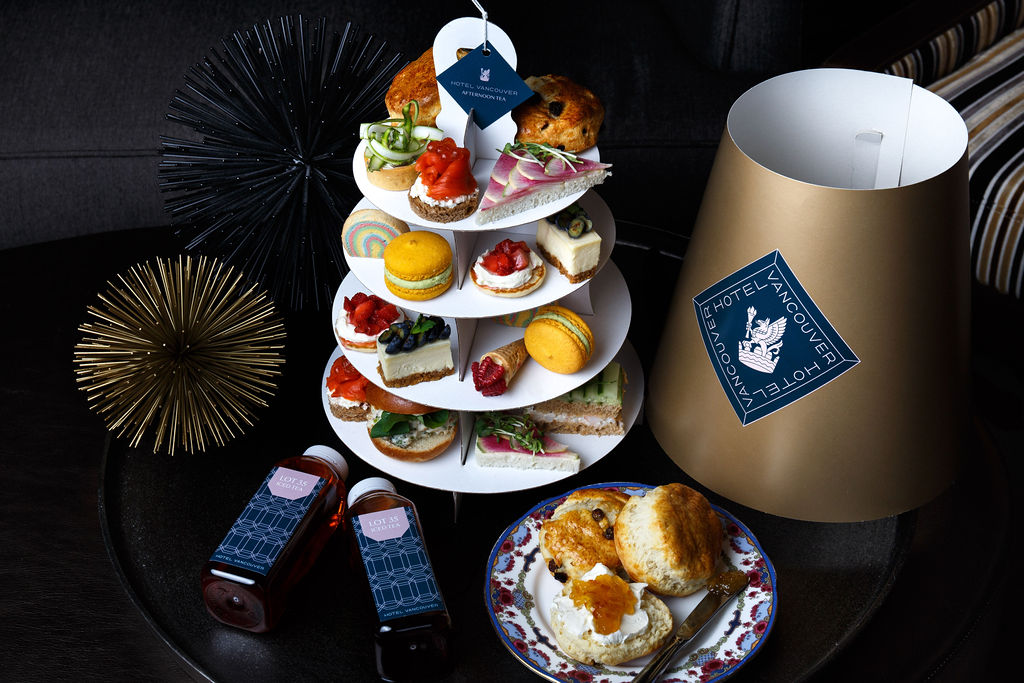 Afternoon tea served in a hotel lobby as historic as the Fairmont Hotel Vancouver has to live up to tradition without becoming too stuffy for the West Coast crowd. Notch 8 does just that.
Rainbow shortcake nods to British heritage with a colourful twist, and watermelon radish sandwiches with lemon butter and sunflower sprouts epitomize the modern Vancouver twist. The same goes for the simple yet delicious sultana scones and lemon macarons offset by an asparagus truffle cream cheese tart and cream cheese blini with macerated strawberry. Tea-time delights masquerading as tiny ice creams appear to be on trend this summer, because Notch 8 also serves a raspberry waffle cone stuffed with vanilla pastry cream.
If sitting down to enjoy the delectable treats isn't your style, Fairmont is also offering the tea packages to go.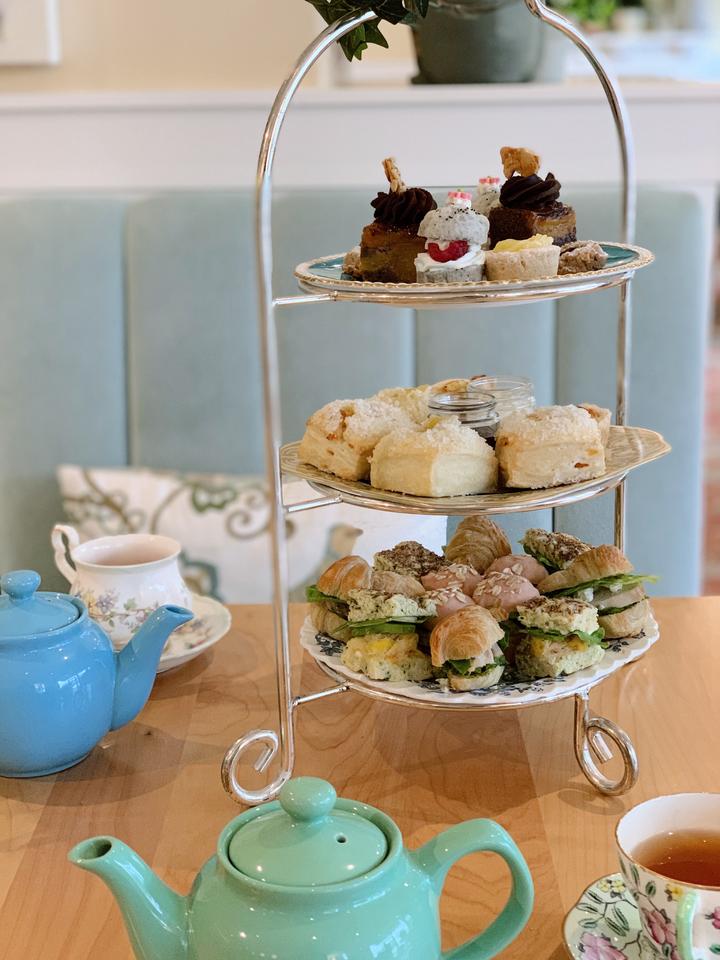 The Secret Garden Tea Company in Kerrisdale is one of the few afternoon tea services that has improved upon the perfection of the humble scone. The menu includes petite scones in lemon and apple served with Devonshire cream (because some things should never be messed with).
The most unpretentious entry on the list, Secret Garden takes unassuming dishes and makes them stand out. The egg salad sandwich, a staple on most traditional tiers, is served on a pink bun that is nothing short of Instagram-worthy, and the tiny BLT on a cheese scone is simple yet delicious.
Much like its hummingbird cake, everything on the Secret Garden tea service is as delicate and delightful as it sounds.
---
Read more food stories.