Luke Whittall avoids the stuffiness and pretension all too common in wine writing and instead approaches the topic with humour and joy. This trio of selections from the oenophile's new book, The Sipster's Pocket Guide to 50 Must-Try BC Wines: Volume 2, are as entertaining as they are informative.
---
Wines are almost always paired with foods, although even this is historically a relatively recent concept in wine appreciation. But what if you don't happen to have duck confit and cherry gastrique prepared for dinner tonight and just want to enjoy a wine on its own? What if you want to have a glass while watching the sun set? What about the best wine for a relaxing bath or maybe a picnic? Matching wine to food is important, but matching it to the occasion should enhance the enjoyment of both more effectively, and more deeply. At its most basic, a truly great pairing is when the two things mutually reinforce each other without one overshadowing the other. The wine should make the food taste better, and the food should make the wine taste better. The same goes for the occasion: the wine should help make it that much more memorable.
In Sipster's I list possibilities for foods, occasions, and moods that I believe will pair beautifully with these wines.
Hugging Tree Winery Moonchild Merlot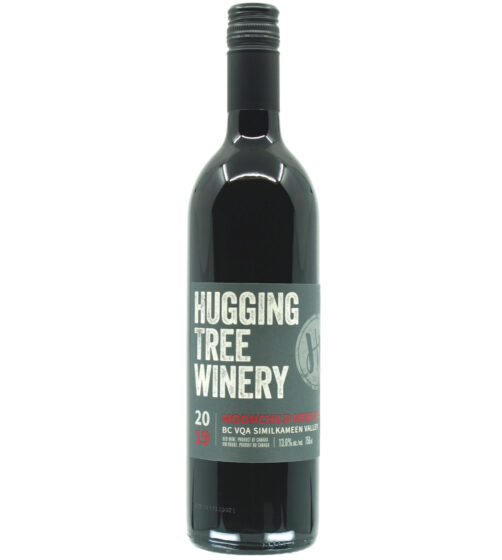 Winery Price: $$$
Body: Medium
Sweetness: Dry
Attitude: Eager
Pair with: Lamb skewers, filet mignon, unicorn spotting
This is one of those "Start the car!" wines where the price is so far below the quality of the wine that buying it feels like stealing. This is one of those rare examples of buying a Ferrari for the price of a Honda.
What gives a wine its value? That depends on who you ask. For most wine lovers, beautiful flavours and complex aromas are important. The difference between a $10 Merlot and a $40 Merlot isn't just $30 extra. In theory, an inexpensive $10 Merlot will not have a lot of complex flavours and will taste exactly the same from sip to sip, bottle to bottle, and vintage to vintage. If predictability is your jam, let that be your wine and be proud of the fact that you don't have to spend a lot.
If a little unpredictability and adventurous taste is more your style, then it may take a little more money per bottle to find something that has more complex flavours, a finer texture, longer finish, and better potential for aging (if that's something that you like to do). BC's wines tend to be on the higher end of the prices on the store shelves so people looking for inexpensive wines sometimes avoid looking at local wines. The real unicorns of the wine world are those that have beautifully deep and complex flavours but with a price that seems too good to be true.
This wine is a unicorn. Consider yourself lucky if you even spot this Merlot on the shelf.
Northern Lights Estate Winery Nechako Crush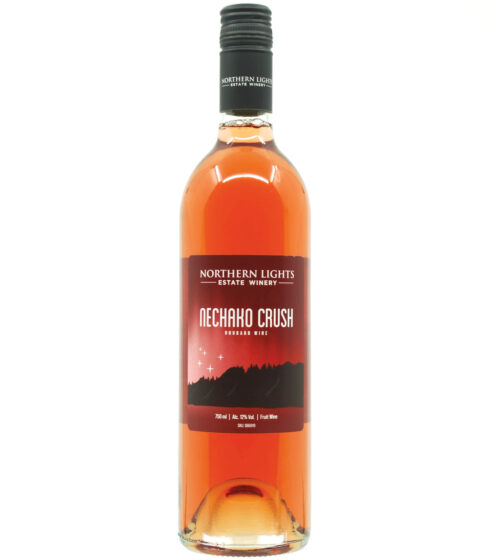 Winery Price: $$
Body: Medium
Sweetness: Off-dry
Attitude: Fun fun fun!
Pair with: Turkey dinners, anything with goat cheese, amusement parks
This wine will bring a smile to your face. Seriously, this wine is one of those rollercoaster snapshots in a bottle, complete with your face frozen in mid-scream with your tongue hanging out. If you can't have a good time at an amusement park or fair, like the PNE, then you may have an allergy to fun. Take one of these Nechako Crush Rhubarb wines and call me in the morning.
Laughter and fun are contagious that way. The campus radio station at the university I attended had a set of records that contained nothing but the sound of people laughing. It was impossible to listen to for any length of time without also starting to laugh. This bottle of giggles will do the same thing. It will be the laugh track for your life as soon as you crack it open.
The more you sip, the more it will lighten the mood. Laughter is infectious. Since we have all learned a lot about being infectious over the past couple of years (yes, I went there), this is one wine that will be perfect for getting together and enjoying each other's company again.
Open a bottle and take in the aromas. The fun is about to begin.
Niche Wine Co. Small Batch Bubbles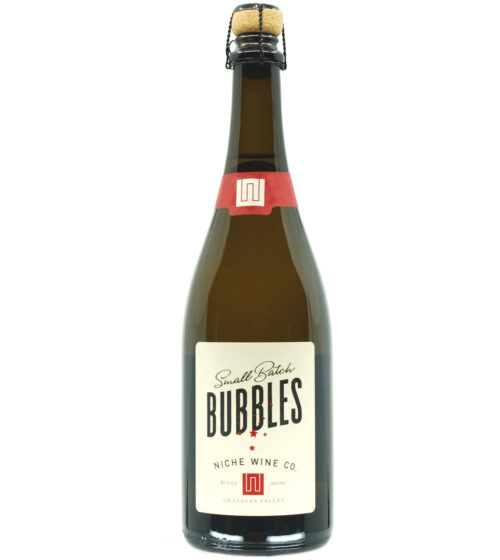 Winery Price: $$$
Body: Light
Sweetness: Dry(ish)
Attitude: Loving
Pair with: Spicy noodles, curries, take-out dinner for two
This wine hits your nose and your palate with a lot of things at once. Though Niche doesn't specify which grapes are in it, the aromas from these grapes are clearly in love with each other. They work well together and complement beautiful cheeses but can also give each other space when they need it. It's a fantastic little dance that happens when you sip between bites.
This means that this wine will have lots of opportunities to tell you that it loves you. And it will work with lots of different things, from special occasions to casual nights in. Spicy take-out? No problem. Pizza with whatever toppings you like? Check that too. Meeting the future in-laws for the first time? You're covered, and you will probably impress their socks off too.
How does a wine do this?
Well, if it was easy, then every winery would be able to do it. But they don't. If you find one that does, then it's truly the right wine for you.
---
Excerpted from The Sipster's Pocket Guide to 50 Must-Try BC Wines: Volume 2 by Luke Whittall. Copyright ©2023 by Luke Whittall. Reprinted with permission of TouchWood Editions.
Read more stories about food and drink.