Before he opened Delara Restaurant in Vancouver, chef Bardia Ilbeiggi continuously dreamt up restaurant concepts. He imagined opening a classic French restaurant, or emulating Alinea in Chicago or Noma in Copenhagen. "These were all my ideas, but none of them I found to be original or genuine. It was all about how I could recreate something here, putting a little of myself into it," he says. While he played with these fanciful ideas, the intoxicating smells of charcoal and grilled kebabs at his grandfather's house in Tehran haunted him. He visualized his family contentedly preparing and enjoying a meal together. His roots were calling.
Ilbeiggi's life path wasn't supposed to lead to running a Persian restaurant. He initially embodied the classic immigrant success story, leaving Iran in 2003 to attend Carleton University, graduating with an aerospace engineering degree, and landing a well-paying job at IBM. "But my heart wasn't there when I was looking at what my profession would be 10, 20 years down the line," he says.
Ilbeiggi abandoned his secure job in 2011 to embark on a culinary adventure in France. He wrote an email at 2 a.m. bidding farewell to his colleagues and clients, and received a wave of support tinged with admiration. "Some people said good luck, and some others said, 'We're so jealous you're doing that. You're following your dreams,'" Ilbeiggi says. Determined to get up to speed quickly, he trained rigorously in traditional French cuisine at École Grégoire-Ferrandi and then refined his techniques at Frenchie Restaurant in Paris before returning to Canada in 2012.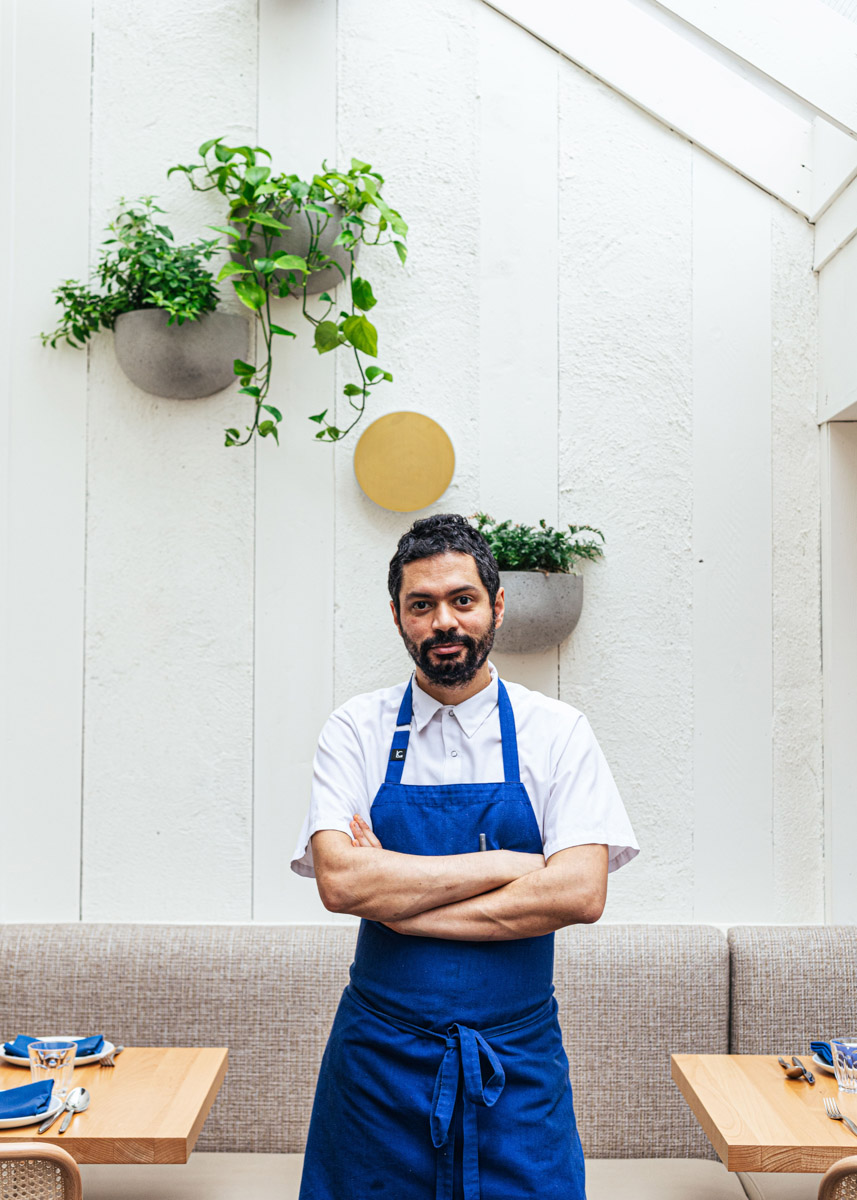 Opening a restaurant was always the end goal, even as he worked at L'Abattoir and Farmer's Apprentice in Vancouver, and lived in Copenhagen for a brief stint at the now-closed Relae. Ilbeiggi spent the early stages of the pandemic looking after his young son, preparing pop-up dinners, and finally getting serious about launching his own place.
He furiously filled a black notebook with musings and recommendations from restaurateur friends. He knew he wanted to offer his own interpretation of Persian cuisine, but one question nagged: why hadn't anyone in the city done so already? He knew there were other Persian restaurants in town, but they stuck to traditional menus, assorted kabobs with saffron rice. "They're mainly for the nostalgia of Iranians. Iranians will go and eat there. They love them. They're great. These restaurants' existence is extremely important. But they're not chef-driven," he says. He thought of London's Nutshell but couldn't identify any local chefs innovating Persian cuisine.
Part of the problem, Ilbeiggi explains, is that few Persians see cooking as a prestigious career. "'Chef' in French means 'boss' but we don't have that⁠—because cooks are not bosses in Iran. Cooks are just people who cook," he says. Persians tend to stay at home for their meals rather than splurging at a restaurant. "Our cuisine is so great. We're all proud of it. I am too, obviously. I've dedicated my life now to it. But you can take tradition and move forward, passing on the torch, hopefully, to the next generation," he says.
Playing with time-honoured techniques was tricky even when it came to his own family. Before his food won her over, his mother argued about the proper way to make certain dishes. For example, she uses water when making stews, but Ilbeiggi, inspired by his French education, replaces it with stock.
This small switch emblematizes Ilbeiggi's ethos at Delara, which launched in August in Kitsilano and showcases his reinvention of Persian cooking. He came up with the name lying in bed with his wife as they Googled appealing Persian words. "Delara means 'she who brings beauty to hearts.' I loved that. It was exactly what I wanted to do," he says.
Ilbeiggi's cooking enhances the beauty of Persian cuisine, which he describes as herbaceous, aromatic, and elegant. Each of his dishes features at least one core Persian ingredient, such as saffron, fragrant rosewater, barberries, pomegranate molasses, and sour unripe grape juice.
Otherwise, the restaurant sources most ingredients locally, shifting to reflect availability from producers like Zaklan Heritage Farm and Klippers Organic Acres. Grilled sourdough flatbread comes with seasonal dips, such as a badger-flame beet dip with turmeric, pistachios, and fried shallots, and a smoked Long Island cheese squash dip with tahini and fermented chili.
Small expert tweaks to well-known recipes make the food unexpected, even for those well versed in Persian cuisine. "I wanted to create a place that tiptoes between familiarity and intrigue," Ilbeiggi says. Many diners will recognize gheymeh, a stew traditionally made with split peas and meat, such as beef or mutton. For his version, Ilbeiggi caramelizes onions with turmeric before adding tomato paste, and then chicken stock with organic French lentils and, most importantly, plenty of whole dried limes.
"They're used in Iranian food a lot. It's one of my favourite ingredients. It brings tang and a bit of bitterness, but in my mind, in the most pleasant way," Ilbeiggi says. The dried limes are punctured to impart the most flavour.
Beef short ribs, which have been cooked sous vide for 24 hours, are barbecued to order until the fat renders, then sliced and added to the cooked lentils. The stew is topped with crispy fried shredded potato and served with yogurt, rice, and pickles. "It's basically gheymeh. It's hopefully tastier with more umami and depth, but it's the same dish," he notes.
Other items on the menu have no direct Persian referent. "We use a lot of vegetables and herbs in Iran, but there are not too many fully vegetarian dishes," he says. Ilbeiggi created a hearty plant-based stew, which contains saffron, preserved lemons, potatoes, chickpeas, and roasted foraged and cultivated mushrooms. Dollops of yogurt and drizzles of cilantro and parsley oil finish the dish. "I've had comments from a few Iranians that this reminded them of another stew they'd had. And that was exactly what I wanted. I wanted this to trigger a memory without it ever having been eaten by that person," Ilbeiggi says.
The artful plating of the dishes and the simple modern aesthetics of the room set the stage for a revelatory eating experience. Nonetheless, he perceives Delara as a modest homage to his culinary heritage. "It's stews, rice, and flatbread. It's thoughtful, and I do use techniques here and there, but in the end, it's very humble," he says. With deference to those who cooked before him, Ilbeiggi guides Persian cuisine into unexplored territory. "I would like to push the boundaries and see where this whole journey takes me," he says.
---
Read more Food and Drink stories.