It's 5:30 a.m. and Treana Peake is starting Spanish lessons before her two kids wake up. Peake's day job at her Vancouver lifestyle brand Obakki is already more than full time; early mornings have to be carved out to learn to communicate with the global artisans she partners with. Fortunately, Obakki also sells fair-trade coffee.
"I feel so terrible when I go to the villages and no one speaks any English," she laments about a recent foray to Mexico to meet a group of palm frond weavers. "I want to be able to communicate because I think it's just respectful." She's tired, but sleep can come later⁠—being short on time is relative. Peake won't have to walk hours today to retrieve water from a well before she starts her day job like many of the people her foundation seeks to help.
When Peake was a child, a white envelope arrived at her door each Christmas. The money it contained—quietly donated anonymously—would put food on the table for the rest of the year. It was an experience that shaped her view of giving and would later underwrite every Obakki transaction. Her company started with a fashion line, which recently expanded to lifestyle. Furniture is next.
Some of Obakki's suppliers are established artisans, such as an Italian glassmaker or a Japanese candlemaker, who sell to the company at regular wholesale rates. Proceeds from these sales⁠—along with gifts from private donors⁠—help the company support more vulnerable communities of artisans, from textile-makers in Querétaro, Mexico, to potters in Akiliba, Uganda.
One of Obakki's pre-COVID collaborations was with the women of the world's largest refugee camp, Bidi Bidi, in northwestern Uganda. When Peake met with survivors determined to build better futures for themselves and their children, she was inspired to represent their hope and resiliency through scarves. Called the Bidi Bidi scarf, the tiny piece of fabric features womens' artwork—some from women who had never used paint before—and went on to sell around the world. All the proceeds went directly back to these women in the form of small business loans, and before long, tailoring shops, catering stands, and shea butter production popped up in the camp as well.
"When I saw the scarf in Isetan, the Japanese department store, and the magic that came about with that collaboration, I thought, wow!" she says. "What else can we do?" The Obakki team started to cast about for other artisans from the region and "homewares kind of naturally evolved from there," she says. Then the pandemic hit.
The hiatus afforded the team ime to curate a new lineup of wares and ensure each partnership met their criteria. "Aside from our very established artisans who don't need our help, there is no way we would even start working with any artisan without talking about their challenges first," Peake says. For example, on that recent trip to Tlamacazapa in the state of Guerrero, Mexico, she learned the community of palm frond weavers was trekking five hours a day to collect firewood and water before they could start weaving.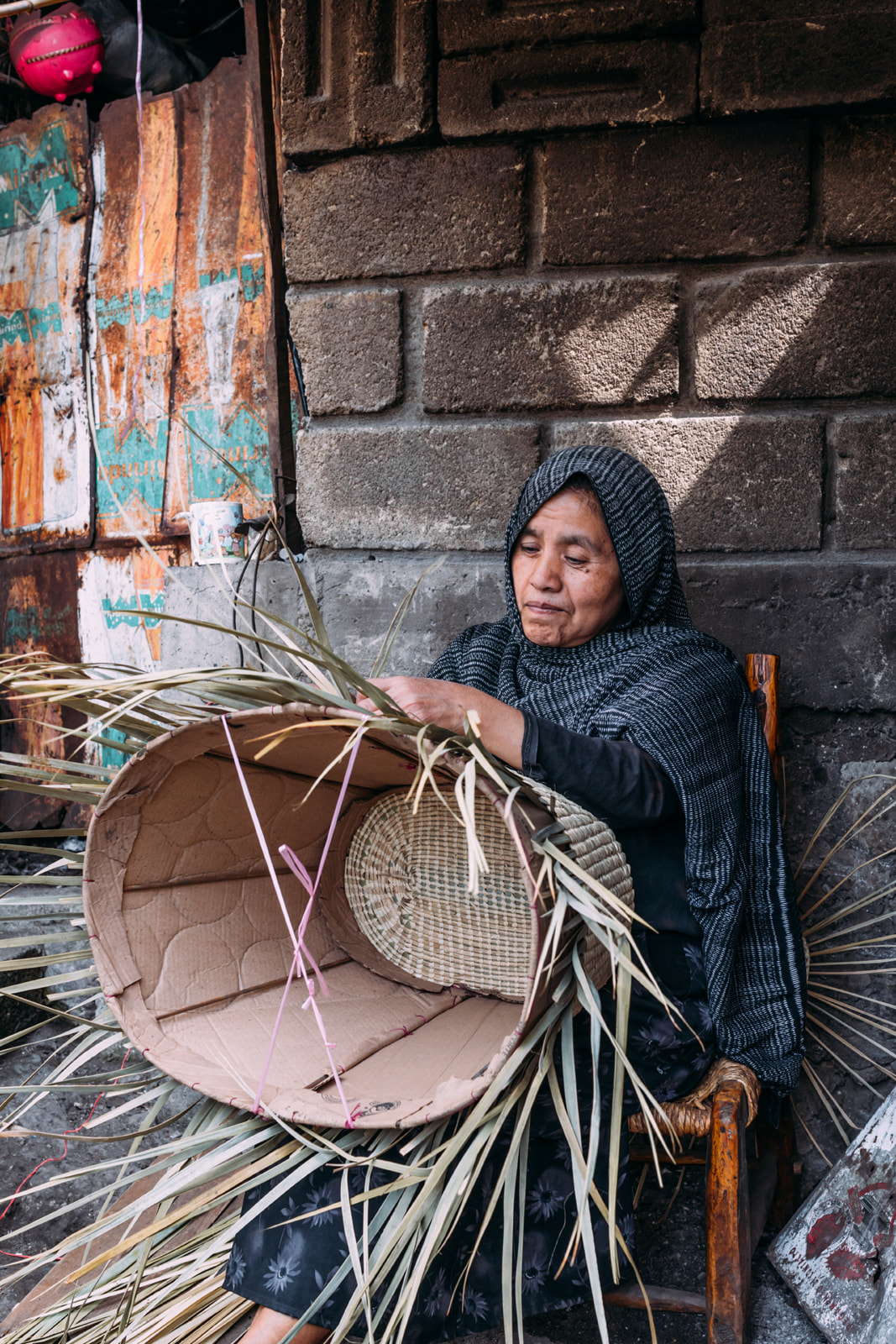 Peake asked one of the company's owners back in the city, "Have you met your artisans? Have you seen how they're living?" They had not but were open to hearing how a new approach might improve their business model. "Their economy was hindered," Peake says. "They can't expand, because their artisans don't have clean water. They're drinking pop because it's cleaner than the water, and they have diabetes." Not only was sourcing life essentials hindering work time, "those aren't the right conditions that we want people weaving under," Peake says. She suggested that Obakki pilot a project using her own funds to first implement a clean water catchment system before it bought the goods. The owners agreed.
"Sometimes, just buying something isn't necessarily helping," Peake says. "These artisans are our business partners, and our involvement needs to be mutually beneficial," she adds. It's beneficial for the buyer too. Over the course of the pandemic, Obakki's homeware and textile sales exploded as customers turned inward and began to redecorate. "People were home more and thinking about things that mattered," Peake says. "More consumers are wanting to know who made their product and looking for meaningful pieces that matter."
Peake hopes that more customers will have an opportunity to discover Obakki's meaningful goods at a pop-up starting this week at Holt Renfrew, a collaboration with H Project Global Market. Running from now until May 9, it will feature artisan goods from 25 craftspeople from 10 countries—all items are handcrafted and produced in partnership with Obakki. While shopping for baskets and pottery, guests can sip Turkish coffee the weekend of April 23, while the weekend of April 30, a jeweller will engrave upcycled gems from Kenya. The final weekend, a plant expert will be on hand to advise how to bring to life any pot or planter from the Akiliba collection.
When it wraps, Holt Renfrew's H Project will donate $25,000 to the Obakki Foundation.
"It's such a crazy cool thing to watch these artisans hit these big platforms," Peake says. "I'm so moved and fuelled by them." Which is a good thing, because there's no time for a siesta when Spanish class lets out.
---
Read more stories of people making an Impact.