The Room at the Bay in downtown Toronto is abuzz with activity, as merchandisers bustle in and out of its Platinum Suite with mannequins, preparing for the arrival of the department store's president and CEO, Bonnie Brooks. She has requested to have specific designer fashions on display for our interview, notably a hyper-floral Erdem outfit by U.K.-based Canadian designer Erdem Moralioglu, including pieces he created specifically for the Bay. "Now there's a designer that doesn't need to do a special collection for a store," Brooks explains later. "He already has a collection that all the top stores in the world buy. And yet he did do a very special capsule collection for the Room."
This encapsulates much of what has been transpiring at the Bay stores across Canada the last few years, a signal that Canada's iconic department store is entering a new era. It follows the sale of the Hudson's Bay Company (which includes the Bay, Zeller's, Home Outfitters and Fields) to Richard Baker of the U.S. retail chain Lord and Taylor in 2008, and his appointment of Ms. Brooks to the leadership position at the Bay. Her assignment is to breathe new life into the company; founded in 1670, it is the oldest existing in the world.
The Room, itself, isn't just any room, but a luxury boutique selling premier designer clothing, existing until recently only in this one Queen Street location. As of this September, it is now also found on the second floor of Vancouver's own Granville Street store, and brings with it the coveted likes of Proenza Schouler, Roland Mouret, Brian Atwood, Christopher Kane, and Balmain, to name only a few.
When Brooks arrives at the Platinum Suite, the Room's VIP personal shopping area, her presence commands attention. It is not the snakeskin platform stiletto Gianvito Rossi shoes she's wearing, though those too add to her stature—it's the sense of respect one gleans from those who know and work with her, for what she's accomplished in her storied 25-year career bringing prestige retail formats to market around the world.
Brooks is originally from London, Ontario, and comes to the Bay after spending over a decade in Hong Kong turning the tired, 158-year-old Lane Crawford department store into a high fashion emporium, and leading the Lane Crawford Joyce Group's business of over 500 stores in nine Asian countries. Prior to that, she held the roles of senior vice president of marketing and executive vice president/general merchandise manager in separate instances at Holt Renfrew. If anyone can handle the task, it's her.
"Many people have asked, 'Would you have taken the job [with the Bay] if you had seen the state of stores?'" Brooks says. "I hadn't seen any of them for many years, but I knew they needed a lot of work." Of the Bay's 91 stores, 80 are currently under renovation. "Not total renovation—we couldn't possibly swing that in one year!" she clarifies. "But by the end of September, each of these stores will have been touched, have some form of new carpet, some form of new paint, some form of washroom attention."
It's a massive undertaking, but one she maintains "is not a rescue mission. If you were looking at it from a purely financial point of view, then yes, there were a lot of things we had to do from a business perspective to get it on the road to wellness. However, from the customer's point of view, we have a lot of things to be very, very proud of, so we are taking those things and enhancing them. We think of it as going from good to great to greatest."
Indeed, the Bay has the number one bridal registry in Canada, the number one share in prestige cosmetics and one of the country's most competitive department store rewards programs. Brooks also indicates she has public will on her side. "We've asked people to send us their ideas," she says. "We've gotten 7,000 letters from customers in the last 12 months alone. And the one message we got loud and clear was that the stores needed an edit. And a good edit."
Brooks has culled 900 brands from the business, and brought in 350 new ones, ranging from Diane von Furstenberg's home collection, to Madonna's children's wear, Material Girl, to the introduction of Topshop in select Bay stores across Canada. "We're trying to provide a whole business opportunity that was missing in Canada for modern people who like department store prices, but weren't finding relevant merchandise. And in order to do that," she says, "you have to bring in the most relevant people."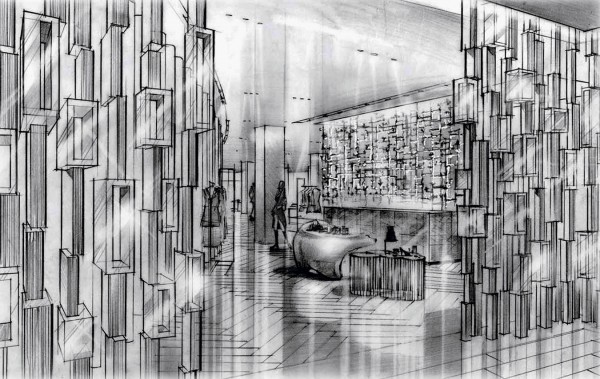 Brooks has waved her wand, stirring about the company's human resources, and acknowledges there have been "some major changes, particularly in marketing and in the buying office. We've also been able to give a lot of people who were already here different portfolios, so everybody has something new and fresh to work on. Every department is on a quest for new brands. And not just new, but wanted brands."
From the outset, Brooks's goal has been to make the Bay the best department store in Canada. But within about six months of entering the company, Brooks says the ambitions grew. "We said, 'Forget that!' Our goal is to make this an international company, to be among the best department stores in the world." But the question remains whether this retail format is even relevant in today's market. Brooks answers with an emphatic yes. She's in the business to believe, but furthermore, points to examples across the globe where historic department stores have been rejuvenated and upgraded in the last 15 years. Lane Crawford, of course, is one example, but beyond that there is David Jones in Australia (founded in 1838); Printemps (1865) and Galeries Lafayette (1893) in Paris; Harrods (1834) and Selfridges (1909) in London; Karstadt (1881) in Germany. "There are a lot of fantastic, big, old department stores that are really working hard to make themselves relevant and commercially viable, but also a lot more fun and interesting to shop."
Regardless, even when you have carte blanche, you have to pick your battles. "I can't give you my whole game," Brooks says with a wink, "but basically we have to prioritize based on return. First, of course, there is financial return. But second, we look at what's going to have the most impact in the marketplace and what's going to get the most attention."
The introduction of the Room is a fine example of that; it has Canada's fashion-savvy chattering. However, they haven't necessarily gone the route of the major brands because, as Brooks indicates, they were already available in Vancouver and Toronto. Instead, she says, "we felt that there were a variety of brands that didn't have any distribution yet in Canada and were kind of special and unique to the market, so we brought all of those brands in too." She's referring to the more cultish brands—the ones whose names may not be household names, but who have major followings in the world of fashion: Azzedine Alaïa, Emanuel Ungaro, Mary Katrantzou, Thakoon. All of which will be exclusive to the Bay in Vancouver.
"That's where I think we're different from some of the other stores in Canada. We've been told by many of the visitors that come and see the Room that we have a more international edit than a Canadian edit," Brooks says. But if customers are expecting the Bay to be the second coming of Joyce Crawford, they would be mistaken. "That's a different market," Brooks says. "Hong Kong is a very high fashion market, and there was lots of room to do that in Hong Kong, and to take it into China, but it certainly isn't something we would do right across Canada."
She elaborates: "We decided early on not to just move up in price. We've kept the prices at the bottom the same, and then we've layered on additional products. We're stretching the elastic up, but without letting go of the bottom." So while the Bay may be changing the look of its fashion, housewares and cosmetics, the plan is to stay fairly consistent with the company's 341-year history. Even insofar as the Room is concerned, "we didn't just spin this out of nowhere," Brooks says. The concept has existed in Toronto's Queen Street store since 1937, though before 2009, it was called the St. Regis Room, and was a mere 3,000 square feet. The Room in Toronto and Vancouver are both about seven times that size.
"We come by all of the fashion credibility in our heritage," Brooks says. "And I think that's where the excitement I get from the business comes from. Not just having great merchandise, but also finding a way to market it, such that you can really get the authenticity and integrity across. When I look at the Bay and I ask, 'What company in Canada could have more authenticity in fashion?'—I mean, my goodness! It has more authenticity that most companies in the world. We actually have a coat of arms. We actually have a Latin slogan as a motto. We actually have all the things that other people would long for and try to invent, but we are the real thing."
From Yabu Pushelberg, the Toronto-based architecture firm who created the Room, to Vanity Fair editor Graydon Carter who is writing the forward to the Bay's forthcoming book, to singer Bryan Adams, models Jessica Stam and Daria Werbowy and designer Erdem Moralioglu, all have been enlisted to help Brooks and the Bay in some capacity along the way. "Really, the world can play with all Canadians," Brooks says. "We've tried to embrace Canadian talent around the world. We're reaching out to them, making this part of their journey as well."