He has been called a pioneer, an uncompromising perfectionist, and the man who made Napa Valley a household name, but above all, Robert Mondavi was a visionary. Born in Minnesota to Italian immigrants, Mondavi's destiny was hewn from a young age, when his father made a seemingly absurd decision: he would move the family to Lodi, California to buy and ship grapes.
It was the early 1920s, and the beginning of prohibition; by the time it was repealed, Mondavi was a junior at Stanford University. His father traversed the state, gathering grapes from various regions. He shared a secret with his son: the best came from Napa Valley.
After graduation, trusting his father's wisdom, he took an immersion course in winemaking and viticulture before moving to Napa Valley in 1936 and forging a career as a winemaker. Then, in 1943, he was given a heads-up on a possible investment: due to financial difficulties, the historic Charles Krug Winery (established in 1861) was to be sold. Mondavi was able to convince his father to invest, and overnight, the family was the proud owner of a winery. Together with his father and younger brother Peter, Mondavi ran the winery for more than two decades. He would constantly push the limits; he wanted to make wines to rival the great varieties of Europe. It was a vision others were blind to.
Several years after the death of his father, a fight between him and his brother fractured the family. At age 53, Mondavi was starting over. However, that led him to the heart of Napa Valley, to Oakville, and to an extraordinary place called To Kalon, one of the valley's most historic vineyards. Its name, in Greek, means "highest beauty".
To Kalon was established in 1868 by Hamilton Walker Crabb. Crabb was a marketing genius; he amassed an empire by shipping his wines across the country and creating his own retail outlets. They were the most highly regarded wines of the time, and his experimental vineyards were unparalleled. After Crabb's death, To Kalon changed ownership, was divided up, and its cachet lost. Until nearly a century later.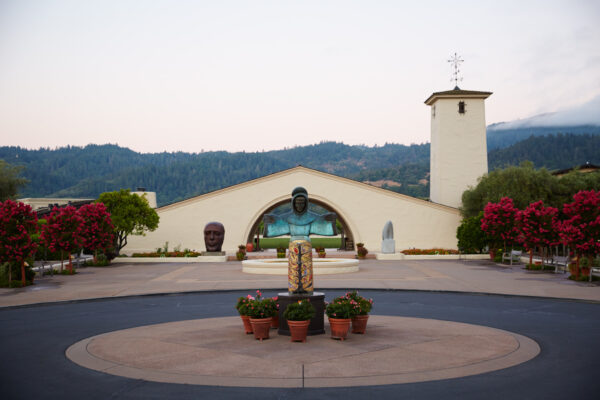 With investments from friends, Mondavi purchased his first parcel of To Kalon in 1966. It was a mere 12 acres, but seeing its rich alluvial soils and glorious exposure was enough to seal the deal. His immediate plans included a winery, but it too had to be exceptional. He wanted a hospitality centre, a gathering place to share with all who arrived.
The 1970s were a turning point for Napa Valley. Word was spreading thanks to Mondavi. He was a talker, and his travels to the world's winemaking regions were making an impact. He'd become an ambassador, preaching the gospel of the region.
In 1978, Baron Philippe de Rothschild invited Mondavi to his chateau in Bordeaux. Keenly watching the progress in Napa Valley, he wanted to invest.
Together they formed an unprecedented partnership, which culminated in an exemplary wine, and eventually, an opulent winery. The first vintage of Opus One was made in 1979, and an icon was born. Evolution continued in the valley, more wineries were built, and visitors poured in. People were thirsty to indulge in this new wine lifestyle that the area had given birth to.
Despite his passing in 2008, Mondavi's legacy lives on through the people who knew and worked with him. Their reverence for him is palpable. This year marks the winery's 50th anniversary and underscores the heart of Mondavi's empire; the jewel in its crown is a designated vineyard finally given its due: To Kalon. Over time, it has proven the most consistent site in the valley, producing wines which not only claim the highest prices, but also the highest scores. The To Kalon Trademark, and the majority (roughly 500 acres) of the vineyard, belong to the Robert Mondavi Winery.
Mondavi's beloved status proves that his words still ring true: "To succeed in business or in life I don't think you need fancy schooling or highly technical expertise. What you need is common sense, a commitment to hard work, and the courage to go your own way."
---
Read more about wine.