Beloved by all manner of luxury car enthusiasts, the Rolls-Royce Phantom has represented the pinnacle in bespoke opulence since it arrived on the scene in 1925. It's a moving piece of art, meant to be admired as much as enjoyed.
The Phantom's lore has filled both reality and the silver screen. Fred Astaire bought a first-generation Phantom in 1927; the titular villain in Goldfinger drove a Phantom lll; John Lennon painted his Phantom V to resemble a psychedelic acid trip prior to the release of the Sgt. Pepper's Lonely Hearts Club Band album; and hotelier Steve Wynn has 14 Phantoms at high rollers' disposal when they visit The Wynn in Las Vegas.
In 1998, BMW purchased the Rolls-Royce brand. The first Phantom VII under BMW's stewardship arrived January 1, 2003; production ended last December, leaving the automotive world wondering what was coming next.
In late June 2017, with the official unveiling of the eighth generation of the Phantom more than a month away, Rolls-Royce held a preview of the 2018 Phantom VIII in Los Angeles under a shroud of secrecy usually reserved for a new Star Wars movie: phones were surrendered and non-disclosure agreements were signed. That also meant that there would be no test drives, but this car still has plenty of sizzle, even in a static setting. A small, well-heeled group gathered in a nondescript building in an industrial section of Hollywood and were treated to flowing bubbly before escorts ushered everyone into a pitch-black suite. A short film played in the round, extolling the car "for those whose power is felt, not heard," before the lights came up on a new, glistening two-tone Phantom VIII on a circular pedestal, with the Rolls-Royce's trademark Spirit of Ecstasy hood ornament guiding the way.
The Phantom VIII shares its predecessors' exquisite silhouette. "With this car, there's a little more attitude, a little more movement," says Chris Duff, a designer for Rolls-Royce Motor Cars. With the Phantom's all new aluminum architecture, a dynamic roofline flows seamlessly before tapering toward the rear in an elegant teardrop shape where all the lines converge.
The car doesn't drive so much as glide over the road with a smoothness that leads Rolls-Royce designers to compare it to a magic carpet ride. The 6.75-litre V12 engine is now twin turbo, and the torque number of 664 pound-feet is the highest of any Rolls-Royce, ensuring smooth acceleration at up to 1,700 revolutions per minute. The Phantom comes with rear-axle steering and eight-speed, satellite-aided transmission, which telegraphs road conditions to ensure it is in the correct gear.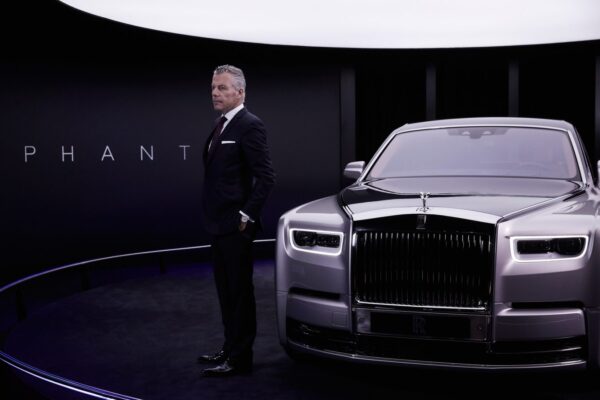 Though almost every facet of the Phantom VIII is customized to its owner's preferences, perhaps no area defines the Phantom's penchant for personalization more than the new Gallery, as the totally reimagined interior dashboard is now called. Three examples, each more extravagant than the next, hint at the possibilities for the Gallery's back wall: one filled with shimmery bird feathers gives off an iridescent glow, while a second inlaid with impossibly delicate porcelain black and white English roses creates an elegant beauty. For the truly one-of-a-kind Gallery, an artist will render the owner's DNA sequence into a 24-karat gold graphic using a 3D printer. Continuing on to the back, couched between the plush, impossibly comfortable leather seats is a drink cabinet to house water or spirits. The craftsmanship even extends to the umbrellas hidden in the rear doors.
Each Phantom Vlll, like all Rolls-Royces, is built by hand at the brand's Goodwood, England manufacturing facility. Depending on the customization, delivery takes from four months to a year. But who can put a timeline on perfection.
---
Read more of our Rolls-Royce coverage.